On Thursday, gig worker advocacy group We Drive Progress, an affiliate of local labor union SEIU Local 1021, launched a campaign calling for gig companies including Uber, Lyft, and DoorDash to create "support hubs" for gig workers ferrying passengers and delivery orders with their vehicles, with hopes of having one "hub" per square mile in Bay Area cities including San Francisco, Oakland, and San Mateo.
As part of the launch, members of We Drive Progress and SEIU Local 1021 handed out Personal Protective Equipment including masks and hand sanitizer outside of a Soma ghost kitchen on 60 Morris Street, where gig workers for UberEats and DoorDash pick up food orders for delivery.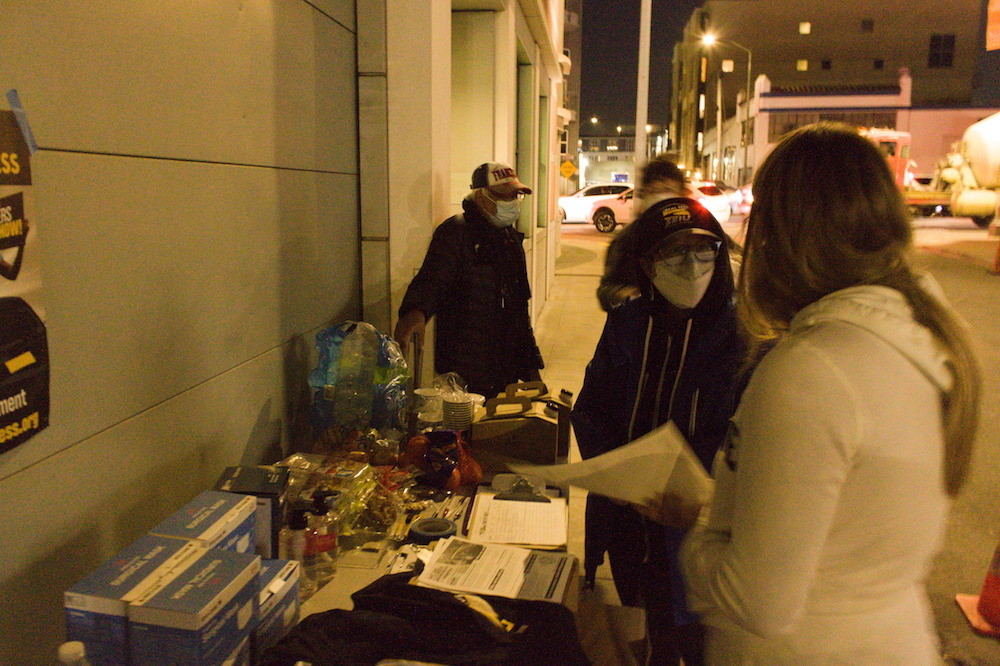 Several workers said that the hubs are needed for restroom access, access to PPE, and places to charge electric scooters, bikes, and smartphones, or to park their cars, particularly in downtown San Francisco, where rides are plentiful but parking is often scarce.
"There's nowhere to park in San Francisco, in downtown. I need to have somewhere to park, to rest, to use the restroom," Castellanos said. "It would be good to have these places around the Bay Area."
Workers also said that restroom access is limited, as businesses often either do not have public restroom access or require a purchase to access the restroom. Workers say that they should not have to pay for restroom access in the course of working for gig companies, and say that even finding a restroom can be more difficult because they do not know where they will be at a given point due to the randomness of where food orders come from.
"There's no place for me to plug in, go to the bathroom, get some supplies…DoorDash could be doing more, but they are choosing not to," said Ryan G, a Dasher who delivers food orders on an electric bike who asked to use their last initial due to fears of retaliation by DoorDash.
For Castellanos, accessing free PPE is an issue due to the fact that he cannot know ahead of time where exactly customers will be when they request rides, making it hard to get to the Uber Greenlight Hub in West Oakland, which gives out free PPE, but only by appointment, according to Castellanos.
"I don't know where my ride will take me…it's inconvenient to go to the hubs to pick up PPE," Castellanos said.
Jennifer Esteen, vice president of organizing for SEIU Local 1021, said that the hubs are needed in part due to Prop 22, which enshrined gig workers' status as independent contractors into law, and included provisions that ensure that drivers are only paid for "engaged time" or time during which drivers are actively ferrying food or people in their vehicles but not when they wait, which can impact drivers' earnings.
"These hubs have come to be out of sheer necessity," Esteen said. "Right now, these companies making billions of dollars a year are still not providing for their workforce."
Another common issue for gig workers where they believe that hubs would help is sorting out customer service complaints stemming from factors out of workers' control, such as heavy traffic slowing down drivers or restaurants getting a customer's order wrong, which can prompt a complaint from a customer that can end up punishing the driver.
Castellanos said that he was suspended from driving for Uber for three days in 2018 after a customer complained to Uber claiming that Castellanos was drunk during his Uber ride to San Francisco International Airport, but Castellanos denies this, saying that the actual reason that customer was unhappy was because of heavy traffic on the way to the airport.
Uber did not respond to requests for comment about Castellanos' suspension or the customer's complaint.
Esteen agreed that giving drivers a face-to-face connection with the companies' customer service department is a high priority with the support hubs they are pushing for, as drivers say that their outreach to the companies about customers' complaints can often go unanswered.
"What I've heard from drivers repeatedly is that no matter when they try to get help from these companies it's almost impossible … sometimes they are deactivated for reasons they can't even get to the bottom of," Esteen said. "If they companies were to provide one customer service liaison per hub or one per five hubs, it would be a huge win."
Ryan G believes that a possible solution would be for gig companies to partner with a nationwide co-working space like WeWork and offer discounted memberships.
"They can take that idea for free," said Ryan G. "There's a huge workforce with no break rooms, it's an absurdity."
Ryan G spends $400 a month on memberships at three co-working spaces throughout San Francisco, where they use outlets to charge their bike, phone, and relax indoors.
"It's nice to have a lunch table indoors from the rain," Ryan G said.
Gig companies DoorDash, Uber, Lyft, and Instacart did not respond to requests for comment.