The office of Mayor London Breed finally released Tuesday what it described as the mayor's plan for the Tenderloin, under an emergency declaration approved by the supes.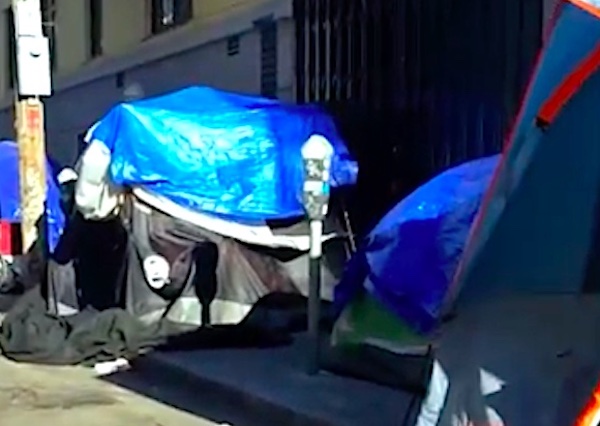 The plan is still pretty vague. It's full of meaningless bureaucratic statements like:
This will be accomplished through incident management best practices, which operate on a standardized operational period and is managed by coordinated objectives.
But it gives a strong hint at what the mayor has in mind—and advocates for the unhoused are furious.
From the Coalition on Homelessness:
During the hearing on December 23, at which Mayor Breed was not present, the mayor's staff made repeated assurances, in response to questions from members of the Board, that the State of Emergency plan would take a "services first" approach, rather than criminalizing unhoused people and people using drugs. However, the newly shared plan reveals quite the opposite: an approach much more in keeping with the mayor's controversial comments to the media about using police and the threat of jail to "make life hell" for people on the streets and simply remove them from sight.

…
Operations will include SFPD and Public Works, two agencies that have long histories of targeting poor Black and Brown communities and, in particular, unhoused people and drug users. Metrics of success in the plan focus on "fewer tents" (reducing the visibility of homelessness), rather than reducing homelessness itself.
The State of Emergency was based, Breed's staff told the supervisors, on the very real crisis of drug overdoses in the neighborhood, and the resolution the board voted on is based on that.
But the actual plan, while it mentions overdoses, it does so only in passing—in the Vision section and then again as one of 21 "metrics" none of which include any actual numbers. From the Coalition:
There are no strategies to reduce overdoses in the plan. In addition, this reads as if the problem is the fact that business owners and residents have to see people using drugs, not for people who may experience OD.
That's the general tone of the plan; it seems to be aimed at clearing tents out of the Tenderloin, not on addressing homelessness and drug addiction.
The only community partners that the plan seems to involve are the local business districts. There are plenty of community-based nonprofits that have spent decades trying to address these difficult issues, and few, if any, were consulted or are part of the evaluation process.

"It's clear that this plan was developed to remove certain people out of public space — not to actually prevent overdose deaths or improve public safety," said Carlos Wadkins of the Coalition.
Most important, the plan doesn't provide any new money or resources for housing, behavioral health treatment, or drug treatment. The homeless person with an addiction who gets hassled by the cops at 10pm on a Saturday? There's nowhere new for that person to go, except to a triage center that can't refer them to treatment beds that don't exist:
The Linkage Center, outreach, and increased coordination of services are central to the Tenderloin Emergency Initiative. However, none of this will be successful without an actual increase in resources and services — drug treatment beds, housing units, shelter, and other resources — which the plan does not include. This either points to failure, or a diversion of resources from other needy communities and individuals.
I spoke to Tracey Mixon, a Coalition organizer, today and she said that nobody from the Mayor's Office contacted her. "They are only going to talk to a limited number of people, mostly from business groups," she said.
The sweeps haven't started yet, she said, "because it's been raining and the streets are pretty empty right now." But she fears it's only a matter of time before the cops are out in force, making arrests that will make no difference and simply further criminalize people already suffering from several, often generational, trauma.