The creations of Oakland artist Ruth Boerefyn are missives from an interior, art-centered life, made public.
"My studio has always been my home more than any geographic location," she said.
But it took her a moment to find that sense of residency. Boerefyn's father was a minister and the family lived all over throughout the 1950s and '60s. She came to the Bay Area in 1976 to complete her MFA at California College of the Arts in Oakland (which was then known as California College of Arts and Crafts).
Being dyslexic, school was a challenge, and Boerefyn felt most comfortable playing with her childhood friend Larry in the orchard near her home. They looked at trees, and built forts with their branches, playtime that eventually, for Boerefyn, evolved into a professional art practice.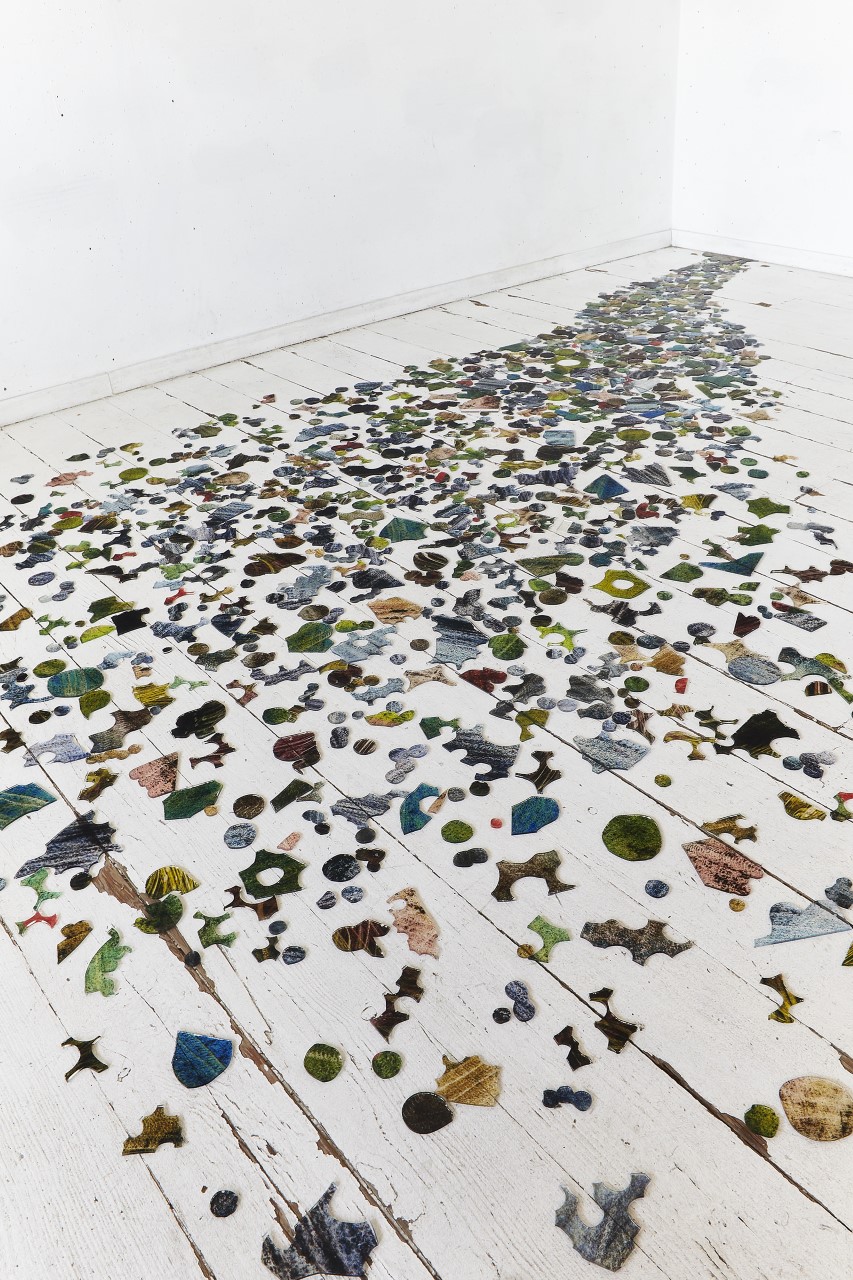 "I think as an artist, you just continue to do what you did as a child," she said. "I get curious and start putting elements together without necessarily knowing what they're going to become."
Externally, Boerefyn's work refers to the natural world. But on a less explicit level, she is exploring the weather of emotions and ways of being. She spends time in various locations perusing local historical archives, mostly interested in understanding how people encounter and adapt to unpredictable circumstances. She accesses and experiences this "weather," as she thinks of the source material, for herself, then returns to her studio to recreate it for others in the form of sculptural installation.
A day in the studio requires discipline. Boerefyn wakes at 2:15 a.m. to do core exercises and eat some protein, taking care of her body first. To get grounded, she reads a sentence from her favorite book What are We Doing Here by Marilyn Robinson. Afterwards, she walks around her pieces, just feeling and observing.
"That first look, when I'm not self-conscious, is very pure and it frames the whole day," she said.
If something comes to mind during that look, she writes it down. She takes a brisk walk to allow things to percolate, often considering how her materials relate to her own life, then returns to the studio. Working with old drawings from nature, she sands, cuts, and shapes them, incorporating fishing line and custom-made plexiglass that she designs in collaboration with a local print studio. Putting her materials up, she makes determinations on space and line, their weight, and how they move in the wind or pick up the light.
"The sense of beauty or aesthetics is complicated," she said. "It's important to me to use instinct."
She tries a structure, then takes it down and tries another until the elements take on meaningful shape.
While she works, she listens to podcasts by artists she respects like Kiki Smith, Jeanette Winterson, and Rachel Whiteread. They give her perspective on what other artists are working on, all over the world.
Boerefyn says her work is about the translation of raw life: the stages when people die, when we get sick, when we are alone. She poses the question, "What is it in some people that makes them able to handle these challenges?"
For one piece, she observed the way pioneer women survived, researching their archived journals and maps, physically touching artifacts to reconstruct their experiences and personalities.
The presence of COVID limited some activities for the artist, though she takes time to notice the sky and feel the wind. Being in nature is important to Boerefyn, and her artwork reflects that passion.
It is also infused with the drive she found through becoming a cancer survivor.
"I realized the sense of grace involved in being vulnerable and the importance of having the courage, even if it's just for a moment, to face things and let go," she said.
Boerefyn finds that we're living in a time when we're up against ourselves. Ideally, one can use the isolation of quarantine, not to mention its stripped-down feeling, to reflect. The experience of pandemia has changed her perspective on how everyone suffers. The artist believes that as we process the influx of experience, we need periods of organization and control. In a recent installation, "Flow/Phrase," Boerefyn created a stream of small pieces of plexiglass, seeping in from under the wall of her studio, to mirror the unexpected circumstances coming at us, situations that we don't know how to handle. It was accompanied by a second piece, representing a later phase where the pieces become organized.
"When you have time to think and put things into the context of your own history, they start to take on their own cadence," she said.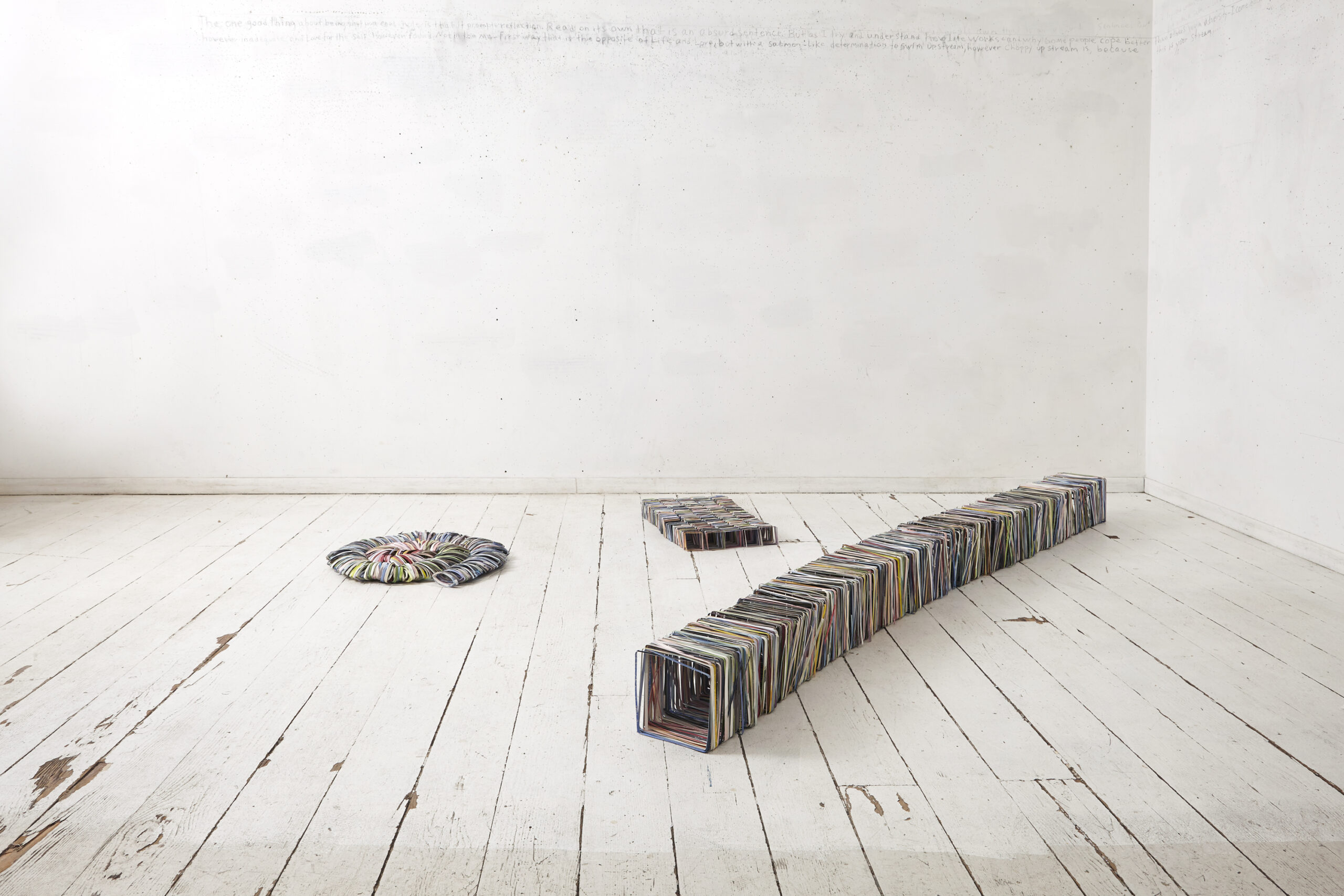 In her newest work, Boerefyn is exploring plexiglass circles as a new shape and material, playing with them in different configurations and learning what she can freshly express. The circles are a translation of hole-punched fragments she has been using for many years, which provide a third dimension to two-dimensional drawing. Technology has helped her make this gesture more sculptural, as she has been able to use the holes in a new way, creating a viewing portal to put things into new focus.
"Each one is like a moment when we face a decision," she said.
It's also a metaphor for how she structures her life: having the courage to try new things and coming to peace with those choices. Boerefyn has learned to use materials to understand the world and express herself.
"I've been in a different octave my whole life," she said. "I've had to figure out my own weird way of being."
Her studio walls are full of nail holes because she keeps making "mistakes," and working through them. She believes a lot of people can relate to this navigation, and hopes that her work makes people feel more connected to their own ways of getting through challenges in their lives.
Boerefyn's site-specific work mainly appears at residencies. Her website is a place to experience her pieces in the context of location.
For more info, visit www.ruthboerefyn.com.