Attendees at Audium, San Francisco's "theatre of sound," first must make their way through a darkened, winding hallway, which sets the mood right away with hidden speakers that ping-pong sounds between the walls. That leads to a space festooned with no less than 176 speakers: some in the walls, some under the floor, most suspended grandly from the ceiling. Then the lights drop to total darkness, and the show begins.
It's disorienting, even a little frightening, at first. Some children have actually screamed when the lights drop, leading to the venue imposing a 12-and-up age limit. But even as a kid, owner-operator Dave Shaff found it easy to get used to.
"People ask me if it was kind of weird growing up around this thing," says Shaff. "But I thought everyone had a dad walking around with a bunch of microphones and extension cords."
Dave's dad Stan was a trumpet player and member of San Francisco's vibrant avant-garde scene in the '50s and '60s. The elder Shaff knew and collaborated with radical artists like John Cage and Anna Halperin, hobnobbed with the influential San Francisco Tape Music Center, and was one of the musicians during the first performance of In C, Terry Riley's famous minimalist piece.
But he found his calling when he teamed up with audio engineer Doug McEachern to create a space in which audio signals could be moved in a near-infinite number of permutations, creating an immersive experience in which the space itself was as crucial as the sound. Audium first opened in the Richmond in 1967 before a National Endowment of the Arts grant allowed them to move into a permanent theater on Bush and Franklin in 1976.
Dave took over the role of "performing" his now-92-year-old dad's sound sculptures beginning in 2018, and Audium remains in the family fold. But for the first time ever, Shaff is opening up Audium's astonishing array of speakers to outside artists for its New Voices residency program, beginning Thu/10.
"We were looking for people who wanted to really work with the space," says Shaff. "It's not just taking something you've already done and putting it in there."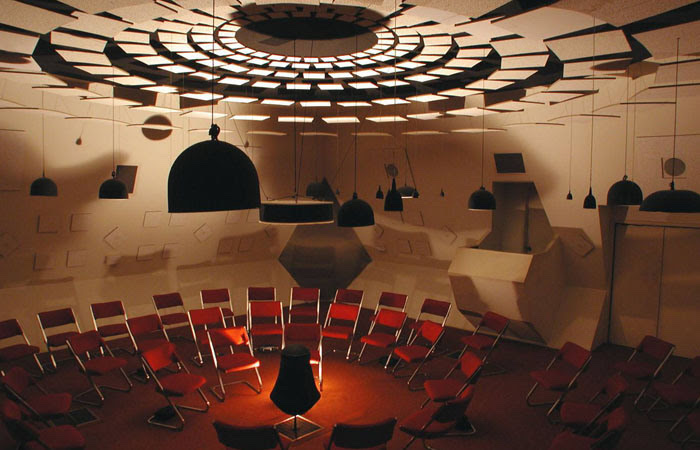 The first three residents are all local. Victoria Shen will control her "four-dimensional love letter" to Audium with her own custom equipment. Noah Berrie's Organ Music uses sounds sourced from the human body to transform Audium into a literal belly of the beast. And Alexa Burrell aka LEXAGON's "Afro-surrealist techno-horror fairytale" A(Void) Fire involves a Black woman "haunted by the personification of her comfort zone."
Burrell had to step well outside her own comfort zone to write for Audium. Composition took over four months—and, unable to compose for the space using her own speakers, Burrell had to regularly visit to complete her work.
"Working in it feels a lot like when I got prescription glasses for the first time and I put them on," says Burrell. "I could hear things in ways that I never experienced before. It's a one-of-a-kind space with its own logic and rules. Figuring out how to bridge that into some type of workable language has been quite a challenge for me."
"You're not just choosing the location of the sound, but you're choosing literally," says Shaff. "If you take a big train sound, you start in the sub-woofers in the floor, and then you move it up to the tweeters in the ceiling."
The Shaffs have been workshopping ways of bringing Audium into a larger dialogue with the San Francisco community outside of the family fold. With so many artists interested in the residency, Shaff is considering opening up Audium for mini-residencies once the three New Voices pieces complete their runs on April 2nd.
"It was an insane amount of people who wanted to do [the residency], which felt great, but it was also kind of tricky to choose the residents at the end of the day," says Shaff. "So we're still planning having kind of a night for them to come in and learn the system and put some sounds up and see what it sounds like."
He's even thinking of working with school groups for educational workshops where kids might be able to learn how to compose for the theater's sound system using simple software such as an iPad.
"That should be fun, bringing kids in," he says, chuckling. "It'll be kind of a unique new perspective, hopefully."
"NEW VOICES" AT THE AUDIUM begins Thu/10. Tickets and more info here.