On the first Friday of every month since March of 2020, Bandcamp has waived its revenue share of the website's online music sales to help support the many artists who have seen their livelihoods disrupted by the pandemic. Imagine that, a tech-centered company putting their heads together for something besides trolling your socials with disinformation!
Over the course of these 17 Bandcamp Fridays, fans have paid artists and labels more than $70 million dollars, funds that have helped to cover rents, take-out dinners, weed to ease the mental strain of life during COVID, mortgages, groceries, medications, and much more.
If you're among the nearly 800,000 fans who participated, go celebrate yourself.
It will likely be several months before live performance revenue returns in full. So, we're going to gear up to continue supporting upcoming Bandcamp Fridays on February 4th, March 4th, April 1st, and May 6th. You can check here at 48hills for suggestions on how to spend your music dollars on those days. Thanks for doing your part to support the music community.
STANLEY IPKUSS — AMONG OTHER THINGS
It's so easy getting your head stuck, bobbing and nodding, doing that shoulder-shake thang ad infinitum to Oakland beatmaker and rapper Stanley Ipkuss and his fever dream Among Other Things. Comprised of slaps made from repurposed-weird-terrestrial FM radio station formats—channels that only blow in on clear nights—Ipkuss makes his thicc haze with a bevy of samplers. He then connects a tonnage of bars centering on self-improvement and better mental help, patchworking jazz snippets, soul samples, and twitchy keyboard blips underneath. Aggressive quiet storm montage is the flavor Stanley and his cast of vocalists and emcees Jada Imani, Lucy Camp, Stoney Creation, and Charis Amber coast on.
Ipkuss, a bit of a packrat, let me know via email that he enjoys collecting records, samplers, video games (specifically Gameboy games right now, and anything Nintendo. But he's still a Playstation stan, for life.)
Taking those predilections as a starting point, Ipkuss has procured that "special something" for early 2022. It's no coincidence that he's worked with Fly Anakin, DJ Spinna, and Danny Watts—and gets those well-earned shout-outs in the Okayplayer mixtape section.
You should purchase these vibes right here.
ANTELOPER FT. JAIMIE BRANCH AND JASON NAZARY — KUDU (International Anthem)
Trumpeter Jaimie Branch and drummer Jason Nazary are longtime friends and collaborators, and met while studying at the New England Conservatory of Music in 2002. They have built up a wide swath of mutual trust over the years. Such is their confidene, that in their incarnation as the experimental, no-wave, psychedelic-synth duo Anteloper, all rules can get wiped. Their debut 2018 release KUDU fused Neil Pert drum energy with purple sheets of psychotropic horn tremor. That "free" in free-jazz is what you find on the epic-hectic-serious business of tracks "Ohoneotree Suite" and moon-landing-articulated "Seclusion Self." These are pastel scores to films yet to show at Sundance. (You can catch an upcoming livestream tho…)
Listen, I first stumbled across this duo by taking a whiff of their excellent Tour Beats Vol 1 from the summer of 2020. It fucked me up the right way: "Anteloper as a whole takes the leap every time, maneuvering into weird compositions that feel bold, dare I say authentic. Electronic music did in fact once sound this valiant before six-figure DJ paydays defrauded the creative aspect."
I was feeling a certain way about electronic music at that time … I still feel that way.
We cape up mighty hard for Jaimie Branch around these parts. J Breezy is one of those folks, an artist in the most candid sense, who is always ready to speak onnit.
"Kudu is the very beginning, the exact start of Anteloper, and when I listen back I remember how we were so excited to share this music with the world, and I'm glad it's gonna see its proper vinyl release," she says in a statement concerning the album's vinyl debut. "During the recording of Kudu, Jason and I ran our electronics in mono, and while it's not mixed fully mono, that punchiness pervades the sounds in full. Alien lithographic smears and remnants on the windows between us are definitely audible."
"It's kinda funny," he continues. "I hear myself barely knowing how to work the delay/looper pedal that five years later I can now operate in total darkness, but it doesn't matter—the edge is there, the intentionality is there. The lack of mastery doesn't bother me. It adds to the Kudu vibe I think. Sometimes you meet a musical partner and you intuitively know that the music is important and must be followed. Kudu is the beginning and Jason and I are still on that path. Space warriors."
Kudu feels and hits outsider-terrific. That flying-without-a-damn-parachute-type of resolute.
Originally sold as a cassette and digital album, it's now available on vinyl, and this release on wax will sell out. Word on the street is that their next Anteloper project will be produced by none other than Jeff Parker. That's fire right there.
In the meantime, buy this vinyl. Twist one up and get ready.
KIDS ON A CRIME SPREE — FALL IN LOVE NOT IN LINE (Slumberland Records)
There is a something—call it marvelously-imperfect or just plain old humanity, your choice—running throughout Fall In Love Not In Line, the new 10-song-length record from Kids On A Crime Spree. Recorded in Mario Hernandez's analog home studio in Oakland, Line, cut at 45rpm, whirrs by in an urgent 25 minutes. With Hernandez on vox, Becky Barron on drums, and guitarist Bill Evans, this Bay Area indie band cops, moves, and sways with all the 1960s Brill building cacophony and pop goodness, leaning heavily on a thundering drum beat, ebullient et al Garrish basslines, such gnarly guitars running hot with feedback squelch, and electrifying song conclusions with alchemy. Fueled at-times on retro-high-test moxie, Kids on a Crime Spree elevate their garage band influences from jangly to spectral.
Buy it here.
LNDFK — KUNI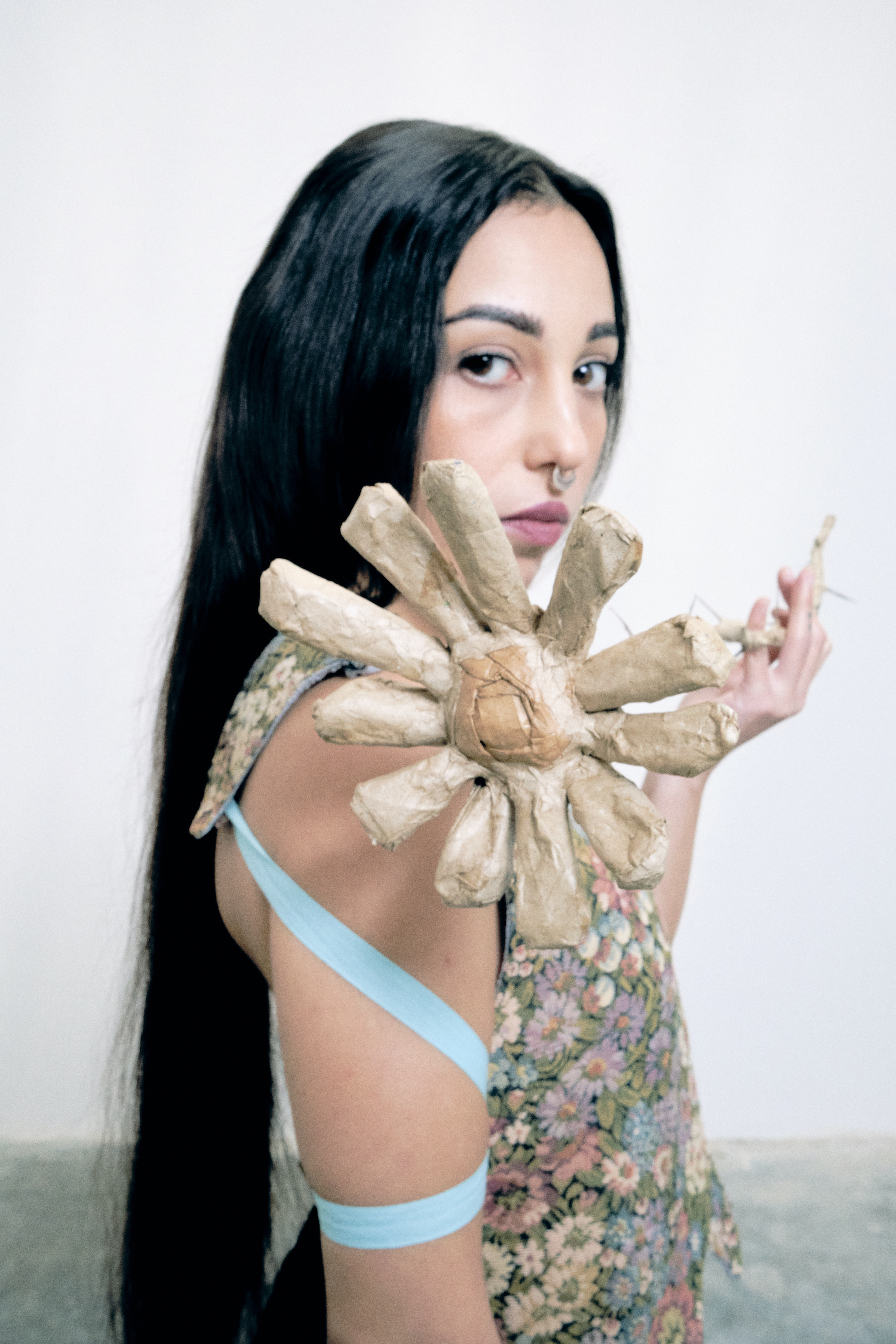 On her upcoming debut album KUNI, LNDFK (a.k.a. Linda Feki), weaves scat-sung vocals throughout stutter-step drums, fast-pass bass lines, and mahogany-type color chords.
Call it neo-soul meets "social music" (a term Miles used for jazz.) LNDFK, who has shared the stage with Kamasi Washington, is bringing the experimental hip hop through blended sensibilities. Dario Bassolino co-wrote the project with Linda, and Chester Watson and Pink Siifu lend their talents to her distinct beginning. The work has been championed by Gilles Peterson, Tom Ravenscroft, and Jamz Supernova—MANG, you can't get much better of an introduction than this.
Pre-order it here.