City College's faculty union, AFT2121, gathered outside the homes of City College Trustees Thea Selby, John Rizzo, and Board President Brigitte Davila on Valentines Day to demand that the City College Board of Trustees forgo layoffs of 50 full-time faculty proposed by City College administrators.
Members of the union, including union president Maliaka Finkelstein, performed a brief skit where Finkelstein portrayed Chancellor David Martin and handed a layoff notice "valentine" to English instructor Tehmina Khan, who portrayed the faculty at City College.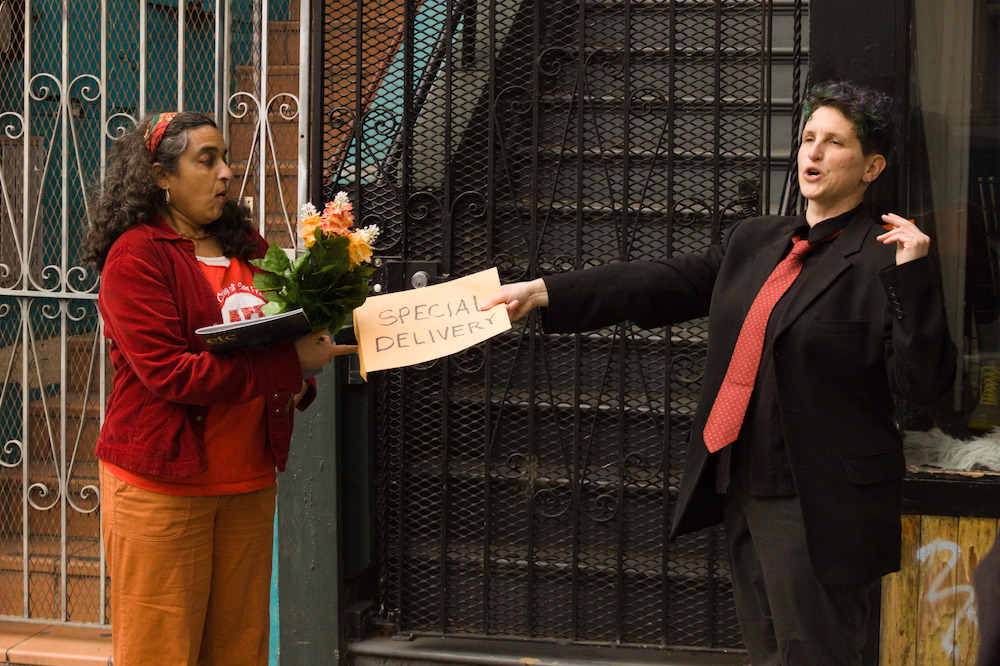 "Oh no, the heartbeat of City College, my heartbeat, we're dying, public education is dying!" Khan said, lying on the ground in front of Davila's home in the Ingleside.
Members also dropped off hundreds of "valentine's cards" signed by 683 faculty members addressed to trustees which said, "CCSF Trustees, roses are red, violets are blue, downsizing hurts students. We will fight for them, will you?"
According to Finkelstein, in order to lay off any full-time faculty from a department, most part-timers in that department must be laid off first, which can mean that the true number of faculty dismissals can end up being a lot higher than the amount approved by trustees. The English as a Second Language department, which is slated for six full-timer layoffs, has 69 full-time faculty, but 77 part-time faculty, according to Finkelstein.
The Board of Trustees will vote whether to approve proposed layoffs on February 24 and layoff notices, called pink slips, will be sent out by March 15.
All trustees contacted either declined to comment or did not respond to requests for an interview. In declining to be interviewed, trustee Alan Wong said that more input is needed before he is willing to weigh in publicly.
"I'd like to listen to more perspectives and get a more wholistic (sic) view before I start commenting," trustee Alan Wong said in a text message.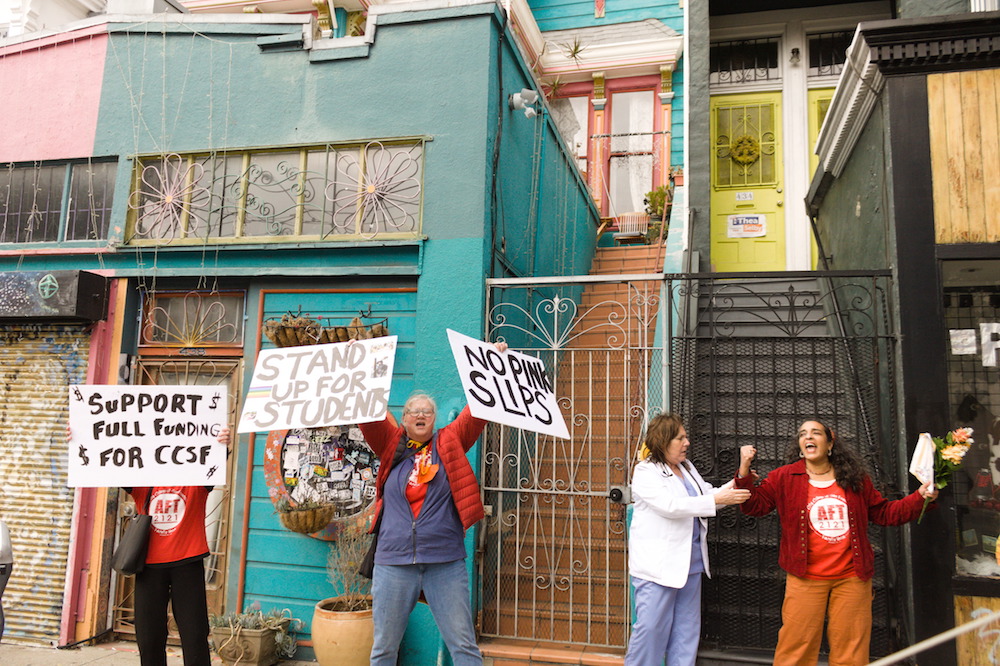 City College has had financial issues for several years due to declining student enrollment. City College's budget allotment from the state is largely based on enrollment. As such, cutting back expenses at the college has been of prime importance to the trustees and the administration in hopes of deterring a state takeover, which can occur if the State Chancellor's office determines that City College is fiscally insolvent.
That would greatly curtail the elected Board of Trustees' authority, placing a state-appointed trustee in charge of running City College.
Last spring, layoffs were approved by the Board of Trustees and notices sent to full-time faculty, although layoffs were ultimately averted, after AFT2121 agreed to full-timer salary concessions ranging between four and 11 percent, exempting the first $30,000, which saved the college $22.7 million and will expire July 1.
Faculty salaries comprise a large amount of the college's budget—according to the 2021-22 budget the most recent budget available, salaries and benefits for faculty and classified staff accounted for 84.04 percent of the budget. The school laid of 67 classified staff Jan. 3.
This year, however, the college is more fiscally healthy than last year largely due to an influx of funding to City College thanks to a large Cost of Living Adjustment, or COLA, increase of $7.579 million from the state, which can be spent however the college sees fit, according to Finkelstein.
As such, AFT2121 has drawn up its own budget proposal as a guide to the Board of Trustees in hopes of demonstrating how City College can avoid layoffs. In the proposal, AFT argues that by spending Higher Education Emergency Relief Fund, or HEERF, monies, which were disbursed as part of the Biden administration's American Rescue Plan, to make up for lost revenue, lowering spending on consulting, and other adjustments to several spending categories, the college can avoid layoffs while maintaining reserves of nearly $25 million and a $6 million surplus for fiscal year 2022-23.
Martin and Vice Chancellor of Finance John Al-Amin did not respond to requests for an interview.