About a month ago, I came across a strangely captivating character with an outer-worldly personality. His name? Hyphy Murph. I had no idea what Murph was, or who was behind the comics through which he voyaged. All I knew at the time was that when Philip Bank$, a Bay Area creative and member of rap group Trey Coastal, dropped a link with some images on Twitter, I had obliged him and clicked.
It turns out that Phil, along with a host of other East Bay characters, had been depicted in the low-budget comic series starring Hyphy Murph, which illustrates goofy scenes that reference Bay Area subcultures from the mid-2000s—back when the Hyphy movement was at its peak. The panels' weird, extraterrestrial energy immediately caught my attention.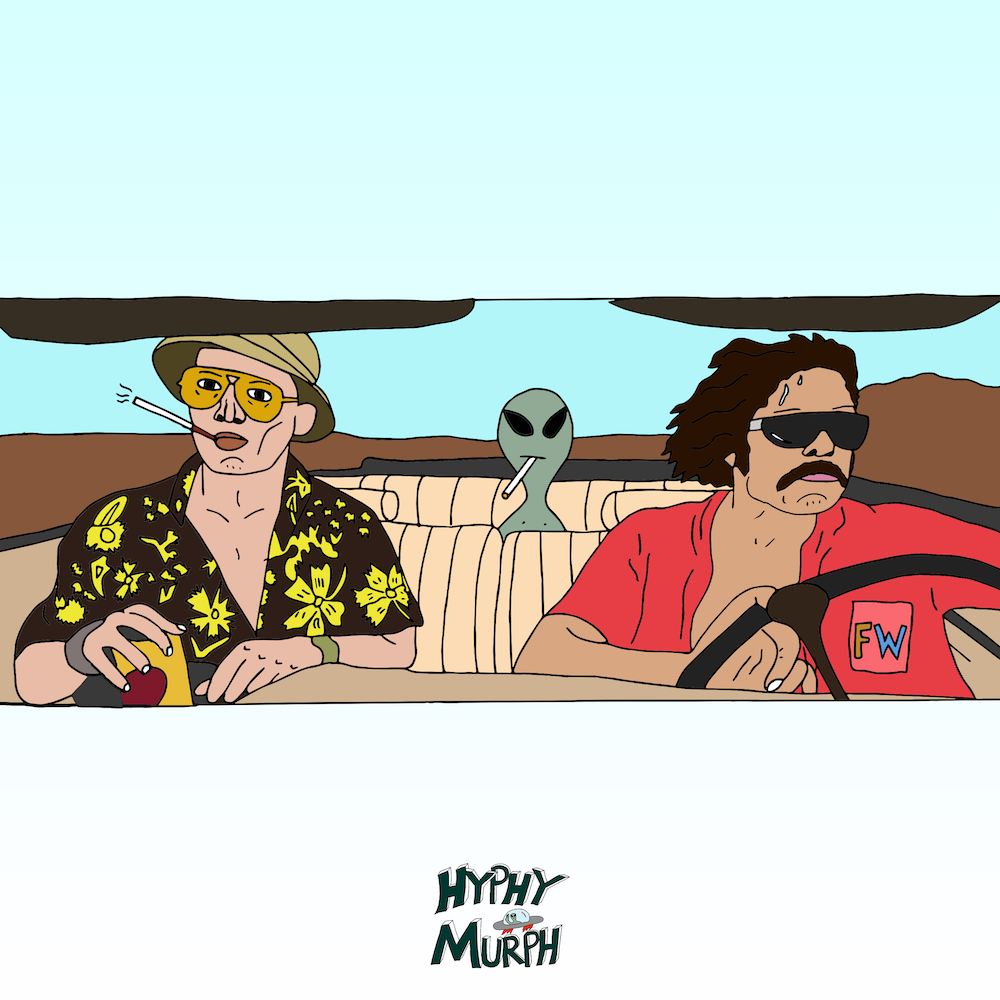 Imagine a Baylien (a.k.a. Hyphy Murph), talking to fictionalized versions of regional personalities, including Too Tall (a pun on Too $hort), G-40 (guess who that is), Mac Tre ("that's not my job") and various local residents and legends, including founding Black Panther Party member Huey P. Newton and former Golden State Warrior superstar, Jason Richardson.
It's a mix of adventure, smoking blunts, meaningless conversations, socio-political issues, and hyper-futuristic spaces—basically, the trademarked Bay Area lifestyle at this point.
I found the artist behind it all, multifaceted rapper Jetpack Jones, whose brand Fried Water is at the forefront of the effort to push underground Yay Area cartoons like Hyphy Murph. In this interview, we talked about his upbringing, his inspiration, and what it means to be creating art in a time of upheaval and cultural displacement in, and around, the East Bay.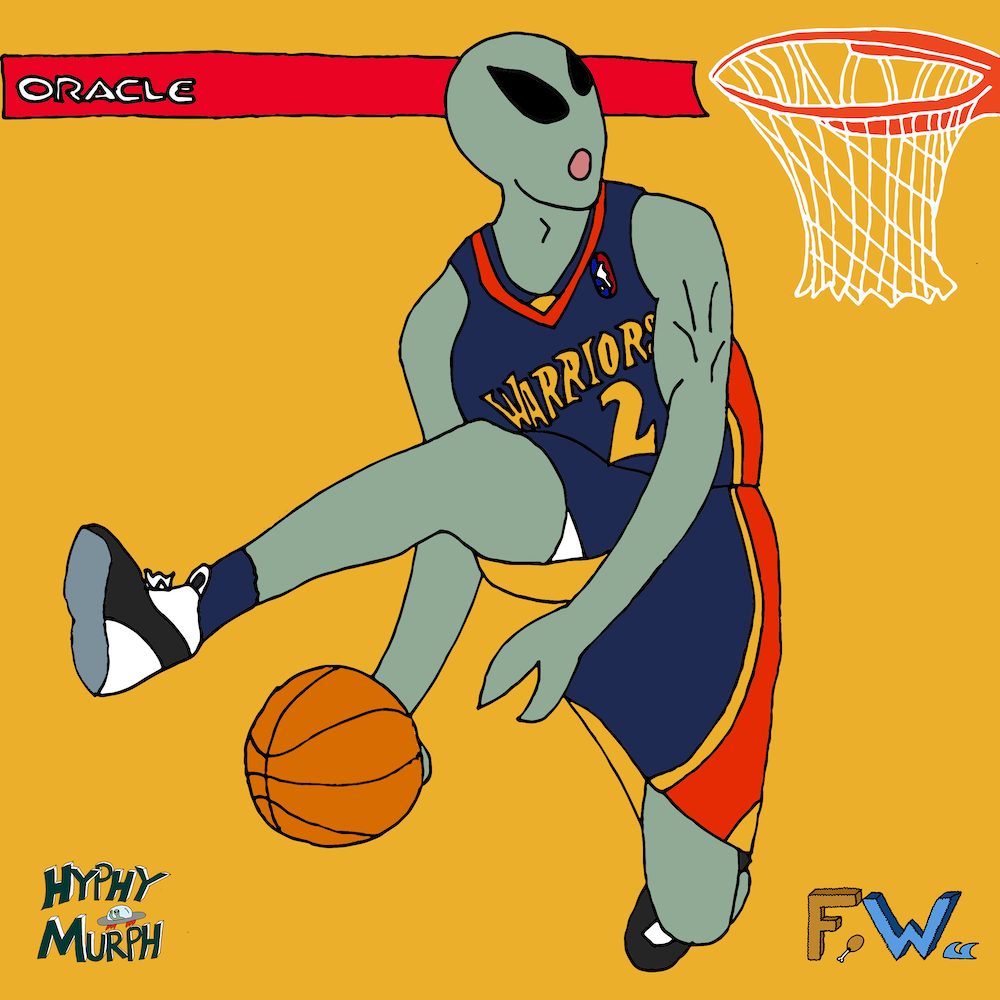 48HILLS Tell us about growing up in Cali. It seems to be a major part of your style. How is the history of this place and community reflected in your art and creative interests?
JETPACK JONES I actually grew up in SoCal. I'm originally from the Long Beach/Lakewood area. I moved to the Bay in 2012 and it changed my life! I stayed in Berkeley for about a year, then moved to North Oakland off Market and 46th. I later moved to West Oakland off San Pablo and Athens, and then off 14th near Highland Hospital. I love Oakland. To me it's the cultural center of the West Coast. It's the place that has had the most impact on me as an artist. Moving to the Bay really helped me to fall in love with being myself, and it felt good to be a part of an artist community.
48HILLS Where did the idea for Hyphy Murph come from? How did the concept of him as an alien from Hypherion City (obviously a twist on the famed Hyperion City) originate?
JETPACK JONES Murph is actually loosely based on me. Growing up I felt like an alien in my environment at times. I also had no intentions of working a regular 9 to 5 or leading a "normal" life. I like adventure and learning new things. I spent all of my 20s making music, and I have a love affair with weed. Murph wants to leave Hypherion [his fictional home planet] for similar reasons. When Murph crash lands in Oakland, he actually feels at home for the first time in his life. Murph is a free-spirited kinda guy. He's a bit delusional at times, but you gotta love his confidence. And music is what allows him to connect with the community.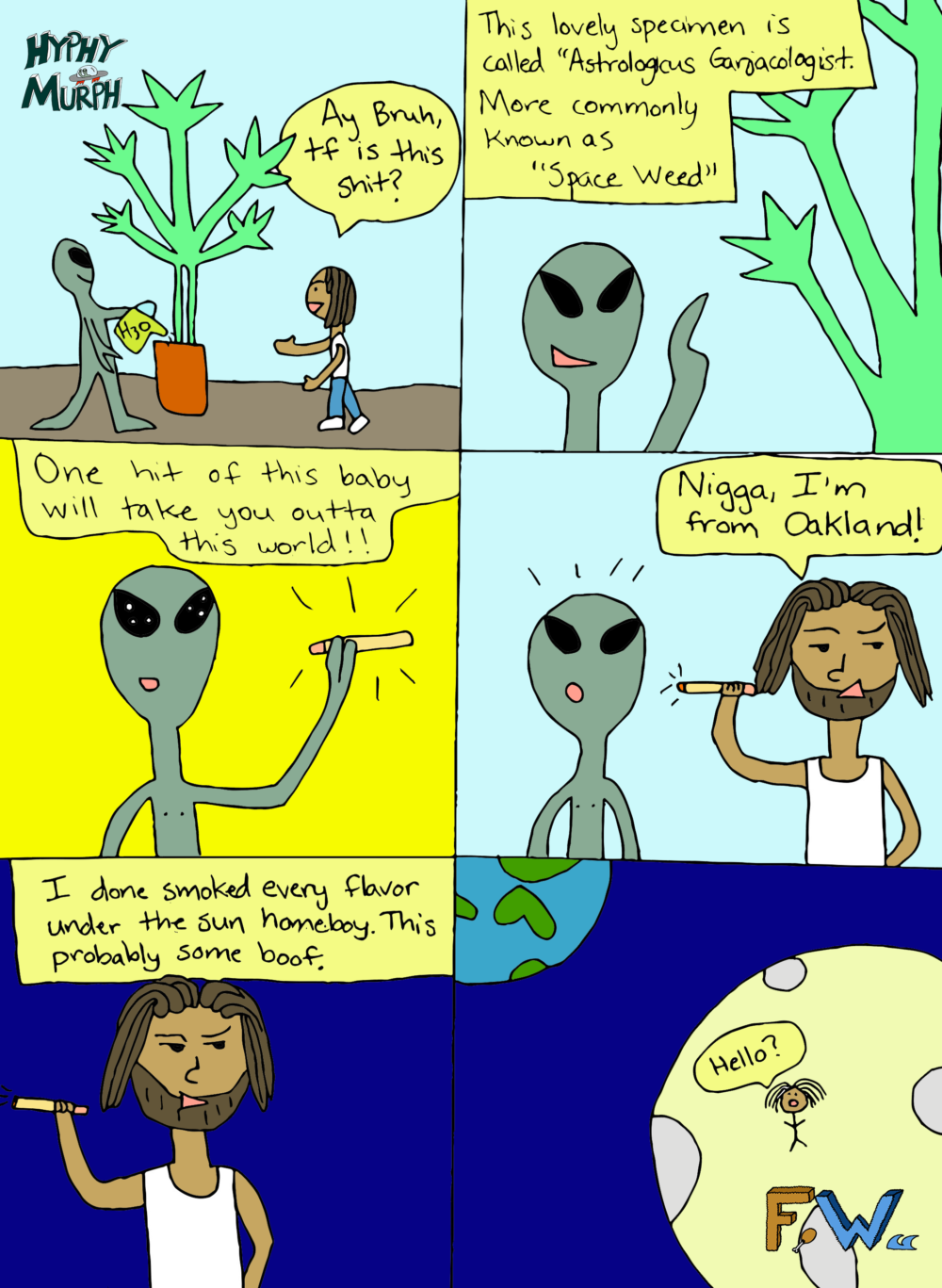 48HILLS Hyphy Murph definitely has some early '90s vibes to me. There's a dry, intellectual humor that reminds me of childhood cartoons like Beavis and Butt-Head, Ren & Stimpy, and The Simpsons. What sort of cartoons and comics influenced you to become an illustrator?
JETPACK JONES I love cartoons. I've written the first season for the Hyphy Murph cartoon and it's so much fun to work on. I'm influenced by a lot of shows, but the cartoons that stand out most would probably be Invader Zim; The Boondocks; Dexter's Lab; Looney Tunes (the OG version); Ed, Edd, n Eddy; X-Men; Rocket Power; Dragon Ball Z; Proud Family; A Goofy Movie; and Lucas Bros Moving Co.
48HILLS It seems that Bay Area culture from the early to mid 2000s is slowly being erased by the exorbitant cost of living in this region. What do you think is the value, if any, for you to capture this era in a comic book?
JETPACK JONES I think it's hella important to preserve the culture. Hyphy music was my first introduction to the Bay when I was a kid, before I ever even touched the soil. My Ghetto Report Card by E-40 was the first album that made me want to take a trip up north. The sound and styles coming from the Bay in that time were so different from anything else in hip hop. It sounded like they were on some alien, space travel shit. A lot of people who are moving to the Bay now lack the knowledge and respect for the culture. Hopefully, stories like Hyphy Murph can pay homage to that time period and help introduce the culture to a new generation of people.
48HILLS I know your art doesn't address these issues directly, but do you think about gentrification and displacement when you create nostalgic art, or is that a separate issue for you?
JETPACK JONES I think it does tie in with the Hyphy Murph story. And although it's not mentioned yet in the comic, there are references to gentrification in the cartoon script.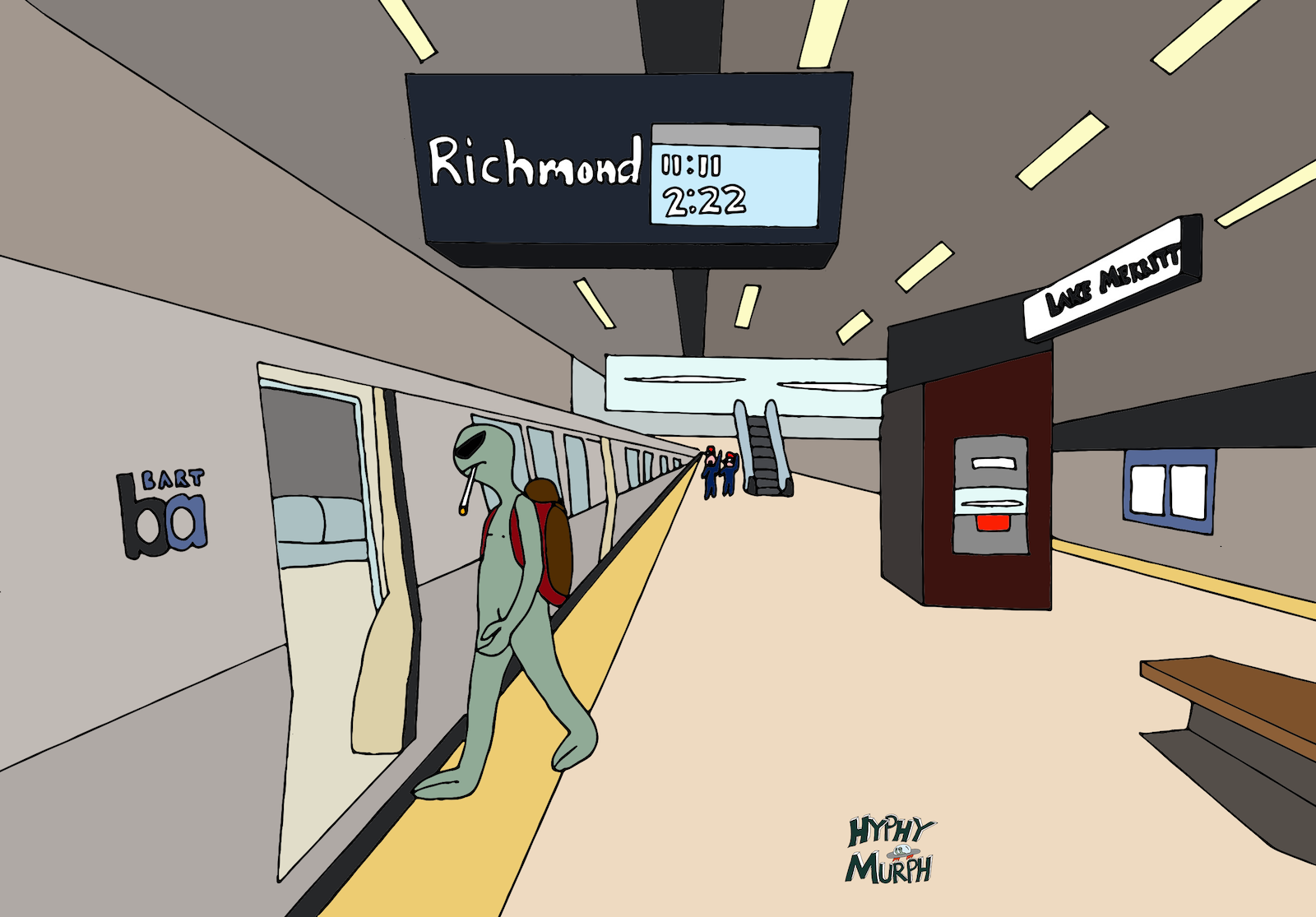 48HILLS It looks like you include friends, community members, and local figures in the comic. Who's your favorite character in this series and why?
JETPACK JONES That's a tough question. I like them all for different reasons. But outside of Murph, my favorite characters are probably Philbert (based on my homie Philip Bank$ from Trey Coastal) and Mac Tre. I like Mac's character because he loves psychedelics and he's always cool, calm, and collected.
48HILLS I have to ask… who's your favorite Bay Area rapper? You include some of the legends in your comic, but who is your go-to when you're trying to get your Baydestrian creativity flowing?
JETPACK JONES Of all time … that's tough. Obviously E-40, Mac Dre, and Too $hort. There are characters based on all three of them. I hella fuck with Larry June and Lil B, also.
48HILLS Are you cooking up any future projects? When might we expect the next Hyphy Murph to drop and where can we find your current work?
JETPACK JONES I'm always cooking up! Hyphy Murph NFTs are dropping daily on OpenSea. I'm also working on some other cartoon stories that will be released in the near future.
48HILLS Anything else you want to add or something we didn't cover?
JETPACK JONES I just wanna say thank you to everyone who has supported Hyphy Murph and Fried Water so far. I wanna thank the Bay Area, specifically Oakland, for the experiences that inspired this story. And thank you, 48hills, for the opportunity to share my story. I appreciate you!
Hyphy Murph comics and merch are available on www.FriedWaterCA.com. You can also buy the comics from the Hella Positive store in West Oakland while supplies last.