There was an odd sense of déjà vu at the ACT Geary Theatre for the opening of the Freestyle Love Supreme tour (through February 13). First, there was the realization that the last time I was in the Geary Theater, I sat near Danny Glover for, as artistic director Pam McKinnon called it, "the opening and closing night for Toni Stone" in March 2020. The unmasked audience that night was maybe one-third capacity, if that.
Next, was my discomfort at finding myself in another large venue where everyone seemed to be treating COVID with a shrug. (Vax credentials were checked; we all got ACT-branded masks at the door). I was double-masked and now face-shielded in a theater packed to the gills. Finally, there was my discomfort being exacerbated by yet another surprise pre-show appearance by Mayor London Breed. She had the courtesy not to openly mock us for following her safety measures (as she did at the premiere of Dear San Francisco, which was soon shut down by Omicron), but she all but declared victory over COVID, boasting of SF's "82% vaccinated" numbers and declaring it "time to open the doors again!"
I'd sure love to live in that carefree version of SF. I was in the version where Omicron continues unabated watching a hip-hop-inspired version of Whose Line is It Anyway? Much like Dear San Francisco, I may have not focused too closely on Breed's comments or the venue's capacity, had the show been fine entertainment. Unfortunately, this was also a show more interested in celebrating its own existence rather than justifying it.
If you don't know, Freestyle Love Supreme is the hip-hop improv comedy show co-founded by Lin-Manuel Miranda in 2004 during rehearsals for his breakthrough show In the Heights. Like nearly all improv shows, it has a handful of performers going on extended riffs about whatever strikes them (eg. news, pop culture, their own clothing) as well as audience suggestions. They create rapid-fire theatre out of whole cloth as the audience is meant to be equally amused by the results and astounded by the instant creativity). The conceit this time is that the scenes are all rapped to the accompaniment of live musicians on instruments, unless the scene involves beatboxing.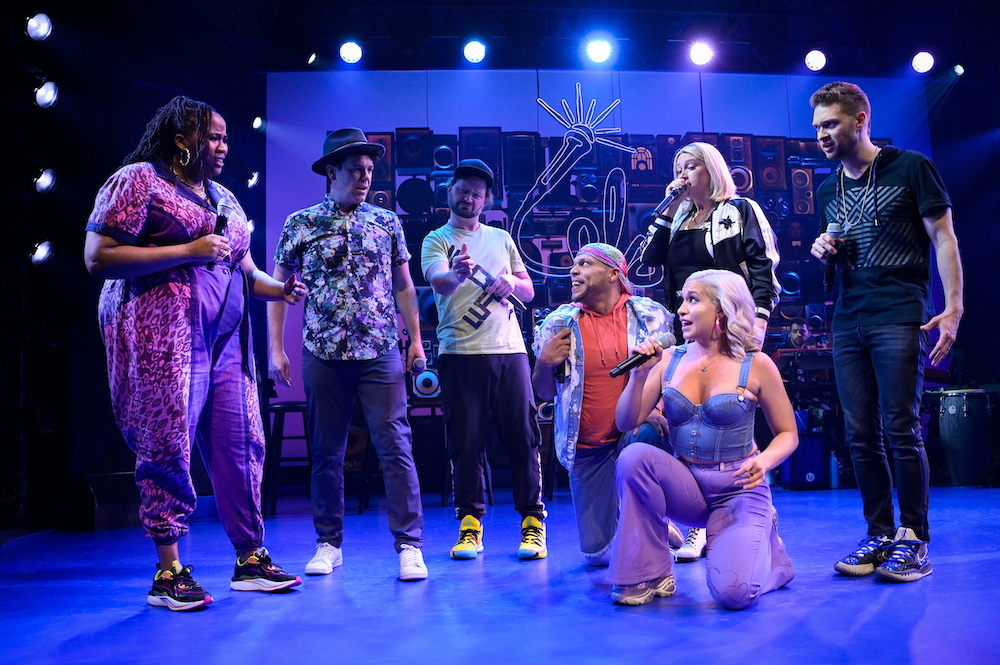 This can lead to some inevitable immaturity (when "masturbation" was suggested by the opening night audience, no one was surprised) as well as some surprising openness (when asked for life events, audience answers include waking up in jail naked, hitchhiking to Mexico, and eating a glow stick at a rave). A major sequence involved the cast creating a full sketch out of an audience story of fainting in class ahead of an oral book report.
This particular cast creates a series of bars that do indeed integrate the suggestions, but leave much to be desired in terms of lyrical stylings. This not-too-diverse ensemble isn't as stylish on the mic as their Pulitzer-winning founding member. Not having seen Miranda's original version, I can only speculate that the proud Nuyorican worked with more BIPoC who had each had a more natural flow.
As it stands, the mostly white ensemble stopping off at the ACT (before heading to Seattle) has such a watered-down feel to it that it might as well be Up With People in terms of forcing its "positivity" down our throats. Sure, there are obscenities peppered throughout the verses, but that hardly gives it street cred; and many-a-great MC has dropped hard bars without a single swear. Rap is the offspring of spoken-word poetry and hip-hop is the product of BIPoC creating an artistic movement out of nothing more than what the street offered them: They made diamonds out of lumps of coal. What we saw this opening night wasn't the hip-hop equivalent of a home-cooked meal, but rather something you get at McDonald's.
In a way, it's appropriate that Breed was there to open the festivities, as this show is the very sort of non-threatening, faux-diverse show she's happy to associate herself (again, like Dear San Francisco) while daring, independent theatre artists—think Cutting Ball—have to painfully choose between cancelling their shows or risk turning their audience into potential Omicron-spreaders (Cutting Ball did the right thing).
It's been two years since anyone sat in the Geary Theater, myself included. I didn't realize it at the time, but I was grateful for the spartan audience around me and ACT's choice to cancel the Toni Stone run—a choice spurned on by London Breed's wise decision to close everything down. Now, both ACT and Breed are pushing ahead with business as usual as the coronavirus continues to cause havoc right outside the theatre doors.
As shown at the ACT, Freestyle Love Supreme is a relatively inoffensive showcase of "street" art presented for a rich city's rich citizens, which seems to be a trend. It's not really bad, it's just… there. When one risks a COVID infection just for an hour of theatre, "just there" isn't good enough.
FREESTYLE LOVE SUPREME runs through February 13 at the ACT Geary Theater, San Francisco. More info and tickets here.