When the idea of a subway map comes up, Daniel Kwan immediately starts scrolling through his phone. The suggestion comes during a question about what his and partner Daniel Scheinert's script must have looked like for Everything Everywhere All at Once, their new multiverse-spanning adventure starring Hong Kong action icon Michelle Yeoh. Kwan pulls up a photo of a gonzo chart with many branching lines.
"That was on the wall next to us for years when we were doing rewrites," Scheinert says, during the pair and their cast's recent visit to San Francisco for the film's local premiere at the Castro Theatre.
"As directors, we're really drawn to structural challenges, breaking away from a lot of the rules of a typical screenplay," adds Kwan. "And so, we read all the books on how to write screenplays and kind of deconstructed what our movie was going to be and realized, you know, we had to kind of map out each of the different stories and start to stuff them into each other like a turducken."
After years of collaborating on music videos, Kwan and Scheinert—collectively known as Daniels—made an arresting debut in 2016 with Swiss Army Man, starring Paul Dano as a lonely man on a deserted island and Daniel Radcliffe as the corpse he befriends. Everything Everywhere All at Once is both as absurd and more complicated as Yeoh plays Evelyn, an immigrant laundromat owner facing an IRS audit and trouble within her family that includes husband Waymond (Ke Huy Quan), daughter Joy (Stephanie Hsu), and father Gong Gong (James Hong).
A dreamer who could imagine many paths for herself, none of which worked out, Evelyn's disappointment with life has begun to sour her relationship with her family. Suddenly, on the way to the audit, she is offered a lifeline. Or several, as the movie takes off at warp speed into a dizzying, dazzling myriad of directions, in several genres, and paying homage to cinema as diverse as the Hong Kong flicks with which Yeoh made her name from the intimacy of Wong Kar-Wai films to Pixar's Ratatouille.
"When I first read the script, it just took my breath away," says Yeoh. "When you read something like this you go, 'This is something very special.' It was written for me, right? I mean, it felt like all the years I've been practicing, or rehearsing led up to this, but I had to meet the Daniels because I don't believe in what I read. I have to see and feel the passion is these two guys, these two crazy geniuses that have this complex, beating heart together."
That Yeoh responded the way she did to the screenplay came as a relief to Daniels. The pair began with the idea that they were going to write a movie about a Chinese American family, at least in part because it would give them leave to pay tribute to the Hong Kong movies they love so much. With that in mind, they began to imagine Yeoh in the movie.
"I think we accidentally wrote the character with her inspiring us and were just thrilled to push her in different directions or to showcase thing that her Hollywood movies hadn't been showing," says Scheinert.
"We accidentally wrote a part that no one else could play—before we ever met. We had no idea if she was nice, or we'd creatively get along. That was a pretty scary feeling to be two years into the writing process and realize, 'Wait! We don't have a backup."
"The backup plan was we cut the budget to like 10% of what it was and cast my mom," jokes Kwan.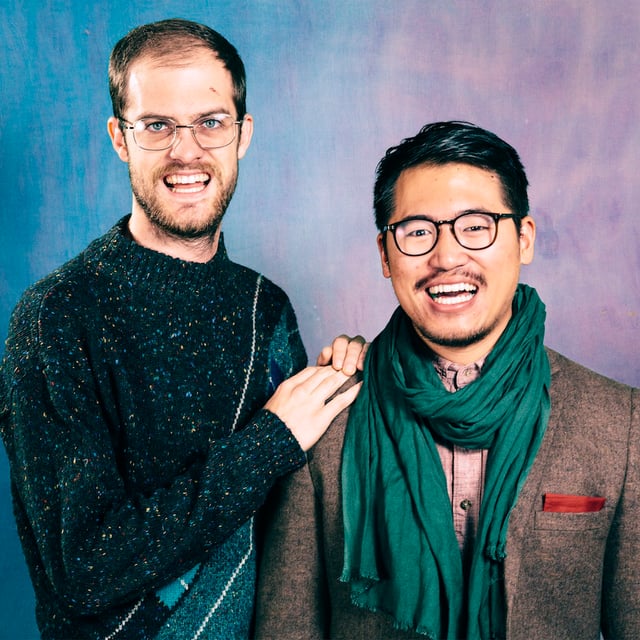 For her part, Yeoh was just as nervous before meeting Daniels. As much as she loved what saw on the page, she also realized what a massive undertaking it was. But she knew she wanted to do it. She loved the story and the opportunity it represented.
"It's very interesting for a person to see every time you make a choice, what could happen? And would you do it differently? I mean, how many times have you heard this question in your life? Would you have done something differently?" say Yeoh.
"But I think at the end of the day, what I loved about it is, like, no matter how many universes you go to, you will you want the people, your family to be with you, always. You can search eternity, but you come back full circle. So, we did it, man. It made a lot of sense to me. And I felt that it was giving me an opportunity to go into all this craziness, physical comedy, which I don't do very often. I don't think people think I'm funny."
Everything Everywhere All at Once wrapped production the day the world went into COVID-19 lockdown. It gave Daniels the luxury of a long postproduction but cast and crew were still nervous, even after the film was selected as SXSW's opening night feature. When the Sundance Film Festival switched to a virtual format in wake of the most recent outbreak, they braced themselves for a similar fate, only to be delighted when they were able to greet an enthusiastic live audience in Austin.
"That whole atmosphere of a shared experience, you can't replace it," says Yeoh. "Even if you have a big screen at home, the magic is missing."
What Daniels have been hearing since that premiere from people who have had the opportunity to see Everything Everywhere All at Once is that its wacky action and warm family story made it the movie they needed to see right now.
"What a beautiful thing for a director to hear," says Kwan. "Every step of the past six years has like slowly ratcheted up what we all collectively think we can handle in a weird way. And like, as we were doing that, in our real lives, the movie was kind of absorbing that tension in the energy.
"We wanted to use the multiverse as a metaphor for the Internet and what it feels like to be connected to the chaos because I think one thing we agree on is that the world has always been chaotic. I think the only difference now is we can touch it all at all at once, which our human brains, our little lizard brains weren't built for this. I think our stories and our myths aren't keeping up with this feeling.
"We knew we wanted to make a movie and a narrative that could somehow capture that feeling so the audiences could feel seen, but that also give them you know, a warm hug at the end of it and give them a way out, even if it's not the only way out. We wanted to find one way out and one way to exist in the chaos."
EVERYTHING EVERYWHERE ALL AT ONCE is now playing in theaters.