Terry Kochanski, the director of SCRAP, says the silent auction and garden party, "ReImagine: The Art of Sustainable Thinking," April 3 at the Randall Museum show how beautiful sustainability can be. The party kicks off a SCRAP show at the museum by the same name, which runs through August 31.
The party is a fundraiser for the creative reuse center for arts education that Kochanski calls "Aladdin's cave"since it's full of unexpected treasures. She said that so many people respond, "Oh, I love that place!" when SCRAP comes up that they put it on a bumper sticker.
Why do people love it so much? Well, for one thing, it's welcoming to everyone looking for supplies to make art. And people feel good when they donate things they love to SCRAP. "Many who donate don't want to fill landfill, but it's also they know their things will be passed on, and somebody else will use them," Kochanski said. "That's a big part of why material donors love us."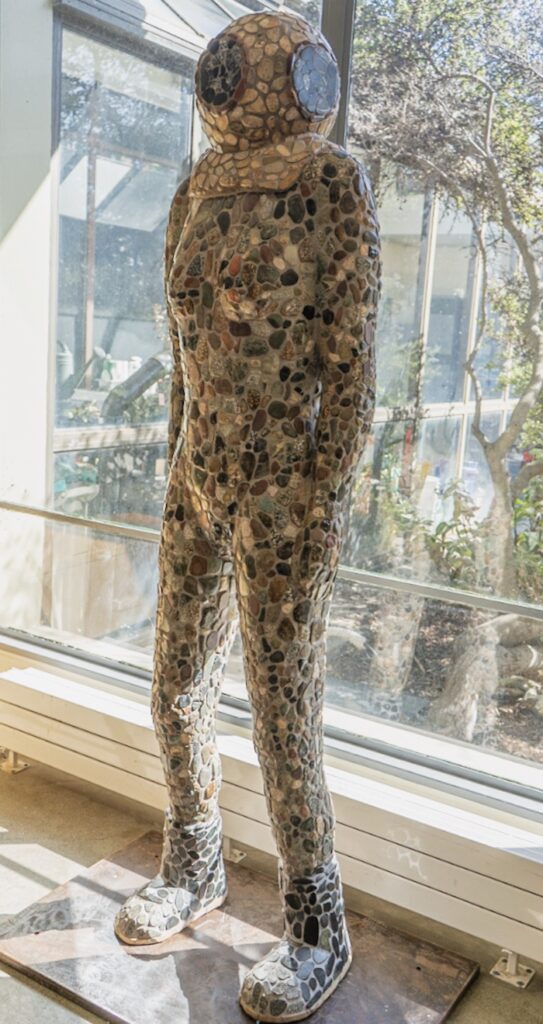 During the pandemic, SCRAP made sure to get out into the community, starting "SCRAP In a Box" to get art supplies to children. Kids develop conceptual thinking doing art and working with SCRAP, and they learn about environmental stewardship, Kochanski said.
For Black History Month, the program featured Black artists including Kehinde Wiley, who painted the famous portrait of Barack Obama with a background that looks like vine-covered wallpaper.
"We gave the kids boxes with beautiful wallpaper backgrounds and asked them to reimagine themselves," Kochanski said. "We're taking that concept to the garden party, and we'll take photos of the attendees and give them all kinds of backgrounds to create something."
Christine Kristen, the Burning Man archivist who also goes by LadyBee, curated the "ReImagine" show, putting together about 60 pieces of art by 29 artists. Kristen says she looked for local artists who used recycled materials, reached out to other artists she knew, and asked them for recommendations. She's glad the show has plenty of 3-D art.
"Sculpture is great for kids," she said. "They can walk around it and look at it. There's Brian Enright's "Tree" from trees downed in the Sonoma Fire, which is a real showstopper, and there is "Prey," which is huge American eagle covered in pennies, nickels and dimes, and they'll get to marvel at that."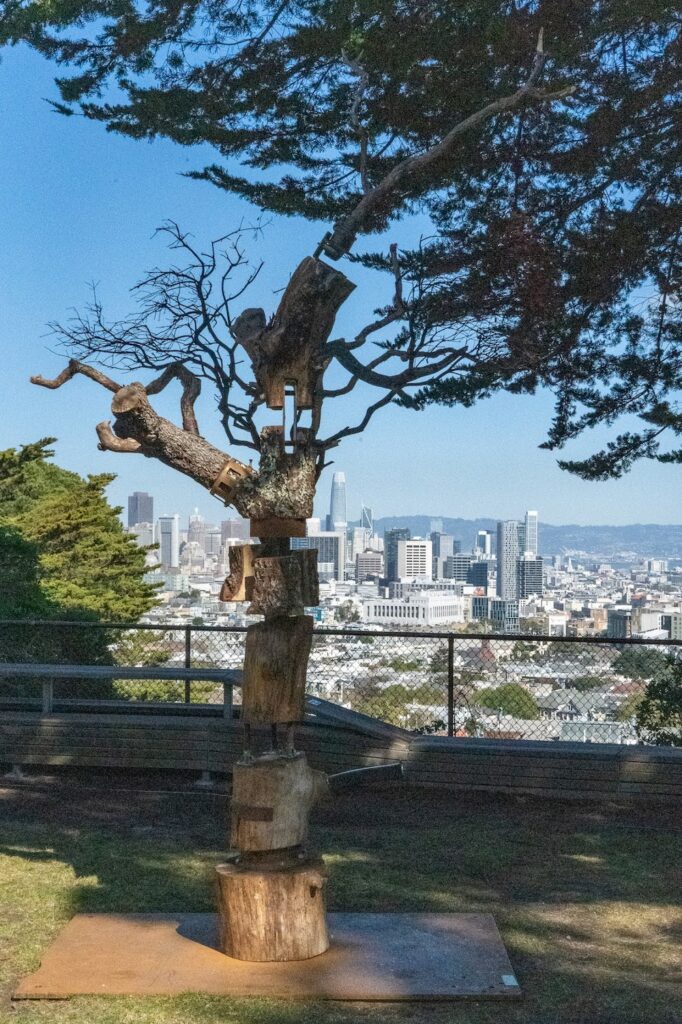 LadyBee says some pieces are pretty funny, such as Dana Albany's "Tired Black Dress," which has recycled tires making up the skirt, and Finley Fryer's 2020 "Female Diver," a large piece made with recycled plastic that looks like something out of an old-fashioned deep-sea diving movie.
Speaking of plastic, there's "One Beach Plastic," the team of Judith Selby Lang and Richard Lang, who have been picking up plastic debris on Point Reyes' Kehoe Beach for three decades. They store it all in their barn, sorted by color. For "ReImagine," they arranged some on Fiesta Ware plates.
"It's great looking, but it also draws attention to the plight we're in. There's plastic in our food, and microplastics in our bloodstream," LadyBee said.
The curator says she used to be an artist, but she decided what she loves to do and is good at is working with artists and seeing their creations. Like what Diane Platner did—painting a image, placing bubble wrap over it, and
then painting on the bubble wrap. Or Mariana Nelson who took hundreds of the blue plastic bags the New York Times is delivered in, twisted them tightly and made a fruit-like cluster of them.
"It almost looks like a bunch of grapes," LadyBee said. "It fascinates me what people come up with."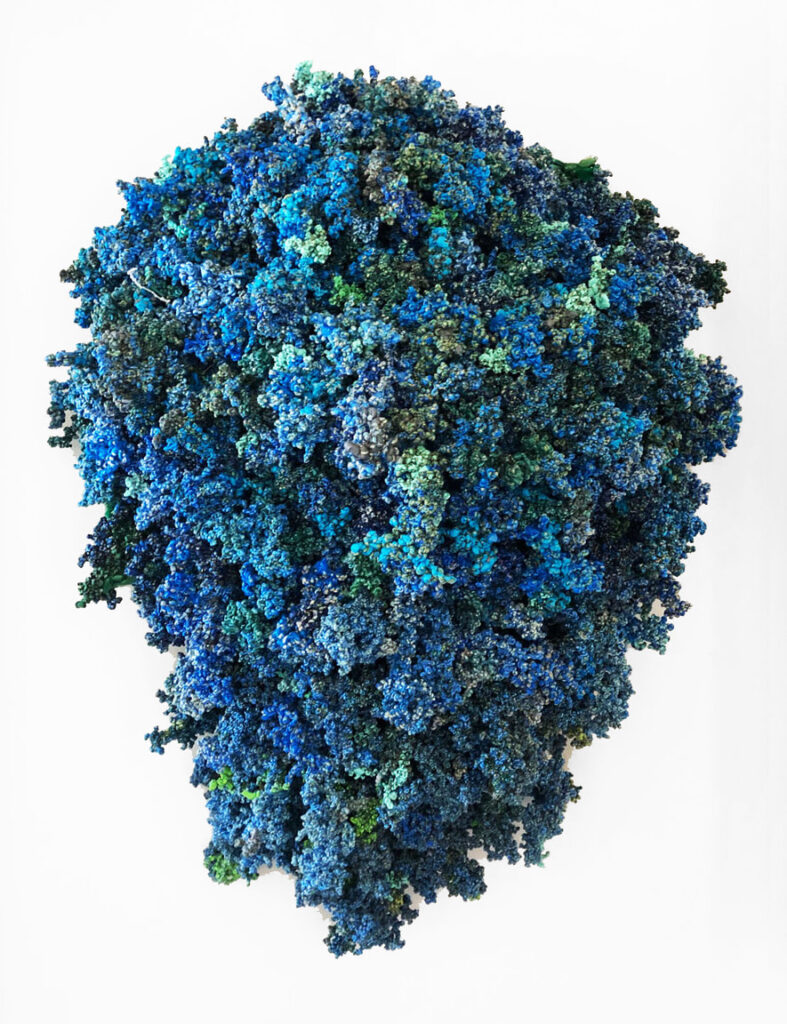 The people at SCRAP want to support the artists who do their work with reclaimed material, Kochanski said, and Kristen added that she likes for children to realize they can repurpose old tires, bubble wrap, and plastic bags
into something beautiful.
"These kids can see they can make art from recycled stuff," she said. "They're the future. Anyone can use materials that have been thrown away, and it makes it immediate and accessible for kids to just use that to make art."
REIMAGINE: THE ART OF SUSTAINABLE THINKING garden party and silent auction, Sunday, April 3, 2pm-4pm, Randall Museum, SF. Tickets and more info here. Show runs through August 31, more info here.