Puff is a monthly column surveying the wide world of cannabis happenings and products. Join writer Dan Karkoska at his latest Puff Happy Hour event, 6:30pm on Thursday, March 31 at Joy Reserve on the 2nd level of Westfield San Francisco Center. There will be music and drag performances, a stoner raffle, and DJs playing cannabis classics. More info here.
"What do they do out here?" asked my friend Birdie as we jostled down a rural highway outside Petaluma. It was a beautiful sunny day, and we were on our way to Sonoma Hills Farms for a tour.
When Sonoma Hills invited me for a tour of their property, I was instantly interested. The only problem was how to get up there without a car—hence Birdie. He volunteered to drive me up there as soon as I said, "touring a weed farm."
Birdie picked me up nice and early in San Francisco, and off we sped up Hwy 101 to our destination. We found ourselves in the middle of rolling grasslands, looking at lots of cows and smelling that sweetly-pungent aroma of manure as we searched for the farm's driveway. I hopped out when we reached Sonoma Hills' front gate to tap in some numbers on the keypad, we made our way down the driveway, and parked.
Nature. It had been a while since I had been out in this much of it, and spring was budding all over the place.
After a few minutes, a souped-up golf cart headed our way. Driving it was Aaron Keefer, the farm's vice president of cannabis cultivation and production. Welcoming and excited, he told us to hop right in for our tour, and we settled in to listen to him talk about his vision for the farm.
Now at this time, I was having visions of my own—about silos full of weed and swinging on a rope, flying through the air, and landing in a giant pile of cannabis. We were at a weed farm, after all. The only major gaffe in my thinking was there was actually not a lot of weed on the farm because it was too early to start growing, and all the stuff they had previously harvested was busy getting people stoned elsewhere.
But we certainly got to know the people behind the project. Keefer grew up on the East Coast., and after graduating from the Culinary Institute of America, headed to the Bay Area where all the cool food culture was happening. He landed a chef position at the Marin Country Club, which would eventually take him to Chef Thomas Keller's legendary restaurant The French Laundry. There, Keefer rekindled his childhood love of cultivation. Always an aficionado, he began growing medical cannabis along with other crops for the restaurant.
He has since moved up to the Napa area with his family and has been working at Sonoma Hills Farm, following his dream of growing beautiful cannabis and pairing it with equally-wonderful food, all grown and prepared under his watchful eyes.
Aaron drove us all around the farm, showing us where the big indoor grow building will be as well as the outdoor field that awaited a new planting in early June. We also saw the property's different kinds of livestock. In a very "pets or meat" moment, he described his pigs by their fat marbling content, rather than the cuteness of the animal. Those pigs sounded delicious.
The farm has an old barn, which will eventually become an outdoor kitchen with a dining room, bar, and an outdoor seating area for the farm's staff. It is rustic and beautiful. Sonoma Hills has a resident photographer, and even a photo studio on-site, as well as a staff member who plans the botanical layout and look of the place.
On the day we visited the farm was bustling, with concrete being poured in the driveway and people tending the fields and garden. They were harvesting and cleaning vegetables that were going to be picked up by a restaurant owned by chef Tyler Florence later on.
Then Keefer turned to us and said the magic words: "Do you want me to roll a joint, and we can smoke it?" Of course we did!
He drove us out into a pasture where there was nothing but open air and nature, and we smoked nice fatty joints as this really long-haired cow became seemingly transfixed by us—or was it because I was amazingly stoned and staring at a cow? I bet he will be delicious too. Wow, good weed.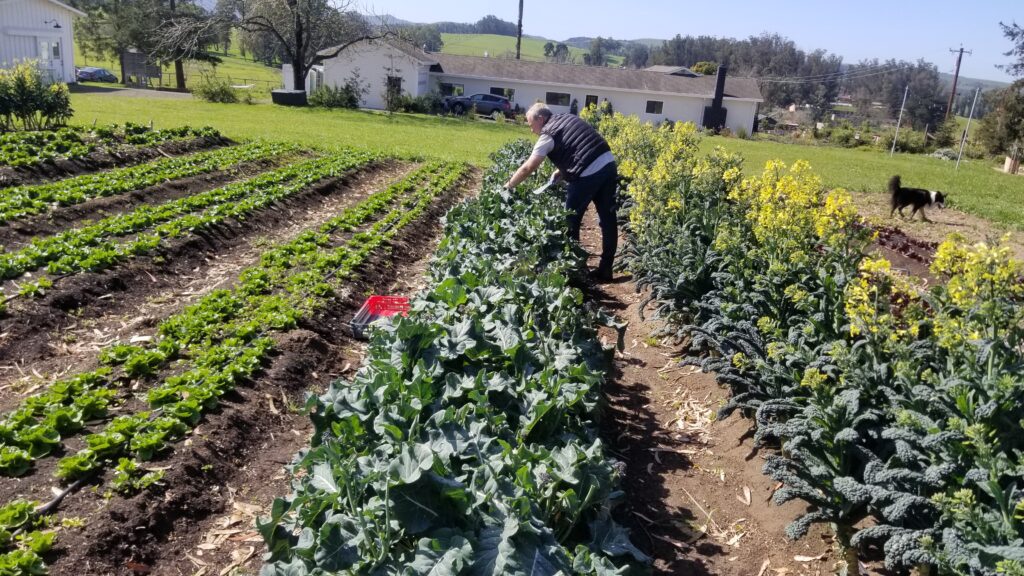 Aaron told me they were going to concentrate on six cannabis strains next year. When the barn and kitchen are ready, they want to bring people in from the city to have a cannabis-infused dinners featuring only food items grown on the farm—including the weed itself. He said he prefers to pair each dish with a joint or measured-out bowl in a bong or pipe rather than infuse the food. I like that method, because it allows you to play with the flavor of the smoke against the food and beverages.
Considering the beauty of the farm, his plans for development, and chef pedigree, I can see events at a Keefer-run farm being a complete success.
It's not too far from my dream of what I like to call "Weed World," which I envision as a place you can go to relax, get stoned, and have fun. My version may be more of an urban mall concept, but Keefer's cannabis farm serves a similar purpose. It's another vision of what the fun side of modern cannabis could be—if we can all manage to jump through the regulatory hoops thrown up by local and state governments.
After smoking the joint, chilling, and chatting, we headed off to the garden. We were offered fresh vegetables to take home. Watching Aaron as he stonily poked through his garden, pulling onions, lettuce, and broccoli out of the ground, I could see the man's true passions emerge. It had to do with the way he held his body and cleaned up the vegetables. This was a man truly in love with Earth, and all the things he grows from it, be it animal, vegetable, or cannabis.
We left among handshakes and hugs with a back seat full of fresh produce. The Sonoma Hills team even fixed me up with two of their finest strains, Grandi Guava and Melonade #8. Both were scrumptious, with nice dank buds to crack open and enjoy. Aaron said there was something in the soil that made everything more delicious. Maybe he was right.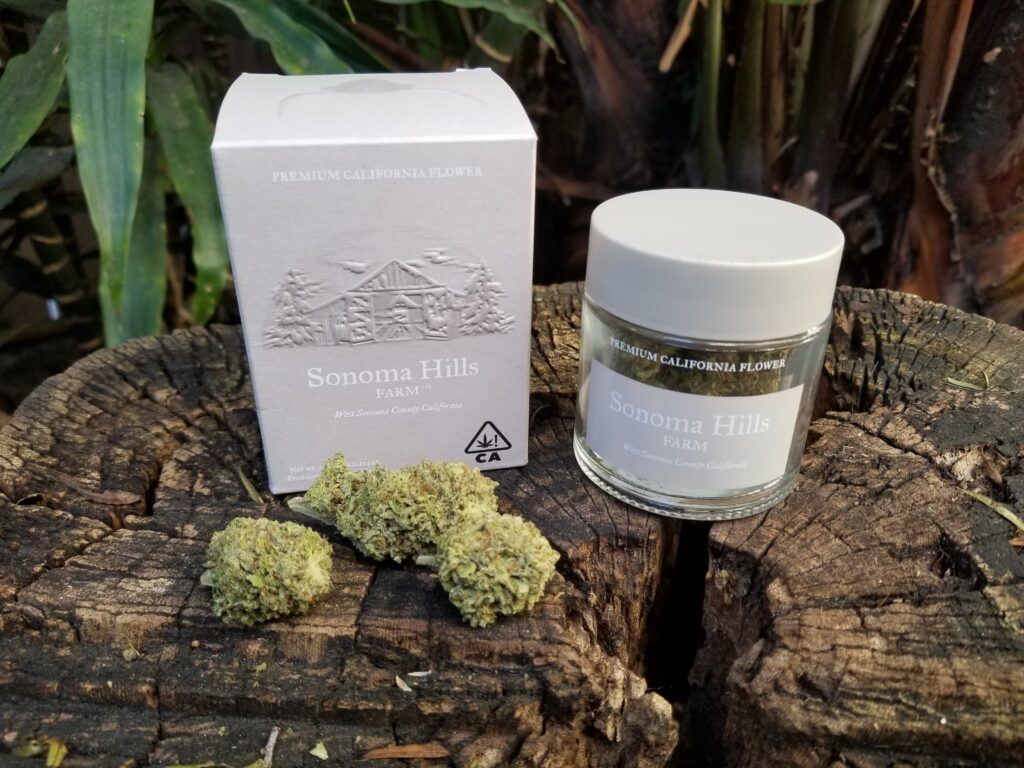 Birdie and I had made new friends in the cannabis community, and we were already looking forward to returning when Sonoma Hills Farm starts having events. So I thought as we headed back down the road, at last knowing damn well what they do "out here": creating a beautiful, sustainable dream.
Now it's time to light up.