I don't know why, but it wasn't until I got to the New Conservatory Theater Center's vaccine check-in (which required boosters, but didn't scan QR codes—masks were required everywhere but the bar) that I was seeing the first of two weekend shows associated with Colman Domingo: "Dot" (through April 3) , which he wrote, at NCTC and Passing Strange at Shotgun Players, a show whose legendary Broadway and Berkeley Rep runs both featured the actor. I was also seeing a solo show at the Magic Theatre in SF, where Domingo performed a charity event this past Valentine's Day.
If you only know him as "Rue's AA sponsor on Euphoria", there's much more to the talents of a man who's done a lot of theatre here in the Bay Area
"Dot," the holiday dramedy he premiered in 2019, certainly comes out of left field compared to everything else he's shown. Set in West Philadelphia ("born 'n raised"), the eponymous matriarch and widow (Juanita Harris) is welcoming her children back home for Christmas. At least, she would if she could remember: Dotty is suffering from a severe case of dementia, often showing crystal clarity for events decades old, but struggling to remember activities she did mere minutes ago.
Her daughter Shelly (Kimberly Ridgeway), a struggling single mother of a pre-teen son, is trying to get Dot's affairs in order before she deteriorates any further, but she doesn't get much help from her artist-brother Donnie (Marcus J. Paige) or their flighty sister Averie (Brittany Nicole Sims).
Also present are Donnie's white husband Adam (Greg Ayers), Kazakh personal care assistant Fidel (Lore Gonzalez), and the siblings' childhood friend Jackie (Kim Donovan), pregnant with a married man's baby and hating her high-class life back in NY.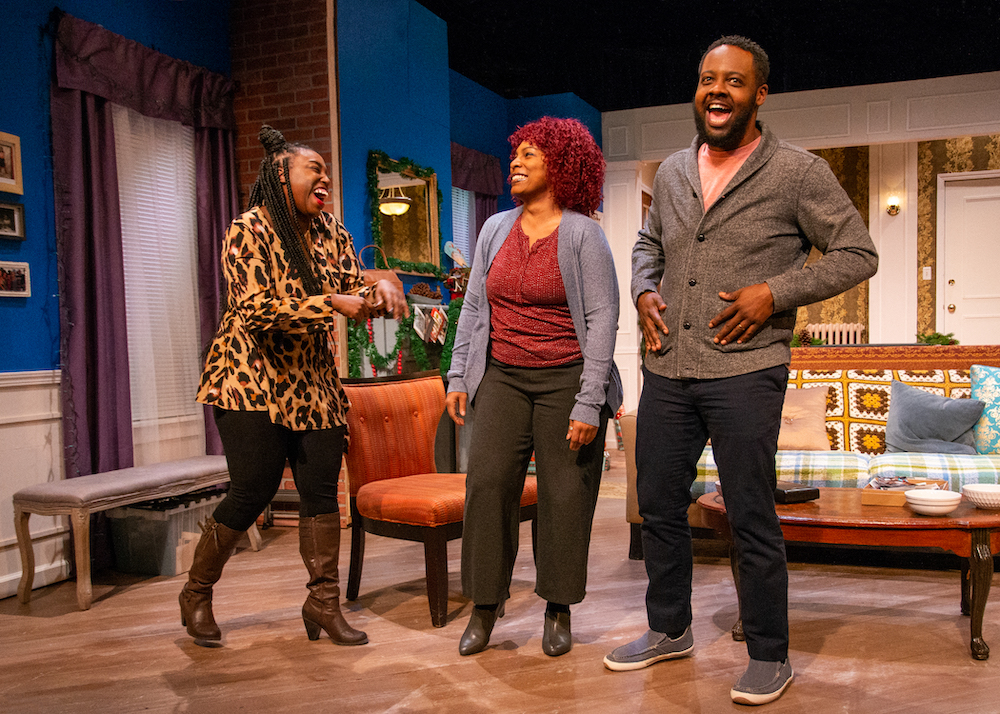 If all of this sounds like the makings of a sitcom, it may interest you to know that Domingo is currently adapting it as such for AMC. Hopefully, the televised version will have ironed out some of the more noticeable wrinkles from its original stage incarnation. It's not bad, mind you, but certainly imperfect in ways that are easy to improve upon.
One of the problems is the way Domingo often relies too heavily on zingers, as if he wrote in pauses expected audience canned laughter after several lines in a row. Some of them are funny, but others have a pat-on-the-back air of self-congratulation to them. Another major problem is the character of Averie, or should I say the lack thereof. She never elevates beyond the caricature of the loud "You go, gurl!" Black woman seen in many poorly-written TV shows and rom-coms. Practically every other character is given multiple dimensions and backstories, but Averie starts at "shrill" and stays there for the play's entire text.
There's also a general tonal whiplash to the script that one might think was meant to reflect the title character's constantly shifting memory. When it's done right, the jokes easily transition into moments of tension as Dotty (played ebulliently by Harris) goes from joyful to terrified in record time. Another time, however, a quiet moment between Donnie and Adam at the piano is undercut to make a pop culture quip.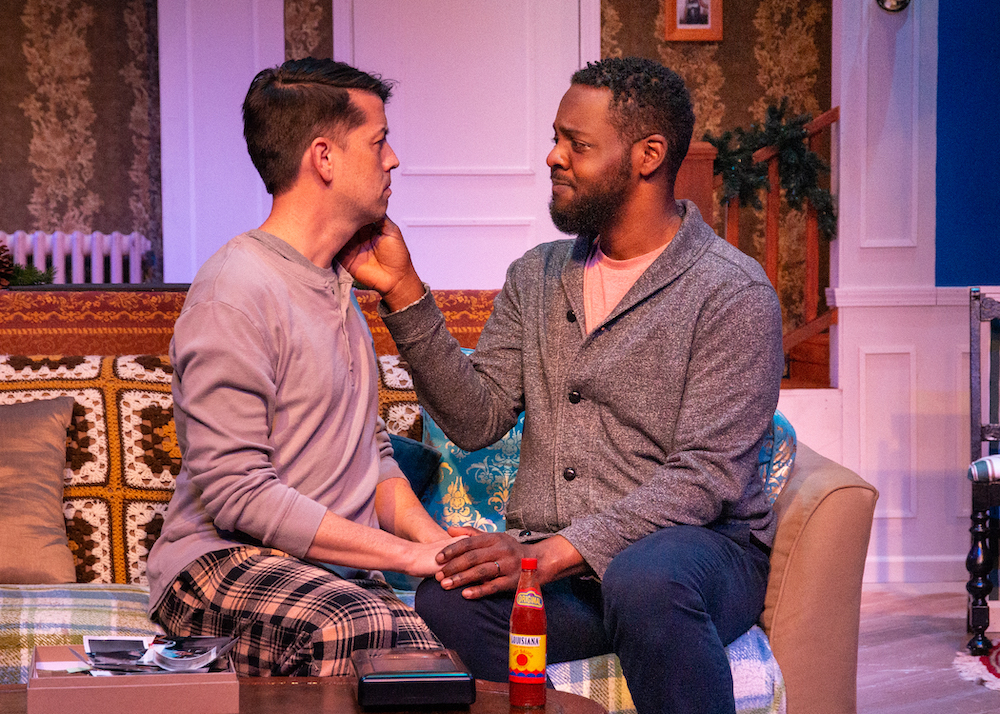 That tonal imbalance is helped by the play's cast, assembled by director Shawn J. West. In addition to the well-cast Harris, Kimberley Ridgeway practically walks away with the entire show, tapping into Shelly's unapologetic focus (she hypocritically chides Jackie for getting pregnant, despite the fact that Shelly herself also got pregnant by a married man) and well-hidden vulnerability (a late moment when Dot mistakes her for the cleaning lady cuts her deeply). I expect the shaky marriage of Donnie and Adam—both in the middle of a juice cleanse that Donnie hates—will be a major subplot of television version, but that doesn't take away from how lovable Paige and Ayers make them.
Kim Donovan never seems to have enough ebbs and flows for Jackie (Donnie's high school girlfriend before he came out), constantly playing her as high-strung even when she's supposed to have her guard down. I don't recall any previous work from Brittany Nicole Sims, but the script's thin outline of Averie doesn't do her any favors.
As shown on the beautifully transformative set by Kuo-Hao Lo, "Dot"'s warmth and familiarity make it timeless outside of its explicit Christmas setting. In revealing the ambitions of its author, it's an imperfect showcase of conflicting tones and uneven characterizations. Those cuts may be bandaged by the time it reaches TV, but it still looks pretty rough in its present form.
DOT runs through April 3 in the Ed Decker Theatre of the New Conservatory Theatre Center, SF. Tickets and information here.