UPDATE: Last night at 3am, the task force reversed course and voted to send map 4B, which much of the community is against, forward.
After almost seven hours of testimony, with 182 speakers live and remote, the vast majority of them opposed to the direction the Redistricting Task Force was taking, the panel agreed 8-1 to move forward with the only remaining map that the organized communities of San Francisco could tolerate.
The map, known as 4D, still raised a lot of concerns. It moves Seacliff, a very wealthy and largely white community, into District 1, which has a large Asian and working-class population. It still shifts District 4 south, giving that district more conservative voters. It moves Treasure Island from District 6 into District 3, which some argue would further disenfranchise the largely Black community on that island.
But roughly 100 people who demonstrated outside of City Hall, and those who later spoke to the Task Force said that they could live with 4D as a starting point.
During the rally held before the task force meeting Geoffrea Morris, an activist and member of INVEST BLACK, said moving the borders of District 6 as outlined all of the draft maps except 4D would diminish the voices of Black communities by reducing the number of supervisors which represent Black neighborhoods around the city.
"The Tenderloin, SOMA, and Treasure Island is ground zero," Morris said. "Moving Treasure Island, SOMA, and Tenderloin affects all our neighborhoods. It reduces Black representation from four supervisors being accountable to us down to three…We gotta say hell no."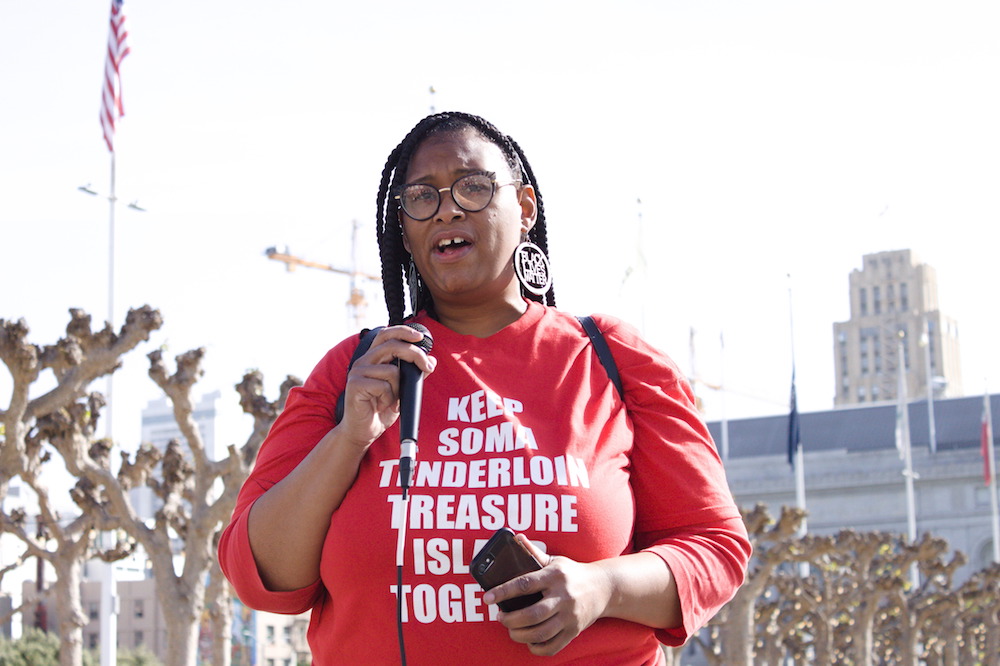 Emily Lee, director of SF Rising and a member of the Unity Map Coalition that has gathered community input to form its own proposal map, endorsed map 4D, saying that it is the map that keeps existing communities most intact.
"Map 4D is the only map that doesn't sever established neighborhoods, cultural districts, and move entire neighborhoods out of their original district," Lee said.
Task Force Member Michelle Pierce, one of three appointed by the supervisors, noted that of the 182 speakers, 117 were in favor of 4D, 32 in favor of 4B (which splits the progressive community pretty radically), and only a combined three liked versions A or C.
You can see all the versions here.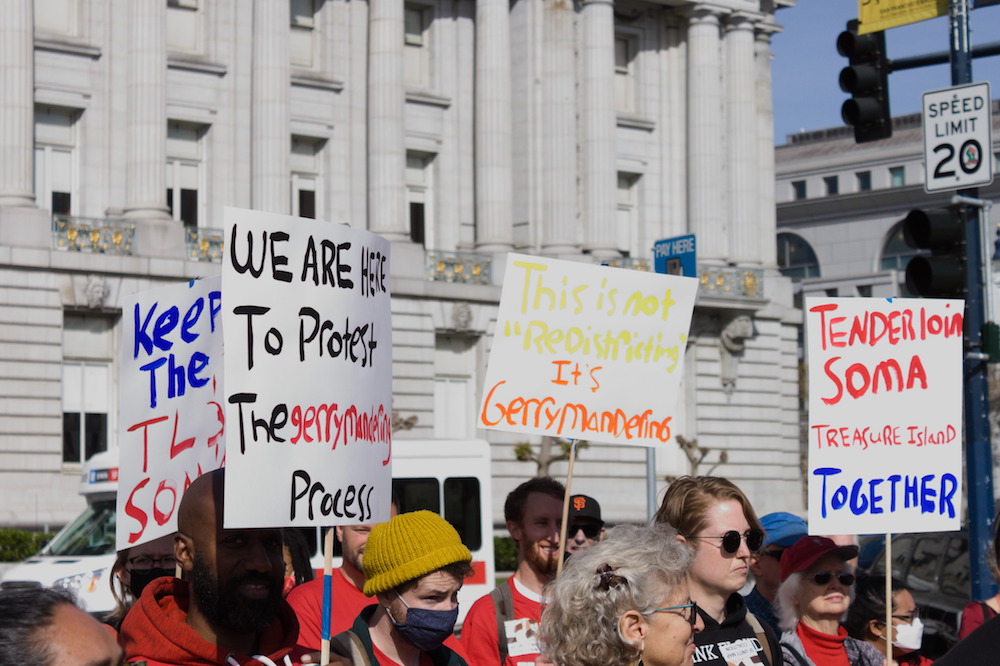 Member Jeremy Lee, also appointed by the supes, said that it was important to listen to the community. "There have been over 900 public comments," he said. "There were zero comments suggesting that the Haight and Tenderloin be combined.
"This is not a game of SimCity," he said. "We are not generals dividing up the spoils of war."
Both candidates for the District 17 Assembly seat have spoken in opposition to the previous mapping approached.
David Campos noted in a statement:
Every 10 years we have this conversation about redistricting and preserving our neighborhoods, and it's beyond me how we have yet to create a system that actually works to benefit our communities of concern. Communities of color and our LGBTQ+ communities aren't being heard as they organize and demand that their neighborhoods are not torn apart in this process. The Task Force has a long road ahead of them, and I don't envy their work, but with only two weeks left before the final maps are due, it's imperative that they listen to concerns being brought forward and produce a set of maps that does not dilute and diminish the voices of so many critical communities in our city.
District Six Supervisor Matt Haney, who hadn't made any public statements about the future of his own district, appeared at the rally and told us that the draft maps which take the Tenderloin out of District Six, which include maps Four A, Four B, and Four C, or a map that splits Western SOMA from Central SOMA, which map 4B does, could weaken the political voice of vulnerable communities and restrict the services, including supportive housing, that those constituents depend on:
For 20 years, Soma and Tenderloin have been together in D Six and there's a reason for that. These neighborhoods share a lot of services, there are a lot of supportive housing providers, service providers that are concentrated within Soma and the Tenderloin that benefit from having a shared voice in a district. There is also the cultural district, dividing the LGBT cultural districts is really devastating and that can have an impact on resources.
Member Chema Hernandez Gil, the third member appointed by the supes, moved that the Task Force adopt 4D as a starting place for the final week of line drawing. That motion passed 8-1, with only the chair, Rev. Arnold Townsend, dissenting.
The map must be finished by April 15. The Task Force will be meeting Monday/4 and Wednesday/6 at 5:30 pm, Thursday/7 at 3pm, Saturday/9 at 10am, Monday/11 at 5:30pm, and Wednesday/13 at 3pm.
The meetings are in Rooms 406, 408, and 416 in City Hall, details here.
The meetings are mostly shown on sfgovtv (typically Channel 78) and also can be accessed online at https://bit.ly/35LpDAC (password comment) or by phone (415-655-0001, Meeting ID 2482 064 9460 # #).
Additional reporting by Garrett Leahy.