At 2:53 this morning, the Redistricting Task Force voted to reverse its most recent decision and, in the supposed interest of accommodating Russian Hill, shifted to a map that has infuriated nearly every progressive organization in town.
The Task Force voted 6-3 to shift to map 4B, which moves the Tenderloin and parts of Central Soma into District 5, puts much of the Haight Ashbury into District 8, and puts part of the Western Addition (now known as North of the Panhandle) into District 2.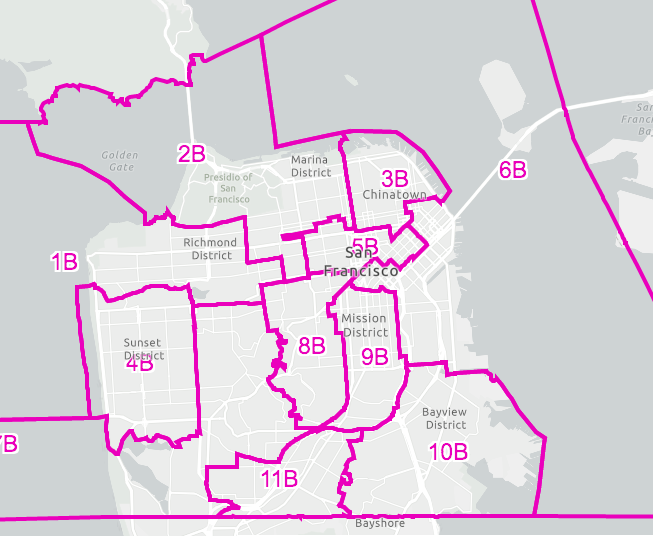 This, many have argued, is about the worst possible scenario for progressive voters, whose influence would be split, making way for a more conservative Board of Supes.
The Task Force refused without even allowing discussion to consider the Community Unity map as part of the next round of consideration, which will happen tomorrow (Wednesday/6 at 5:30pm.)
This is a stunning move that strongly suggests the Task Force faced outside political pressure. the vote was 6-3, with all of the members appointed by the Board of Supes opposed. We will update this further as we learn more.
UPDATE: From San Francisco Rising:

Map 4B decimates the Black Community's voting power and ability to elect a Black supervisor in District 10. It consolidates four Black neighborhoods spanning across four supervisorial districts (D5, D6, D10, and D11) and reduces them into three districts (D5, D10, D11). Map 4B finishes the work of the San Francisco Redevelopment Agency in the Western Addition by removing countless Black churches in District 5 at the expense of San Francisco's most disfranchised ethnic group to favor the wealthy. San Francisco should be ashamed of itself." -Geoffrea Morris, INVEST Black Coalition

"We established our cultural districts to unite and strengthen historically marginalized communities against the forces of gentrification. That's why it's so hurtful to see District 6 on the chopping block in this redistricting process all to the advantage of more affluent neighborhoods. Any map that centers the voice of the most privileged in our city, instead of vulnerable populations and communities sets us back and does not live up to San Francisco's legacy of fighting for racial equity and equality." -Raquel Redondiez, SOMA Pilipinas Filipino Cultural District

"From listening to the live mapping session around 2 am, it appeared that several Task Force members were frustrated with the shape of District 6. After moving on to District 3 and hitting an impasse around Russian Hill, the decision to pull Map 4B out of the dust bin was done out of desperation or perhaps delirium. In any case it was shocking and a huge disappointment that we hope can be corrected in the final 5 meetings." – Matthias Mormino, Chinatown Community Development Center

"There's no better illustration of truly undermining and disenfranchising vulnerable communities than map 4B, where the Redistricting Task Force ended up last night. I don't know what else the community can do – we turned out hundreds of people, including 117 public comments on the record for map 4D, and it's not enough. The time for playing around and being exploratory with the map is way over." – Emily Lee, San Francisco Rising
From Sup. Dean Preston:
If Steve Bannon came to San Francisco and drew maps, this is what they would look like. This an orchestrated hit, political gerrymandering at its worst. … The most conservative forces in this city realize they can't win District elections in a fair fight, so they're not just moving the goalposts, they're throwing the rules out the window, bending over backwards for wealthy, white, conservative residents, while decreasing the voting power of the most vulnerable.