It has been a decade since David Siegel and Scott McGehee's What Maisie Knew. The filmmakers who got their start in the Bay Area with 1993's Suture and went on to make The Deep End (2001), Bee Season (2005), and Uncertainty (2008) were prepping a new feature when COVID hit and the world shut down. Unable to move forward with their planned feature, the duo nevertheless committed themselves to making a new film.
"We felt compelled to write another script, to work, to tell a story," says Siegel during a recent video call. "Maybe we could take it to a place where the virus wasn't as extreme at the moment. Maybe we could do it."
Thus, Montana Story was born. The family melodrama that made its local premiere in April at the SFFILM Festival with Siegel in attendance and opens in Bay Area on Friday, May 27, stars Haley Lu Richardson (Support the Girls) and Owen Teague ("The Stand" miniseries) as Erin and Cal, estranged siblings who confront old trauma when they return to the family ranch to attend to their dying, comatose father, the ultimate source of their strife.
Shot by cinematographer Giles Nuttgens, the film captures the beauty of Big Sky country as well as the loneliness and isolation of the place Erin and Cal long ago stopped calling home. Perhaps, the most bizarre element of the film is that neither Siegel nor McGehee had been to Montana before deciding to write a story set there.
"We have some instincts about the West. We grew up in California and spent time in Central California in the Sierra Nevada. There's a kind of 'Westerns' feeling," McGehee says.
"But, yeah, were in the middle of lockdown in New York, imagining Montana and googling images, trying to figure out what a Montana story would feel like," he adds. "It was great when we took that plane trip to Montana, literally the first time we'd left New York since lockdown. I remember getting off the plane and looking around and being greeted by those landscapes and that sky, and just feeling, 'Oh wow, it's everything we hoped it would be and more."
Siegel and McGehee have long been fascinated by American melodrama. McGehee says they became film fans together watching stories of dysfunctional family strife and impossible love.
"We find it so relatable, says Siegel. "And even though stories are specific about individuals in particular families, they just sort of relate to the way we, you know, live with each other, both as families, and friends and in broader social circles. I think Scott and I just continually find a lot of richness in telling those stories."
Two midcentury Hollywood films served as inspiration for Montana Story. Robert Mitchum is the patriarch of a powerful Texas family in Vincente Minnelli's 1960 melodrama Home from the Hill, the father of sons – one who struggles to live up his dad's expectations and the other the product of an affair, who goes unacknowledged – played by George Hamilton and George Peppard. Martin Ritt's 1963 Western Hud stars Melvyn Douglas as a rancher at odd with his arrogant son, the titular character played by Paul Newman.
"They're very formal relationships," says Siegel. "Hud is set largely on a ranch with an older father. He's not in a coma, the stories aren't related but it is about a certain kind of patriarchy and how the family either movie through or doesn't move through that patriarchy to something else.
"And Home from the Hill, I think it's about the kind of quandary that a son finds himself in relation to a father and being able to find his own identity and step beyond that identity that his father may have wanted him to map onto."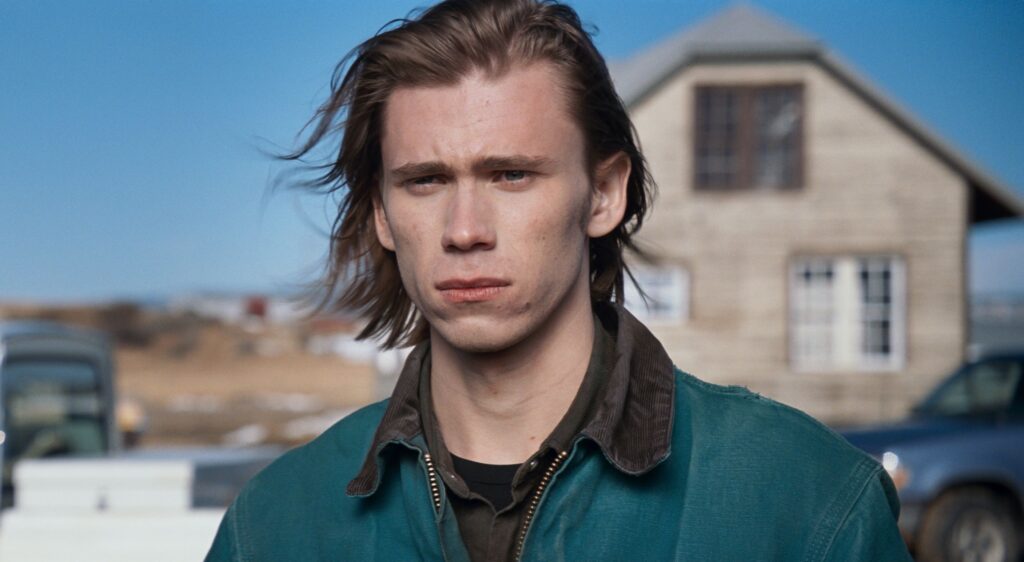 "As we started writing Montana Story, one of the things that interested us was that those kinds of midcentury films often had a certain kind of male character who is young and really appealing but kind of weak and struggling emotionally in some way," adds McGehee. "Owen is very much one of those characters."
The filmmakers were familiar with Richardson's work and after calls with her on Zoom, their main concern was whether a naturally gregarious, happy actor would be able to portray Erin's deep well of anger and resentment. Once she arrived in Montana and joined them for script readings and rehearsals, they saw that she fully inhabited Erin's resentful soul.
A bigger question mark was Teague. Neither Siegel nor McGehee was familiar with the actor's work. Sheltering in place with his parents in Florida, Teague prepared a video audition, a confessional scene in which Owen relates the guilt he's carried since he was 15 for his part in the incident that drove the family apart.
"He was able to embody that regret, that he's been holding onto for seven years. He really knocked us out," says Siegel.
"He just embodies a kind of innocence, you still see the 15-year-old in Owen, in such a lovely way," McGehee says. "He's a young man but that youth is still so present. That was such an important thing. He was just 15 and still feels the weight of what he should have done."
Shooting in Montana could be challenging. Cast and crew grappled with bad weather and ferocious winds but that initial lockdown daydream of filming a story some place Siegel and McGehee had never been paid big dividends in the film they made and the experiences they had.
"It was such an indelible experience," say Siegel. "Montana was a place of our imagination before we left and then it became extremely real. I remember being in the car bringing back from the airport to my apartment that I hadn't been in for three-and-a-half months, and thinking to myself, 'Did that just really happen?"
"It was like a fever dream," adds McGehee.
MONTANA STORY opens in Bay Area theaters Fri/27.