How is a cattle herder like a dancer? Ask Emelie Mahdavian. The award-winning filmmaker's latest documentary Bitterbrush, which premiered at last year's Cannes Film Festival, follows the graceful work of two far-flung range-riders under the vast skies of Idaho. Paralleling the striking remoteness of Mahdavian's previous projects—such as After the Curtain's Tajikistan setting and Intangible Body's isolated motion-capture animation—Bitterbrush provides surprising connections to the auteur and former dancer's other purview.
"Both of them involve a lot of embodied knowledge." Mahdavian told 48hills of the cattle-dance parallel. "They involve understanding where you are in space, and having a mode of perception that's a little bit different than our everyday way of sensing the world. [Bitterbrush main character] Colie [Moline] talks about being able to sense out really far and to track. She's tracking all these cows that she's responsible for, and she's scanning and sensing. She talked to me about it in the context of how overwhelming it is to walk into a room. But I thought it was a really interesting observation about the ways that we relate to space and sense differently depending on what we're up to. And with dance, you often cultivate a version of that."
Bitterbrush centers on Hollyn Patterson and Moline, workers who spend a fateful summer herding cattle in Idaho's picturesque mountain ranges and open fields. Using Patterson and Moline's dogs and horses as secondary characters, Mahdavian paints a tender, at-times beautifully-elegiac portrait of human and animal companionship, friendship, economic hardship, and existential yearning. We've never seen the inner workings of cattle herders on screen like this, and the American West has rarely been filtered through the likes of Mahdavian's demiurgic lens.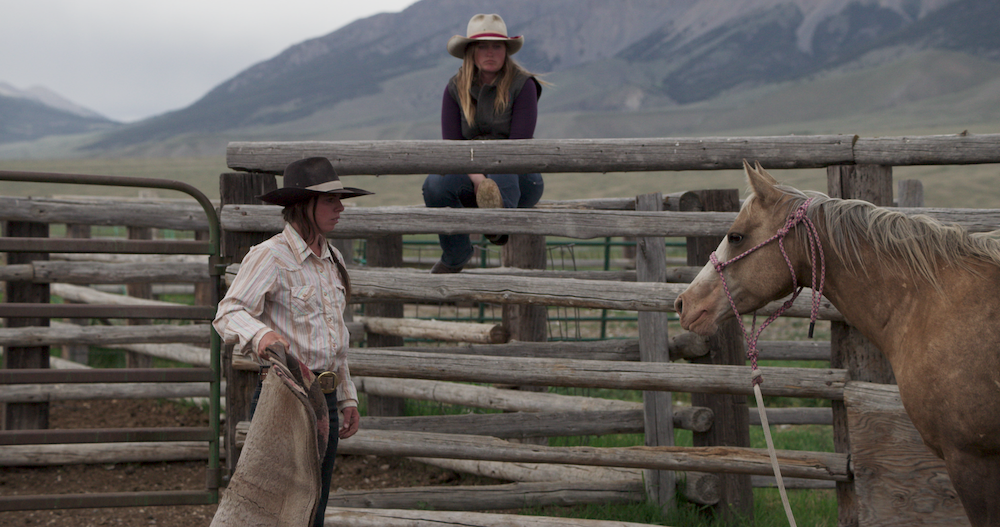 A former Bay Area resident, Mahdavian studied at Mills College in Oakland, and has served as a panel coordinator at the Mill Valley Film Festival. To boot, Bitterbrush features a mesmerizing soundtrack from the San Francisco Symphony alumni, Emmy-nominated, and Billboard Chart-topping piano duo, Anderson and Roe.
On the eve of last week's Bitterbrush New York premiere [it is currently playing at Landmark's Opera Plaza Cinema] I had a chance to speak with Mahdavian about the documentary's narrative structure, visual framework, soundtrack, of crafting an anti-Western, and more.
48HILLS Bitterbrush has been described as a slice of life trek through rural Idaho. What inspired you to jump continents from your last project Midnight Traveler's Tajikistan setting to North America?
EMELIE MAHDAVIAN Even when I was making Midnight Traveler, I was actually living in the mountains of rural Idaho. It was more about just wanting to make something close to home, where I could explore our relationship to the land. I always felt like my perspective had shifted by living that way, so I wanted to do something that would allow me to play with that, how we could convey that on screen.
48HILLS Did you know much about cattle herding before you shot this?
EMELIE MAHDAVIAN I knew what you know when you live in a community that's entirely dominated by ranching as the primary industry, without working in that industry yourself. A lot of our neighbors and friends worked in ranching, and I heard all their stories—but I'm not really a horse person, certainly not a rancher. I had a lot of questions, and I was peppering Hollyn and Colie. I saw that the way that they work with their dogs is really fascinating, and I wanted to know all the dog commands and all that kind of stuff. And they humored me, fortunately.
48HILLS How important are the animals to this story?
EMELIE MAHDAVIAN If you ask the women how they get their work done, the dogs are really important. And the women's relationship to the animals is a central part of the work. So you can't portray this work without highlighting what the animals are doing, because they're really important partners in it.
48HILLS I have such a soft spot for dogs. I consider them people. So I always think even the minor canine characters in movies deserve Oscars.
EMELIE MAHDAVIAN It's kind of fascinating, the deep relationships that we have with both horses and dogs. I mean, they go back ages, right? It's not just like, "Oh, I like dogs." Humans and horses and humans and dogs have a long history of living together and working together.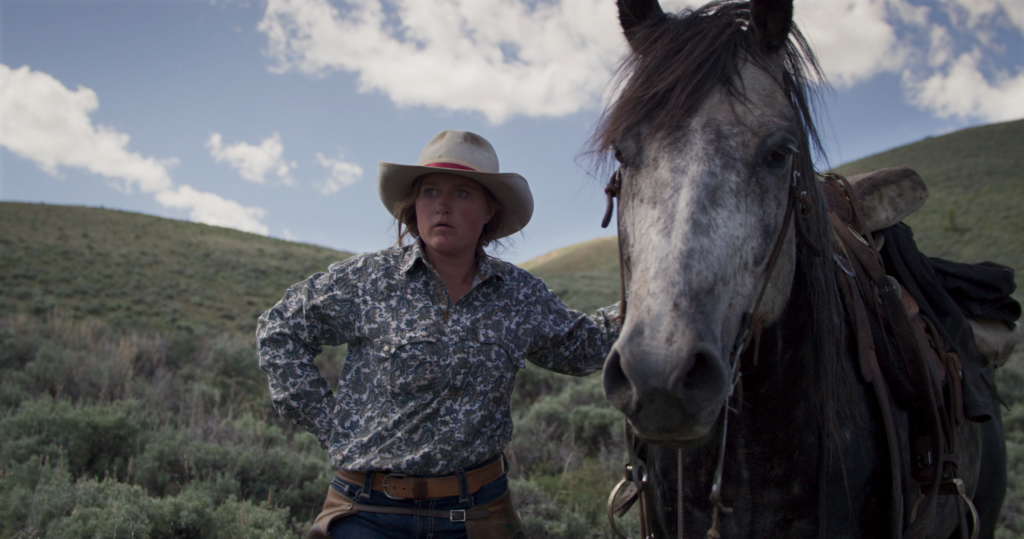 48HILLS It's easy to feel for, and relate to, our two protagonists. What were the conversations like that you had with them about different scenes and tones?
EMELIE MAHDAVIAN I knew that for Hollyn, there was more of a draw to have a family, and the conflict between the lifestyle she had and just the material reality of becoming a mother—it didn't quite go together. So even though I didn't know she was going to get pregnant, I knew that she was concerned with that. And with Colie, I knew she was really concerned with the economics of family ranching, and also just the question of how to build a career and something that you're good at, that you love, when the job opportunities that are open to you are mostly seasonal, gig-type jobs.
So I told them, "You have a certain kind of power to decide what is and isn't in the film by what you allow me to film, and by what you give me when I'm filming." And that shaped the end product in many ways. I think Colie really heard me, and a lot of the stuff that's in the film, she volunteered because it really mattered to her, and she wanted to share that. And so that ended up actually shaping a lot of the thematics, but the specific delivery of it and everything—that's her.
48HILLS The landscapes, too, are breathtaking. Did you even need to do much location scouting?
EMELIE MAHDAVIAN I mean, not for the sake of finding something pretty. [The film] literally was shot between 20 minutes to an hour from where I was living. In that area, that's a comparably small distance. But what I did have to scout for was how can I get up into these mountains? What are all the different ways to get up into here where they're going to be working? Because there were some days where we did try to use—or we did successfully, I suppose, use—ATVs to get up X distance, and then I followed them on foot. Then there were other days where we had to be on horseback.
48HILLS Did you already know how to ride a horse, or did you have to learn?
EMELIE MAHDAVIAN I've been on horses, but I'm not a horse person. I have a lot of respect for how powerful they are. Riding is not my hobby, but I didn't have to be taught. I did just hop on a horse and followed them around. But I am not an expert rider.
48HILLS My sister rode in competitions years ago, and then she was bucked off and broke her back. She's long been fully-recovered, but I don't think I'm ever going to attempt horseback riding.
EMELIE MAHDAVIAN I know so many horse people, including family members who've been injured by them. That, in part, is the reason for why I'm like, "You're a very powerful animal, so I'm going to just respect you."
48HILLS Yeah, "I'm going to admire you from a little bit of a distance." These characters also have larger ambitions. Like you were saying, they've been doing this for six years, but they don't want to do this their entire lives. I really felt that. And I feel like so many of us are have those thoughts looming over us.
EMELIE MAHDAVIAN I think that's such a universal thing, right? It's like, "Oh, how do I figure my life out?" Particularly nowadays, with so many jobs that are not careers, or they're not stable. They don't come with any kind of health benefits. It's like, this is not going to be sustainable long-term. How can I use this to get to something else? A lot of us are in that position, no matter what industry we're in.
48HILLS Totally. And we can also relate to the economic hardships, like you were saying, that they faced.
EMELIE MAHDAVIAN Colie was saying how so many people back home were going bankrupt. Because it is really hard for the smaller operations sometimes. And the industry operates really differently when you're small and you're trying to compete against corporate agriculture. So what she cares about isn't so much the corporate operations—it's the smaller ones. That's what she's looking at, and analyzing, and trying to figure out.
48HILLS Do you create Lookbooks or Pinterests for your features to get a sense of how you want them to look?
EMELIE MAHDAVIAN I don't do Lookbooks. I will sometimes use photos to communicate with the DP [director of photography], with the places. But what I do is a lot of really careful storyboarding, planning the way that we're going to film, the approach to try to get not just, "oh, a pretty shot," but a shot that conveys something specific that I want to say about the place. So, with this film, that meant really thinking about how to convey a feeling of being immersed in the landscape, and being connected to it, and not just using it like a backdrop all the time. And because the vistas are so large and they so quickly recall the Western, I knew that if we weren't really thoughtfully trying to get that other thing, it would just all become that.
48HILLS And the classical music accompanies it very well. You have Bach playing in the background. What went into that choice?
EMELIE MAHDAVIAN Yeah, I didn't really want to do something that would be quintessentially Western. I wanted something that was going to signal how I saw [the characters], how I saw the film, and push the audience, not to just frame them into cowgirl, right? Because to me, [Patterson and Moline are] very rich, deep people who have a lot of dignity, who are smart and really strategic about their work, and who are educated. So I felt like Bach was actually a better fit. And, of course, I love Bach piano music. So I was happy that Anderson and Roe, who are an amazing piano duo, said yes. And actually, Roe lives in San Francisco now. So I asked them, thinking they would never say yes because they're so amazing. And they did. So I'm thrilled.
48HILLS Oh, that's awesome.
EMELIE MAHDAVIAN Yeah, they're so great. But there's a false expectation sometimes that, "Oh, this is all just like fly on the wall. Someone just stuck a camera here and there's no directorial point-of-view. This is all unfiltered." And it's a silly conceit, right? Of course, that's not the case. There's so many layers of engagement between what you're seeing and them and me and all this. So I thought, let me allow there to be these things that signal that I know this is my voice, right? This is how I see them, kind of thing. This is how I want to frame them. I want them surrounded by all of the things that you associate with the most renowned, high, classical formal music. Not with honky tonk, sexy cowgirl, or whatever.
48HILLS Absolutely. You've done several documentaries. What's the most difficult part of the process?
EMELIE MAHDAVIAN Well, for me, the thing is to go in with a lot of pre-planning and a lot of careful thought about what you want, even if what you're going to then film is observational, because I want to minimize how much is being decided in the moment, on the day. [That way,] I can be flexible and flow with what they're giving me and get it in a way that's responsive to them. In a weird way, that means I'm all about pre-production and planning to open up that space for improvisation.
48 Hills That makes a lot of sense. Is it difficult to relinquish control, or is it easier once you have planning?
EMELIE MAHDAVIAN It's easier when you have planning. And it totally depends on one's own character, but coming out of dance and music, I like it. I love all the rich things that you are given when you show up in that way.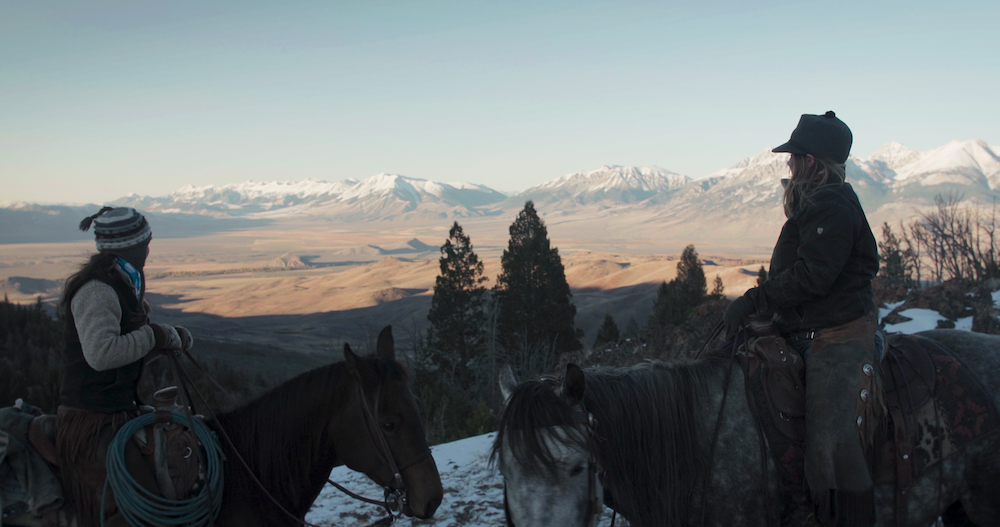 48HILLS I'd have a tough time going with the flow.
EMELIE MAHDAVIAN Yeah, I think everybody has their preference, but then, it really is like I feel confident that I'm going to get something. I put a lot of time and energy into selecting who I'm collaborating with. And you don't arrive in that moment on the day filming unless you've already done months of planning your team, planning your gear, planning with the women that are in the film. There's so much that's brought you to that point, that you would put the brakes on if you didn't feel it was really going to work. And so you've kept giving it the green light so many times, by the time you get there, you're confident in it.
48HILLS And you don't want to show up day one and go, "Hey, guys, what do you feel like doing?"
EMELIE MAHDAVIAN That wouldn't go over very well.
48HILLS Have you explored any narrative feature film ideas?
EMELIE MAHDAVIAN I would like to do narrative at some point. I have a documentary that's in development right now. But I would like to do narrative someday. I went to film school. I think of it as nonfiction and fiction, and it's the same medium and similar tools. But I'm at a place where I'm still playing with it and trying to find my mode and my process for fiction. Whereas, I feel that with nonfiction, I've arrived at a place of a certain level of confidence in my way of doing it.
48HILLS Are you able to share anything about your upcoming documentary, or are you keeping that under wraps?
EMELIE MAHDAVIAN I'm being slightly cagey about it because I don't want to jinx it, but I can say it involves women again, it involves work, and it involves cold weather—but it's a little bit more in an area that's of broad import. [Bitterbrush] gets tagged with the unknown, or the thing that the rest of us never see. This one is not like that. But I am, once again, trying to figure out how to shoot in the cold.
Magnolia Pictures' Bitterbrush is currently available to stream via Amazon, Apple TV, and other services. More info here.