Writer, actor, and comedian Joel Kim Booster remembers 16 people stuffing themselves into a three-bedroom house in order to be able to afford a vacation on New York's Fire Island. Even now, he admits he is sometimes priced out and that for many who want to stay at the LGBTQ summer playground, it is simply economically unfeasible. But he still loves the place, enough to write Fire Island, a rom-com set there.
"It's very difficult to get there but people find a way and that's how special that island is. You scam your way onto it however you can," Booster says during a recent visit to San Francisco with director Andrew Ahn.
"It was important to me to show—I think in a lot of gay media, you mostly see rich, white gay men—that there a whole breadth of experience within our community."
A beach read of Jane Austen's Pride and Prejudice the first year he stayed on Fire Island in 2016 and Booster's love for Clueless, the Alicia Silverstone-Paul Rudd contemporary update of Austen's Emma, served as partial inspirations for Booster's screenplay. The other was his close friendship with SNL star Bowen Yang.
"I wanted to honor our friendship," Booster says. "It was important on a personal level but on a professional level, since we met, I think people have wanted to see us as oppositional forces, like we've gone in for the same parts.
"We check a lot of the same demographic boxes. A lot of people in the industry see us as the same. Our pictures have been used interchangeably by media outlets, and that's always really frustrated us because we've seen each other as individuals. We've seen how different we are. For me, this was an opportunity to finally get to play with my best friend and to act with my best friend. I don't know that the industry was ever going to afford me the opportunity to do that. So, I wanted to do it myself."
Fire Island recasts Pride and Prejudice's Bennett sisters as a diverse group of gay friends who summer in the Pines in the home of their lesbian pal Erin (San Francisco native Margaret Cho). Booster plays Noah, the Elizabeth Bennett in the piece, who hovers between disdain and passion for haughty lawyer Will (The Resident's Conrad Ricamora, giving Colin Firth a run for his money in the dreamboat department).
Yang, the Jane Bennett of the film, is Noah's shy, sweet, unlucky-in-love bestie Howie who falls for one of those rich, white gay men, Charlie (James Scully), an amiable doctor. As the vacation unfolds against a backdrop of house parties, nightclubs, and visits to town and beach, it is a love match that faces strong headwinds from Charlie's snobby friends, including Will.
Ahn, who won a Film Independent Spirit John Cassavetes Award for his 2016 first feature, Spa Night, and followed that up with another drama, Driveways, had never made a comedy before Fire Island. He admits he was a little nervous about, but he loved the story and knew he could trust his cast.
"Working with Joel, Bowen, and Margaret Cho, if this movie was unfunny, I should quit the business," he says.
"I got the script for the feature about a year into the pandemic," he adds. "It had been a year since I had gone out drinking and dancing with friends. I saw in the script, you know, everything I was missing in my life. I was just so happy to read it. I loved that it celebrates joyful, queer, Asian American friendship."
That Cho agreed to be in Fire Island is something that elates both men. It is not just that they are fans of her work but they appreciate what she represents in terms of queer representation, and also Asian American representation. Booster has vivid childhood memories of her 1994-95 sitcom All-American Girl.
"When I was a little kid, watching, it was the first time I ever saw myself on screen in that way and it really sort of blew my world open in terms of what I thought was possible for myself," Booster says. "And it's the thing that made me want to be an actor and to make television and movies and everything. I don't know where I'd be without Margaret Cho."
"She was so much fun on set and so game for the shenanigans of it all." Ahn says. "Margaret could have phoned this in and I would have been thankful, but she didn't. She wanted to do the hard work and be with us on set, be on a boat for hours screaming. She really embodies what it means to be a trailblazer and a mentor for new talent."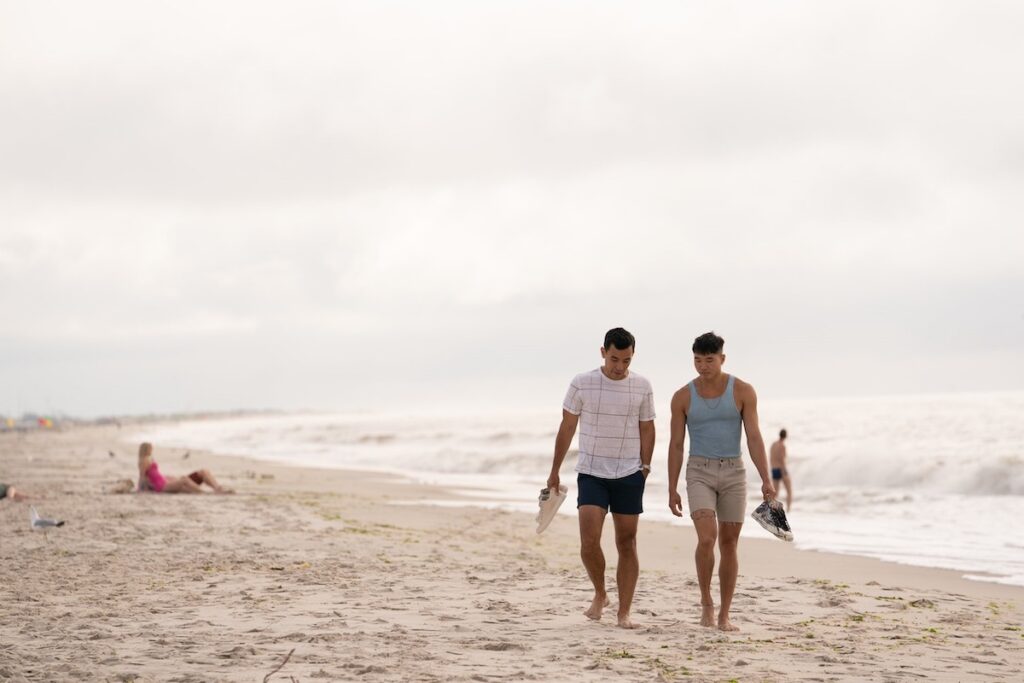 A key piece of the casting puzzle was Will. Whoever played the Darcy figure would have to be someone who could play that blend of off-putting arrogance and shy charm that defines that character.
"It was a really difficult role to cast because he has to play a range of things and you have to fall in love with him, but you have to hate on him," says Booster.
"Joel is a super confident guy and he's written the script," Ahn says. "None of the other actors (who auditioned) challenged him. And then when Conrad came in and started reading with him, Joel forgot his lines. He got flustered and I loved seeing that power play because it reminded me so much of Lizzie and Darcy. Conrad has that ability as an actor to put up a wall and slowly let the audience in, so that by the end of the film, you're swooning."
Making Fire Island could be nerve-racking at times. With Yang due back on the SNL set and Booster and other cast crew with jobs to go to as soon as shooting was over, there was no way to extend the shooting schedule if anyone came down with COVID. Protocols were strict and Booster credits an amazing COVID team for helping them get through it. Ahn observes that it was a difficult movie to make during the pandemic, but the pandemic was also a reason to make it.
"I think it was really easy just because every day was like a party," Booster says. "Even though we were sort of like cloistering ourselves, we still were able to come to set every day and hang out and just experience a lot of joy, which was such a relief after the year that we all had in lockdown."
Fire Island begins streaming on Hulu June 3. It also screens at Frameline, Thursday, June 23 (more info here).