This is Good Taste, your weekly look at the Bay Area food scene. Today, we're sharing the best veggie burgers in San Francisco that don't taste like fake meat and showing you how to make your own with local ingredients.
I went on a months-long quest to find the best veggie burgers in the city that don't taste like Impossible or Beyond Meat and found that this is both a tall order and a tough exercise to put a tummy through, but I finally did it.
After taking the first bite of a reeeally bad one from a place that definitely should have figured it out after decades in business, I decided that this story would also include an original recipe with local ingredients that would try to beat the veggie burgers that would end up in my top five.
Many attempts later, I think I created a lovely veggie burger with nuanced textures and flavors that deserves to be in the conversation with my favorites in San Francisco. You'll find that at the bottom of this column, but first, here are the veggie burgers that I liked the best during this highly unscientific tasting process.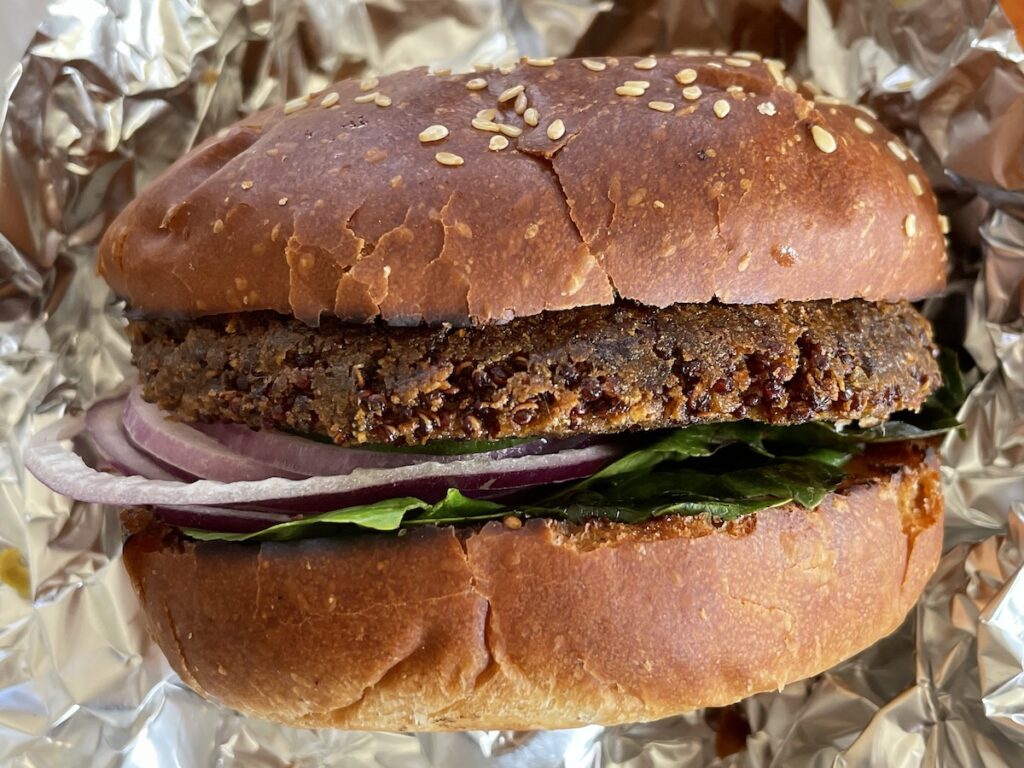 The veggie burger at Starbelly ($16) has an awesomely crispy patty made of dried peas and quinoa that remained perfect even when delivered halfway across town. It's dressed with cucumber, white bean puree, lettuce, tomato, onion, and curry yogurt and comes with fries that you should definitely throw in there. I need this again soon.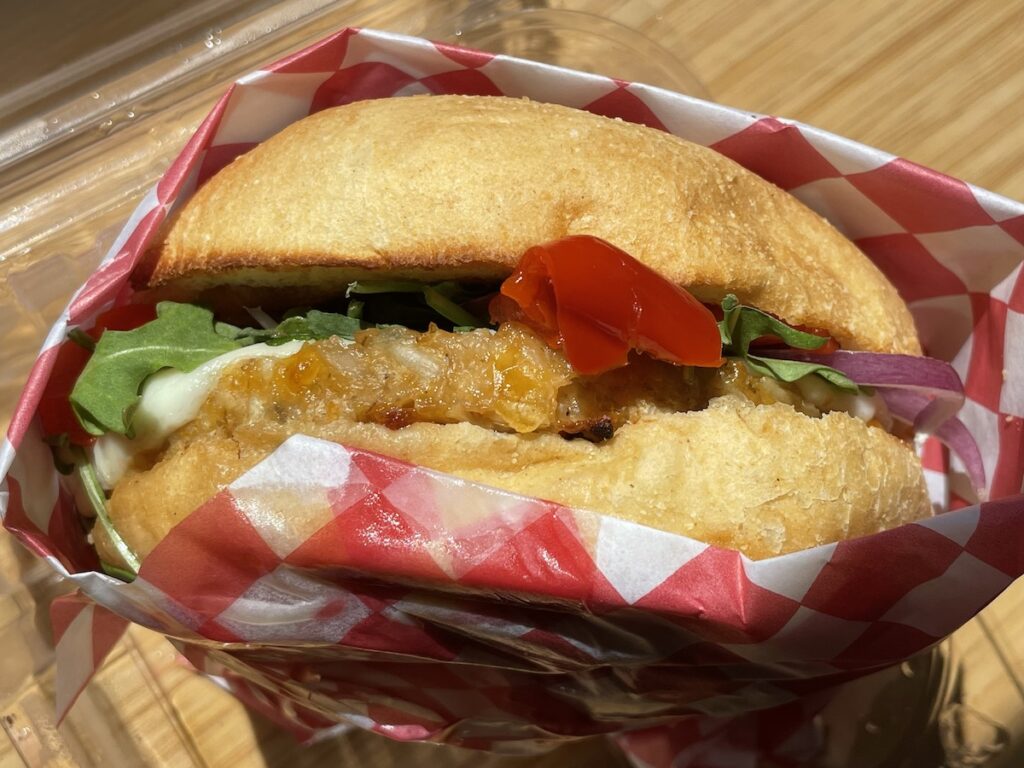 The Hippie Veggie Burger at the Haight Street location of Slice House by Tony Gemignani ($12) is made with brown rice, oats, and quinoa and served with mozzarella, raw onion, arugula, peppadews, and honey. The patty is a little plain, but it has a good semi-firm texture and is downright glorious with all the toppings.
I don't always love a beet-based patty, but I do really like the veggie option at Roam Artisan Burger, which you can order in any of the menu's many burger configurations. I chose French 'N Fries ($13.99), which has truffle Parmesan fries, brie, avocado, caramelized onion, and greens with mustard and a tomato-y "piquant sauce." The restaurant also sells four veggie burger patties for $11 in the online butcher shop if you want to cook them at home and that's a deal. Roam also has locations in Lafayette, San Mateo, and San Ramon.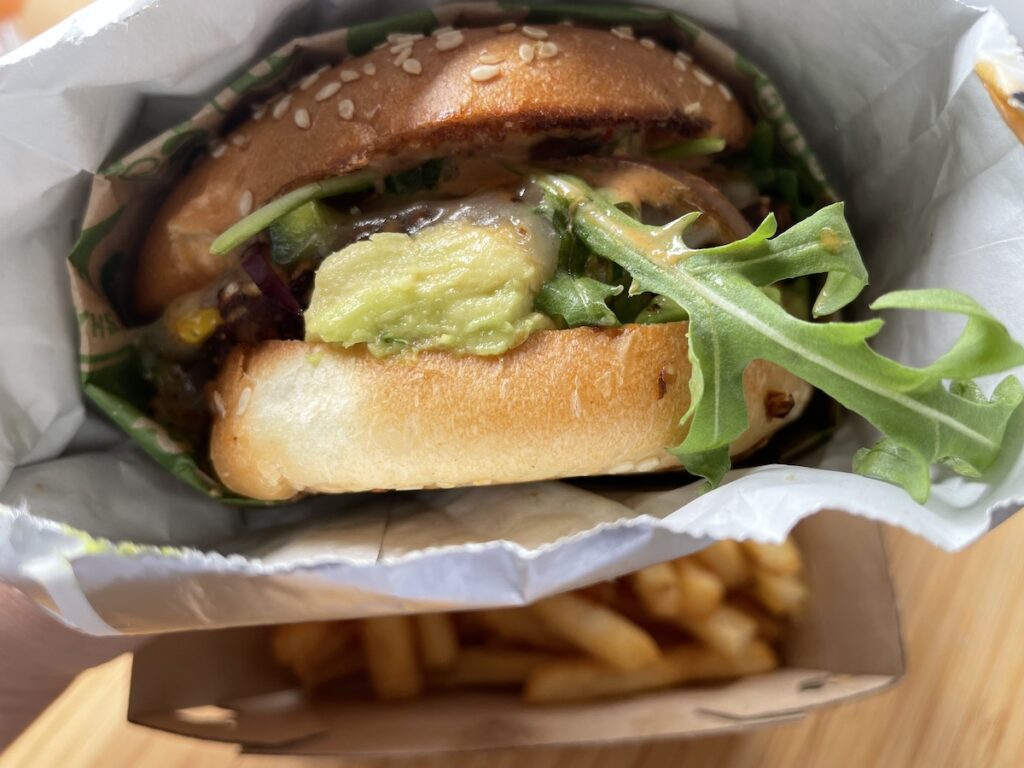 The veggie burger at Super Duper ($7.50) is the best value selection on the list, and is just as good as most of them. The patty itself is vegan and contains soy, which they don't advertise. Sometimes, there are seasonal veggie burger specials; when I went, there was a Poblano Veggie Burger with grilled onions, arugula, avocado, Monterey Jack, and chipotle aioli. It was very good, but would have been better if the poblanos were roasted and not raw. Still, I'm open to more Super Duper veggie burgers in the future. There are eight locations in San Francisco, three in the East Bay, two in Marin County, and two in the South Bay.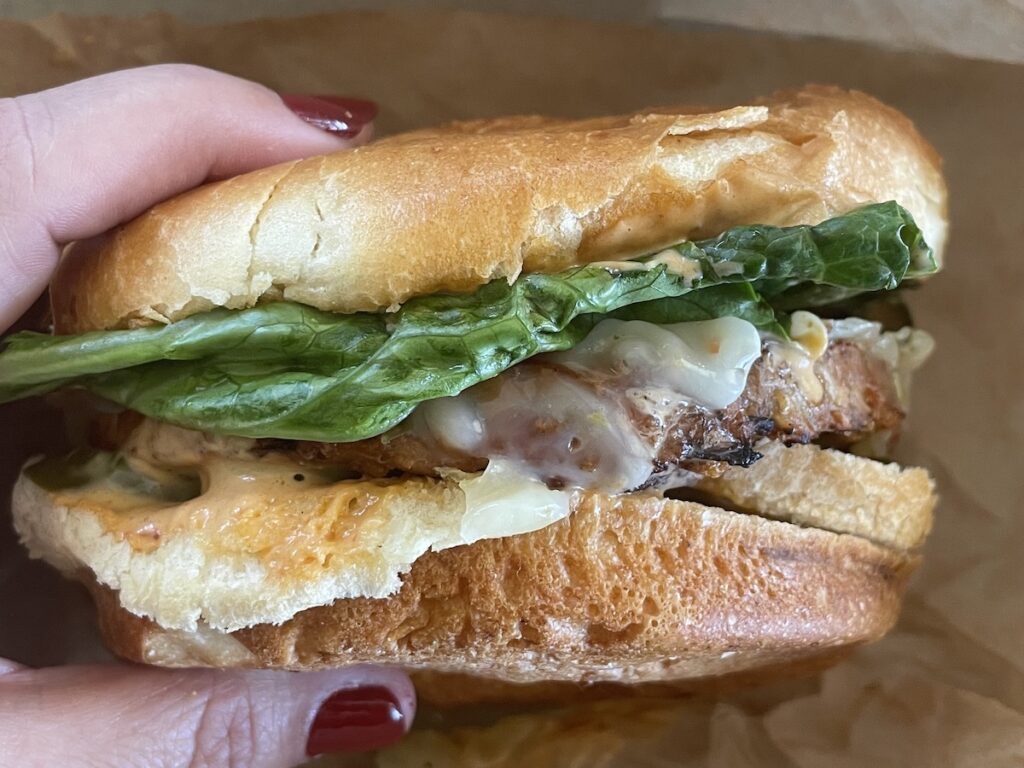 The Ain't No Punk veggie burger at Uncle Boy's ($11.65) made me cry, but in a good way. It's another hot one, with Pepper Jack cheese, lettuce, tomato, chipotle sauce and hella jalapeños—too many for me, but I love the flavor that they infuse into the patty after removing some of them. If that all sounds too scary, the plain garden burger costs $9.50 and their onion rings are really good.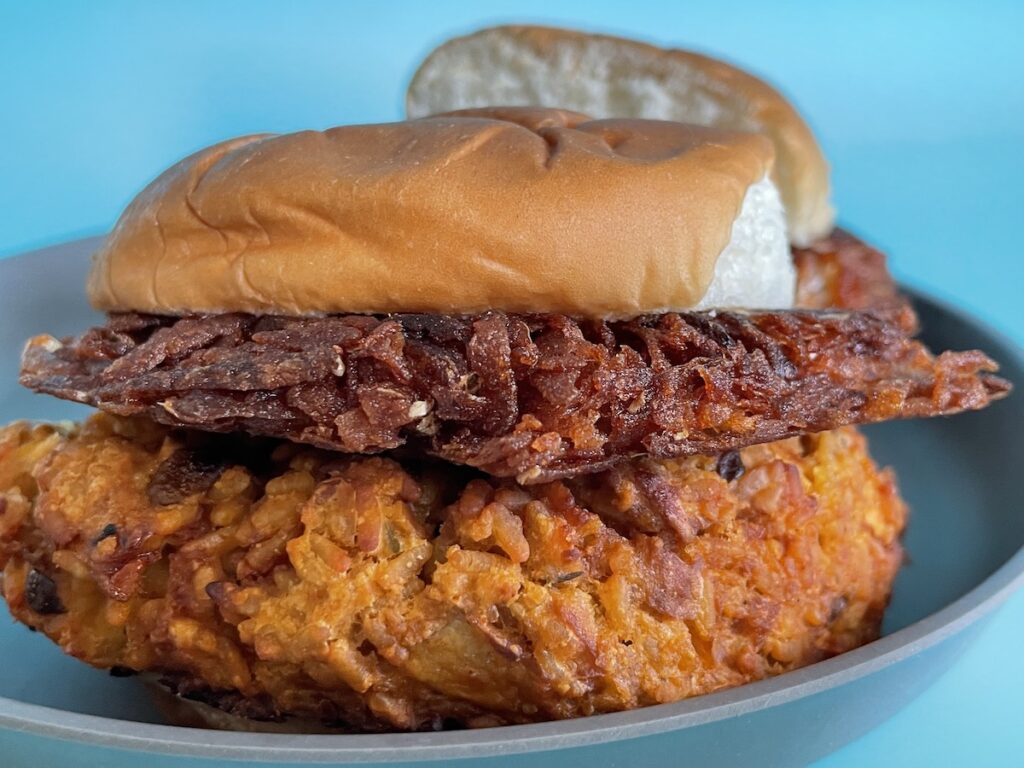 The Veggie Money Burger
By Tamara Palmer
Yield: 2 burgers
Prep time: 20 minutes
Cook time: 50 minutes
For the burger:
½ cup canned chickpeas, drained
2 cups mixed mushrooms, roughly chopped (I use Mycopia's Chef Sampler but you can also use portabella, shiitake or button)
¾ cup BBQ Sauce (I like Everett & Jones Hot Super-Q Barbecue Sauce)
1 egg, beaten (or 3 Tablespoons of Just Egg vegan substitute)
1 ½ Tablespoons Sriracha (unless you're afraid)
2 Tablespoons Kewpie mayo (or 2 ½ Tablespoons of vegan avocado oil mayo)
⅓ cup panko flakes
1 cup cooked Right Rice, Garlic Herb flavor (made with lentils and chickpeas and no actual rice)
For the hash brown crisp:
1 large yellow potato, grated (skin can be on or off)
Peanut oil (or your favorite) for frying
You'll also need:
Parchment paper
Hamburger buns of your choice (I like King's Hawaiian)
Use a fork or potato masher to mash the chickpeas in a small bowl, then add the mash to a large mixing bowl. Add 1 cup of the mushrooms and all of the egg, Sriracha, Kewpie, panko flakes, and Right Rice. Mix with your hands (I use gloves) until everything is well incorporated. Cover with plastic wrap and refrigerate for 20 minutes.
Add the other half of the mushrooms to a separate bowl. Add BBQ sauce, stir and set aside. You'll be using this shroomed BBQ sauce to create a magical "medium rare" core to the burger. (It's as awesome as it sounds.)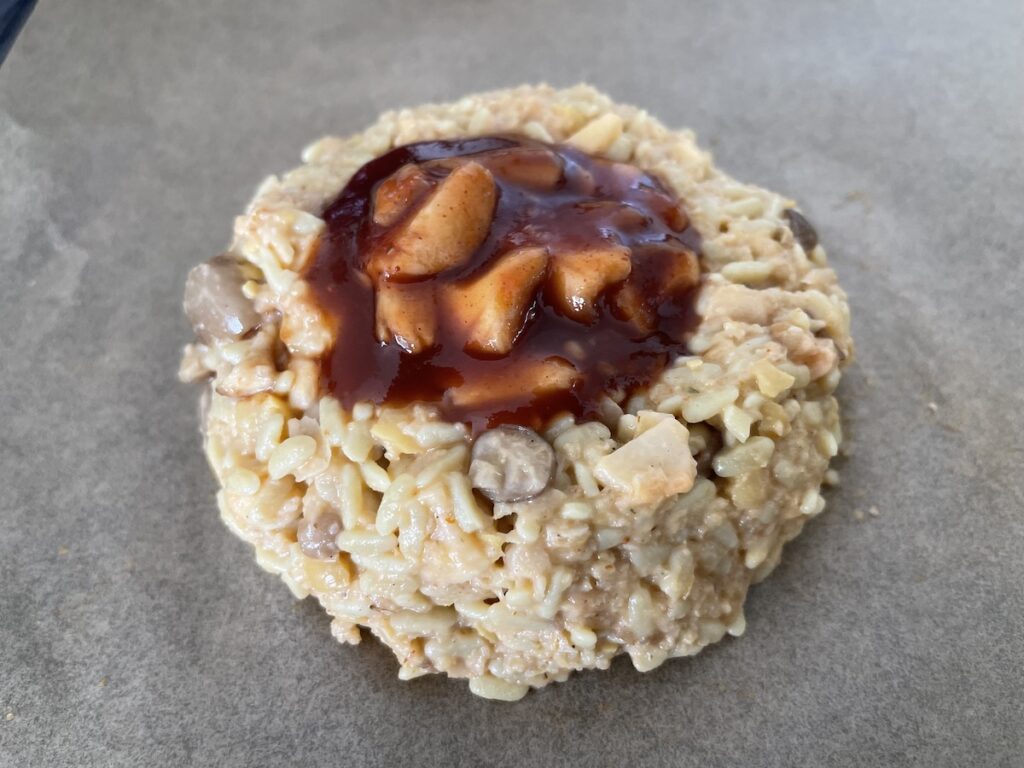 After your burger mixture has chilled, divide it into two servings with a spoon or your gloved hands, and then separate about ⅓ of each of the halves. Form two equally large and thick patties on top of a sheet pan lined with parchment paper (mine are about 2 ½ inches wide and 1 ½ inches tall), then use your fingers to lightly form wells in the center. Spoon the shroomed BBQ sauce into the wells.
Next, form the reserved burger mixture into small, semi-flat patties. Working carefully, use the small patties to seal over the top of the sauced burgers. It's ultimately okay if a little of your sauce leaks out while you're doing this, but try to push it back in and contain it all into one closed patty. You'll have a lot of extra sauce, but you can use it later as a topping.
Put the burgers in the oven for 20 minutes, set a timer, get excited, and then get started on your hash brown crisps.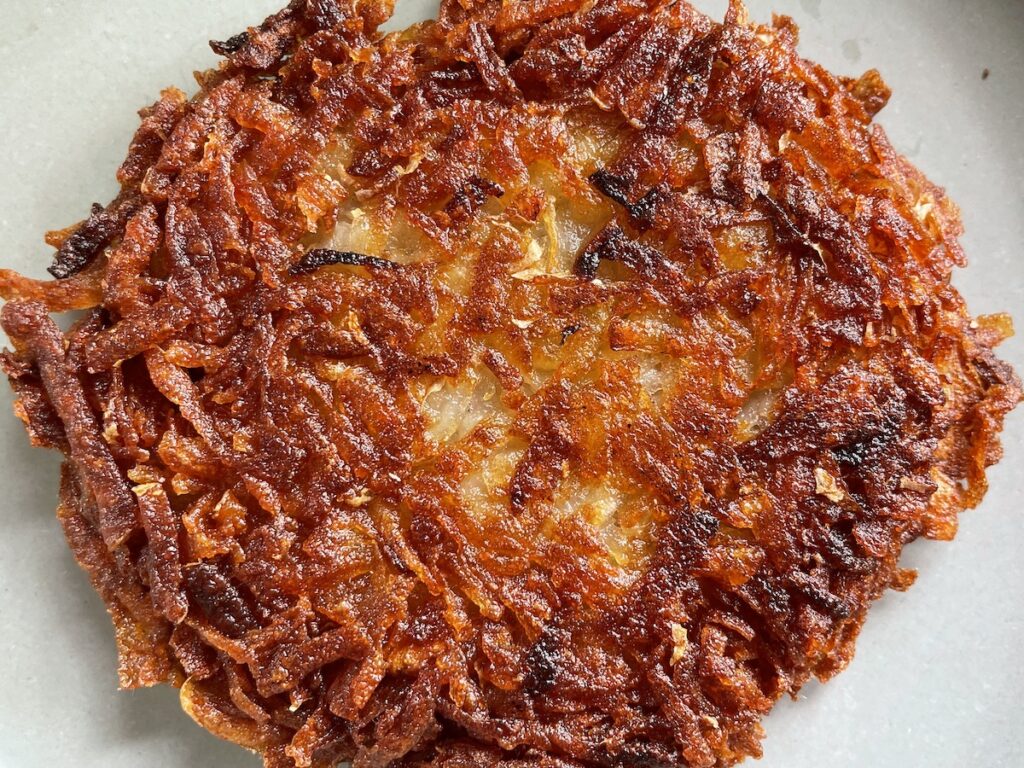 Don't stress if the hash browns fall apart when you flip them— they're going to taste great on top regardless if they have structural integrity or not. For best results, use a deep cast iron pan with a good amount of peanut oil, but whatever you've got should work.
Before turning the stove on, take half of your grated potatoes, squeeze out as much liquid as you can over your sink, and then form one hash brown on top of the oil in the pan. Try to make it the same circular width as your burger and about ½ inch thick.
Fry each side of the hash brown over medium heat for 4-5 minutes, using a spatula or large spoon to flip as well. Put a splatter screen on top if you have it. Remove hash brown from oil and place on a plate lined with paper towels to drain. Repeat the process to make a second hash brown, which will cook faster than the first.
After 20 minutes, rotate your pan in the oven and bake burgers for an additional 15-20 minutes until the outside is golden brown and firm enough to stay together; using vegan substitutes for egg and mayo will likely mean your bake time is on the higher end of that range. If you've got a cooling rack, place burgers and parchment paper on top. After at least five minutes, carefully slide the parchment paper out and discard it.
Gently place a burger on top of half of a bun, then add a hash brown crisp and the other half of the bun on top. If you're the saucy type, you can also slather the burger with more of your shroomed BBQ sauce before you add the hash brown— choose your own adventure. Cut in half before devouring!
Get more food ideas at Tamara's site California Eating.