My friends over at HUSHconcerts have been throwing silent disco blasts at Ocean Beach (and honestly everywhere) since 2008, and now they're getting down in the sand for an important cause: raising funds for those in need in Ukraine. HushFest 2022 (Sat/4, noon-7pm) features a huge lineup including very creative local electronic producer The Polish Ambassador and deluxe disco remixer Luxxury and tons more, including supercuties Matt Haze, DJ Dials, and Motion Potion. All proceeds go to Mriya Aid, an all-volunteer organization that helps family and friends in Ukraine.
I'm just getting back from Movement in Detroit and can't wait to party! Here's the press release with more info about Hushfest 2022. Get tickets here.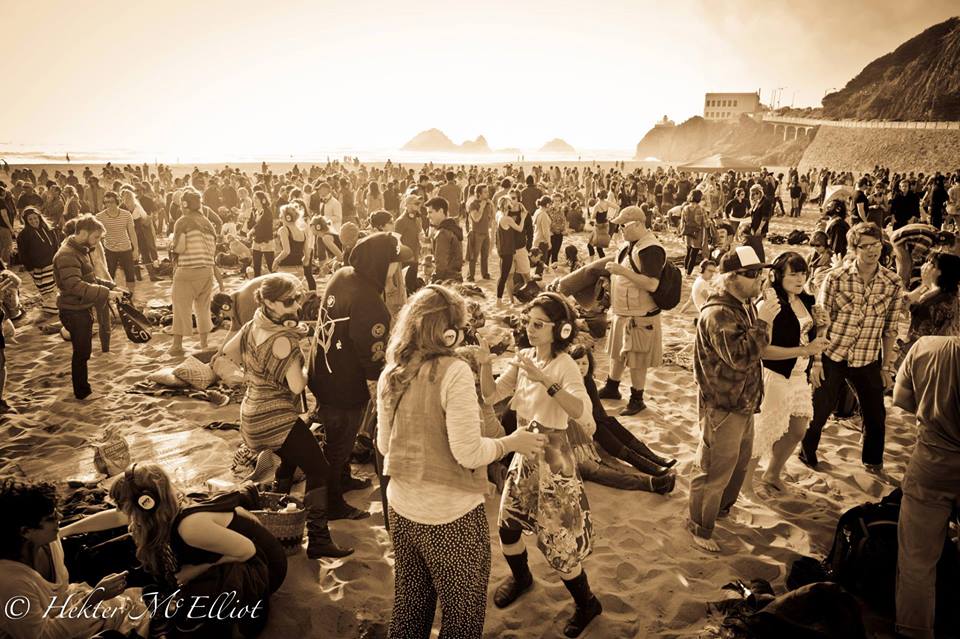 —————-
The war in Ukraine is in the global news every day, but unlike many other crises, there has not yet been a LIVE Aid or USA for Africa type of response from the live music community. On June 4, 2022, MriyaAid.org and HUSHconcerts will come together with a host of Bay Area artists to create one of the first U.S.-based concerts to provide emergency relief for those affected by this tragic war.
MriyaAid.org, is an Emergency Relief Campaign that provides direct nonlethal aid to Ukrainians on the front lines and support for Ukraine's internally displaced persons (IDPs). To support this amazing cause, HUSH has assembled its biggest Ocean Beach entertainment lineup ever, headlined by an extended closing set by Northern California electronic producer, THE POLISH AMBASSADOR, and disco remix superstar, LUXXURY. HUSHfest Ocean Beach is a beloved annual minifestival that dates back to 2012 but it has been postponed several times in recent years due to California fires and Covid-19. It took a cause as important as MriyaAid.org to 'put the band back together' in the sun and sand of San Francisco's westernmost surf.
Families and folks of all ages will dance with feet in the sand on two channels of music to pristine audio beamed across the beach using HUSHconcerts' custom HUSHglow headphones. Artists will perform atop a beloved artcar stage, while groups of all ages enjoy a day at the beach in support of this important cause. Along with the HUSHphones, food trucks, soft drinks, and bathrooms will be available for attendees to enjoy their day in the sun. Coolers, blankets, umbrellas, and other beach comforts are suggested..
This is a dog-friendly event and in accordance with the U.S. National Park Service rules, dogs must be leashed. Although coolers, wagons, umbrellas and such are welcome, alcohol and glass bottles are prohibited on Ocean Beach. This event is suitable for all ages and runs from noon until 7:00 pm. The event is free for kids 12 and under when accompanied by a ticketed adult (one free kid per adult). Get your tickets now at www.BIT.LY/OCEANBEACH2022. Additional event info can be found at www.HUSHconcerts.com and for more information about the charitable organization, visit www.MRIYAAID.org.
Mriya Aid leverages its network of experts in logistics, contracting, procurement and fundraising to secure and transport the aid our partners in Ukraine have identified as critical needs for Ukraine to defend itself and stop the humanitarian crisis. Mriya Aid is an entirely volunteer-run organization with no overhead or administrative costs. 100% of contributions goes directly to supplying aid to those in Ukraine defending their homeland, their friends, and their families. Visit MriyaAid.org to learn more and donate.