Honey Mahogany kicked off her campaign for District 6 supervisor Thursday night with a large, energetic rally.
The announcement made formal what everyone in town knew: Mahogany, a career social worker and former chief of staff to Sup. Matt Haney, is challenging appointed incumbent Matt Dorsey in the November election.
If she wins, she will be the first transgender person ever elected to the Board of Supervisors.
The messaging at the event suggested that Mahogany is actively reaching out to the more moderate voters—but is not an ally of the mayor.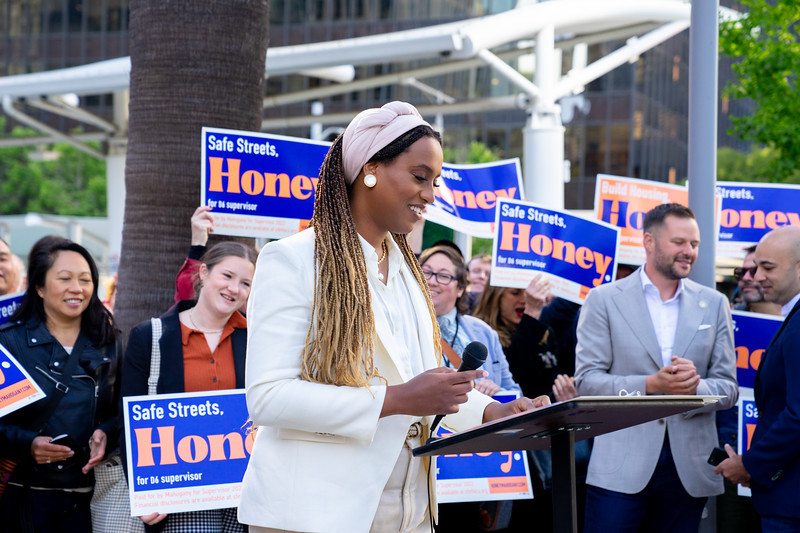 Mahogany's slogan, reflected on the signs at the event, was "Safe Streets." She talked about the need to "protect all of our people from the violence and crime we have on our streets."
She stopped short of calling for more police officers, but said that "there have to be consequences for people who break the law."
Public safety is going to be a big issue in the campaign; Dorsey spent the past two years as a media person for the Police Department, has called for the city to hire more officers, and supports the recall of District Attorney Chesa Boudin.
Mahogany opposes the recall.
She talked about her role in Haney's office working to get more housing built in the district, and said that she thinks "most Yimbys are progressive." She said she shepherded 9,000 new units of housing into the district, including 400 affordable units a year.
Since Haney's been in office just short of four years, that's around 17 percent affordable housing.
Mahogany also offered a not-too-subtle criticism of Mayor London Breed, who appointed Dorsey: "I believe city departments need to do their jobs," she said. "We have the resources…The fact that our city is a mess is a sign that somebody's not doing their job."
She spoke of her immigrant family—her parents fled a political dictatorship in Ethiopia, and were welcomed to San Francisco—and her social work background, "working to get homeless people off the streets and into care."
She gave some credit to her upbringing in a "devout Catholic" family to her sense of social justice. "In some ways I'm still a good Catholic girl," she said, "in a way that only a pro-choice transgender drag queen can be."
Mahogany, who is a co-owner of The STUD bar, was one of the founders of the Transgender District in the Tenderloin, and its first executive director. But the Tenderloin, thanks to Breed, is no longer part of D6.
Instead, a lot of new highrise luxury condos are in the district—and it's not clear how those residents will vote.
This was once a strong progressive district, represented by left firebrand Chris Daly, then Jane Kim, then Haney. Now it's a different place, and Dorsey is a much more conservative supervisor, close to the mayor.
When Haney decided to risk giving up a progressive seat to run for state Assembly, he assured his allies that there was nothing to worry about; if the mayor didn't appoint Mahogany (which was never going to happen) she would run and win.
Haney has a lot of political capital, and is putting it into this race, directly up against the mayor. A lot of progressive activists were at the kickoff, although there's still some unhappiness on the left with Haney's run against David Campos for Assembly (and some folks in the crowd were clearly unhappy with the "Safe Streets" and pro-Yimby messaging).
Sups. Shamann Walton and Myrna Melgar were there, as was Sup. Ahsha Safai, although Safai told me he hasn't decided who to endorse and was "just there to show support."
It's pretty clear that Mahogany is not running as an ally of Breed, and won't be on the board.
This one could be hard-fought and close.