Sandra Bernhard still tells it like it T-I-IS.
Like her activist role models Gloria Steinem, Jane Fonda, Lily Tomlin, and Chrissie Hynde, the comedian dives headfirst into the divisive issues—LGBTQ rights, abortion, mask mandates, and gun control—that are tearing the US apart.
"I can no easier imagine going out and buying a gun and starting to shoot people or just having a gun in my house and trying to repress people's sexuality or humanity than I could imagine cutting off my own foot," says Bernhard. "But so many people come from a place of if they can't have it, then nobody can have it. If they're not happy, nobody else should be happy. And that manifests itself in all these terrible ways."
The spearheading stand-up performer, actress, and singer—best known for her boundary-breaking turns as bisexual Nancy Bartlett on "Roseanne" and AIDS nurse Judy Kubrak on "POSE"—brings an activist spirit to every project she tackles.
None more so than her singular live shows, combining comedy, cabaret, rock 'n' roll, and plenty of social commentary.
For her latest, "Bern it Down," coming to Feinstein's at the Nikko for three nights starting Thu/23, the comedian will opine on life under—and after—lockdown.
While on one hand, getting back to "normal" is something to be celebrated, Bernhard questions if "normal" is even desirable anymore. As the show's title suggests, it might just be time to put a match to the old ways of doing things and start from scratch.
I spoke to Bernhard about the show, walking the fine line between satire and social commentary, and how she remains energized to fight oppression around the world.
48 HILLS You've described your new show as a mid-pandemic show. What can you tell me about "Bern it Down"?
SANDRA BERNHARD We've all been in crisis mode for two-and-a-half years, and it's changed everybody's view of the world and life. Sprinkled among that there's been terrible violence—gun violence, Russia's war in Ukraine, and the attack on abortion rights—so there's a lot of stuff at play emotionally.
But what I always try to do is come underneath it and bring it up instead of bringing things down. I think that's what I'm good at as a performer. So there are underpinnings of my emotions and feelings, but it doesn't color the show. It just infuses and informs that without hitting people over the head with the obvious.
48 HILLS You've long structured your shows like "Without You I'm Nothing," "I'm Still Here, Dammit," "Everything Bad & Beautiful," "Sandra Monica Blvd," and "#blessed," with comedy, music, satire, and social commentary. How did you develop that format?
SANDRA BERNHARD I can't describe how it happened. When you're coming from a place of honesty and trying to be truthful to your life and your beliefs, it just unfolds. I think that's how my work has evolved over the years. It's just constant evolution. I always try to keep it very real and honest and, at the same time, whimsical, fun, crazy, and madcap. So it's combining all those factors that make it compelling and still interesting for me.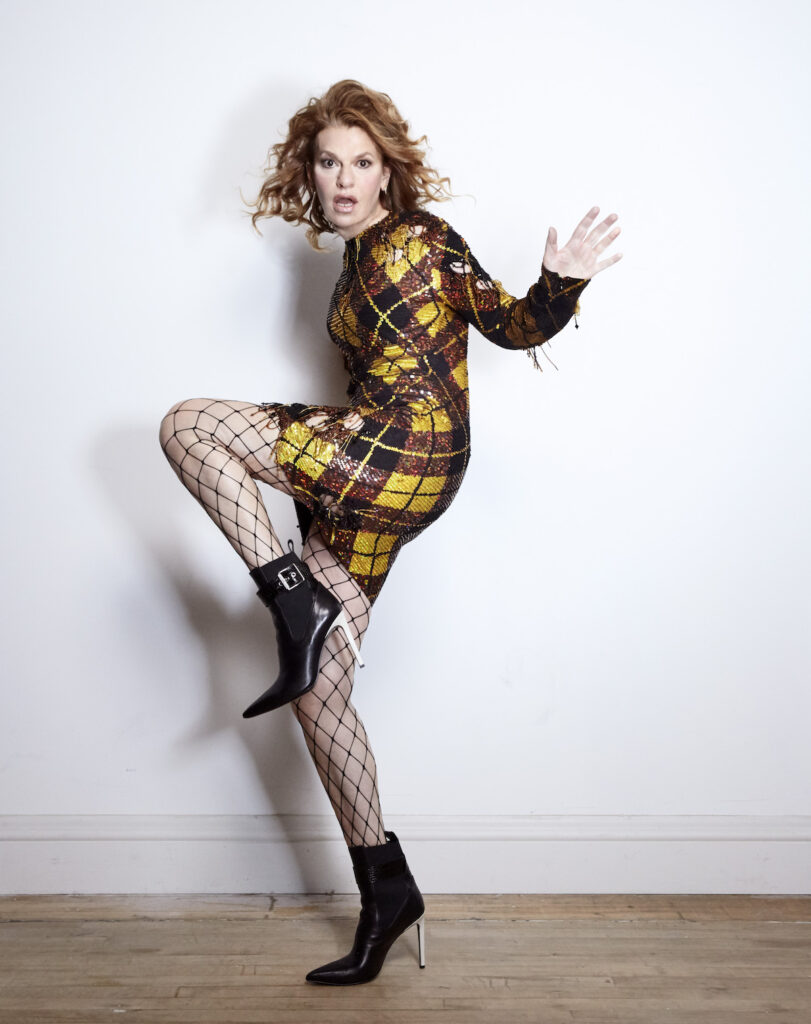 48 HILLS On comedy albums like 1994's Excuses for Bad Behavior as well as in your live shows, you choose very interesting, often unexpected, songs to cover. What makes a tune appropriate for you?
SANDRA BERNHARD It's got to be a song that has a lot of emotion, but not hokey and not maudlin. I love a good romantic song, but I have to bring something to it that the original artist didn't. It's a great Linda Ronstadt or Seals & Crofts song—and I bring something to it that's new and fresh and punctuates a story or where I'm coming from in terms of my observations of the world and life as it stands. So it has to fold into and help build the layers of the show.
48 HILLS With all the recent anti-trans jokes from comedians like Ricky Gervais and Dave Chappelle, I have to ask: how do you determine the line between funny and offensive?
SANDRA BERNHARD I've walked that fine line of satire and social commentary for a long time. I am also a part of that world, so I understand it better than they might.
I don't know. Maybe they're trying to shine a light on it and people misconstrue what they're saying. But for me, I tend to stay away from things that I find are over-talked about and over-discussed. And so I don't think a lot of things are issues for me because I am not that interested in talking about things that everybody else is talking about. I try to steer away from that and go into directions that are maybe more personal and a little more unique.
48 HILLS By playing Nancy Bartlett on "Roseanne" and Nurse Kubrak on "POSE," you broke so much ground and gave the LGBTQ community so much positive visibility.
SANDRA BERNHARD I think I approach everything as an actress as trying to find the humanity in the character, first of all, because everybody—no matter their sexuality or their gender—wakes up with emotions and needs. We have to go to work and we have to take care of mundane things. That's always how I approach characters because that makes them more layered and compelling. This person's gay or bisexual, and now they're a human being. The hardest thing about being a person is dealing with the day-to-day, so when you always have that as the backdrop, that makes everybody and every character more believable and relatable.
48 HILLS To me, you've always been a symbol of LGBTQ pride and Jewish pride and a feminist icon. With everything going on in the world and all the unfortunate regressions since Trump took office, it's easy to fall into despair. How do you remain energized to keep fighting against oppression?
SANDRA BERNHARD We're in this dip in society after Trump, which has left an indelible mark, and I don't know how that gets corrected.
For me, because I am happy and I get to be in places like New York and San Francisco, a place of revolution and openness, where people allow each other to be who they are and flourish, I don't have to go and live in repressive places.
That said, there are a lot of wonderful people in Mississippi, Texas, Arkansas, and Oklahoma who deserve better. I always want to remember that and fight as much as I can to liberate them from the clutches of these repressive characters. So you have to keep your eye on the prize of what you can do to help other people as much as you can.
48 HILLS Since we're midway through Pride month, I have to ask: What does Pride mean to you?
SANDRA BERNHARD Well, I think that it's evolving and that it's most important to not only think about our community but also about the entire world at large. So I throw a wide net and remember the support and connection to all the good people, all the people who have our backs—because we should have theirs as well.
There's no real collaboration, and I think that what we need as a community to continue to evolve is to reach out. I think we do. I think we live in the world and celebrate because it's a fun part of the gay culture to be outrageous and sensitive, funny and sane. It's just all part of what makes the gay community one of the best communities in the world.
48 HILLS Thank you for continuing to fight for us.
SANDRA BERNHARD That's part of the deal. Part of the deal.
Sandra Bernhard: Bern It Down Thu/23-Sat/25, 8 pm, Feinstein's at The Nikko, SF. $140. Tickets and more info here.