Before we audience members got to see the world premiere of Romeo y Juliet (which runs through June 19), Cal Shakes artistic director Eric Ting and managing director Sarah Williams gave us a quick recap of its long journey to the stage. The show was originally meant to open their 2020 season, but was delayed for two years for reasons that should be obvious. When it finally became active again, cast member Emilio Delgado (best known as Luis on Sesame Street) passed away. Then, as tech and previews approached, Juliet actor Vero Maynez–who'd done an ABC-7 interview about the production just over a week ago–had to bow out.
(The reasons for her departure weren't given, but if it was COVID, that would make this my second production with a COVID-altered cast in the same weekend, after Killing My Lobster's Let's Do the Sex. For the record: quick-glance vax checks are required for entry to the Bruns. All protective materials like masks were not required in the amphitheater, but Ting strongly "encouraged" them during his speech, as the actors have to move through the audience. There is no reduced seating.)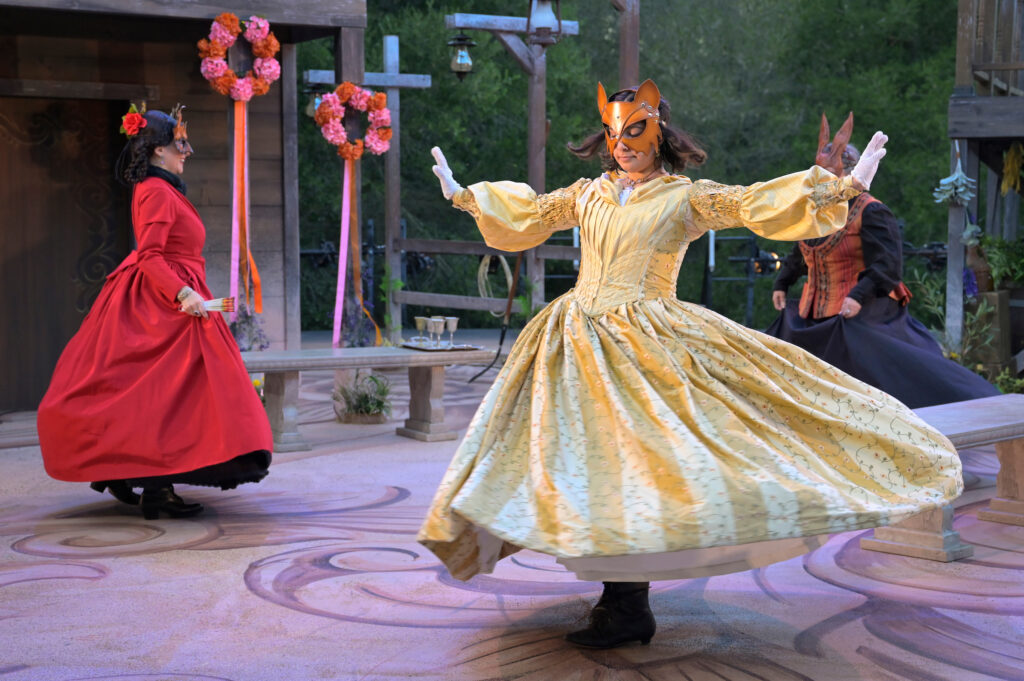 So, after all of that—plus the Cal Shakes bus getting its catalytic converter stolen—what was the result of the two-year-plus wait? A familiar story given a lot of literal and figurative color.
Before the show-proper begins, our ensemble steps onto Tanya Orellana's lovely post-Spanish-California set to explain the Spanglish we're about to hear.
"What you do not understand with your ears, you'll understand with your heart," we are told. So begins our show, "in Alta California, where we lay our scene" (Romeo's banishment is likewise moved to Monterey.)
The production not only expects one to be familiar with Romeo and Juliet, it counts on that knowledge. And why not? It's one of the most familiar stories in the world, and Shakespeare's most famous work not involving a college drop-out speaking to a skull. Plus, Ariana DeBose just won an Oscar for Spielberg's remake of Sondheim's musical adaptation of the script. Everyone knows Romeo and Juliet, and everyone stages it—what separates each production is how they are dressed up.
This one takes place during the era in which California was in limbo—not quite Mexico, not quite the US—and it's mighty purty. Orellana's set is perfectly complimented by Jessie Amoroso's gorgeous costumes. I was particularly struck by the clothes in the famous balcony scene, in which Amoroso seems to be directly responding to the line "Juliet is the sun" by draping Juliet actor Gianna DiGregorio Rivera in a yellow dress and orange shawl.
Which leads to the cast. We're told at the beginning that Rivera would be using her script onstage, which she does. To her credit, she doesn't bring her script on until well into the first half, and doesn't seem to glance at it at all until well into the second. More importantly, she finds the appropriate wide-eyed wonder of The Bard's most famous ingenue. By the end of opening night, her script was pretty roughed up, but her performance was pitch-perfect.
In fact, director KJ Sanchez gets a lot of great material from her cast. Some of Sanchez's choices are a bit curious (Romeo and Juliet's first glance appears to be an allusion to the aforementioned Sondheim musical), but other choices (Capulet not striking Juliet because he's intimidating enough; Juliet preceding the drinking of her vial of poison with a pantomime of her first kiss with Romeo) connect better. As Romeo, Cal Shakes regular Sarita Ocón gives off the right lovelorn vibe, if not the same adolescent impulsiveness as Rivera. Juan Manuel Amador is clearly having fun as Mercutio (though both his and Romeo's deaths are played a bit too "big", verging on comedic), as much as the Bay Area's own Hugo Carbajal enjoys sinking his teeth into "King of Cats" Tybalt.
Eliana Lopez has a high refinement and lovely wardrobe as Lady Capulet, but if any one cast member steals the show, it's Wilma Bonet as the nurse. She knows the character spends most of the play as the main character of her own sitcom. As such, Bonet is the most effective at using both Shakespeare's original verses and playwright Karen Zacarías' translations.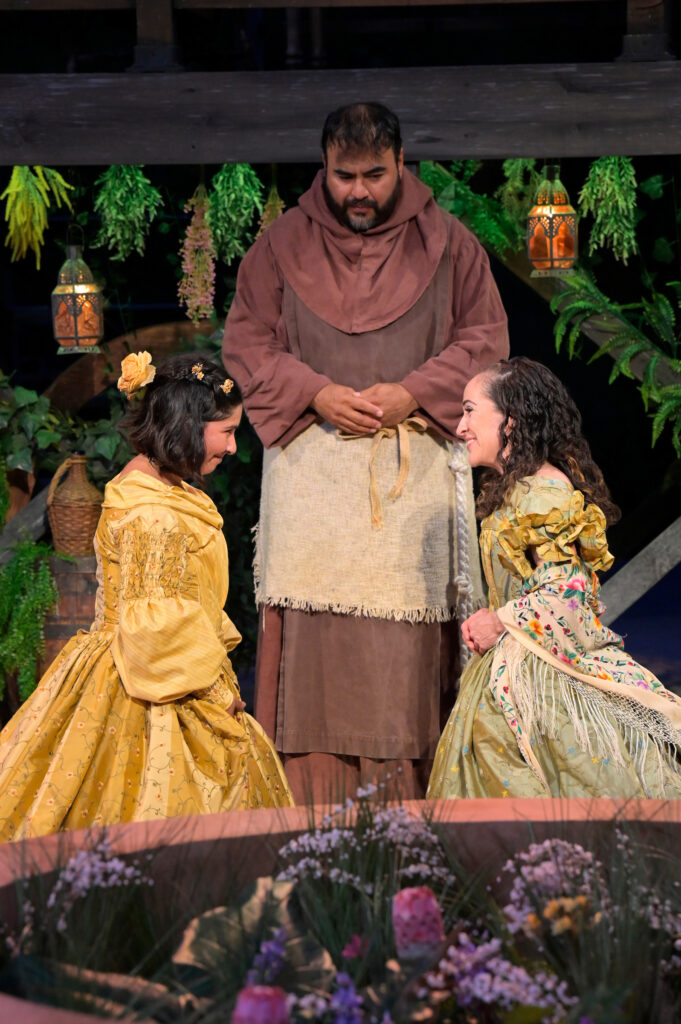 Speaking of which: Zacarias' script weaves those translations masterfully–"Onward, lusty gentlemen!" becomes "¡Adelante, los amigos bravados!" Together, Zacarias, Sanchez, and actor Orlanda Arriga deliver one of the better takes on Friar Lawrence, emphasizing how his introductory interest in horticulture fits into alchemy in the final act. But Zacarias still should have cut some of the more extraneous lines—even the most devout bardolator will admit Ol' Will's texts were absurdly longwinded. Granted, the post-Greek theater required an overabundance of exposition to do world-building. But times have changed, and there's a reason some of the more overly-descriptive lines often get cut for time in other productions.
Despite running a bit long, the Latinx take on the star-crossed teens is brimming with life, all the way up to the final bow. What's more, the fact that I saw it opening night means you'll get to see an even-more-polished performance by the already-solid Giana Rivera. It may be agitating sitting amongst so unmasked audience members–even outdoors–but another night under the bright lights and bats was a long time coming.
ROMEO Y JULIET runs through June 19. Bruns Amphitheater, Orinda. Tickets and more info here.