Sadly, I wasn't surprised to read that the defining moment of the recent Uvalde, TX massacre wasn't the act itself, but rather the inaction of local police.
As mostly-Latinx teachers and children were running in fear or breathing their last, the Uvalde cops just sat on their asses doing nothing. Once I got over the initial annoyance of another US mass shooting and the horror of it being another school shooting, I thought back to late last year when I reported how the Breed-backed SFPD were in full force in Union Square (gotta protect those Louis V bags), but were also happy to sit on their asses doing nothing when the indie, non-corporate Safe Alternative dispensary was robbed.
Huh. It's almost as if these agents of the state armed with military weaponry are more trained to take lives than save them.
Aishah Rahman wrote her play The Mojo and the Sayso (Bay Area premiere running through June 26 at FLAX) in response to the 1973 killing of a 10-year-old Black boy by the NYPD. The play opened in 1989, the same year as Spike Lee's ground-breaking film Do the Right Thing, which featured a similar ripped-from-the-headlines scene of a Black man killed by the NYPD. Thirty-three years later and names of Black people killed by cops could outnumber a veteran memorial wall several times over.
It's easy to see why the material appealed to the director, Oakland's own Ayodele "WordSlanger" Nzinga—The Town's first-ever poet laureate and longtime independent theatre-maker. She would often tell auditioning actors that they could expect to hear gunfire and police sirens on a regular basis as they performed at her old backyard theatre space. I don't recall the sound of gunshots as I sat inside FLAX for opening night of this Oakland Theater Project production, but the sirens definitely came through the walls.
After walking through the art shop's opening (OTP still checks for vax credentials, but not boosters, and one couple got in without masks, though everyone was required to wear them in the theatre proper), we're asked to wait in the de facto lobby in front of an altar of sorts. It includes bundles of sage in front of the cast's headshots, which sit in front of a wall collage of clip-outs related to dead Black children: The smiling face of Trayvon Martin stands out most prominently. After entering the theatre in groups (for reasons not made clear), we see three seats already occupied by black-clothed and -shrouded figures in red head gear.
The most prominent piece of Karla Hargrave's set is the "exoskeleton" of an old-time sedan on a platform. There are candles along the wall, as well as a bowl of oranges and a bright red tool box near the car.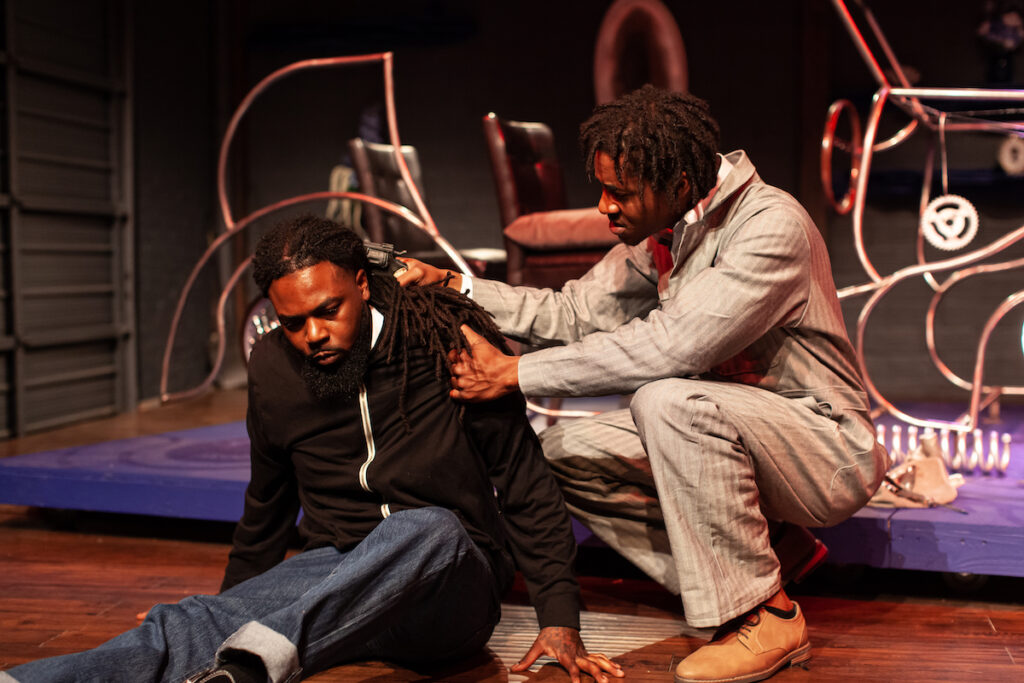 This is where our action takes place: the living room of Acts Benjamin (Dane Troy) and his wife Awilda (Paige Mayes). Yes, it's their living room. Since the death of their son Linus, whose angelic face is seen in a portrait near the candles, building this car from scratch has been Acts' chief obsession. The handyman dreams of nothing but taking his wife across NY state in their stylish new ride, and a sudden financial windfall—a settlement from the city after Linus was murdered by a cop—may make that possible.
Awilda wants nothing to do with the money. As Acts has gone head-first into his project, Awilda has fallen back on her faith, and the silver tongue of a slick preacher (Reginald Watkins), in lieu of the support she really wants from her husband. Complicating things all the more is the sudden reappearance of Walter (Stanley Hunt), the kind of man the world expects to be shot by cops, but now just wants his mother and step-father to escape from the memory of Linus' death.
Though written in the '80s and seemingly taking place decades prior, the play is sadly timeless in how it depicts a tragedy all too familiar. I've personally written of my own police experiences so many times now that it risks being my go-to topic aside from art. I can think of countless times I could've been—and almost was—on the receiving end of a police-issue bullet. The best I could have hoped for was to be a hashtag, 'cause there's no way I'd expect justice. The character Linus died before such innovation, leaving behind only a heartbroken family as a uniformed killer running free.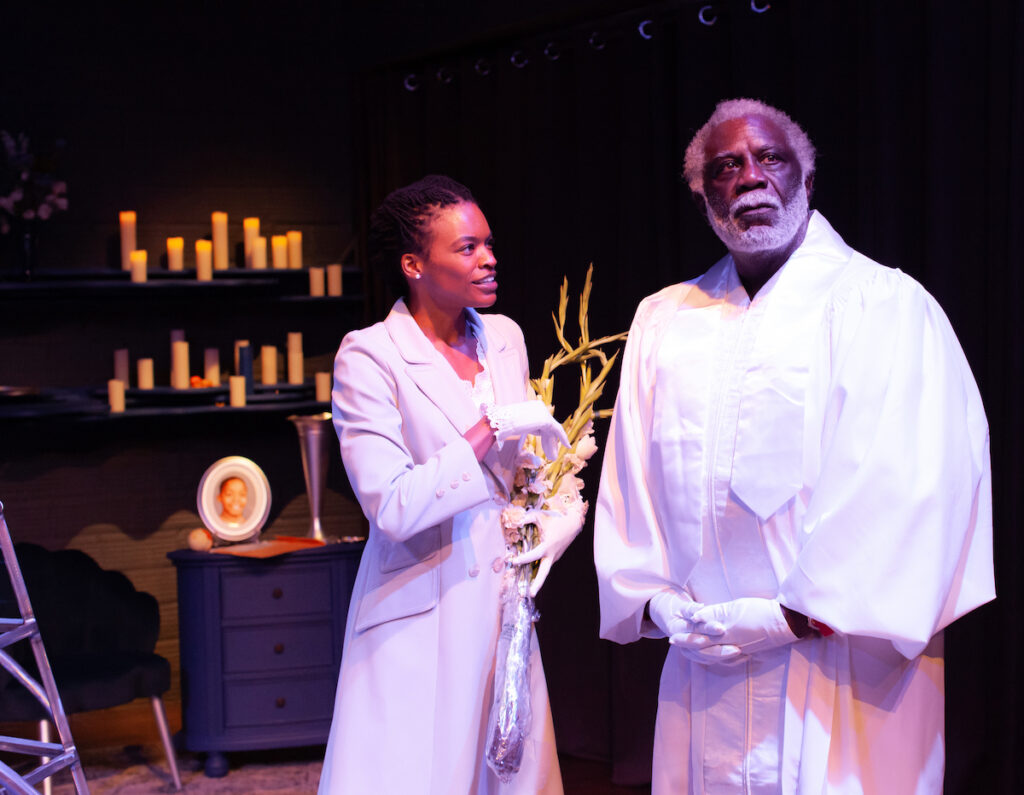 In her directors' statement, Nzinga mentions wanting to lean into the magic of the script and its old-fashioned, gospel-esque lyricism. She finds good collaborators for this in the aforementioned set, a subtly effective F/X team, and muse Paige Mayes (with whom I've worked before, but never heard sing). A trained dancer, Mayes physicalizes Awilda's pain, joy, and dreamlike state with fluid grace. It's an adequate contrast for when Dane Troy's voice cuts through the silence of the theatre as he finds the violent anger Acts has for the killer cop. (I'm hard-pressed to recall any other work that explicitly alludes to Jonathan P. Jackson.)
I'm unaware of Stanley Hunt's previous credits, but if he's a new actor, he has already has much to work with in terms of how to further refine his craft. And Reginald Watkins knows—as does every Black person who grew up in the church—the self-love and resonant boisterousness that the preacher needs to have over his flock. Watkins has the play's most outlandish costume change, but the actor never shows the uncertainty the character certainly does.
All of this in a script that takes stabs at organized religion, government institutions, and even the "open market" in how they all deal with tragedy. It's akin to Arthur Miller's All My Sons in that way, though mercifully more optimistic. When you've suffered through trash like The Hate U Give, the last thing you need is another "Black-kids-killed-by-cops" story that leans into the self-congratulatory.
Nzinga and her collaborators are aware of the text's tragedy. The choose the magic, and it's a good choice.
THE MOJO AND THE SAYSO runs through June 26 at FLAX art & design, Oakland. Tickets and information here.