Under the Stars is a quasi-weekly column that presents new music releases, upcoming shows, opinions, and a number of other adjacent items. We keep moving with the changes, thinking outside the margins, asking ourselves, "And who are you?" with each new music festival that appears out of nowhere.
We've known one festival for three decades, at least. Noise Pop Music & Arts Festival, now in its 30th year, will return to the Bay Area on February 20-26, 2023! Are you a musician seeking a place to play? Artist entries are currently being accepted. To submit, go to noisepopfest.com. Also, get in on those crazy early bird badges.
REVIEW: THE ZOMBIES AT THE CHAPEL, JULY 19
Terrestial radio was my thing growing up in New York City. Music in a noisy metropolis provides an immediate opportunity for strangers on the edge to interact. The random and specific arrangement of words, sounds, and vibrations leads you to your non-DNA, extended relatives. That formula works in many genres and is a type of magic in its own right.
For some reason, The Zombies, the British psychedelic pop giants, were one of a few acts that broke through all the New York cacophony. "Time of the Season," their first #1 song in America, which came after they broke up—bands do that all the time—could still be heard all over the boroughs on buses, subways, and taxis, bars and night clubs (I'm not sure since I wasn't old enough to go to those, but I'm guessing yes). It was a jam that everyone knew and felt.
Last Tuesday's performance by the Zombies at The Chapel in San Francisco left bar owners in attendance staggering for balance and words, local musicians gasping in admiration, and ladies, gentlemen, and everyone else at the crowded, sold-out night swooning. Grown guys swooned, that's correct. When a band has that discography and is enshrined into The Rock and Roll Hall of Fame, it happens. 
This lineup, including founding vocalist Colin Blunstone and keyboardist Rod Argent, with Steve Rodford on drums, renowned session guitarist Tom Toomey, and the band's newest member, Søren Koch (who joined following the untimely death in 2018 of their beloved bassist Jim Rodford, formerly of the Kinks and his cousin Rod's post-Zombies band Argent) put on a show that turned all versions of adults into teenagers.
On their 1960s smash songs "She's Not There" and "Tell Her No," the Zombies, the second UK band after the Beatles to record a #1 hit in America, crowded the venue's rafters with rapturous melodies, loud purred voices, and ensemble harmonies paired with colorful piano riffage.
They even swerved into the Argent song, "Hold Your Head Up," which came after the break-up and saw Rod Argent work the jazz-rock Fender Rhodes solo game into Brian Auger-meets-Emerson Lake and Palmer fury—it was that ruff and tuff—like the maestro he is.
Such command, the audience oohing and aahhing for approximately seven minutes. Even the encore "The Way I Feel Inside," a melancholy tearjerker of a dart, brought back into the zeitgeist by the Wes Andersen film "Life Aqatic With Steve Zissou," had everyone in the audience clapping and wishing they could stay in the time machine.
This performance, one for the ages, was a bucket list achievement indeed.
DOOMCANNON, RENAISSANCE (BROWNSWOOD RECORDINGS)
'Twas three years ago and change that tuba master Theon Cross released his debut album Fyah, where the perspective of jazz got squarely based on the energy of a Young Black Brit. It's lovely when the past meets the present and broadcasts the future. Cross played for one-third of that album with Nubya Garcia on tenor sax and Moses Boyd on drums. In that trio's sound, it was impossible not to miss the influence of UK bass music, EDM, Soundsystem culture, strains of hip-hop (somewhere between the sweet spot of J-Dilla-style production and New Orléans second line brass band tradition), along with Caribbean accents and numerous signifiers of the moment.  
Jazz has advanced in the hands of Black contemporary storytellers.
DoomCannon's debut Renaissance, released three years after Cross blazed new trajectories, contemporizes the genre once again in the style of yet another Young Black Brit. The album, at times lengthy with numerous intros to most of the songs, featuring vocals by Lex Amor and skittering time signatures moving hurriedly through uncertainties, remains possessed with bewitching saxophone melodics. It organizes itself by recycling the energies ingested over the past four years into a companion soundtrack to those events—global pandemic, Black Lives Matter movement—that still sees hope pushing past all the chaos.
Not to get all old-heady wit it, but Miles Davis, upon getting pushback for going all electric-fusiony on Bitches Brew, with hints and accents of James Brown, Karlheinz Stockhausen, Jimi Hendrix and Sly Stone after Woodstock in 1969, put that bullshit on front street with the line "you gotta play where the ears are at."
Renaissance, a must-have album, speaks where ffolks are listening.
Purchase here.
GROUNDATION WITH DJ SEP AT SWEETWATER MUSIC HALL MILL VALLEY, AUGUST 31
DJ Sep is a Bay Area DJ-producer who contributed to making San Francisco a destination city for nightlife. As the founder of Dub Mission, one of the world's longest-running reggae clubs (1996-2019) you could count on it every Sunday night to set your way back to your Northstar. The mood and feeling stayed human, whether the venue was full or cozy and private.
Spinning just about anything—I once ran into her on my sole visit to Winter Music Conference in Miami and she was holding a drum and bass party that was going off—Sep was also on Bay Area radio for 22 years, first at KUSF, the famed college radio station, followed by KPFA, Berkeley's public radio station. She has performed in London, Vancouver, Tijuana, throughout the United States, and virtually every bar in the wider Bay Area. Lee Perry, The Scientist, Mad Professor, Sly & Robbie, Toots and The Maytals, Mungo's Hi Fi, and Adrian Sherwood are among the reggae and electronic musicians Sep has presented and opened for.
The point is if Sep lends her name and energy to a function, it will be top-notch and righteous.
She's assisting Sweetwater Music Hall with several forthcoming reggae gigs, culminating with her opening and closing for Groundation, an American roots reggae band with jazz and dub elements from Sonoma County in Northern California. Founded in 1998, Groundation returned in 2018 after a three-year break, returning with skilled new members and brand new music that is loyal to the improvisational reggae and jazz style that fans have enjoyed for two decades.
Get tickets for this fine-looking show here.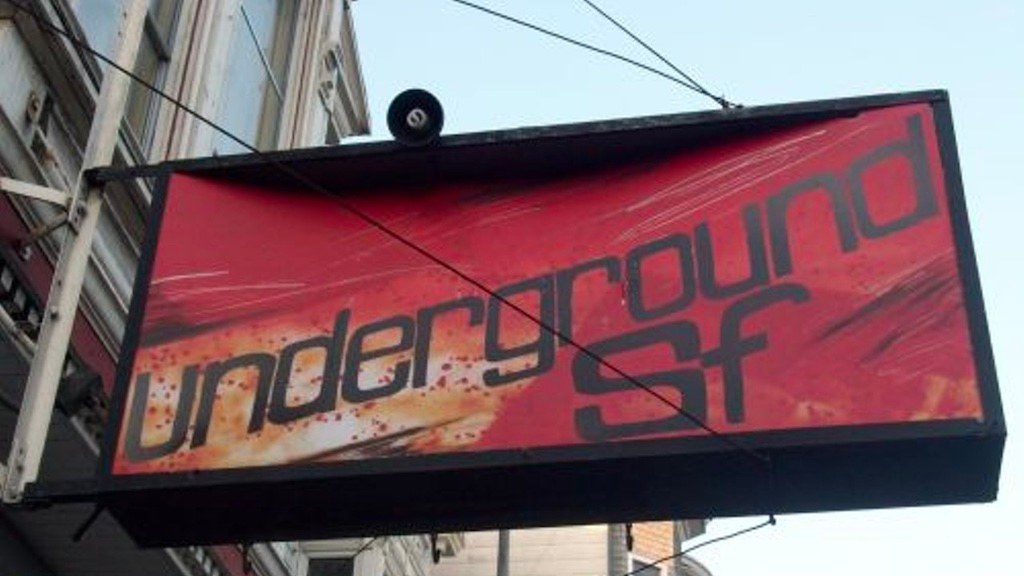 UNDERGROUND SF REOPENING JULY 27
Underground SF, a sacred site and venue for Bay Area nightlife, is reopening on July 27 with a slew of top tier DJs crowning the return of this bassbin real estate. The Haight Street venue made the announcement on July 14 through Instagram, after closing down for more than two years. In addition to "some well-deserved renovations," the remodeled facility will now have an electronic music-focused coffee bar open daily from 7am to 4pm.
"After what seemed like a lifetime ago and after much work and dedication to a newly remodeled space, we're so proud to introduce you to the new Underground SF," they wrote. It's unique in that, ever since there was a dance club at that site, their DJs came not only from across the seas, but also from immediately down the street. So you have a roster of local DJs on launch weekend, including Carrieondisco and Paul Goodyear, and resident from Portland DJ Sappho. Looking ahead the venue will feature Infinite Jess, who works directly down the way at Vinyl Dreams record store. 
That is community. On the 30th, Tyrel Williams, Jimmy B, and Suade will take the stage. And there's more great things to come.
I saw Roni Size perform at the venue back when it was called The Top, an iteration that featured multiple drum and bass nites, making the SF a destination city for UK producers. Come watch and help shape the next edition.
SOUR WIDOWS AT ELI'S MILE HIGH CLUB OAKLAND, JULY 29
Sour Widows—comprised of Maia Sinaiko, Susanna Thomson, and Max Edelman—return with radiant new track "Witness," produced by Maryam Qudus aka Spacemoth, that loops the audience through varying steps of heartache.
"This is the first song we finished since I lost my mom in June 2021," says Thomson. "When we started playing together again last fall after being on hiatus for several months because of my mom's illness, I was feeling easily overwhelmed by most things, and playing and writing were very difficult. Returning to this existing instrumental we had written together before everything in my life changed felt comforting and supportive. Monumental loss creates a very clear divide between those in your life who can understand the depth of that kind of pain and those who can't. 'Witness' speaks to that experience."
I'm always amazed by this band who do have a tendency for dark material, but unlike others provide interstitial colors so you can track the apex and nadir up close.
You can see them at Eli's on July 29—get tickets here.