Under the Stars is a quasi-weekly column that presents new music releases, upcoming shows, opinions, and a number of other adjacent items. We keep moving with the changes, thinking outside the margins, and remaining pretty damn proud of our venue bookers.
This summer, festivals have been popping up outta nowhere like random weed strains.
For reals.
That Portola Music Festival, taking place September 24 and 25 at San Francisco's Pier 80, caught everyone here in our digital office way off-guard.
Not complaining tho. It's gonna bring us Kaytranada, Four Tet + Floating Points, Toro Y Moi, Caroline Polachek, Yaeji, DJ Shadow, Kelly Lee Owens, and more.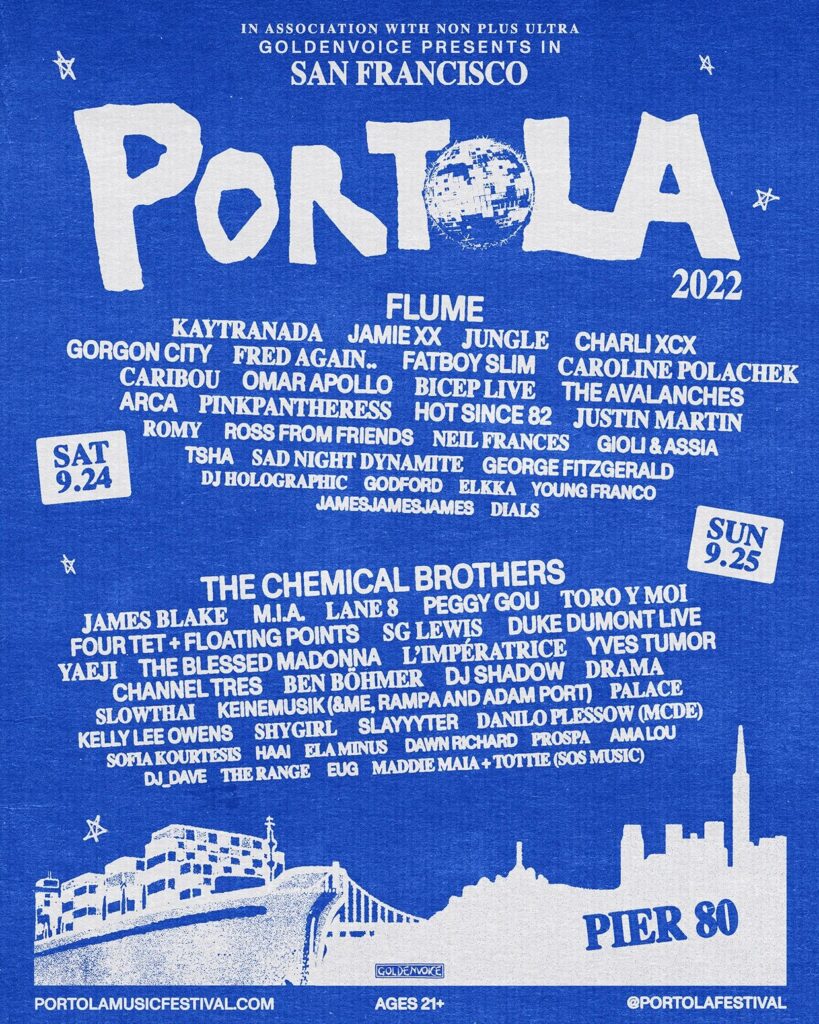 Outside Lands, which announced its daily line-ups and put single day tickets on sale last week, booked Ellen Allien, an SF fave, for the SoMa tent August 5.
So it seems every event in existence is doing the watusi-double time—just to grab the last e-coins from your digital wallet this summer. Recent developments in the last 24 months have prompted this good weather season to pour out the whole contents of the musical reservoir for music enthusiasts to make a costly option in certain situations. Poindexter, don't worry, there are some regularly planned events at our venues that might be just as wonderful as the lineup of bands who've been eating for 20 years on that one occasion they opened for The Strokes.
Not hating, just stating.
So don't sleep on our venues doing their most damnedest to present San Francisco's best new talent. And let's be blunt. Bobby "I know every artist in the world" Bummer (you know that f*cking dude) attends all the shows.
So to keep featuring new local artists who are mindblowing?
Hats off to you SF venues. We see you and applaud your efforts.
For example…..
Spacemoth, June 27, The Chapel
The Chapel messed around and booked local musician Spacemoth to open what was already set to be a humdinger of a concert with Los Bitchos coming to town for a one-night engagement.
Spacemoth, aka Maryam Qudus, a Bay Area-based artist, performer, and composer, has been cutting her teeth and putting in that work for years. Building a reputation as a sought-after producer and studio engineer, she has worked with Toro y Moi, Tune-Yards, Sasami, Sadie Dupuis of Speedy Ortiz, and others, as well as at San Francisco's Women's Audio Mission and the renowned Tiny Telephone Recording.
It's a grind that was instilled at an early age. Finding a place in music as a first-generation Afghan American kid of working-class immigrant parents was nothing short of a hardship. "Women are often discouraged from pursuing music in the Afghan & Muslim community, and those who follow that path receive a lot of heat," she says.
Welp, we are the lucky ones. Her debut album, No Past No Future, will be released in July via Carpark Records on Sadie Dupuis' label Wax Nine.
It's a whole listen at 13 tracks, equally as nice on the ears as the lyrics that speak to her experience as a woman of color trying to make her place in a weird and unfair world. Filled with cascading post-punk energy, dubbed here as "psychedelic space-pop" in the credits. These snapshots, framed with an '80s vintage synth attack, transform the life lessons into enticing watercolor Deja vu.
With its fizzy indie vibe, crazy patterns, and full color presentation it's a "can't wait to hear this played live" situation on hand. Pre-order No Past No Future here.
Secret Emchy Society, Gold Country, Country Gold (Broken Clover Records)
Secret Emchy Society packs those gothy, spaghetti western vibes exploring identity and new uses for all the Cowboy tropes into "Cowboys Are Frequently, Secretly Fond Of Each Other," a song written by Latin country musician Ned Sublette, but popularized by Willie Nelson and widely recognized as the first LGBT-themed mainstream country song by a major artist.
And then we're off. Oakland-based Cindy M. Emch, dubbed the "First Lady of Queer Country," accomplishes what all great musicians do. Ties the common thread that binds all forms of music.
With Gold Country, Country Gold, all different shades of blues-based confessional music—Americana, California Country, Hellbilly, Goth, Honky Tonk—come together under one very wide umbrella to ponder what is human by so many different monikers. While the liner notes imply a focus on electric guitar, the ghostly steel guitar accents that scare the bejesus out of "Another Time & Place" makes this country record haunt and holler in the proper manner.
Grab this album here.
OSEES "Funeral Solution," from A Foul Form (Castle Face Records)
As much as I'm interested, and I really am though, in a 12- to 27-minute proggy rock jam whose visuals feature Claymation entities following brain waves as they move across the astral world, sometimes getting right to it does the trick best.
Osees, are les shizzle, dizzle. FACTS, as the kids say. Which makes their new offering "Funeral Solution" that much more fun.
Anyone who's seen their homecoming gigs in SF (they live in LA, but The Bay has a soft spot for this band) knows how chaotic, strange, and bumpers out-of-control, their live show can be.
"Funeral Solution" clocks in at a buck and 58 seconds, dropping the pure punk banger intensity. Sometimes that's all you need, fam.
It's going to be a revival tent type of affair when they come through town for a series of gigs at The Chapel September 5-7, with Automatic opening.
Pick up tickets here, and pre-order the album here.
Sour Widows, May 25 at Bottom of The Hill
In an interview with Uproxx last year, Bay Area band Sour Widows revealed what is required for performance gear.
"Whatever makes you feel the most yourself that night—sometimes it's your Woodstock '99 original t-shirt with jeans and sometimes it's your vintage Harley Davidson long sleeve with the spiderweb elbows over a slip dress, wear the thing that is going to be the best conduit for your shred energy."
Sour Widows, comprised of Maia Sinaiko, Susanna Thomson, and Max Edelman delivered said "shred intensity" on their 2021 EP "Crossing Over," with its wonderfully torn slowcore heart exposed and reeling.
Maia and Susanna started out as a duo—they both played guitar, wrote lyrics, and sang. After their debut performance at 924 Gilman in Berkeley, they joined forces with drummer Max Edelman, which modified the duo into a zigzagging slowcore trio of illuminated voices and amped-up guitar squall.
Be sure to catch this original outfit at Bottom of The Hill in support of the wonderful Tasha.
Purchase tickets here.
Anteloper, "Earthlings" from Pink Dolphins (International Anthem)
Last week, Jaimie Branch and Jason Nazary's kaleidoscopic electronic-modal band Anteloper released the second single from their upcoming Pink Dolphins album.
"Earthlings," which has Branch on vocals crooning, "we are not the earthlings that you know," is a mournful trip-hop texture that features coolout guitar tones on top from producer Jeff Parker.
With Branch distilling those sharp, brash trumpet lines mid-song while Nazary gives up the the double-time drum business in dirge type fashion, we've found the exact soundtrack Beth Gibbons of Portishead would sip a Martini to.
Fucking stellar. Pre-order here.