I don't think it's controversial to say that the current world is so crazy that it defies satire. Had you told Douglas Adams or Kurt Vonnegut what 2022 would be like, they'd have each politely smiled as they slowed backed away from you. When things get to the point where you don't know which way is up, I recommend indulging in artistic comfort food: Star Trek: Strange New Worlds; the John Wick movies (which I've only started watching this past weekend); and maybe a play about a frustrated artist who made a Faustian bargain with a fire-spewing winged beast.
I did the latter recently at the opening of Deal with the Dragon (through August 13 at Fort Mason Center). Kevin Rolston's magical realist solo show comedy originated here in the Bay Area before making a splash at the 2016 Edinburgh Fringe. It's now being hosted by the Magic Theatre via TigerBear Productions.
It's your typical tale of a young man named Hunter (all characters played by Rolston) who was a woodcutter's son during medieval times. When the lad isn't failing to measure up to his old man's toxic masculinity, the youngster's got a crush on the prince from Sleeping Beauty and does excellent drag as Maleficent. One day, our lad is offered the chance to win his father's approval after he signs a blood contract with a temperamental dragon named Bren. Centuries later, our guy is an artist trying to fight a mental block and finish latest work to submit for a place in a renowned art institution. Besides his mental block, the only things standing in his way are Bren's fiery hissy fits and a rival named Gandy who's trying to cope with his own abusive upbringing and history of reckless queer trysts.
Like I said, tale as old as time.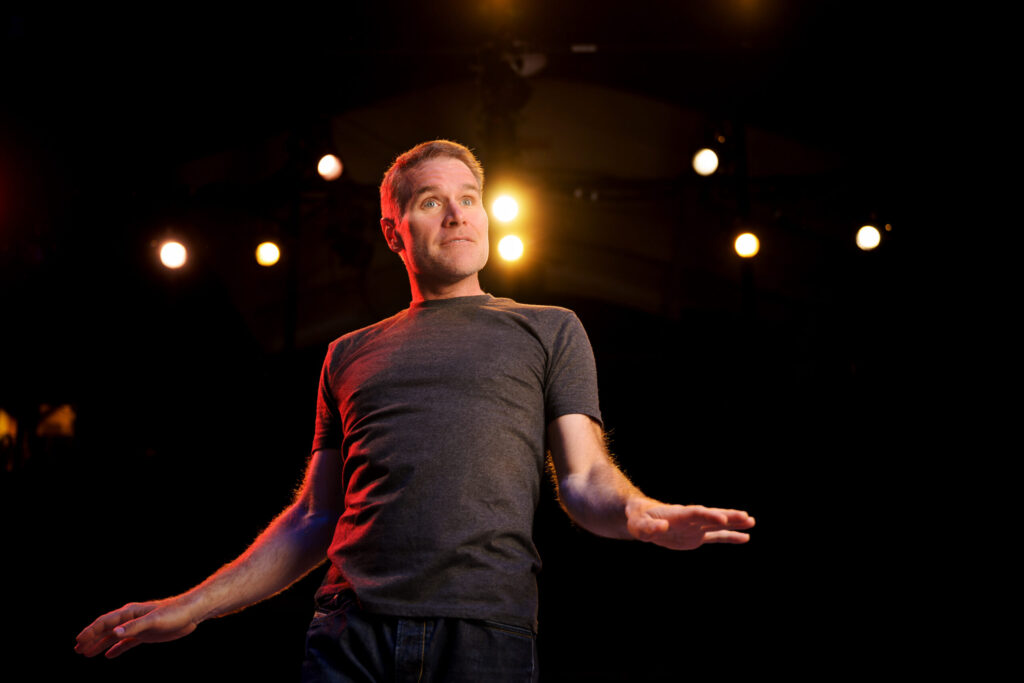 More than any other genre, solo shows live and die on the performer's ability embody a host of characters. They're the only cast member they can play off of and the only one to take the blame if the audience isn't won over. To the credit of Rolston (as directed by collaborator M. Graham Smith), he does just that. It's easy to get a feel for German dragon Bren as Hunter's artistic muse, biggest fan, and albatross around his neck. American Hunter is as neurotic as Bren is (usually) well-composed, possessing the artist's curse of feeling their work is never finished, no matter how close the end seems. Gandy is mostly seen during an AA meeting where he overshares his sordid past with his fellow addicts about the naughty things one can do in a Zipcar when you think no one's watching.
As entertaining as the AA scene is, it sticks out of the play like a sore thumb. The story is that of Bren and Hunter's dangerous symbiosis. For centuries now, Bren has been the one to show the strength Hunter lacks, even when it means threatening a debt-collector over the phone with literal immolation from the sky. Yet, we also easily recognize that the relationship as abusive, mentally if not physically. Hunter is terrified of Bren's fiery wrath, even when directed at other people. One look at him and you can see his concern about finishing his latest art project is equally about proving he can function away from Bren. (Several times I wondered if the two were the same character suffering from dissociative identity disorder, a la Fight Club.)
Because the story is of this couple—who are never explicitly romantic, but everything about them (including the first time Bren brings Hunter a doughnut) says "relationship"—Gandy's story feels more like an attempt to boost an additional character when I'd have been perfectly happy spending the full hour runtime with just the two. Gandy is nice and he figures crucially into the ultimate fates of the two, but his story kinda feels like it came from a completely different play all together.
With the real world still in danger of from viruses, I'm pleased to say that the Magic took some good steps to keep those dangers outdoors. It's still one of the few theatre venues to not only check vax info, but to specifically require boosters before entry. When not focused on the Smith-designed set—which blocks off both right and left sides of the theatre and suspends a "bouquet" of dead branches from the roof—I noticed that CO² levels peaked at 852ppm through the 70-min runtime. 
At this point, I won't even try to guess what unbelievable headline I'll read in the news tomorrow. I shudder to think who sold their soul to put us in the state we're in now. With that in mind, there are worse ways to escape than to spend roughly an hour watching the decidedly adult dynamics of children's fantasy come to life.
DEAL WITH THE DRAGON runs through August 13th at the Magic Theatre in Fort Mason Center, San Francisco. Tickets and info here.