There was an air of "homecoming" during the opening night performance of Goddess (through September 25 at Berkeley Rep.) Maybe it was due to my sighting of Oakland's own Daveed Diggs in the audience after not having seen or collaborated with him in nearly a decade. Maybe it was the fact that this world premiere production coincides with the end of two important company tenures: that of press guru Tim Etheridge and managing director Susie Medak (whose two-decade involvement closes at the same time as the opening of the Rep's new artist housing complex that bears her name.) Maybe it's the fact that BroadwaySF is about to host the Bay Area tour stop for Ain't Too Proud, another all-Black musical that world-premiered at the Rep—in the same Roda Theatre, no less.
Whatever the reason, there was a wonderfully-welcoming vibe in the packed house. There were a few pre-show SNAFUs, as the show hadn't begun by 15-after. A voiceover curtain speech, seemingly signaling the start, wasn't accompanied by a dimming of the lights, so the audience continued on as if they hadn't heard. It didn't matter, the Afro-jazz tunes from the on-stage band (led by music director Marco Paguia) stirred us up into the first of many rounds of applause. By the time the show had finally begun, the audience was warmed up and ready to have a good time.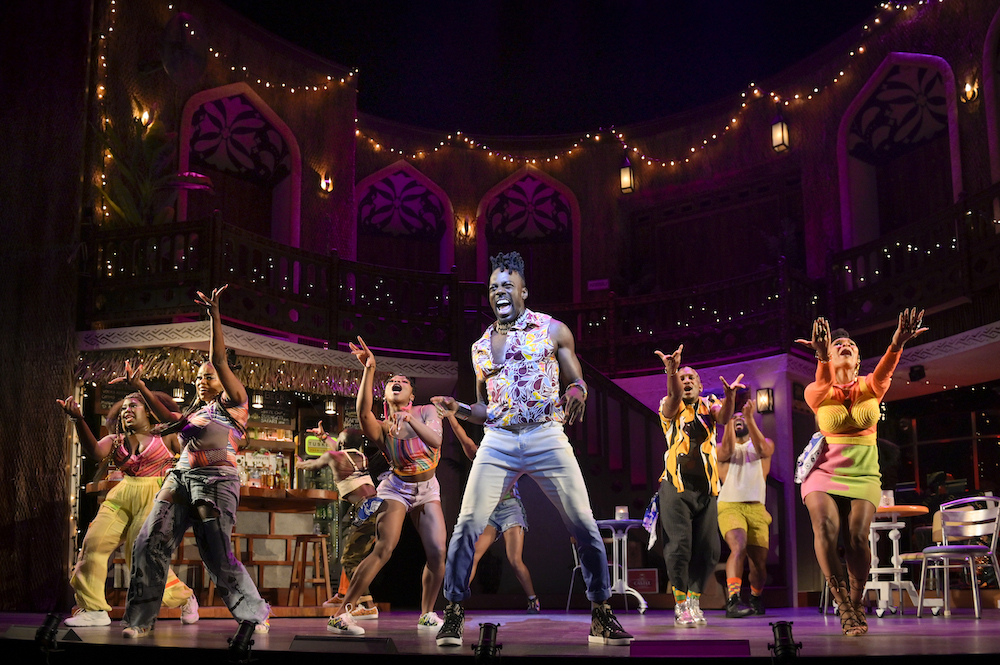 Which is exactly what we had! No sooner does our three-woman Greek chorus, the Grio Trio (Melessie Clark, Awa Sal Secka, and Teshomech), eased us into the story than we find ourselves in Moto Moto, the hottest night club in Mombasa, Kenya. It's here where club employee Ahmed (Rodrick Covington), who also serves as a narrator of sorts, further brings us up to speed by way of an energetic opener that gives the performers an electricity that was palpable throughout out the entire theatre. When the song ended, I wrote in my notepad, "Now, that is how you open a show!"
Our players in this culturally-rich cabaret start with Nadira (Amber Iman), the club's new, mysterious, and enthralling singer. During the Grio Trio's first song, we learn that Nadira is the human guise of Marimba, goddess of music and song, who fled the heavens after a confrontation with her envious mother, and now wants to learn how we humans do things. Her arrival coincides with the return of Omari (Phillip Johnson Richardson), the handsome mayor's son who's just returned from the US, where he earned his bachelor's in political science, and who used play sax at Moto Moto. A musician at heart, Omari is expected to succeed his father and marry the vivacious CheChe (Destinee Rea).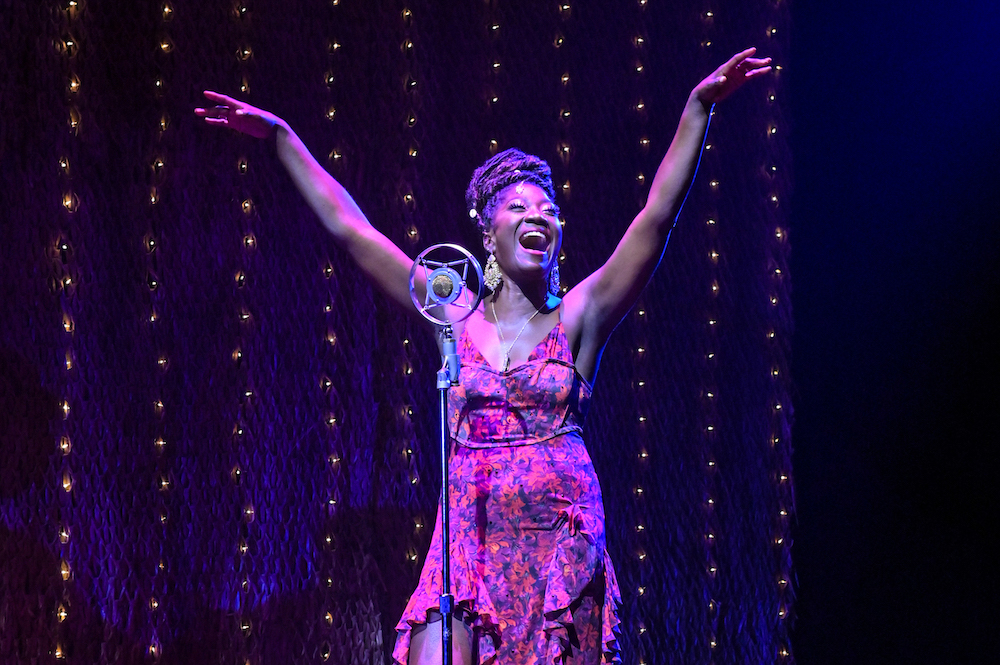 The story kicks into gear at the inevitable meeting of Omari and Nadira. In short order, we also meet: Madongo (Lawrence Stallings), Moto Moto's myopic owner with eyes for Nadira; club employee Rashida (Abena), who is great at her job and the object of Ahmed's affections; Omari's parents Hassan and Siti (Kingsley Leggs and Kecia Lewis); and Balozi (Oakland native Reggie D. White), a seer in Mombasa with particular insight into Nadira's real identity.
If all of this sounds conventional, I'm not about to tell you otherwise. Creator Saheem Ali, playwright Jocelyn Bioh, composer-lyricist Michael Thurber, and librettist Mkhululi Mabija tell a story that you've likely seen and heard before in a myriad of variations. I myself occasionally recalled Mira Nair's Monsoon Wedding, the musical stage version of which also premiered on the Rep's Roda stage in 2017. Everything from the star-cross'd romance of Omari and Nadira to Ahmed's relentless (and admittedly-troublesome) pursuit of Rashida to Grio Trio's resemblance to their counterparts in Little Shop of Horrors—it all smacks of something you've no doubt seen before.
So what? As someone who's spent most of his life doing Shakespeare, let me tell you that it's often less about trying to find something new under the sun, but more about crafting a new twist on the familiar. The Kenyan-borne Ali and his collaborators do that. Most of the Western world couldn't find Kenya on a map, let alone recite the names of its gods and goddesses. The familiarity with Goddess' story is that it illustrates just how much of the human condition is universal. The classic story of the never-should-be lovers and of living in the stifling shadow of one's parents loses no power when set to an Afro-jazz rhythm.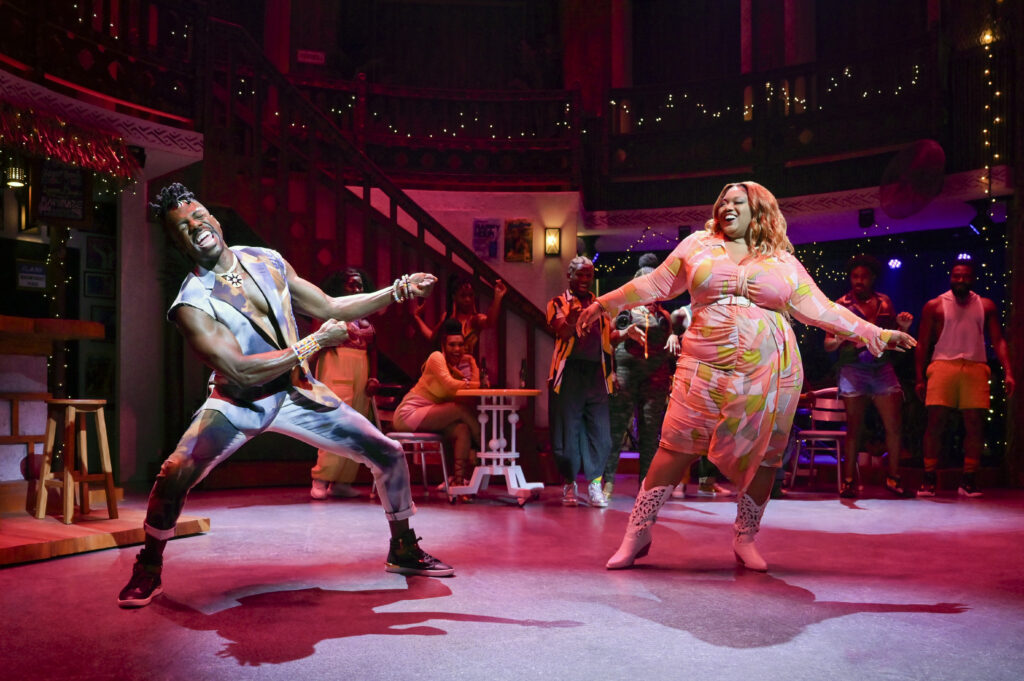 Quite the contrary, it's only a benefit. The only real disappointment from the audience from that opening night production is that there was no way to purchase a cast recording, forcing us to recall Thurber and co.'s tunes from the memory of the cast treading the boards of Arnulfo Maldonado's gorgeous set. Hopefully, an album will be recorded and made available soon, because each song—from the dance numbers to the introspective ballads—deserves a follow-up listen. And you'll definitely want to recall every moment of an ensemble so engaging it'd be a crime to single anyone out.
What's more, the Rep did quite well in terms of COVID safety, checking proof of vaccination (though not boosters), requiring masks indoors, and never allowing CO² readings (as captured on my Aranet4) to go above 801ppm, floating around 770ppm most of the show. Indeed, their HVAC made the Roda a bit chilly most of the time—but moving to the beat of the songs helped things.
Goddess is simultaneously familiar and fresh. It doesn't force its story to fit convention, nor does it push back when those conventions occur (though Ahmed's pursuit of Rashida could have been dropped.) Perhaps the Rep went for a feeling of "homecoming" that opening night because it parallels Omari's own return to another character's realization at the end. It's a story that revels in the passions of its characters, which is the best one can expect of two-and-a-half hours in the theatre.
GODDESS runs through September 25. Berkeley Repertory Theatre. Tickets and info here.