In the realm of print biography, "authorized" and "unauthorized" are both theoretical virtues that often turn out to be negatives. The first because it can mean something sanitized and worshipful, like testimonial-dinner speeches; the latter because it has so frequently resulted in lurid, questionably researched scandal-mongering, a la all those Kitty Kelley celebrity post-mortems in which the most incriminating stories are sourced from that prolific tattle-tale, Anonymous. In the world of moving images, such enterprises usually get divided by format: The more serious (whether authorized or not) treatments are feature-length, the breathlessly gossipy ones a TV episode or miniseries.
Moonage Daydream, which opened last Friday on IMAX screens around the country and plays the Roxie starting September 30 (more info here), is the first film authorized by the David Bowie estate, with full access to its obviously extensive audiovisual archives. But in choosing documentarian Brett Morgan for that honor, the late rock god's legacy-keepers managed to sidestep the usual pitfalls of "official" portraiture, as well as the salaciousness of the unofficial kind.
For better and for worse (albeit mostly for better), they've gotten nothing like a standard screen biography, but instead something like its own objet d'art—a freeform meditation on the Meaning Of Bowie that almost incidentally, kinda-sorta also provides a career overview. (You can forget getting more than the barest insights re: his personal life.) This densely packed 140-minute collage offers no contextualizing, no commentators, no datelines, not even identification of onscreen personnel or clips until the final credits. It's not Bowie 101, but Bowie: 2001, a space odyssey in which he is the universe whose mysteries it is expected we can only begin to fathom.
In other words, there is an assumption of serious fandom. (If, however, like many serious fans you didn't pay much attention to the last 30 years or so of Bowie's activities, don't worry—the movie pretty much skips that part, too.) Morgan consistently finds fresh angles and juxtapositions to make you feel like you haven't quite seen this material before, even if you thought you already knew Peak Bowie—say, 1969-1980—backwards and forwards.
He also occasionally gets so overwhelmed by that effort that the film sometimes appears to almost lose sight of its subject, just as that subject admitted he occasionally "lost control" over his public personas, so they began controlling him. On the not-particularly-large IMAX screen at CGV San Francisco on Van Ness last Friday, Moonage at first seemed all too like the preview for Wakanda Forever it followed: Inflated with a cosmic self-importance fit for the Second Coming. The documentary (if you can apply such a simple term to its impressionistic assault) also ends that way, so engorged with imagistic outer-space awe we seem to be watching a movie about astronomy, not an artist.
But between those poles of pretentious overload, Morgen offers a lot of food for thought, as well as an almost excessive feast for eyes and ears. You might imagine that last order would be reversed. Despite the great complexity of its own sound design, however, this film isn't so interested in Bowie's individual songs, per se. While a few ("All the Young Dudes," "Heroes," "Let's Dance") are given emphasis, far more "greatest hits" are left out than included in even fleeting form. The focus here isn't on much-loved achievements, but on his evolution as an artist, in multiple media, and how the constant evolving was to him perhaps more important even than the artworks themselves.
Bowie was an exceptionally intelligent interviewee, so naturally he's pretty much the only person here to comment on his much-questioned, often provocative mission. Still, his answers kept changing, as he did. "I'm a collector. I've always seemed to collect personalities," he tells one journalist during the high androgynous glam period of the early '70s, dismissing his role-play even as he's performing it.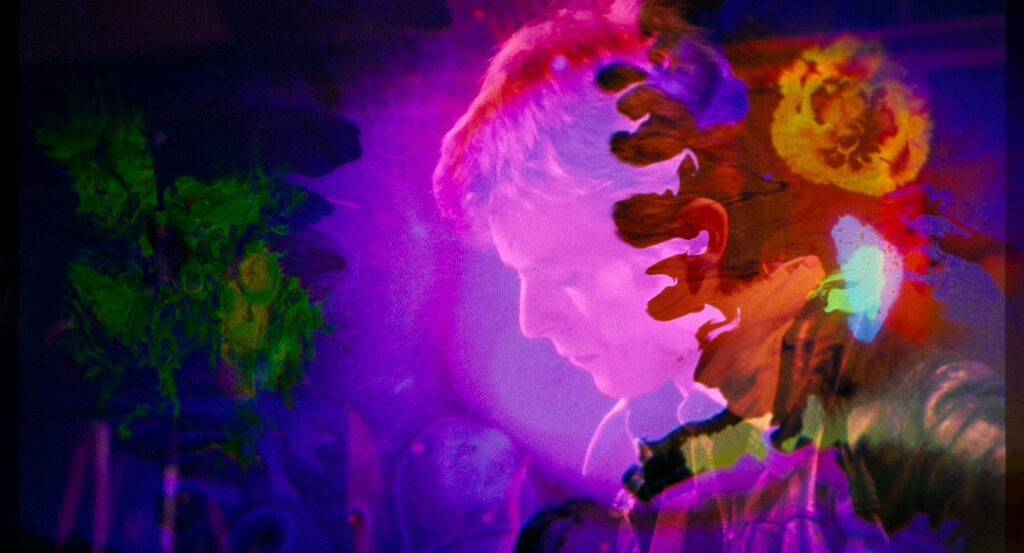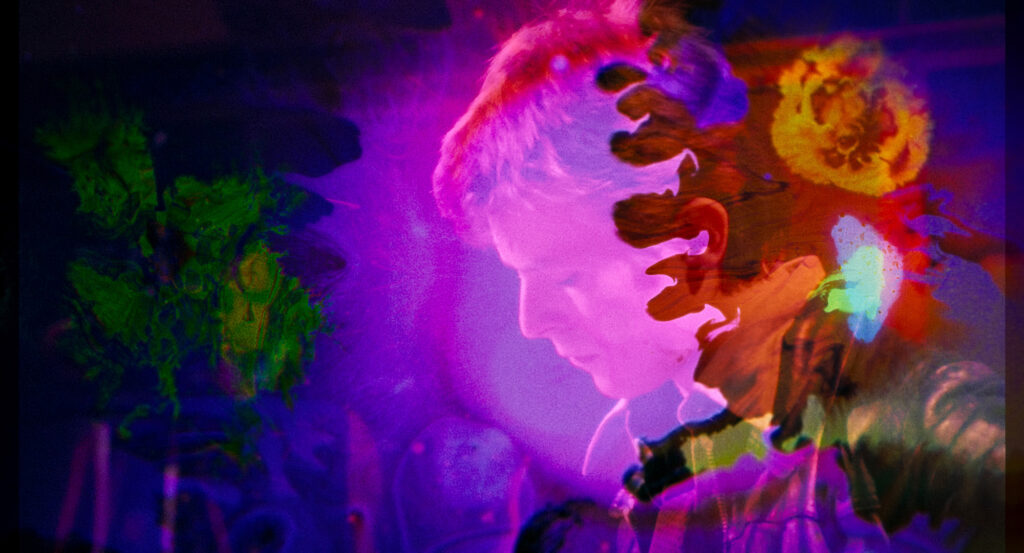 Afterward he moved to LA because "it was a city I detest," bowing to the logic of "putting myself into predicaments to see how I'll cope." That in turn triggered the course-reverse experimental period of Berlin and Eno. Which then birthed the startling populism of "the simplest music I've ever done," the 1983 Let's Dance album gaining him a mainstream stadium audience at last. This started out as "trying to write in a more optimistic and positive fashion." The rabbit-hole it led down (evidenced here by, among other things, a garish Pepsi commercial with Tina Turner) ultimately led to him reject the banality of simply "pleasing people."
Despite very English bad teeth, arguably no rock star was ever so photogenic (or as engaged in changing his visual image) as Bowie. That naturally led to his making movies—though he was also a very good actor, with additional training in mime and dance. The Man Who Fell To Earth and The Hunger (plus his theatrical turn as The Elephant Man) in particular are extensively excerpted here. They're not deployed to display his range, however, so much as to illustrate further aspects of an artistic sensibility thriving on "fragmentation and chaos," always seeking a new "disguise."
While primarily identified with music, he considered himself a "generalist," and one of Moonage Daydream's revelations is providing a fair glimpse at the paintings that occupied much of his time later on, but which he was reluctant to show publicly. (They are mostly boldly colored, semi-abstract portraits, and none too shabby.)
More or less chronologically ordered, the film nonetheless does not tell a coherent, fact-driven life story. Even more so than the director's prior Kurt Cobain: Montage of Heck, it attempts to get into the subject's headspace. If the Nirvana leader's mindset often seemed dominated by ambivalence bordering on hate towards the spotlight, Daydream interprets an internal Bowie landscape as deliberately, sometimes alarmingly engulfed by the attention he commanded and controlled.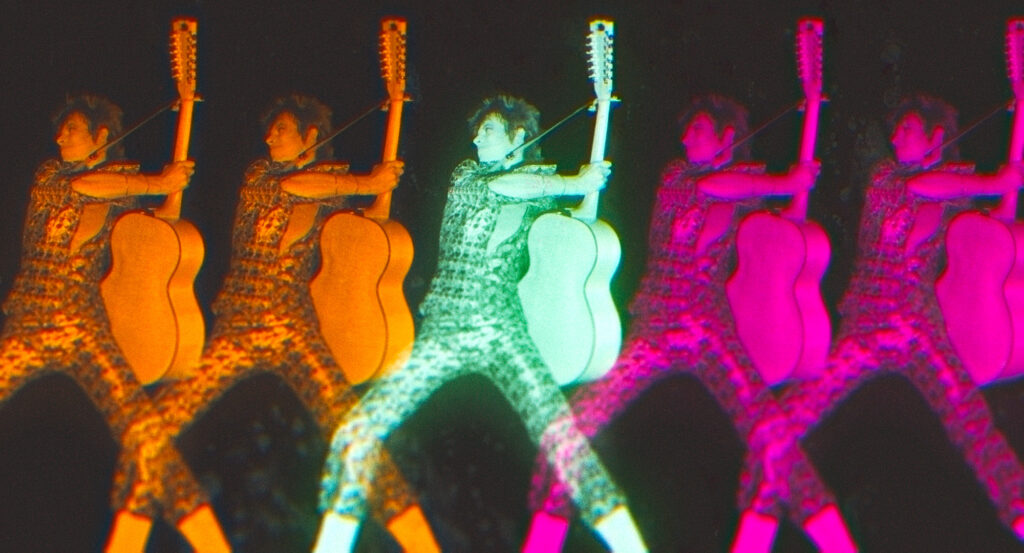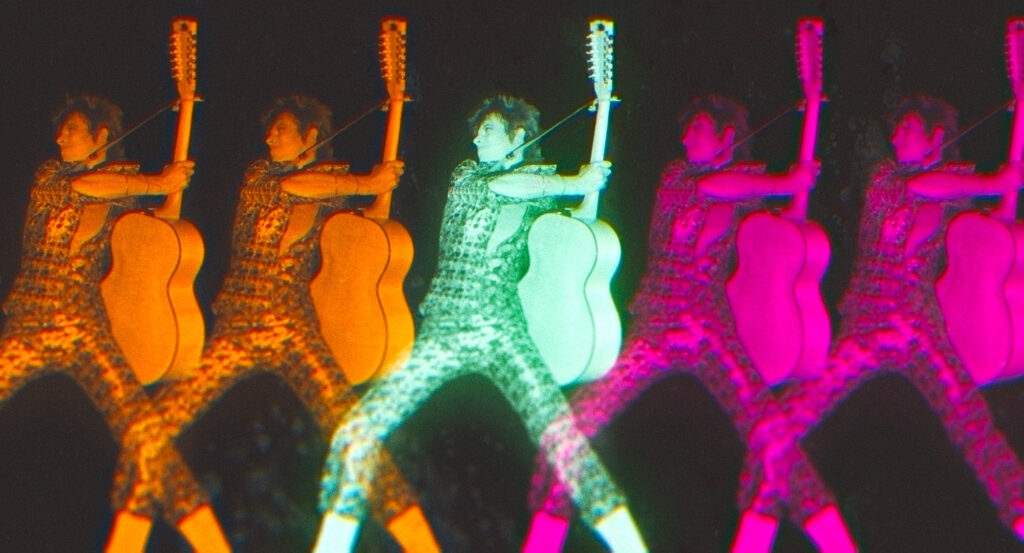 There's much unfamiliar footage of him traversing far-flung locations alone, at once fascinated by local cultures and psychologically walled-off from the inevitable stares. Perhaps the biggest "change" recorded here is when, after hearing him discuss prior personas as expressions of isolation (among other things)—he actually says "I don't particularly feel" at one point—an LTR with model Iman contributed to an aura of emotional and philosophical serenity hitherto absent from a willfully transient life.
Though its substantial length goes by fast enough, the movie is at times oppressively thick. Adding psychedelic and sci-fi animation, graphics, distortion effects et al. to a very full arsenal of archival materials, Moonage can be too much, to an almost off-putting degree. Editorially speaking, it verges at times on having all your favorite things crammed together at triple-speed, the volume cranked up to 11. On the plus side, this density will reward the truly devoted in repeat viewings. But it makes for a first impression that may be discomfitingly a lot more than the basic, fond nostalgia trip some viewers will go in expecting.
Still, David Bowie can certainly withstand such treatment—it would look ludicrous on most less-complicated star legends—and presumably a majority of the previously converted can, too. "We were creating the 21st century in 1971," he says at one point. Moonage Daydream makes the case that even six years after his demise, Bowie is still "futuristic" in terms of interdisciplinary art, celebrity, sexual/gender identity presentation, and many other things you could name. I'll buy that concept.
Moonage Daydream is currently playing IMAX screens nationwide, including CGV Cinemas and AMC Metreon in SF, Century 20 Daly City, AMC Bay Street 16 in Emeryville, and more.