After surveying the state of the world today, John Dwyer knew he had three choices: fight, flight, or laugh.
Not one to ever limit himself creatively, the Osees' [formerly known as Thee Oh Sees] founding member decided to explore all three options on his five-piece garage rock group's 26th release, A Foul Form.
The sound of the 22-minute, fast-and-furious blitz of a record is an homage to the aggressive hardcore punk bands—Black Flag, Bad Brains, Stooges, and Rudimentary Peni—that inspired the Providence native. Dwyer has also caught the creative flame from the vibrant San Francisco art scene that he joined in 1997 and played a major part in for 17 years before relocating to Los Angeles.
On the record, Dwyer goes so far as to emulate the screaming vocal styles of Black Flag's Henry Rollins, Minor Threat's Ian McKaye, and Rudimentary Peni's Nick Blinko (whose anti-religion track "Sacrifice" is covered for the LP's closer).
But Dwyer's DIY album, which he self-produced in his L.A. basement and released via his Castle Face Records label, is more than a retro trip.
Lyrically, the songwriter connects the dots between early-'80s Reaganism and today's Trumpism, capturing the anxiety to flee or compulsion to fight that many feel in a world dominated by corrupt politicians ("Social Butt"), crooked cops ("Perm Act"), and criminal "servants of god" ("Frock Block.")
While addressing politically charged topics confrontationally, Dwyer keeps his tongue firmly planted in his cheek. The video for the anti-police-brutality track "Perm Act," for example, is particularly satirical as band members donning police uniforms perform choreographed dances, grab donuts, and later cannibalize each other once they're out of people to arrest.
In true punk fashion, Dwyer has always been cheeky.
Since forming Osees in San Francisco 25 years ago, he's thumbed his nose at critics with seven band name changes. He also gives them lots to talk about by regularly switching up his band's lineup and sound, which, over 26 albums, has included acoustic, noise, garage, krautrock, psychedelic, alternative, prog, lo-fi, electro, and now, hardcore.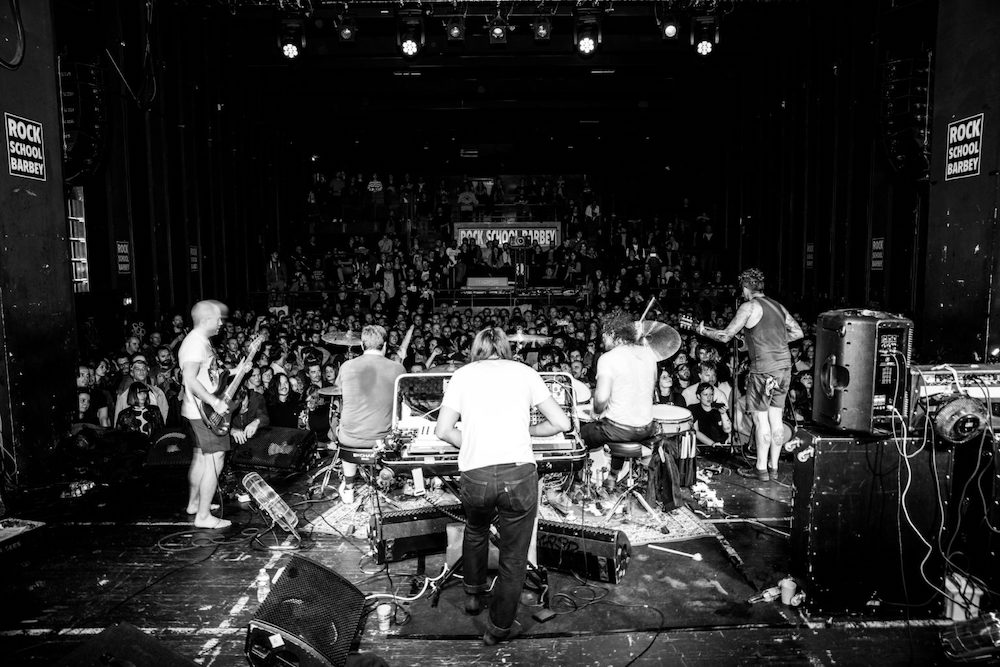 I spoke to Dwyer, who's soon to return to San Francisco with Osees for three sold-out shows in conjuncture with The Chapel's 10th anniversary (Mon/5-Wed/7) about A Foul Form, channeling aggression into art, and how he maintains his punk-rock spirit at 47. 
48HILLS I know that you self-produced A Foul Form in your basement. What else can you tell me about the recording of it?
JOHN DWYER We just went very simple with it. We decided to do it for basically free at my house. I engineered and produced it as we did back in the old days—except it doesn't sound like total shit.
I've gotten better at recording over the years, so I know how to take very simple $100 microphones and make them sound good now. Plus, the players are really good. So we just kept it very primitive and simple—very punk.
We used the Shure SM57 on most of the stuff, which is what you would find on any stage in any shitty club—and it was fun. We wrote it relatively quickly. Punk is that immediate satisfaction. It's not like trying to write prog-rock songs or even pop songs. I would say it's just this quick and dirty thing that I missed that made us want to do it.
48HILLS How did you come up with the title?
JOHN DWYER That's an interesting question that nobody's asked me yet, which has a story. First, I love alliteration, and I try not to overuse it because I know it could be pretty tedious for somebody to read, but it's really fun to write.
But I originally wanted to call the record Rotten Shape, based on a friend of mine of 30 years from Providence named Matt Brinkman. He makes these wild, violent, weird, dungeon-crawler role-playing board games. He created this whole world of horrific cave-dwelling monsters, and one of them was just called Rotten Shape. It was a rotting man coming out of a puddle. I loved the name, so I asked, "Can I call a record this?" And he said, "Sure."
But I'm on his mailing list, and he, like a year later, put out a record called Rotten Shape, and I said, "What the fuck, man? OK, I can't use that now." So as an homage to him and a joke between us, I changed it from Rotten Shape to A Foul Form. It was just the same name under a different name. The alliteration was the frosting on the cake.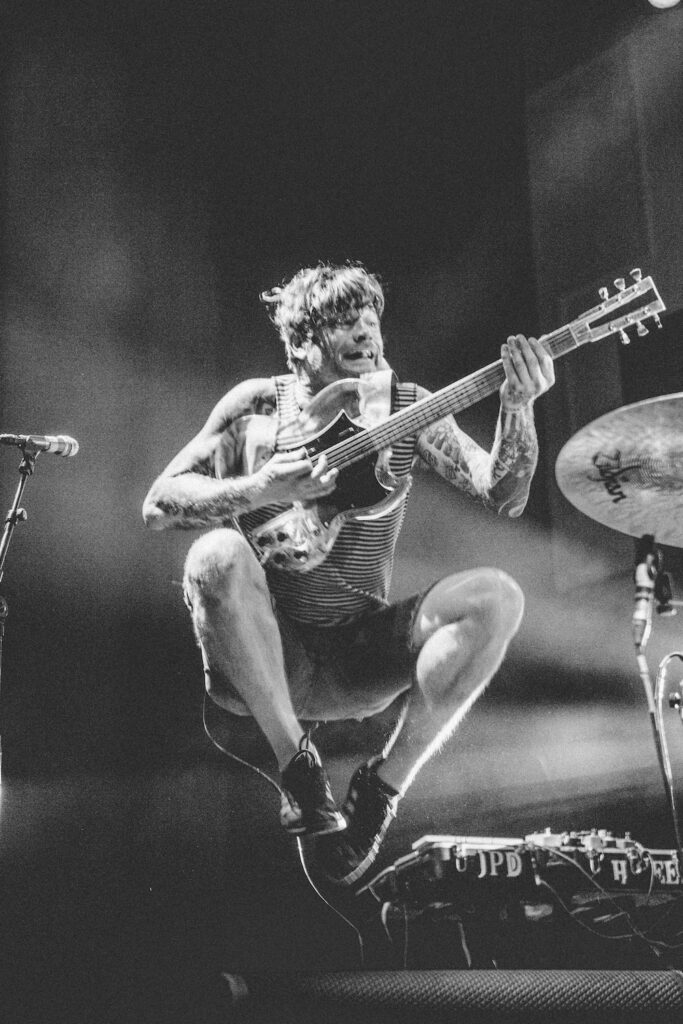 48HILLS You've called the record an homage to the punk bands you grew up on. Why is now the perfect time to honor them?
JOHN DWYER: [It's] always a good time for punk, especially if it's not what's considered popular now. It was mainly based on hard political times—people having grueling years in America—and this has certainly been that with the state of the world and Covid.
So it's just a lot of trying not to be super negative about it, but I think there's a lot of anxiety and anger in the air. I wasn't in the mood to write a love song right now. I think people could use a little bit of a release, and this is the quickest, cheapest way to do that.
48HILLS You've said that the album represents our primal instincts to fight or flight under current pressures and the importance of humor during troubling times. Tell me more about that.
JOHN DWYER Of course, there's undeniably a sense of helplessness that you have to fight. But as a person, you really can only control yourself. It would be great if people treated each other with more empathy. But it's really easy to yell about problems and hard to come up with solutions.
I find the world to be such a complex and confusing place right now, especially America. I didn't want to go straight-in angry. I think I have an OK sense of humor, and it's fun to write tongue-in-cheek lyrics, like songs on the record promoting violence that are obviously ludicrous. I guess it's satire of a common thought these days for people to jump right to violence or, in particular, with Trump supporters, to look for a fight. I don't have time in my life for that shit.
Since I wrote the record, it's gotten even worse. I thought, "Shit, if I'd written this six months later, I'd probably be even more aggressive." It's just a gut reaction to scream. But you also have to be able to laugh at things, because we're all going to end up in the same place in the end.
It's a reflective time, and again, you can only control yourself. So I've just been trying to focus on not being a dickhead in the world, which is tough, because sometimes it's the easy path. So you have to control yourself, because it's easy for things to fly off the handle.
48HILLS Do you see connections between contemporary times and hardcore's early-'80s heyday you're referencing on the album?
JOHN DWYER Oh yeah, Reaganomics. Are you kidding me? Perfect comparisons with the '80s when Reagan essentially [expanded] the Drug War, which has gotten us into so much fucking hot water now with so much of our population being incarcerated for pointless crimes.
But the times then with Reaganomics and now with Trumpism and what we're seeing with the division between the left and the right is brutally similar, where there are not a lot of commonalities right now between people.
48HILLS You seem to have so much stamina, producing album after album. How do you do it?
JOHN DWYER Well, to be honest, a lot of it probably had to do with speed, but now it's just an amazing work ethic. I love what I do. I'm very fortunate. I also am addicted to working. I get that dopamine rush from working on art, whether it is music or not, and I'm very much from the East Coast, so I like things to be a little tumultuous and moving.
If things are slow in my life in other ways, I usually will make up some work and ambition to play with as many people as possible—a jazz drummer, synthesizer player, or a new vocalist—because that's a learning experience. It's invigorating and interesting.
That's how I learned how to play music. I took two lessons and basically learned Back in Black by AC/DC and how to string a guitar. So now I've learned by ear all these years by just playing with other people—and now I have the ability to record that. So yeah, I love doing it and am happy to do it all the time.
48HILLS Would you say you've achieved a good work-life balance?
JOHN DWYER I would like to say that I have. I certainly have had lovers that would probably tell you something different. But I have a lot of energy to give in life, whether with art or relationships. There have been points in relationships where I could tell that somebody was just like "ugh," and I get it. But it was always the most important thing to me. I just always wanted to make art. My mark on the world was to make and create because I was always inspired by somebody else doing that. If I heard a piece of music, saw a painting, read a book, or watched a film, I was always so impressed that humans were doing something that gave you this rush of emotion and thought. I wanted to do that too.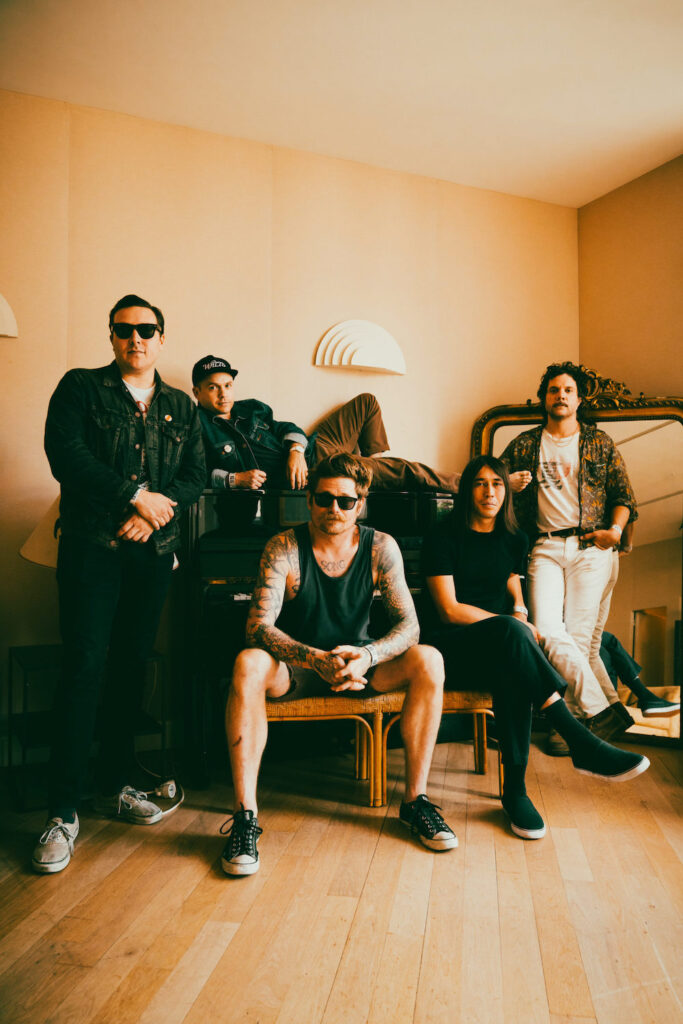 48HILLS I imagine you're already at work on your 27th album.
JOHN DWYER Oh, we're always at work. You know it, darlin'. We're in the process of writing right now. The inspirations are similar and still pretty punky, but we have some new turns coming up that are really fun. We have a good pile of songs to work on for probably a full-length sometime next year.
We have more touring coming up. But we're always back in the Bay Area. I can never stay away. I'll say it again and again. I grew up in Rhode Island, but I certainly became a man in San Francisco, and learned almost everything I know right now from the mean streets of San Francisco.
48HILLS How do you maintain your punk spirit as you age, instead of going the more conservative route as many others have?
JOHN DWYER I come from the thought that there's enough to go around for everybody, and I don't believe in hoarding. So, for instance, this band is set up on a socialist model. I'm not a socialist per se, but we all get paid evenly. So this is just a very micro thing I'm talking about compared to the world. But I understand where people will get square. People want to protect their money and their property as they get old.
I loved so many bands as a kid who are making records now, and I'm thinking, "What the fuck are you doing? No." So the people I respected were Scott Walker, Michael Yonkers, and Iggy Pop [who, after gaining fame] went on to make some of the weirdest, most fucked-up records, always moving forward and pushing the envelope.
There's always room to go somewhere different. I think it's great to go wherever your whim takes you. But if your impulse tells you to be boring, then it's time to reconsider your job.
OSEES Mon/5-Wed/7, $35. The Chapel, SF. The shows are sold-out, but you can find more info here.