Critical Mass has always been both a party and a statement, claiming the streets of San Francisco for people on bikes. On the 30th anniversary ride on Sept. 30, that party was also a reunion of pro-bike activists who haven't ridden Critical Mass in years or even decades.
Those grizzled veterans of San Francisco's bike battles rode alongside young people, some on their first Critical Mass, reveling in the revolutionary paradigm shift of people on bikes taking control and forcing car drivers to just wait it out. That some cyclists did so with beer or joint in hand was just part of the fun.
There's always been some tension between the party and the statement, embodied in the attitudes of two of its founders: Jim Swanson and Chris Carlsson. They and their friends organized the first Critical Mass, originally called Commute Clot, from an office they shared in the Grant Building on Market Street, where they produced the Processed World anti-capitalist zine. And they went on to support the spread of Critical Mass to hundreds of cities around the world, with Carlsson often playing global ambassador in popularizing the idea.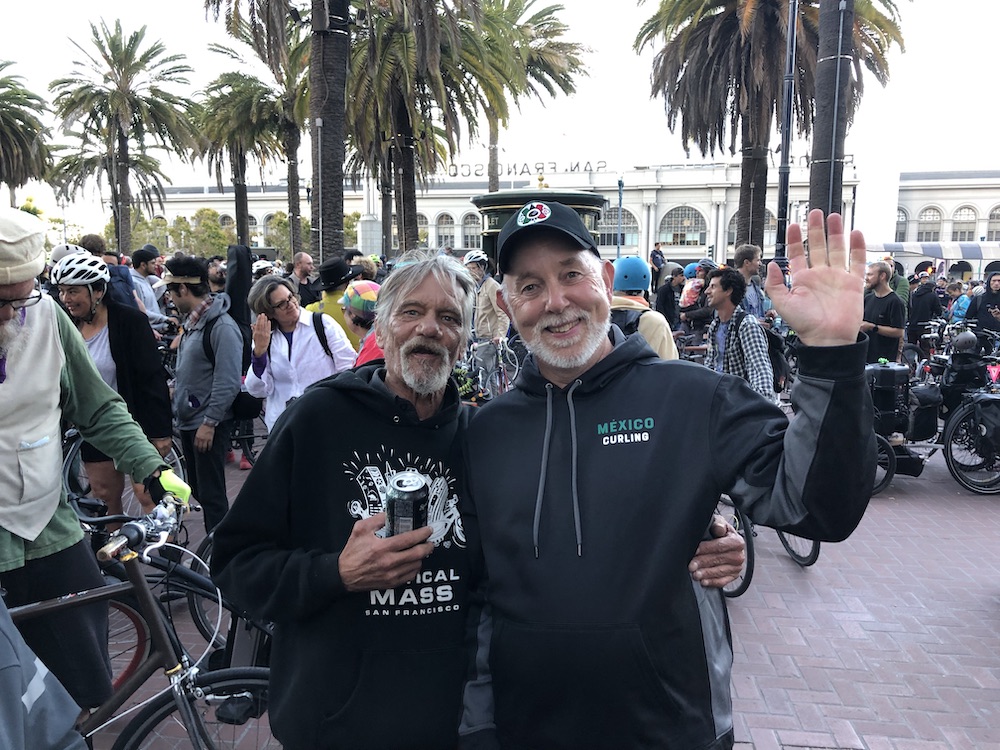 "The vast majority of the bike infrastructure we have is a direct result of Critical Mass filling the streets with bikes every month," Carlsson told us, crediting that outside pressure with the progress more than the insider work of formal bike coalitions. "It caused people in power to see there's a constituency that hasn't been addressed."
But Swanson's emphasis was always on the party and using Critical Mass to build social cohesion among bike messengers and the other brave souls who regularly rode San Francisco's car-clogged streets in 1992.
"We started it as a monthly party and gathering of friends, but it grew really quickly," Swanson said. "I said it has to be a celebration and if it's a political protest we'll just get shunted to the side. It has to be fun."
And it is. The last ride drew a couple thousand people, grooving to music blasted by a dozen or so bike sound systems, young people riding wheelies along the Embarcadero and through the Broadway and Stockton tunnels, corking cars in and chatting up stalled motorists with varying degrees of diplomacy or mirth, and just enjoying the warm early autumn evening.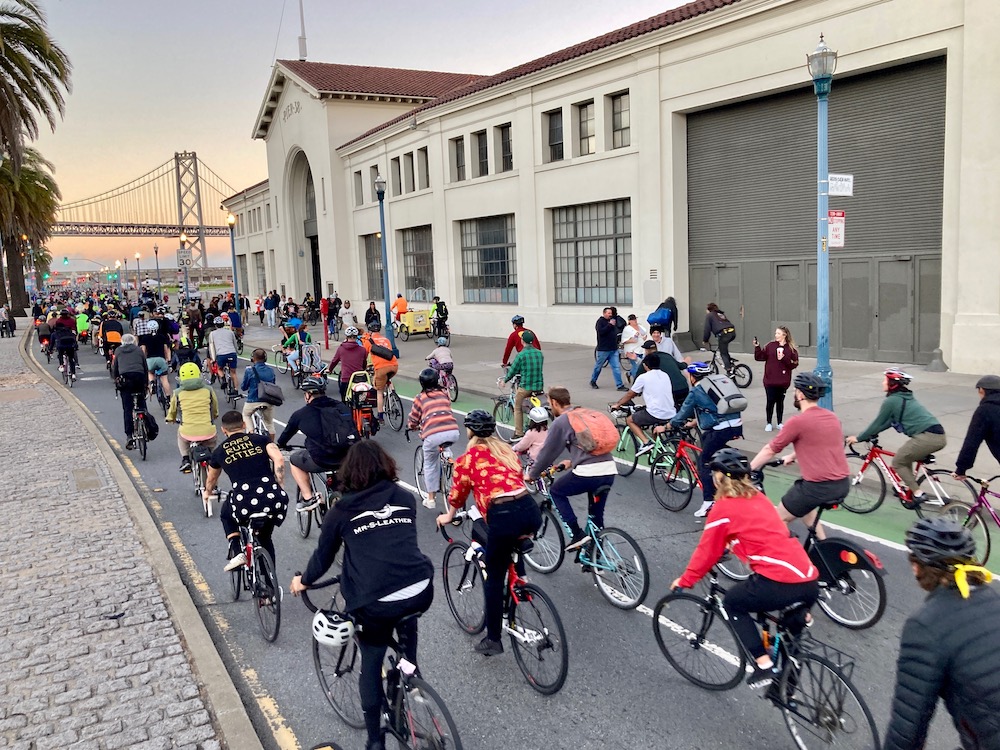 Carlsson enjoys the party too, and he agrees that Critical Mass isn't a political protest, per se. But his focus has always been making the statement that cyclists are entitled to street space and combatting what he described as the unfortunately dominant transportation paradigm in this country: "Roads are for cars, bikes are for children and pedestrians should wait on the corners for a break in the car traffic."
"My attitude about Critical Mass from the beginning is it wasn't a protest, it was a statement that we exist," Carlsson said. "People who want to get drunk and have a party, that's always been the majority. But I don't think anyone could go and not have their imaginations permanently affected, seeing how cities could be."
Swanson said he remembers Carlsson confronting him in the early days about reining in his drinking and weed-smoking during the rides, something Carlsson says he doesn't recall. But despite the threats to Critical Mass—including various police crackdowns over the years and a storied clash with then-Mayor Willie Brown in the late '90s—it helped the evolution of urban cycling.
"It raised the coolness factor of bikes. Before that, they were for geeks or people who couldn't afford a car," Swanson said. "The people on bikes were the outsiders and within a couple of years of starting Critical Mass, bikes became cool. There was a stigma removed from commuting by bike."
Critical Mass helped its participants see one another and realize their collective power.
"You could definitely come for the party and leave more on the protest end," Swanson said. "Critical Mass was very empowering to a lot of people."
The dynamics of Critical Mass also helped inform other events and movements, from the Occupy Wall Street seizure of urban space to the Bike Party rides that started in San Jose and spread to San Francisco and the East Bay.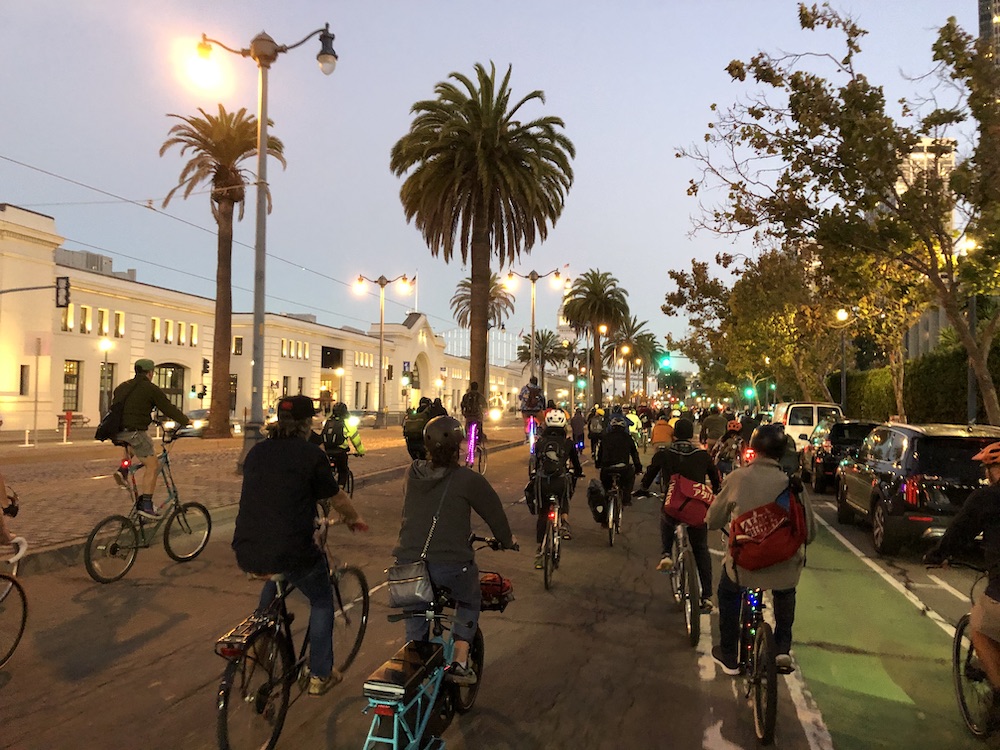 Unlike Critical Mass, San Francisco Bike Party (which takes place this Friday, Oct. 8) and its brethren urged participants to stop at red lights and ride as far to the right as possible, while following a set route that includes planned stops for dance parties.
As Carlsson explains, it was a compromise with the cops and other authorities—"an anti-Critical Mass"—that reinforced the party spirit but was also an understandable way of not provoking a police response, something he understands for rides like East Bay Bike Party that are led largely by young people of color. (For the most part, particularly in the early days, Critical Mass riders were white, and a majority were male.)
So while the spirit and model of Critical Mass lives on and is still relevant in many countries—include Colombia, Peru and other Latin American nations, Carlsson says—Carlsson doesn't see it as particularly important in its home city of San Francisco anymore.
"It died after 2012, as far as I'm concerned," Carlsson said of the 20th anniversary Critical Mass, a big blip in the otherwise steady wane of the event. "Bike culture disappeared during this time precisely because so many people are biking."
Biking went mainstream and bike lanes flourished in San Francisco and other major cities, embraced by politicians of many stripes. But the big asks for real equity on the roads—ridding some streets of cars, connecting the major gaps in bike routes—languish.
For example, Carlsson said the failure of bike advocates to win access to the western span of the Bay Bridge shows how meek and ineffective the movement has become: "It's insane to me that the Bike Coalitions on both sides of the bay don't make this an urgent priority." (San Francisco Bike Coalition Executive Director Janelle Wong didn't return a call seeking comment.)
Carlsson may rue the fact that the aggressively outsider bike culture that grew with Critical Mass has dissipated, but others say that's always been the goal. Dave Snyder, an early Critical Mass participant who navigated an arms-length relationship with the event when he was executive director of the San Francisco Bike Coalition, called it progress.
"The end of outsider bike culture was always part of the plan," Snyder said. "We wanted bikes to be seen as normal, everyday transportation."
And so it was that a strong sense of nostalgia rode with Critical Mass last week, a remembrance of the times when cyclists need to band together for safety on streets dominated by cars, and to make the statement that we exist.
But it was also just a great party, whether it was doing loops along the Embarcadero, stopping outside City Hall for an extended dance party that seemed more like Bike Party than the old rolling Mass, or ending up at Dolores Park eating burritos, drinking beers and catching up with old friends until around midnight.
Meanwhile, up the hill from the old guys and our shared nostalgia, at the top of the park, one colorful bike sound system threw a dance party with a big group of 20-somethings, still grooving and moving forward as the old original Critical Massers headed home.