There comes a point when "house style" becomes as limiting as it is reassuring. Most people know of this argument as it applies to things like the Marvel Cinematic Universe, which continues to make entertaining films, but their plot lines and character turns seem interchangeable after a while. The Marsh is a performance company that I would say has a house style. Whether that's a result of their chosen format (they exclusively host solo shows at their SF and Berkeley venues) or the specific choice in productions is a matter of debate.
Irma Herrera's Why Would I Mispronounce My Own Name? (through October 21 at The Marsh Berkeley) first strikes one as typical Marsh fare: The author/performer's life story is compared and contrasted with world events. Since this can lean more towards journalism or simple confession, it's easy to see why the company attracts so many non-actors for shows—rather than writing a memoir and reciting chapters for select audiences, the person can literally relate their anecdotes in their own words and take it on tour.
However, Herrera's no stranger to the stage, especially after her previous solo show, Tell Me Your Name (which I didn't see), ran for five months to great acclaim. As we learn in this show, her story is that of a Tejana who grew up in segregation, lived with anti-Latinx racism from both strangers and family, and eventually worked her way through the University of Notre Dame to become a civil rights attorney. Along the way, she constantly had to explain to non-Latinx that her name isn't pronounced "err-mah," but "ear-mah."
The one and only time she mispronounced it herself was when local schools began to integrate, leading to she and her neighbors being paraded into front of their new white classmates like prized livestock. Nervous and self-conscious, she acquiesces to her anglicized name used by her teachers. "That was the last time I mispronounced my own name," she tells us, leaving no room for doubt.
Those anecdotes are the strength of the show. Though Herrera isn't a proper actor, I could spend all day listening to stories about telephone Karens complaining about her accent, her uncle taking the name "Tom" so as to not make (white) clients uncomfortable, and making her way to SF to work for MALDEF. I even got a lot from her discussing oft-overlooked historical people and incidents, like Felix Z. Longoria. These history lessons and emphases on proper names can occasionally feel like an episode of Sesame Street, but that's what happens when Eurocentrism is the focus of most western education.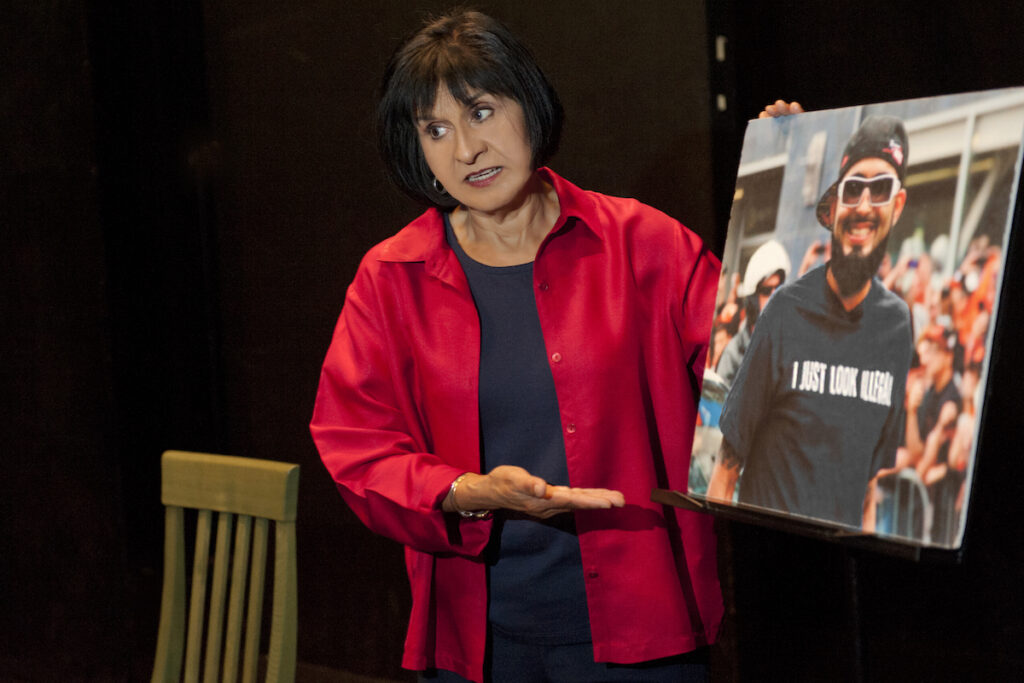 Where the show wavers is when she draws abandons stories of her upbring for world events, such as the racism of the last guy in the White House. It's not that Herrera makes any bad points when discussing these topics—quite the contrary, her knowledge of law and history make her perfect for such lessons, and The Marsh's audience is ready to hear it. But therein lies the problem: she's preaching to the converted.
True, the Bay Area hasn't been spared from MAGA pollution, but the benefit of being a critic is getting a first-hand look and feel for how typical audiences reveal themselves. As such, I know that local conservatives rarely (if ever) attend indie theatre, making it a longshot for them to appear in the audience for this show. If Herrera plans to take the show on tour to more right-leaning venues, then it might be more informative and shocking to see bits about Critical Race Theory being parallel to segregation, images of children in cages, and footage of Ketanji Brown Jackson being questioned in a way Brett Kavanaugh wasn't. For we socialist heathens in the Bay, though, that's all old hand.
Herrera's a fine storyteller and a commendable champion of civil rights. Her story is one worth listening to. It's when she takes awkward tangents into headline news that the storytelling stumbles. I know she was trying to draw parallels between a life of micro-aggressions and actual crimes, but the mere story of her life did that just fine.
(Not having been to either Marsh venue since before the still-ongoing pandemic, I was relieved to see that their COVID protocols were firmly in place. I noted three HEPA air purifiers—one in the lobby, two in the rear of the theatre—and my Aranet4 took the entire hour before it hit 1000ppm.)
WHY WOULD I MISPRONOUNCE MY OWN NAME runs through October 21st at The Marsh, Berkeley. Tickets and info here.