Writing a cover story last year, I did a lot of research about the 1918 Influenza pandemic (often erroneously called "The Spanish Flu"). Back then, San Francisco also lead the way on public safety with early adoption of mask mandates and distancing, despite massive backlash. When the epidemic seemed to be ending the next year, leaders prematurely declared "victory" and journalists like The Examiner's Annie Laurie suggested that masks would simply become an eccentric fashion piece rather than a necessity. That lull soon passed and a new wave of influenza hit.
If this all sounds uncomfortably familiar, it should come as no surprise to hear of my relief that the Museum of the African Diaspora still requires masks and proof of vaccination. Given that I was there to preview an exhibit about fashion, I'm glad my two masks and protective eyewear were as functional as they were fashionable (and comfortable).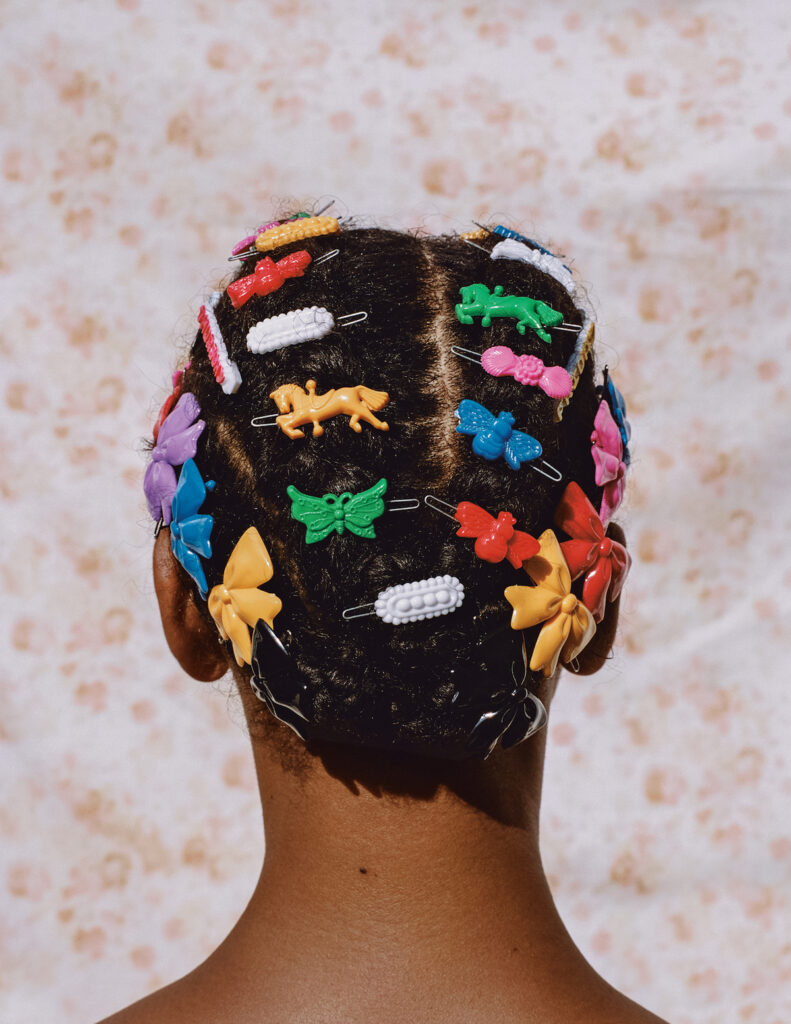 I attended the SF stop of The New Black Vanguard: Photography Between Art and Fashion (through March 5, 2023)—curated by Antwaun Sargent and featuring contemporary Black photographers from South Africa, the US, Nigeria, the UK, and elsewhere—wondering how civil rights would fit into a show like this. That kinda thought occurs when you grow up a fan of photographers like Gordon Parks.
Mind you, there are traces of political-adjacent work over the sprawling exhibition which takes over the museum's three floors (particularly on the covers of classic magazines in display cases, showcasing old school photographers like Parks). But the central focus was fashion. The reason for that is clear: when Tyler Mitchell becomes the first Black cover photographer in the century-plus history of Vogue magazine, it serves as a reminder that Blackness, in its very existence, is often an act of protest.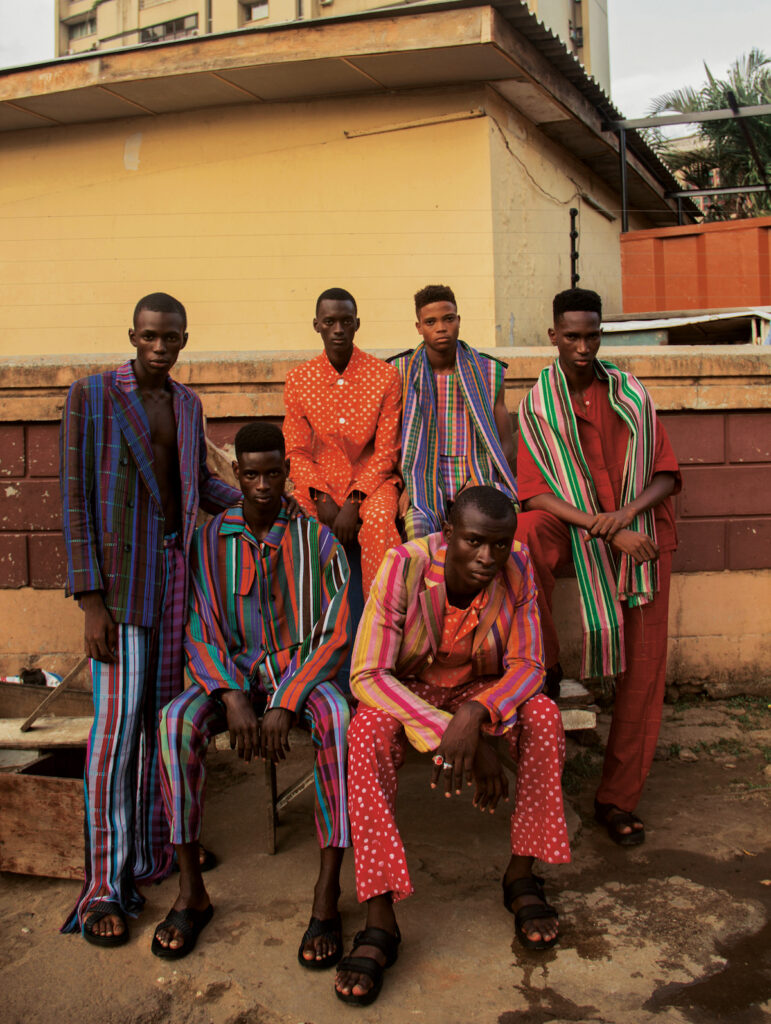 The 15 photographers' work is spread throughout the entire museum, hung with care on primary and pastel-colored walls. (New York's Arielle Bobb-Willis' bold use of contrasting primary colors was the inspiration here, we're told.) With or without frames, the photos stand out, as if to draw attention to themselves. This is particularly noticeable in the work of London's Campbell Addy, whose photos adorn a yellow and white wall. Nearly all of his subjects have deep complexions and they're all dressed with something askew. An untitled genderqueer still of model Jason Harderwijk shows him sporting a turtleneck/v-neck hybrid. Adut Akech wears a bra on her backside, drawing solid attention to bodily objectification, or is devoured by the pink ruffles of a dress.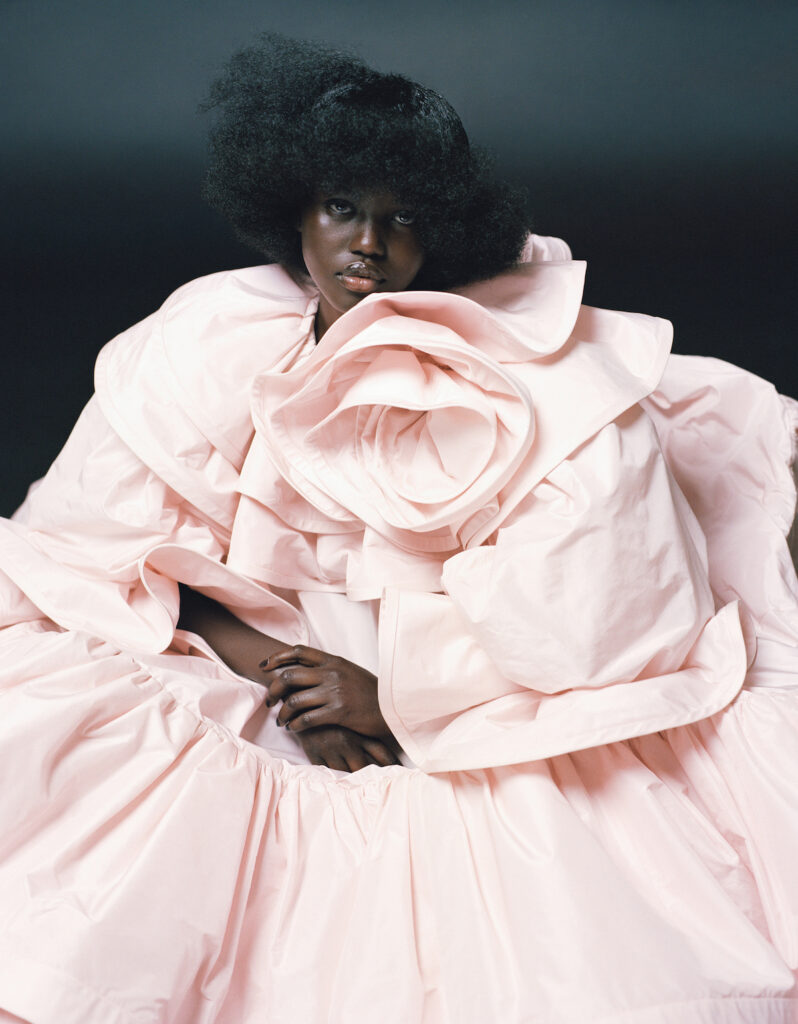 Addy isn't the only one to blur the loose lines of gender: Philly-born Quil Lemons makes it an important part of his work. A photo of a masculine-presenting light-skinned person with glitter under their eyes hangs next to a quote by Lemons himself, lamenting the "prison" that masculinity can often be. New York-based Adrienne Raquel takes an equally bold stance on behalf of Black femininity—something hard to ignore when her most prominent photo is one of Lizzo's fishnet-wearing derriere. Her photos of bold red lips and fingernails announce their sexuality as if from mountaintops.
Both are exemplary of how Sargent's photographers aim to use the medium of fashion and fashion magazines to redefine frequent narratives about Black media imagery. Knowing that, one wonders if perhaps a more explicit correlation should have been drawn between the trends created within Black communities and how those trends are appropriated? One is hard-pressed to think of a single contemporary fashion label not pushing a "streetwear" line based on Black inner-city styles. Yet, the originators of those styles are the ones always harassed and arrested (or killed) for wearing their pants too low.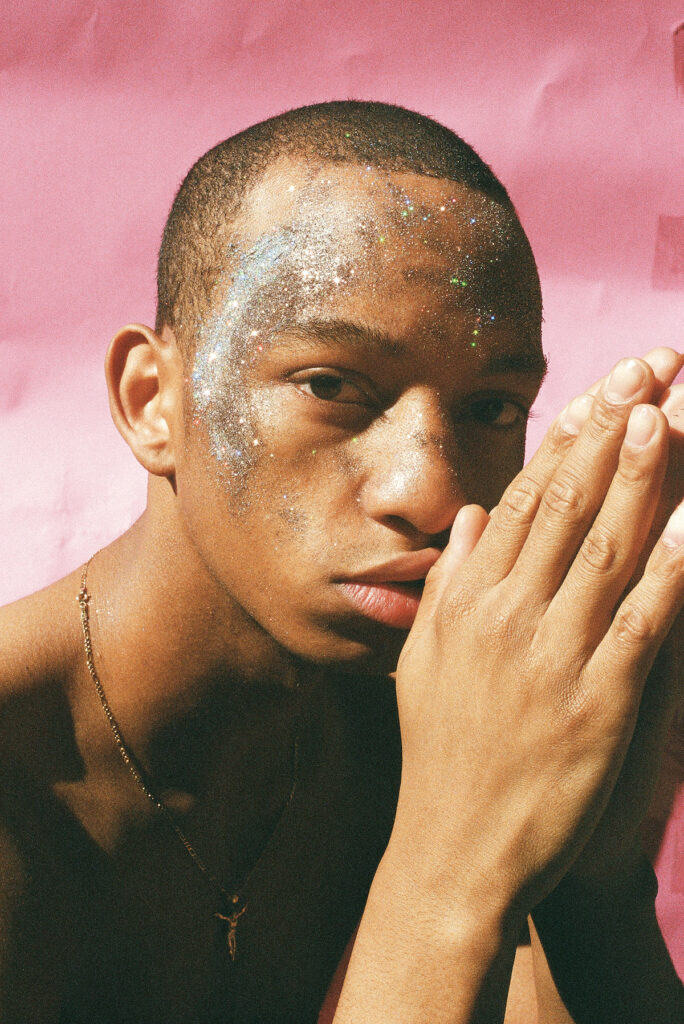 But the focus of Sargent's curation is to find power in the normalization of Black imagery on a regular basis. This is all-but-made explicit in the theatre, where one of the films playing is an American Eagle advert about being a Black child and having almost no heroes from which to draw inspiration. Another (played on a loop) is a silent piece about Black women, some of them children, trotting out in public and in beauty parlors wearing clearly-artificial wigs and weaves. A part of you wonders why they don't embrace their natural curls while another sees the beauty and ingenuity of making something your own, no matter where it's from.
I kept coming back to Arielle Bobb-Willis' photos on the third floor. In an accompanying video to the exhibit, the photographer talks about her struggles with depression, but finding joy in her surroundings. Her photos, including one taken at Land's End in San Francisco, often feature muted backgrounds against which her Black subjects, adorned in bright colors, intentional obscure themselves by hiding their faces in their clothes; they simultaneously want to be noticed, but want to retain invisibility. Is that even possible?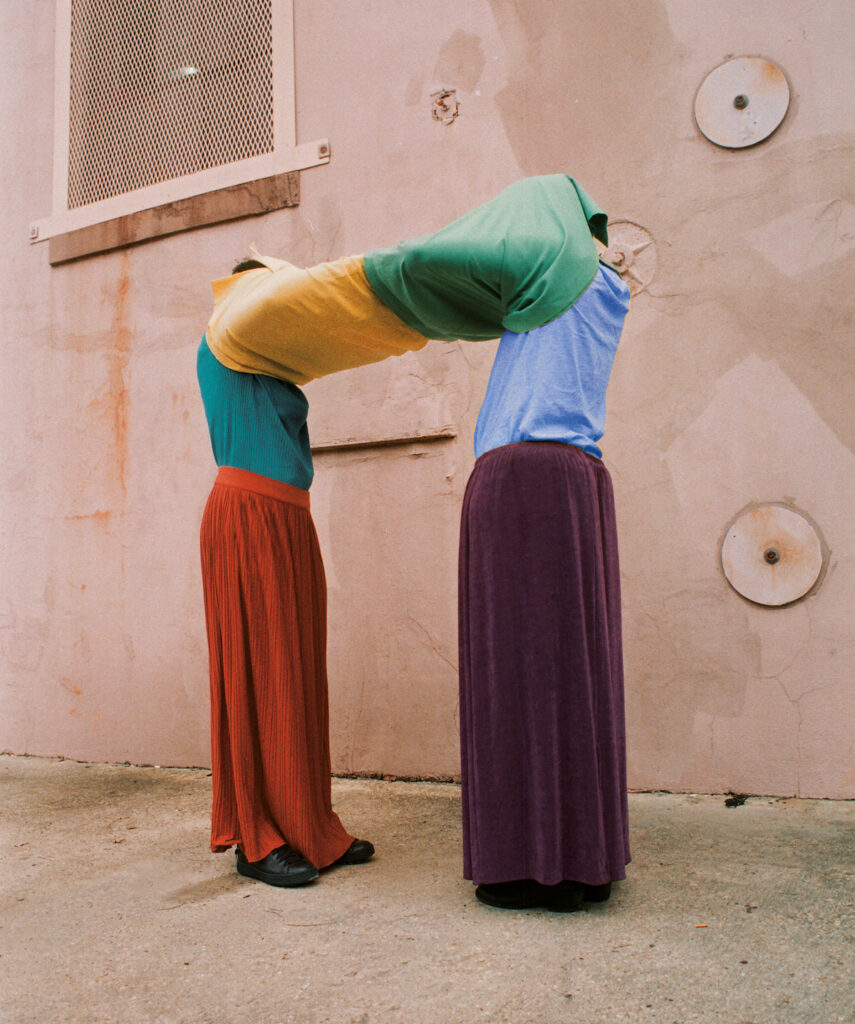 What The New Black Vanguard lacks in overt political commentary, it makes up for in bold, eye-catching imagery. The 15 photographers (and a small collection of others in the "New Gazes" section) capture an unabashed joy in the existence of Black beauty. It celebrates the artistic complexity of flat-top fades (Awol Erizku's Heads) and the boundary-blurring couture of rural African neighborhoods (Ruth Ossai's untitled photos). It draws the line from Muhammad Ali and Diana Ross appearing on the covers of Life and Ebony, respectively, to Beyoncé appearing on Tyler Mitchell's Vogue cover. It may not traverse the whole road of current Black artistic expression, but there is plenty to sight-see.
Along with The New Black Vanguard, the MoAD's salon features emerging artist Trina Michelle Robinson's Excavation: Past, Present, & Future (through December 11). It's a collection of photos, videos, cushions, and even an altar that all connect one of Black history's most infamous components: cotton. The material, which Robinson worked by hand into paper, is used to print her quickly shot and sometimes blurred photos of trees and houses in the Kentucky, where part of her family came from and eventually themselves owned a cotton farm, and West Africa.
She states that her intention is to capture glimpses of the past, and recreate the distance between memory and reality. A projected film shows Robinson in a body of water, with the other side of the screen comprised of vintage-looking photos Black baptisms and other ceremonies. Were it not that the former was clearly shot on video, it would likely be impossible to tell the two apart. It is an intriguing look into the work of an emerging artist.
THE NEW BLACK VANGUARD: PHOTOGRAPHY BETWEEN ART AND FASHION runs through March 5, 2023 at the Museum of the African Diaspora, SF. More information here.