In the late 1990s and early-to-mid 2000s, the Bay Area felt like a different planet. Before the arrival of gentrified tech money, before social media, before it was standard to simply Google a word to find out its definition, you actually had to be present as a participant to know what it was like here. And for those who lived the life during that time, there is no shortage of stories to be shared.
That's the premise of the 2022 documentary We Were Hyphy, which focuses on the voices and experiences of the Bay Area's most prominent culture-makers and their impact on this region during the now-immortalized hyphy movement that exploded in 2005. From talking to rappers and producers like Keak da Sneak and Nump to journalists like Pendarvis Harshaw, the documentary seeks to portray what the Yay meant in those times of revolutionary expression through music, dance, car culture, and more.
Recently, the film debuted in Oakland as part of the city's 20th International Film Festival, playing inside the Grand Lake Theater to an audience of eager fans who cheered, laughed, clapped, and gigged in unison. It was like one big family was watching a VHS cassette of their favorite birthday party, and reliving that memory together. The film has gone on to feature in multiple festivals, including in San Francisco, and will soon be available elsewhere.
I caught up with the film's director, Larry Madrigal, who hails from Antioch and uses his documentaries to explore issues of place, personhood, and growth—with Mac Dre as his soundtrack.
48HILLS What is hyphy to you? You entered this documentary with a sense of deep curiosity and reverence for Bay Area culture, particularly during the hyphy movement. Having completed this film, how would you define this word?
LARRY MADRIGAL Hyphy is more than one thing. It can contrast with itself, depending on the circumstance. But ultimately it's joy, frustration, self-love, and carefree liberation. It can also be pride and self expression, demonstrated through multiple mediums all at once (language, fashion, dance, and how you move altogether.) I know it didn't always mean this—originally, hyphy was a street term for someone who was angry and out of control. I still think it holds some of this meaning as well. When someone is going dumb, you can't control them, in a similar way. Stuff evolves though, especially in the Bay Area. We have such a high concentration of creative folks here, and people are consistently contributing to culture. Hyphy [naturally] evolved from its original meaning.
48HILLS What was it like to watch your film with a live audience at the Grand Lake Theater during the Oakland Film Festival? What was your favorite part about that experience?
LARRY MADRIGAL Hella nerve-racking [laughs]. I was super-nervous—this was the big one, playing We Were Hyphy in its hometown, Oakland. I just didn't want to let anyone down or mess up nostalgia for people. Once people started arriving and I chatted with them as they made their way in, it felt good. It also felt good to see some of the major players of the movement and the film come by: Mistah Fab, Rick Rock, Goldie Gold, D-Ray, Gary Archer, Icecold 3000, and the Turffienz. The two opening short films, "The Game God" and "Free Nias," were amazing as well. We were honored to play with them both on the same night. They were both inspiring, creative, and demonstrated top-notch storytelling, imagery, and impressive filmmaking. I was humbled and honored we even got a chance to screen the film at the world-famous Grand Lake Theater and just want to give the biggest shout out to David Roach and all at Oakland International Film Festival. They did an amazing job.
48HILLS You spoke with an array of Bay legends and characters for this film. What were some quirky moments or funny memories during what must have been a whirlwind of scheduling, recording, and coordinating with everyone?
LARRY MADRIGAL Too many to remember, but any time spent with [the film's executive producer] Nump was a good time. He is literally one of the funniest people I know and is just so warm, sharp, and energetic. I grew up listening to his music; I specifically remember having a copy of The Nump Yard as a teenager and playing it on repeat in my Honda Civic. Never in a million years did I think I'd meet him and make a film with him. Nump was a huge part of the film, both in front of the camera and behind the scenes and always brought a smile to our faces, especially when things were challenging and we needed that comedic relief. A couple more quirky moments were filming with Sideshow Tone and being blown away witnessing his talent behind the wheel firsthand. Fun fact: I was the one who filmed that opening shot to the sideshow section, when Tone flies full speed at the camera, almost hitting me multiple times. Another great memory was shooting with the Turffienz, because the energy that group emulates is contagious. They had detailed stories to tell, all while having a few laughs and vibing off each other. And watching them dance in a small, dimly-lit studio was incredible.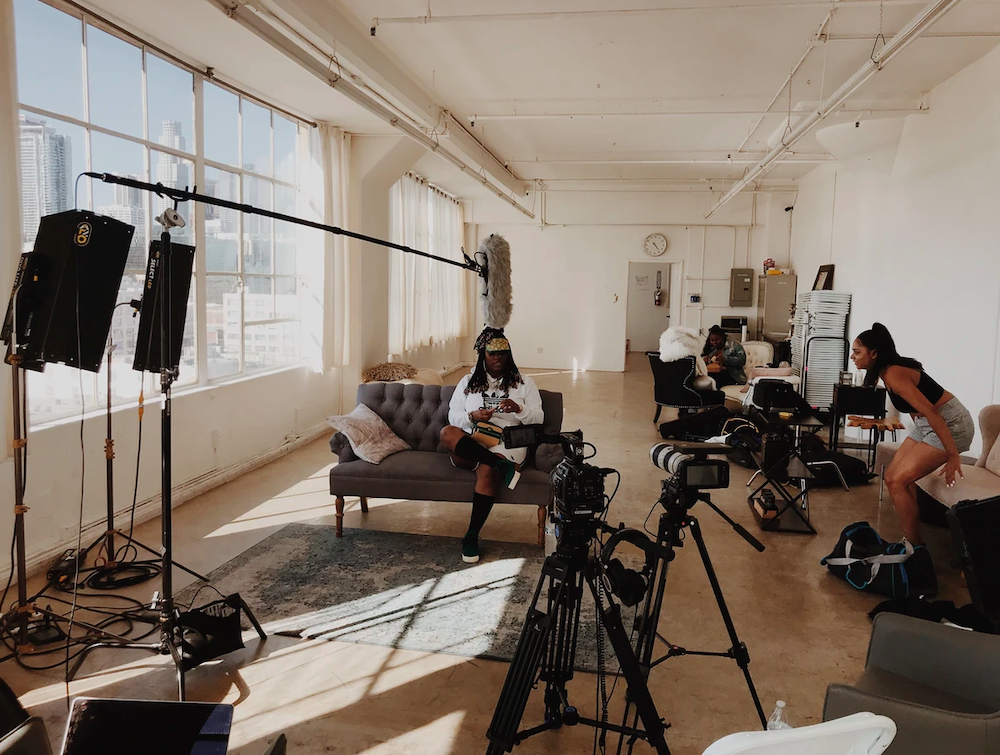 48HILLS Has your understanding of the Bay Area changed during this project? Is there anything new or perhaps surprising that you realized from your time spent engaging so deeply with this region?
LARRY MADRIGAL I was a big fan of the music growing up and knew about the car culture and dancing, but making this film pushed me to dive much deeper into all of the elements of hyphy. The biggest insight was learning about the socio-economic climate of the time and how it had an impact on the hyphy movement. Learning from Dr. Andrea Moore and Pendarvis Harshaw really opened everything up and gave so much context to why this all happened, and how its legacy continues today.
48HILLS What challenges did you have in putting such diverse viewpoints together coherently?
LARRY MADRIGAL It was tough—a documentary is not easy to piece together. With narrative, you can write your way out of stuff, but with documentary, the people in front of the camera drive the story. It's up to you as the filmmaker to let them guide you and pull multiple story threads together. Because I edited it, I was able to watch and re-watch footage and slowly bring little moments into scenes—and eventually whole sections of the film. It's like a big ass jigsaw puzzle: as you get closer to the end it starts to really take shape, and you start getting proactive about going out and shooting very specific things because you know how to fill the small gaps. I got a ton of help from our story editors as well: Marshall Moses, Kagure Kabue, and Rafael Casal. They helped bring out the connecting themes and we were able to figure out the rise and fall of the story arc. It was a true demonstration that when you work on a creative project with other people, [the team] can take your original idea and blow it up into something you would have never thought up on your own.
48HILLS If you get passed the aux, what hyphy anthem are you slapping at the function?
LARRY MADRIGAL 17-year-old Larry would say [Mistah Fab's] "Super Sic Wit It," no doubt. But, a close second would be "Down the Block" by Turf Talk. And a very close third would definitely be "Town Business" by Keak da Sneak.
48HILLS Where can audiences watch this film?
LARRY MADRIGAL Keep an eye on We Were Hyphy's website and Instagram. We're working on a distribution deal right now and will announce it soon.