It's a shame to see the recent backward slide of such great progress. After a year of exemplary work on how to operate theatre during a still-ongoing pandemic, many of the companies who did it best are the very ones quietly dropping the protocols that keep their patrons safe. At least Shotgun had the courtesy warn us with a press release in October, but that doesn't make us any more safe during an already-begun winter surge of COVID, influenza, and RSV.
Fortunately, they have a few alternate viewing options in the form of occasional "masked matinees," and the livestream that I caught on November 17. Now, I'm an unabashed proponent for the integration of streaming into theatre, but only one night livestreaming limits options for the audience. Plus, the fact that it had to be a safety measure feels like replaying the awkwardness of 2020 all over. Again, how have we slid back so far when infection rates keep rising?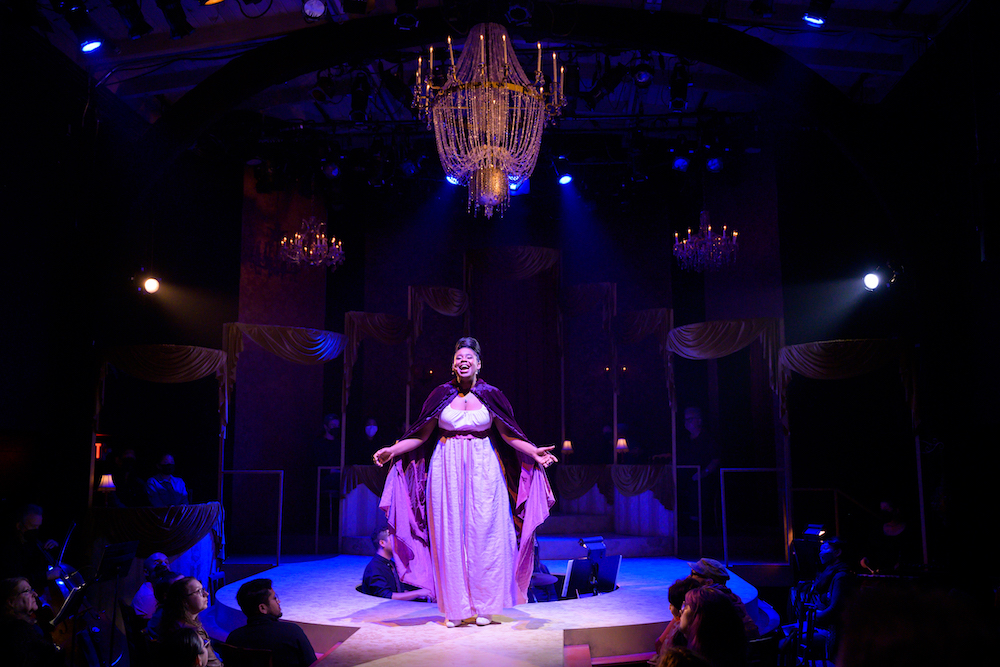 My apologies for digressing. I know the above had nothing to do with the show proper, but it was distracting watching the play at home and only seeing a few (if any) masked faces in attendance. In my defense, the actual characters of Natasha, Pierre, and The Great Comet of 1812 (through January 15 at the Ashby Stage, Berkeley) actually spend much of their fourth-wall-breaking opening number emphasizing how unimportant their story is. They know how hard it'll be to keep track of everyone in their Three Penny Opera pastiche, so they actively encourage us not to try. This proves to be good advice, as the musical is very much Kander & Ebb-like over melodramatic substance.
Inspired by a section from Tolstoy's War and Peace (meaning the two-dozen-or-so characters we actually see are part of a cast of thousands), our Russian story focuses mainly on the eponymous Natasha (Jacqueline Dennis), betrothed to the unseen prince. She's arrived at the home of his family with her good friend Sonya (Veronica Renner). Loyal as Natasha is to her fiancée, she ends up falling for dashing rogue Anatole (Nick Rodrigues), young acquaintance to old Pierre (Albert Hodge), "one of a thousand old men living out his last days in Moscow."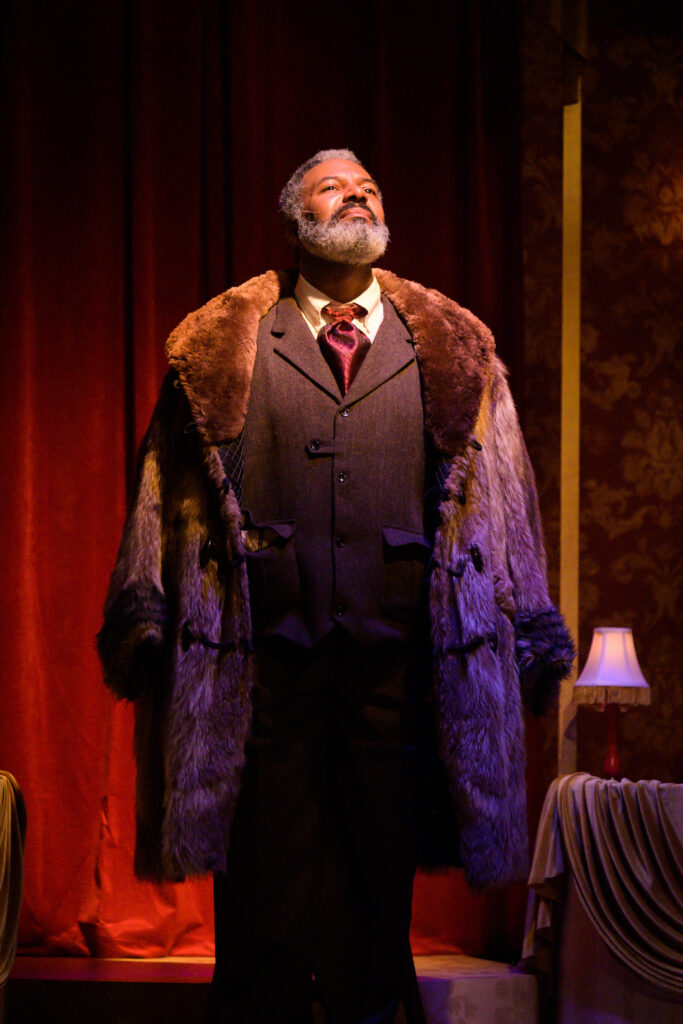 I could try to explain the rest—Pierre's (ex?) wife, Natasha's repressed would-be sister-in-law, etc. – but the point would be moot. First of all, no less than an hour after watching the show, I'd already forgotten the minutiae of the plot; secondly, there's a good reason that the opening number tells us the plot doesn't matter: it doesn't. The point of Natasha, Pierre, and The Great Comet of 1812 is to be an immersive theatre experience portraying an era gone by. It's irrelevant whether or not you know the titular year is that of Napoleon's failed invasion of Russia (which shares frightening similarities to Russia's failing invasion of Ukraine.) No, what matters is that you're supposed to be swept away by a story of a betrothed woman seduced by a sexy pretty boy, excited by the thought of an old man getting into a pistol duel, absorbed into Dave Malloy's old-timey tunes as they're brought to life by Daniel Alley.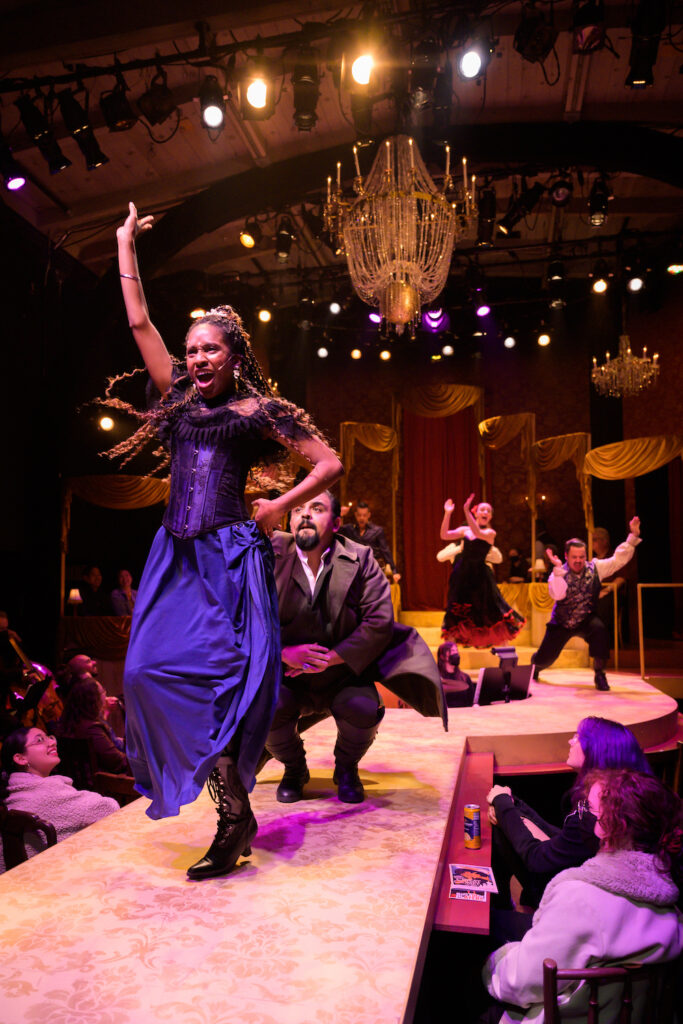 For their part, the cast and crew put on an entertaining show under the guidance of their co-directors, Shotgun AD Patrick Dooley and company regular Erin Mei-Ling Stuart. Rodrigues is appropriately dashing as Anatole, and I believe understudy Sarah Williams was filling in for Princess Mary that night. Dennis' sympathetic turn as Natasha holds the whole thing together. Still, the real star of the show is Bay Area designer Nina Ball, who once again pulls off one of her complex sets for Shotgun. Reminiscent of the company's immersive set for Arcadia (designed by someone else), it features the stage itself extending out into the audience, with a piano pit in the center. It gives most everyone in attendance the impression of looking up at a cabaret stage.
Alley's band does a lively job of making Malloy's songs memorable when the story is so easy to forget. I honestly can't recall how Natasha, Pierre, and The Great Comet of 1812 ends, but it seems as if everyone involved had an incredibly fun time. So much so, that I wish I could've been there myself. But with Shotgun's loose COVID rules, that's not gonna happen anytime soon.
NATASHA, PIERRE, AND THE GREAT COMET OF 1812 runs through January 15 at the Ashby Stage, Berk. Tickets and more info here.