As the SF Opera hits the midway point of its centennial year, it's been interesting watching the amount of polish that's gone into everything, from the micro to the macro. The former can be seen in the gold-painted tickets given to every attendee; the latter can be seen in the mere selection of shows. Though I sadly haven't been able to see them all, it's clear the company is doing no less than swinging for the fences with each selection. Every show this season is a grand spectacle meant to be remembered about for the next hundred years.
Yet, it's moments of subtlety that leave the most lasting effects. For instance, if there was one true star for the opening night of Giuseppe Verdi's La Traviata (through December 3), it wasn't just South African soprano Pretty Yende, whose post-show solo bow in front of the closed curtain revealed how much she reveled in playing Violetta. Nor was it the talented department, whose threads made the women look like elaborate French pastries. It wasn't even production designer Robert Innes Hopkins, whose intricately detailed sets must be truly appreciated by looking out the upstage windows.
All of the above do the great work, but the real star of the show is Korean-born conductor Eun Sun Kim, who is also the company's music director. The orchestra is meant to not steal attention away from what's happening on stage (it's the reason they shove them in a pit), but my orchestra-level seat gave me a fine vantage point to observe both. As such, I took note of the nuances of Kim's conduction; the power, for lack of a better term, she seemed to want to pull out of each and every Verdi note, even its rather light overture. Her gestures suggested someone who was literally trying to re-mold a 169-year-old piece to her will. I dare say she didn't do so badly.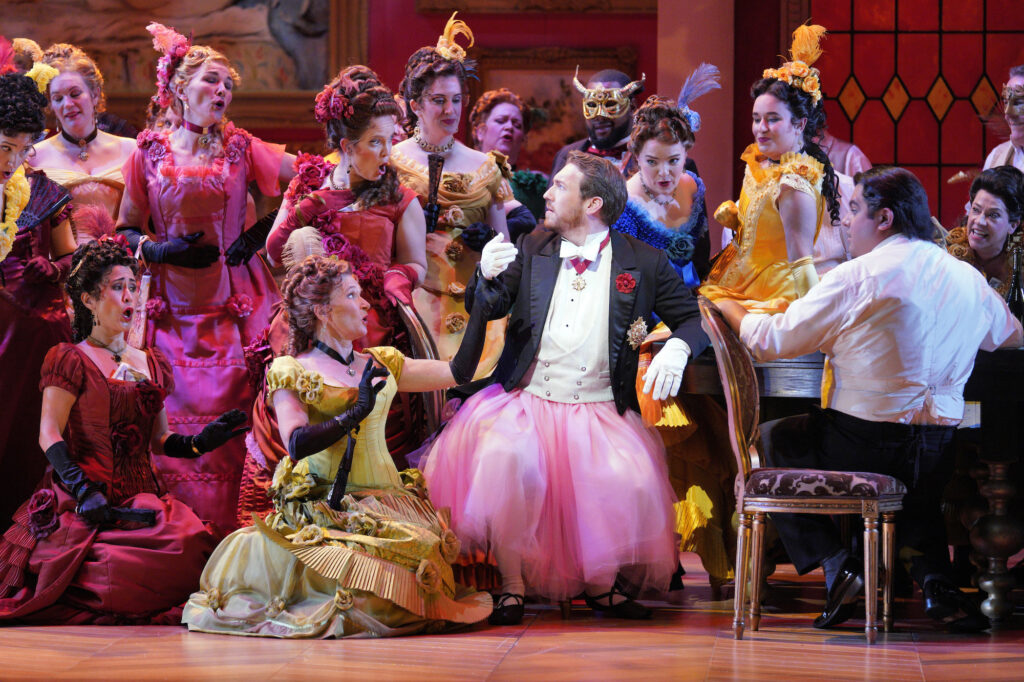 For those unfamiliar, La Traviata is the story of 19th century French courtesan Violeta (Yende), who does what all opera heroines do: bring men to their knees. Yet, even she is taken aback by the affections of young aristocrat Alfredo (US tenor Jonathan Tetelman), who is equally smitten with her. Despite offers from other suitors like Baron Duphol (US bass-baritone Philip Skinner), Violetta and Alfredo seem to make it work. But the revelation of old secrets and the arrival of Alfredo's father, Giorgio (Italian baritone Simone Piazzola), send the two on a spiral from which they may not recover.
La Traviata is a tricky piece to attempt in a modern context. Thanks to its grand characters and memorable arias (Tetelman masterfully handles "Libiamo ne' lieti calici"), it's easy to see its influence in several contemporary works—especially Baz Luhrmann's Moulin Rouge!, often accused of outright plagiarizing the opera. On the other hand, the gross slut-shaming of the story's later scenes are still wince-inducing, even under the more sensitive direction of Shawna Lucey. Lucey conjures great performances from her cast, but Violetta never has any great moments of reclaiming her agency before the end, a la Puccini's eponymous heroine in Tosca.
Still, Lucey's goal seems to be to never let Violetta be anything less than sympathetic, and to not want her humanity lost. On that basis, the director does quite well. It's just the material falls into that Merchant of Venice territory of being timeless, yet uncomfortably of its time. It's a grand spectacle to behold—so much so that the company created an immersive experience based around the sets and costumes—and if, as the curtain speech told us, Eun Sun Kim has a spot reserved for Verdi each year, then she's off to a fine start.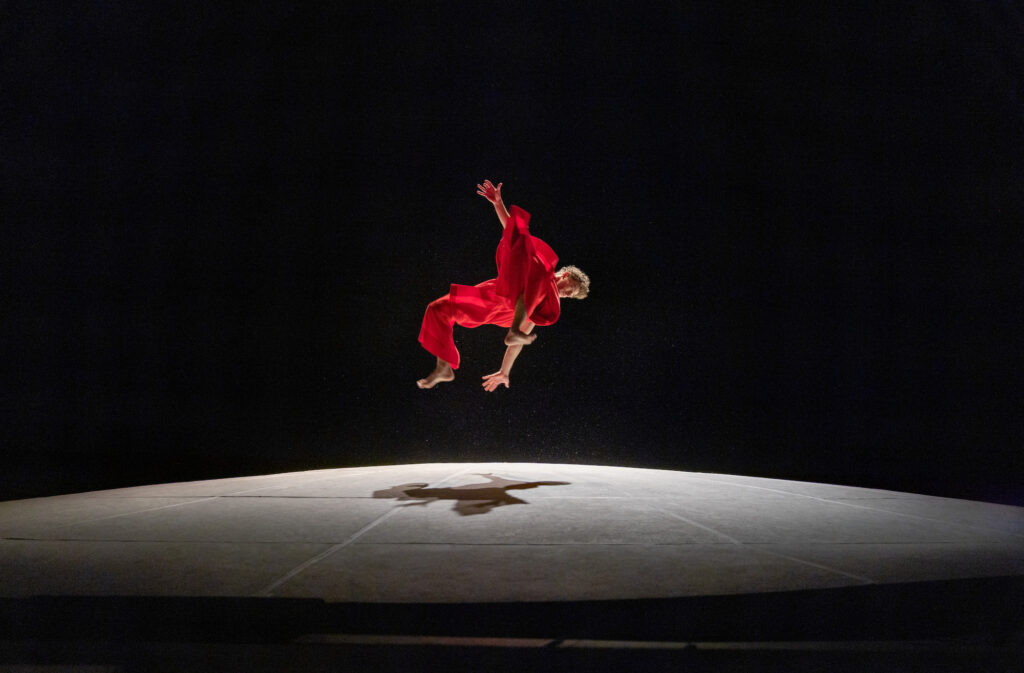 Acclaim should go as well to set and projection designer Alexander V. Nichols, who is in fine form with the opera's new projection of Christoph Gluck's Orfeo ed Euridice (Orpheus and Eurydice, through December 1). Gluck's music is as well-composed as ever, but the libretto has always been one of the more "treading water" interpretations.
The classic Greek myth—in which Orpheus (Polish countertenor Jakub Józef Orliński) ventures into the underworld to retrieve his dead wife, Eurydice (Chinese soprano Meigui Zhang), under the condition that he can't look upon her—has been told countless times in varying lengths, yet much of the opera seems like padding; which is odd to say for a non-intermission piece that runs a brisk 1 hour 21 minutes. Mind you, a great deal of that is pondering death and grief, but there's a redundancy to it that becomes trying.
That's where the work of director Matthew Ozawa, costumer Jessica Jahn, and choreographer Rena Butler come in. Along with the aforementioned Nichols, they make an eye-popping showcase of contrasting colors, celestial imagery, and Capoeira-like movements that command one's attention at all times. The stage proper is a large circular platform that occasionally rotates clockwise. Projected directly down onto it are images of barren landscape, deep-space star formations, and even an apparent CAT scan of a human brain, to name but a few. Its there that our cast walk along, and sometimes float above, the various worlds on Orpheus' journey.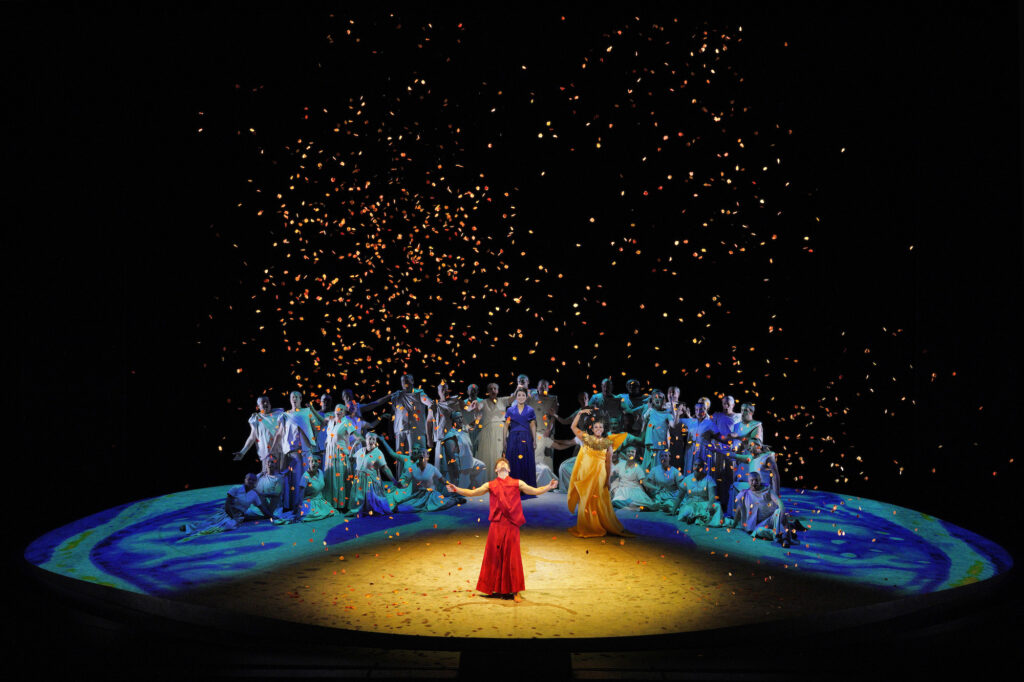 The show starts silently with Oprheus' acrobatics; it's to the credit of titular leads Orliński and Zhang that they do so much physical work in addition their vocal work. They dance with the Opera's renowned corps and finds themselves strapped to invisible harnesses more than once, giving a great sense of continuity. Both are great vocalists, with Orliński's near-castrato cutting through the entire opera house and Zhang bringing an additional performance element of sadness to the constantly led-about Eurydice. Yet, the most fun is clearly being had by US soprano Nicole Heaston, whose gold-clad (Egyptian-inspired clothing, perhaps?) Amore is such an entertaining presence that quite a few people in the lobby later asked if the entire opera was meant to be a dark comedy.
The thing about swinging for the fences is that even if you don't hit your target, you're still likely to impress by the mere distance travelled. On that basis, one can't fault SF Opera's attempts, especially when the flaws are less with the production, than inherent to the source material. There's only so much you can do with the latter without just trying to start fresh. Beyond that, SF Opera's takes on these renowned classics (and one world premiere) have thus far proven to be a grand way to enter their new century in style.
LA TRAVIATA runs through December 3 and ORPHEUS AND EURYDICE runs through December 1, both at the War Memorial Opera House, SF. Tickets and info here.