Reviewing a show like Remember This: The Lesson of Jan Karski (through December 18 at the Berkeley Rep) is a tricky proposition. It's not that it's bad in any way, nor that it's any less worth listening to. Honestly, the only "problem" with the play—part of a multi-media experiment that also includes a film, book, and online curriculum —is that, from an artistic standpoint, a critic has to compare it to other, similar projects so as to hold all of them to a standard. That makes it a bit awkward when said critic must say they've seen this before, and better.
Again, this isn't at all a bad show, but it's hard to see it out of the shadow of similarly-themed shows that were much more effective. Shows like Roger Guenveur Smith's Otto Frank, which used a near-identical narrative device—a first-hand witness to the Holocaust giving his life story to we, the audience—but Otto Frank was one of best shows this year.
That doesn't make Remember This any less important or compelling. Its eponymous lead, played by SF-born Oscar-nominee David Strathairn, was interviewed as part of the groundbreaking Holocaust documentary Shoah. Though not Jewish himself, he recognized the danger of the new movement emerging from Germany. He would eventually become part of the Polish Resistance and would personally document the atrocities taking place in concentration camps. All of this was before the US would become involved in the war. In fact, Karski found himself in the Cassandra-like position of warning the world about the Nazis, only for his pleas to fall on deaf ears—including those of FDR.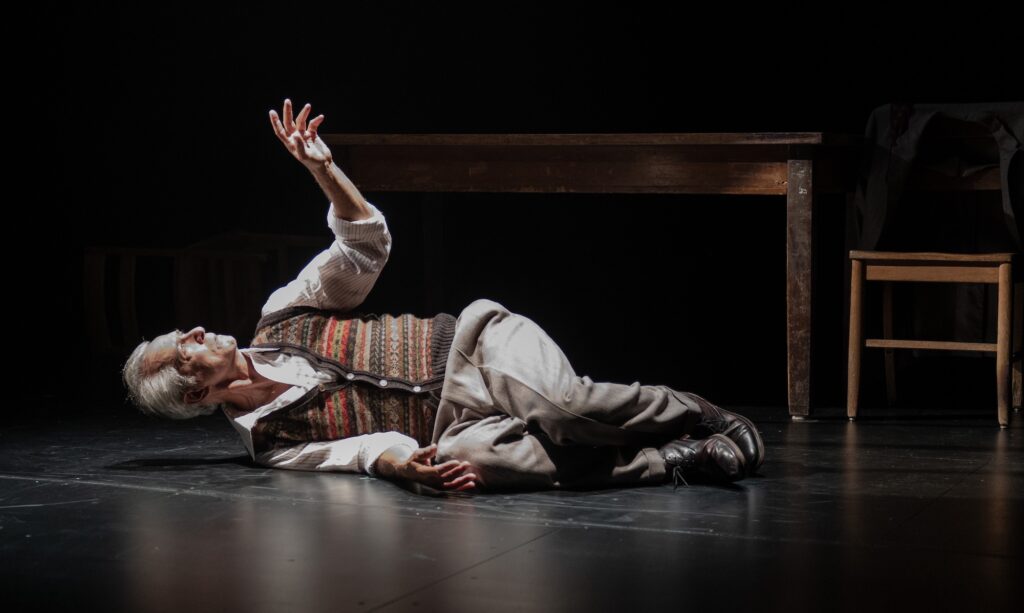 All of that meaty material feels all the more timely to those of us who weren't the least bit surprised about what happened on a certain January 6. And when the world's richest cry-baby not allows but encourages white supremacists to speak freely on the birdsite, it can feel a lot like society-as-a-whole has gone from travelling an open road to looping through a Möbius strip. And yet, Remember This lacks visceral power. As written by Clark Young and director Derek Goldman, the show takes Karski's gripping story and reduces it to a series of dramatic clichés.
It begins interestingly enough, with our unnamed narrator-performer walking on stage as the house lights are still up and some audience members are still finding their seats. As he pontificates non-specifically about the sorry state of the world, he laments how "Human beings have an infinite capacity to ignore things that are not conveniences." He then begins to ponder the Holocaust, leading into a quick clip from Shoah with the real Karski. As our narrator dons the late man's clothes, he tells us we're about to hear of a man who warned about "the annihilation of the Jewish while there was still time to stop it."
After that promising start, the show doesn't "go downhill" so much as it proverbially flatlines. We speed through the events of Karski's life: his "relatively poor" life in Poland raised by a devout Catholic mother with no patience for intolerance; his reluctance to help Jewish students harassed at his university; attending a theatre production where he watches his future wife dance; experiencing The Blitzkrieg first-hand; experiences abuse by Russians; is threatened by Nazis; and so on, up until the producers of Shoah all but demand he take part in the documentary.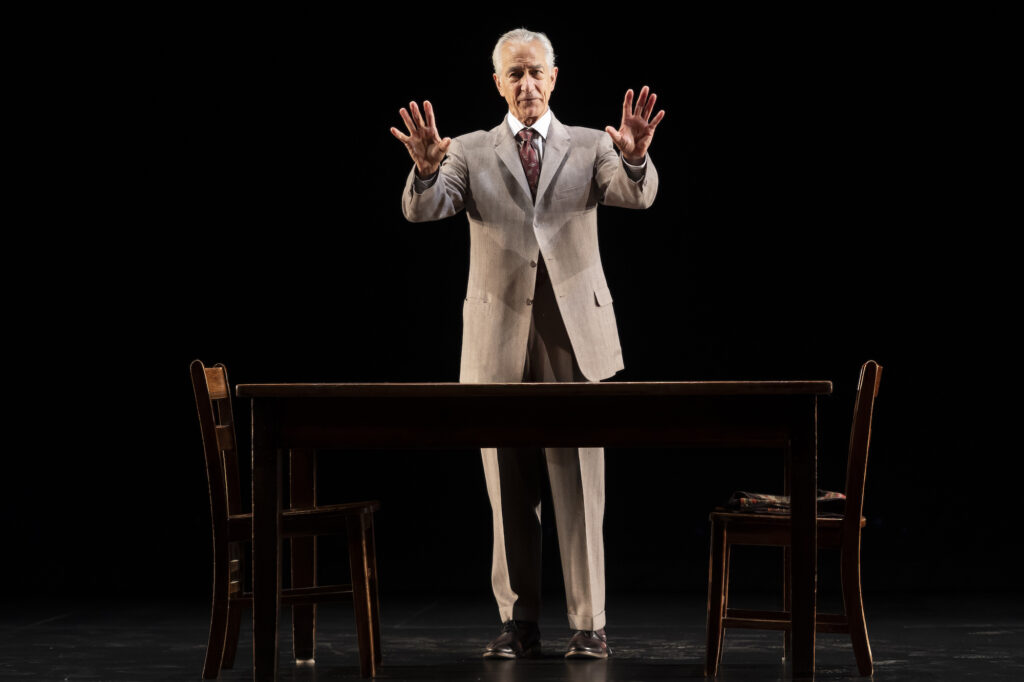 It's all told in such a way that it begins to blur together. Very few characters are named, and the ones that are drop in-and-out so quickly that you may forget them altogether. (Several times, I kept wondering about when and how his wife fits into all of this.) The Blitzkrieg is played to appropriately shocking effect—a seat-rattling sound of explosions accompanied flashing lights and a thick cloud of smoke. (Those sensitive to those effects should be forewarned.) It's one of the few scenes to break the monotony of the play surrounding it. Strathairn has always been a great actor and the physicality of the 73-year-old actor is enviable, but his Polish-accented voice almost never changes, losing a lot of what little Karski personality we observe.
Then there's Young and Goldman's script, which has a very made-for-TV-movie quality to its familiarity. The text feels less like an autobiography and more like recitation of milestones one might read in an obituary. Given the talent of Strathairn and the importance of the subject matter, it's disappointing that both were saddled with a script that doesn't measure up.
In a nearly full opening night house of all-masked patrons (Berkeley Rep has, unfortunately, dropped its vaccine requirement), the CO² levels on my Aranet4 peaked around 890ppm during the 90-or-so-minute runtime. The performance was followed by a talkback that I had to miss in order to make BART. I'd like to think that said talkback—one of many accompanying the play's run at the Rep—was illuminating in how it explained Stathairn's process, delved into Karski's life, and further drove home the importance of remembering the Holocaust.
I just wish the preceding play had done all of that, too.
REMEMBER THIS: THE LESSON OF JAN KARSKI runs through December 18 at the Berkeley Rep. Tickets and further information here.