SF's Dark Entries label specializes in releasing and re-releasing dark and/or synth-y sounds from decades past as well as today, but the musical excavations of label honcho Josh Cheon go beyond lost goth and other shadowy dance floor classics, though there are plenty of those. (It is named after a Bauhaus song, after all.)
The label has championed such obscurities, at least to the US, as cult '80s Argentinian darkwave act Euroshima, underground Mexican synth-pop acts, experimental poetic Greek electronic music from Dark Entries muse Lena Platonos, gender-swapping dream pop, and, perhaps most famously, the unreleased work of San Francisco electronic dance music wizard Patrick Cowley, who passed from AIDS 40 years ago. There's even fizzy Italo disco and vintage gay porn soundtracks in the Dark Entries portfolio.
Through it all, Cheon has proven himself a super-sleuth, telling the stories behind these records and digging up some truly breath-taking jewels. So I was incredibly excited to hear he was going to open a sleek, intimate Dark Entries record shop at 910 Larkin, SF, taking over a former tattoo parlor in the Tenderloin, to showcase his releases, and host some killer events. Ever since the fabulous RS94109 record store closed last year, the TL has been missing a cutting-edge musical hangout, so this is an exciting vinyl renaissance of sorts.
The store will launch with an opening party, Sat/10, 6pm-9pm, featuring DJs Carlos Souffront, Topaz, and Jeremy Castillo. I talked a bit with Cheon to find out more of what lies "in store."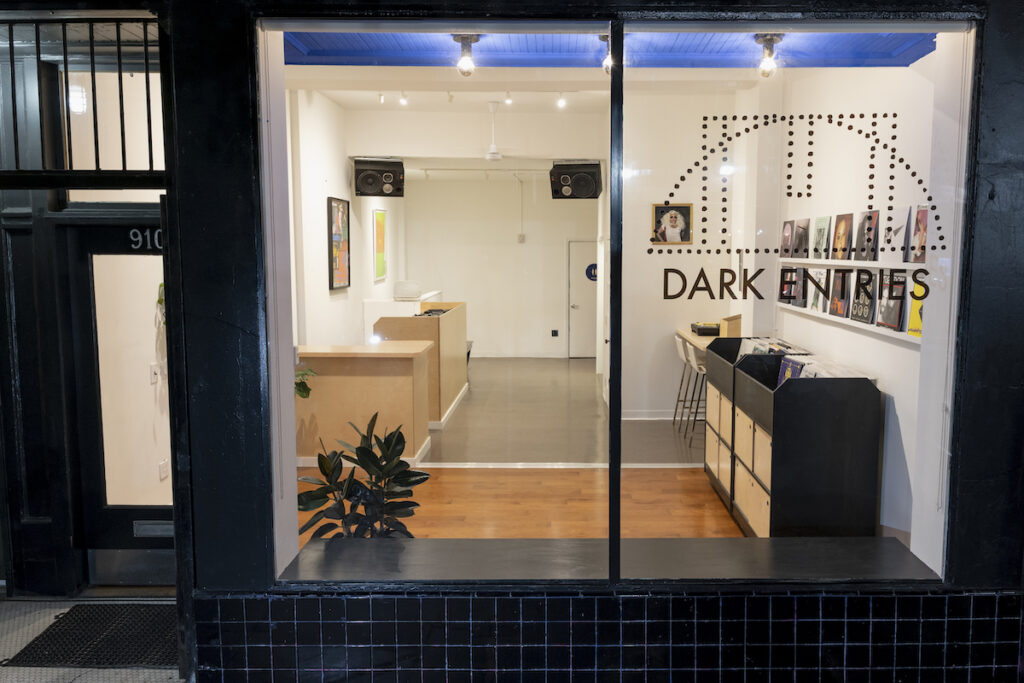 48 HILLS What inspired you to open a store right now, and what was it like to put it all together during COVID?
JOSH CHEON I have been running the label in San Francisco the past 13 years, first out of my bedroom, then the Bay Area 51 space, then the RS94109 record store. After RS94109 prematurely ended their lease in September 2021 due to COVID, I began to look for storage space. I have never had a retail space of my own and was not looking for one specifically, as commercial rents are astronomically high in SF.
I would walk around the Tenderloin looking at vacant storefronts calling leasing agents and had no luck. I would walk to (Tenderloin vintage magazine store) The Magazine and had been lamenting daily to the staff there, when they told me to check out the former tattoo studio next door, another casualty of COVID. I took a tour and knew it was perfect for my office.
I moved all my stuff across Larkin Street on dollies and push carts in a few days. My best Judy, Mike Servito came for a visit and saw the space and shrieked, "GIRL! You have to make this a record store." I pushed back initially, but Mike kept sharing his vision of the space and told me it was the next logical progression for my label.
I was in the middle of a deep depression after losing my trusted engineer George Horn and then our
space above RS. Mike's confidence booster helped me see what I couldn't. And here we are a year later with a remodeled storefront and event space ready to host DJs and record release parties and more.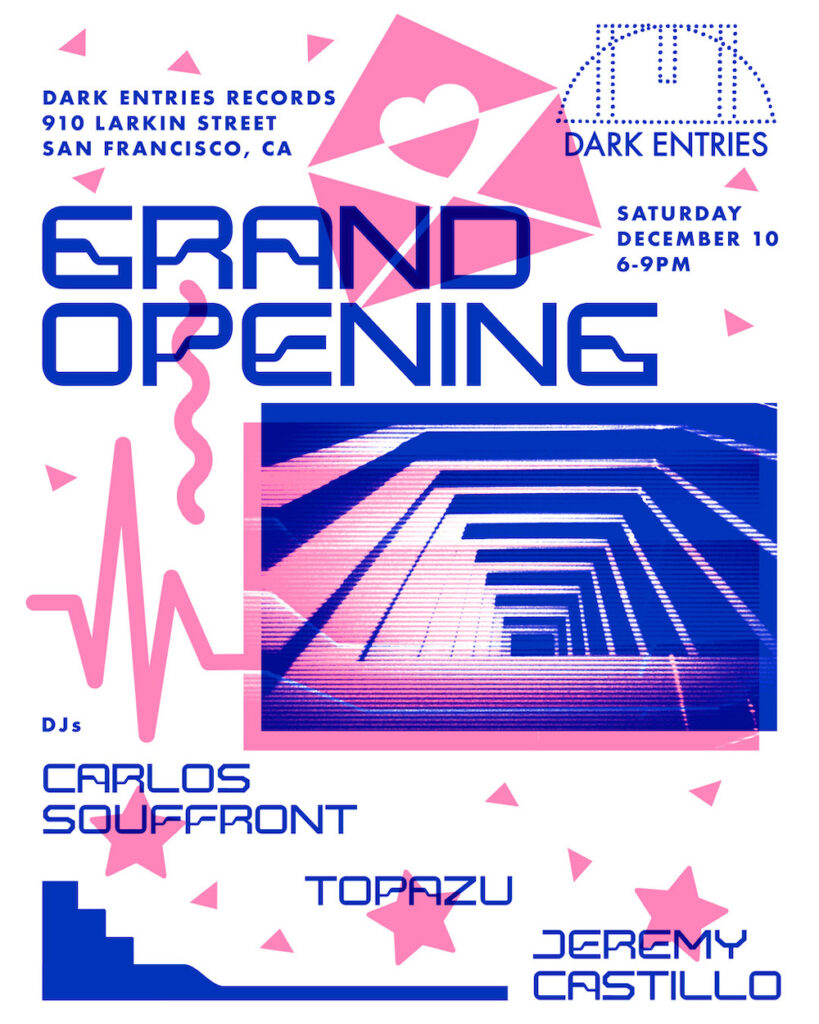 48H Dark Entries has such an indelible aesthetic. How will the store reflect that?
JC Initially I going to paint the walls dark grey but after asking my friend Brian Hock aka C.L.A.W.S to help paint the space he steered me to off-white. I was hesitant mostly because of the Dark Entries aesthetic but I
love the bright contrast to our normal palette of black and grey.
The main art of the walls will be the two shelves of records displaying Eloise Leigh's Dark Entries record cover designs, plus paintings by Gwenaël Rattke, a mirror by Jacques Beas x House of Bun, a portrait of Bubbles Bubblesynski from the Paranoid London 12″ and a poster with poem by David Wojnarowicz from 1985.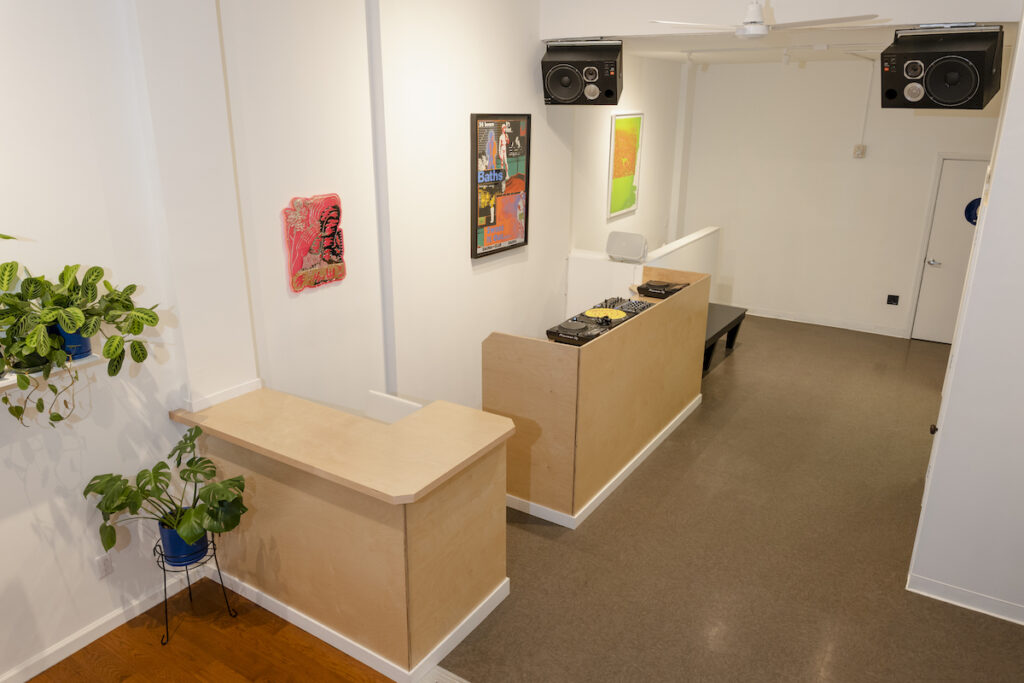 48H Will there be regular events and appearances like there were at RS94109?
JC Yes we plan to host regular events with local and touring DJs, record release parties, films, art shows, and community events. One of our first events beyond the opening party is a pop-up shop from craft collective Eugenia on December 17 and 18.
48H Give me some saucy dish about what's coming up for the label and. the store besides the opening. Will I walk in one day and Lena Platonos is at the cash register?
JC LOL! We are working on our next compilation of Mexican Tecno Pop that will cover the years 1980-88. We also have some rare Italo Disco reissues, a debut album from (SF/Berlin DJ) Doc Sleep, and a song called "Goodbye Horses" you might be familiar with.