Who is Michael Jang? That was the question asked by the title of a 2019 monograph that came out in conjunction with a major retrospective at McEvoy Gallery, "Michael Jang's California," organized by San Francisco Museum of Modern Art's beloved curator emerita of photography Sandra S. Phillips.
To answer the query in the simplest of terms: Jang is a studio photographer who for many years took exciting in situ shots on the side. He captured punk shows, celebrities like David Bowie and Frank Sinatra at The Beverly Hilton (as a student at California Institute of the Arts, Jang got in by faking a press pass.) He photographed onlookers at Mayor George Moscone's funeral, as well as photos of Jang's own family: his aunts and uncles wearing goofy glasses and a bunch of kids on the couch, reading MAD Magazine. Jang submitted these images to the SFMOMA in 2001, where they received acclaim.
Those photos of his family make up most of the work at Jang's latest show, Lee Gallery's "Post No Jangs: Notes from Underground," which will occupy the basement of Crown Point Press through December 31.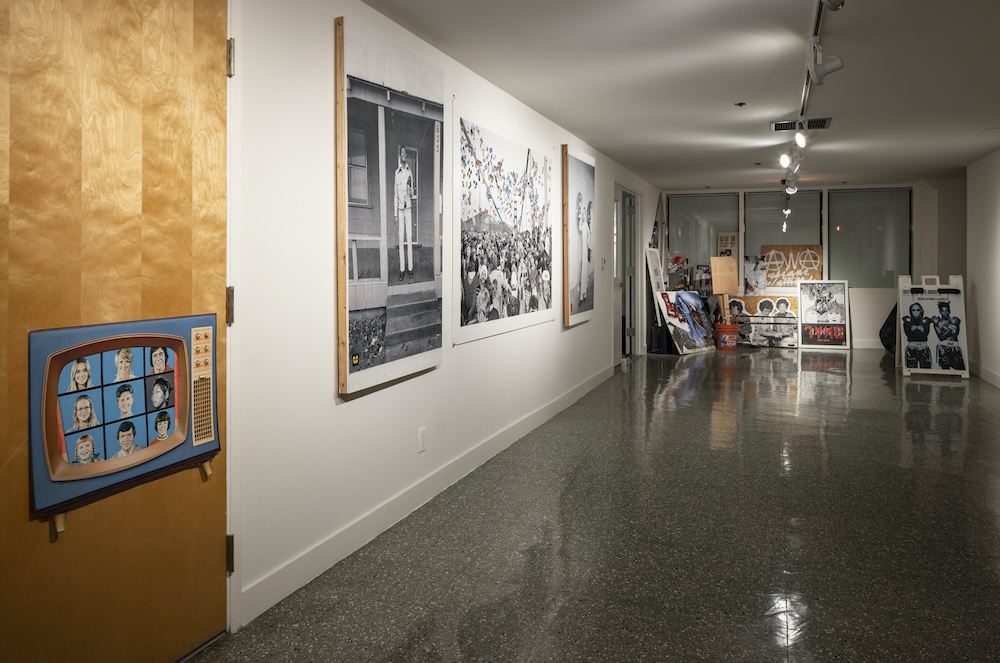 At a preview of the show, Jang sat at a table, stamping his name in Chinese on zines. His work surrounded him in Lee Gallery's unconventional presentation of the exhibition. Some pieces lay on plywood on a hallway floor, others had been displayed stickered and tagged.
As Jang stamped, he told an unlikely tale for a celebrated fine arts photographer. At the height of the COVID-19 pandemic, he spent his time wheatpasting artwork all over San Francisco. While others heeded the call to stay in their homes, the photographer posted his work on empty walls, starting with a piece he calls "the greatest hits of 'The Jangs'" outside the closed Goodwill Store in the inner Richmond, located a couple blocks from his house.
"We were nervous because we'd never [wheatpasted] on the street," he told 48hills. "We didn't know what the cops would do. We did a Sunday morning at like 7 a.m., but then I thought, 'Oh, they might be out cruising for coffee and donuts.' So there's never a good time—but I thought it was better at least than midday. We did it, and we did it so fast. We were done in 30 minutes, and then we got out of there."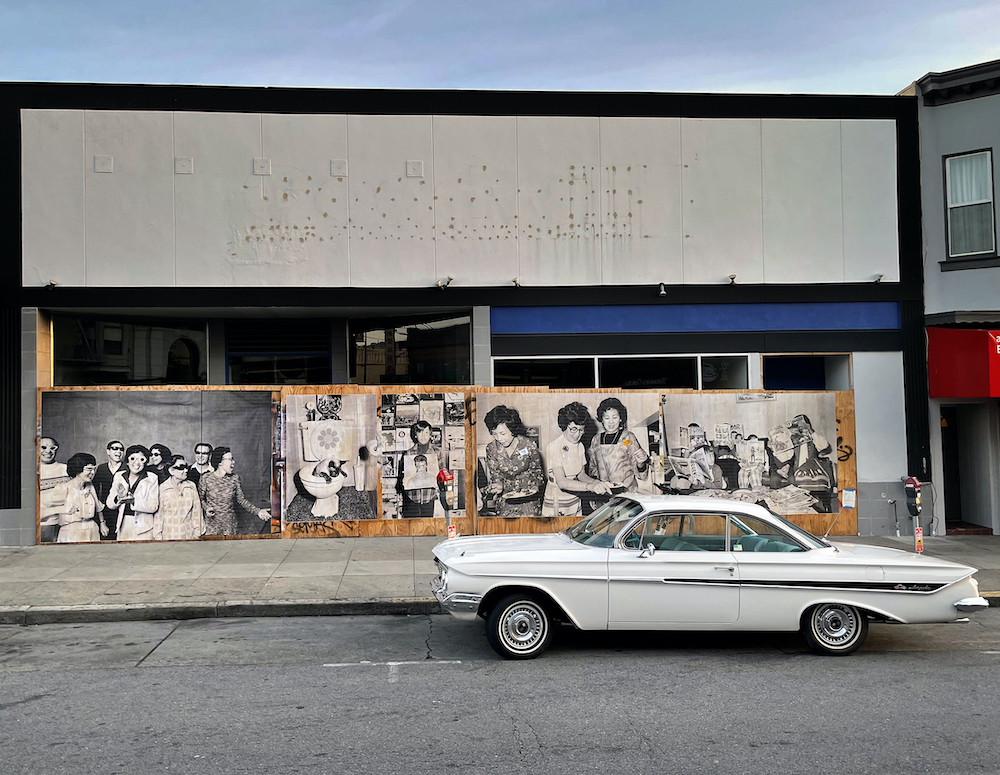 Jang had heard stories of what could happen to people when cops catch them putting graffiti up on the streets. But he realized pretty quickly there was a big difference between being out with a spray can and putting up fine art black and white photos of your family.
"Sun Sun Produce is 50 feet from the police station in Chinatown," he said. "I went up and there were eight cop cars parked in front of the station. We were filming a documentary and I was miked. I go up and I tell the cops, 'I'm gonna hit this wall. You gonna do anything?' and he just said, 'You're that guy? We like your stuff.'"
That officer wasn't alone in appreciating what Jang was doing. People started posting photos of the photos on Instagram and tagging Jang. He was always sure to repost.
"It's become a circular thing, a virtual art activity for the community," Jang said. "Without fail, we can't go on the street anymore and start working without someone coming up and thanking us."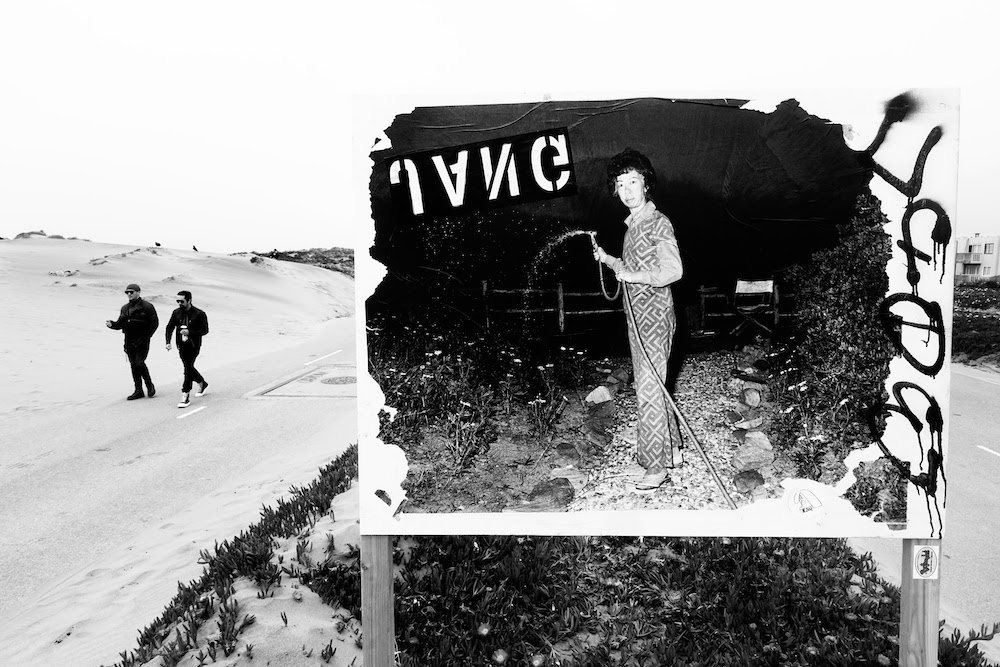 Jang went out to different neighborhoods—the Castro, the Outer Mission, Noe Valley. He even put up a collection of images on the Great Highway.
But he no longer gets up at dawn to go out.
"Now it's like 10 to noon, and then we break for lunch, and then I take my nap because I'm a septuagenarian," he said. "Isn't that hilarious? We work in broad daylight and in plain sight."
Jang says he's been enjoying putting his work out there. And if it gets tagged or ripped up, that's OK too.
"A fine art photographer, especially 50 years ago in the '70s at CalArts, made beautiful silver prints," he reflected. "[They were] precious. You would wear white gloves. Now I'm literally stepping on [my art] and walking on it and letting people deface it and rip it. At first it hurt. Then something just hit me. I said, 'Wait a minute, I'm in [the community's] territory, so let's just watch and see what happens, and just do it and observe. So now, we've got the rhythm of the streets."
POST NO JANGS: NOTES FROM THE UNDERGROUND runs through December 31. Crown Point Press, SF. More info here.