Over the course of every artist's career, there will come a project they've nourished for so long, thought of so extensively, that they can no longer approach it objectively. They can't see past their own intentions for the work, often leading them to micro-manage aspects that should be delegated. The bright initial spark may remain, but the creator is holding on so tight that they're smothering something that needs room to breathe.
That's the sense one gets from Darryl V. Jones' work on Halie! The Mahalia Jackson Musical (world premiere run through December 24 at the Fort Mason Center, SF). Although Jones didn't conceive of the project with the late Wendy E. Taylor, his control of nearly every aspect reveals someone who refused to let it out of arm's reach. In addition to personally rewriting Taylor's then-in-development script, this Lorraine Hansberry Theatre production sees Jones both directing and acting as one of the three ubiquitous ensemble members (alongside Sam Faustine and Rodney Earl Jackson Jr.) who serve as the play's Greek chorus. This means he controls each and every aspect of what occurs on the stage he personally treads each night. And therein lies the first flaw of the show.
The show begins in Heaven, where the unseen Almighty (whose voice is uncredited, but sounds a lot like Jones) is dismayed by the state of the world. He tells His three spirits that He intends to send a saint to inspire the people. Whether immediately after or several decades later—it isn't clear—the three tell of the late Mahalia Jackson (soprano Jeannine Anderson) being inducted into the Rock 'n Roll Hall of Fame; something that befuddles the late Ms. Jackson, as she never performed the genre her entire life.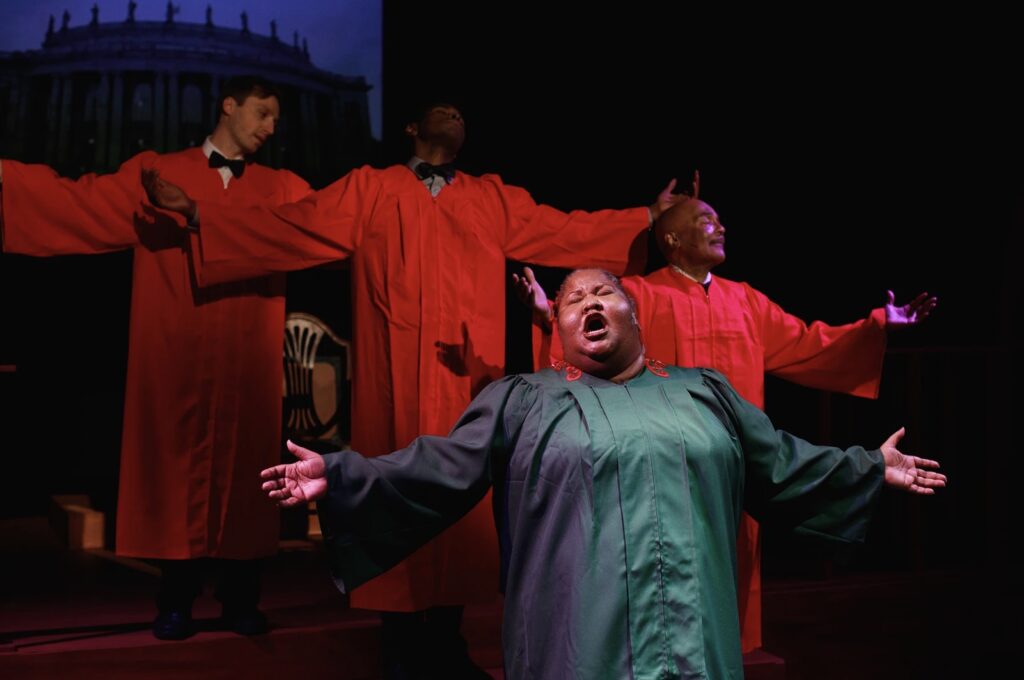 She and the three spirits then lead us through a speed run of that life, narrating her 1911 birth as the grandchild of slaves; her personally adding the letter "i" to her birth name "Mahala" at age five; her affinity for Bessie Smith; her dream of being a nurse; the reality of working as a maid for rich white families; her travels to New Orleans, Chicago, and beyond; her failed marriage; her shrewd negotiations; and her inevitable recognition as "The Queen of Gospel Music."
It's a lot. Unfortunately, the 2½-hour show is so eager to get from one point to the next that it never bothers to truly linger in any of the events. It regards each and every milestone as one of such importance that failing to mention it would be a crime. After speeding through one long-winded exposition, the action stops cold for Anderson and her co-stars to perform one of Jackson's songs (except for "Trouble of the World" and "In the Upper Room", the latter of which just confounded me), then zips through Jackson's life story again.
Don't get me wrong: It's enlightening to learn about Jackson's childhood dreams, her friendship with "Studs" Terkel, and her involvement with the Civil Rights Movement at the personal request of MLK. But the play spits them out at the expeditious rate of a child's book report, just reciting the events of the story without showing any real understanding for the story itself.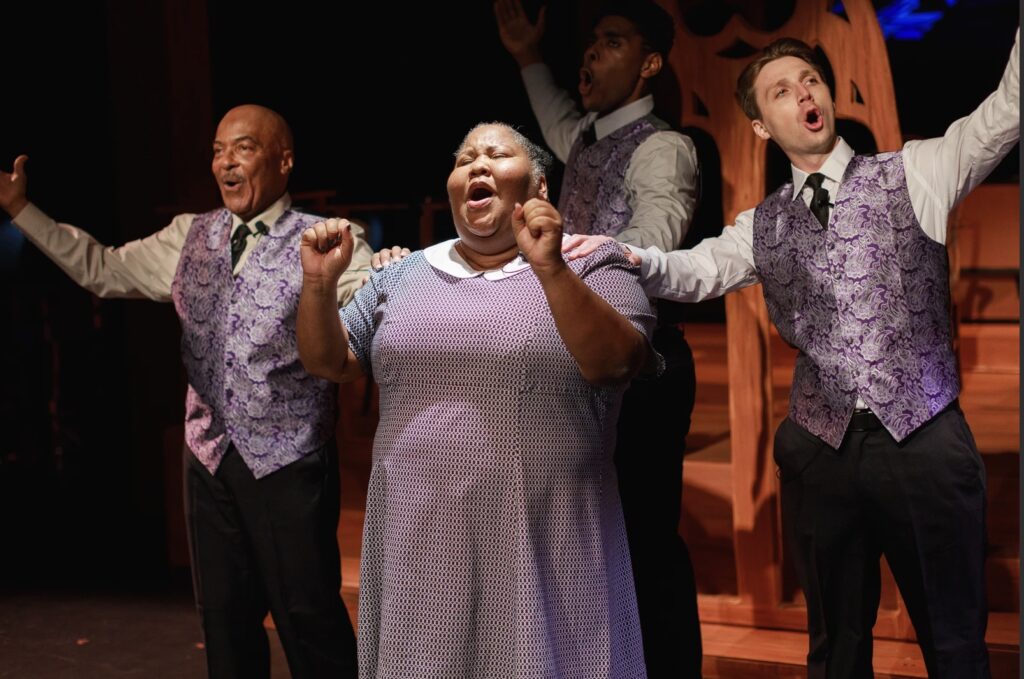 Yet, Halie! has moments of such perfection that they're almost worth forgiving the dragging text. The Lorraine Hansberry Theatre a top-notch technical team that includes projection work by Sarah Phykitt, a detailed church pulpit set by Hector Zavala, and sound design by Roy Archie, all of whom do great work for the show. From a performance standpoint, Jones and his two fellow trio members do serviceable work with dialogue that's often equally serviceable (to say nothing of Faustine and Jackson's strong vocals).
All would agree, however, that classically-trained soprano Anderson is reason enough to see the show.
It isn't simply the fact that the opera veteran recreates Jackson's rafter-shaking vocals, it's also the fact that Anderson also brings an actor's self-awareness to a role that may have been cast vocals-first. When the script does stop the exposition to offer dialogue, Anderson lives each line with a sincere sense of childlike curiosity, adult recognition, and all-around resonance, depending on what the scene requires. Every time she's on stage, it's less about her trying to imitate a musical icon so much as her grasping onto the heart of a human being who loves, hurts, and damn well knows what she should be earning from touring. In spite of the script's flaws, Anderson delivers what may be the best performance I've seen on stage this year.
Another area where LHT succeeds is their continued insistence on vaccine checks and masking, with audiences passing by a tall air purifier on the way to their seats. I was seated near a woman who went on a loud, wet coughing fit for several minutes during the first half. Naturally, that put me on edge, but the knowledge that only vaxxed people were allowed in put me slightly at ease. Having said that, is it possible for that building to update its HVAC system (as in, actually get one)? By the time each half of the show had ended, my Aranet4 picked up CO² levels averaging around 1659ppm. Again, knowing that every face in that theatre (one or two of whom were unmasked) could only be there with proof-of-vax put me ever so slightly at ease.
Mahalia Jackson was a powerhouse of a woman whose influence can be seen in everyone from Leontyne Price to Beyoncé Knowles. She turned her religious devotion into a genre-spanning career where she broke barriers and stood for equality in and out of the studio. Hers is a story well worth telling. Just not this way. This is a technically-masterful production with one jaw-dropping performance, both of which are hindered by a white noise script. Halie deserves better.
And seriously, how can you do a Mahalia bio and not use "In the Upper Room"?
HALIE! THE MAHALIA JACKSON MUSICAL has its world premiere run through December 24th at the Fort Mason Center, SF. Tickets and further info here.