I wonder if anyone else noticed?
As the audience waited for the start of The Never Too Late Show starring Don Reed (through February 19 at The Marsh, Berkeley), the pre-show music included a mix of classics from acts like The Supremes, as well as newer tracks from musicians I don't know (I assume one was Lizzo?) The playlist bounced back-and-forth through time, but there was one tune that stood out to me, both because it wasn't a pop song and because it somewhat foreshadowed the play: it was the theme from "The Arsenio Hall Show."
I doubt anyone under 40 even recalls the program, which was once the most popular late night talk show in the US. "The Arsenio Hall Show" helped Bill Clinton get elected, and rolled out the red carpet for Louis Farrakhan; it featured in-depth chats with Jesse Jackson as well as a none-too-chatty Jason Voorhees; its musical guests included rappers who would never get booked on Letterman, and its studio was the setting for the infamous "Queer Nation incident." For five years, a show hosted by a Black man was popular enough to challenge Johnny Carson for late-night dominance. Yet today, Hall's reign is all but forgotten.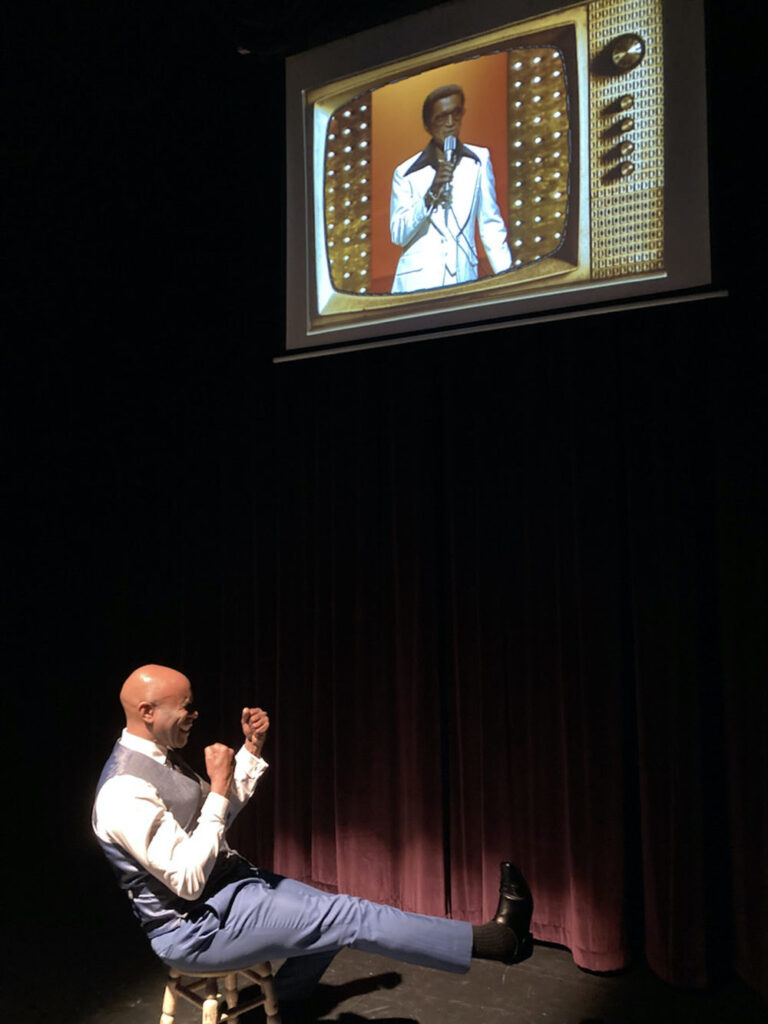 Don Reed doesn't mention "The Arsenio Hall Show" in his play, but its theme music caused the long-gone program to linger in the back of my mind throughout as the audience waited for the start of The Never Too Late Show. After all, the production gets its title from its eponymous lead, another veteran stand-up who is hoping to one day perform his routine on "The Tonight Show Starring Johnny Carson." Hell, the play is essentially Reed's personal version of Bill Carter's book The Late Shift, with our playwright-star watching from the sidelines as his dream gig somehow grows closer to reality, yet falls further away with each step.
The proverbial "sidelines" begin in his native Oakland, where the young Reed gets the nickname "Blinky" due to a nervous twitch. Said twitch gets the boy laughs, so he eventually learns how to make people laugh with instead of at him. As his parents' marriage falls apart, Don and his siblings frequently stay at their grandparents' house. Every now and then, Don is allowed to stay up late and watch Carson. The youngster isn't just entertained by The King of Late Night—he makes it his life goal to one day perform on the show, as a great many comedians have before him.
To the credit of Reed (an award-winning veteran of The Marsh), he makes ample use of setting up most of his anecdotes like jokes, with set-up and punchline. He recalls telling a girlfriend he wants to do comedy, only for her to insist that he isn't funny. He comes back with a break-up line so hilarious I don't think I should spoil it here. He similarly recounts being young and mocking a fellow student, whom he calls "Dirty Andy," for being poor. His outlook on Andy later changes when Reed himself becomes homeless.
Assisted by Blake Radiant's technical direction, which frequently projects both old photos and classic clips on the screen above the stage, Reed's tales aren't lacking for context or visual reference. Still, there are a bit too many of them. He seems to be attempting a full, detailed autobiography, so he doesn't want the audience to miss out on his odd encounters with Spike Lee, a bumbling encounter with Halle Berry, or how he nearly got Damon Wayans' role in Earth Girls are Easy. A lot of them begin to feel like digressions by the time he finally gets back around to narrative of closing in on the Carson gig (a path that inevitably ends in heartache.)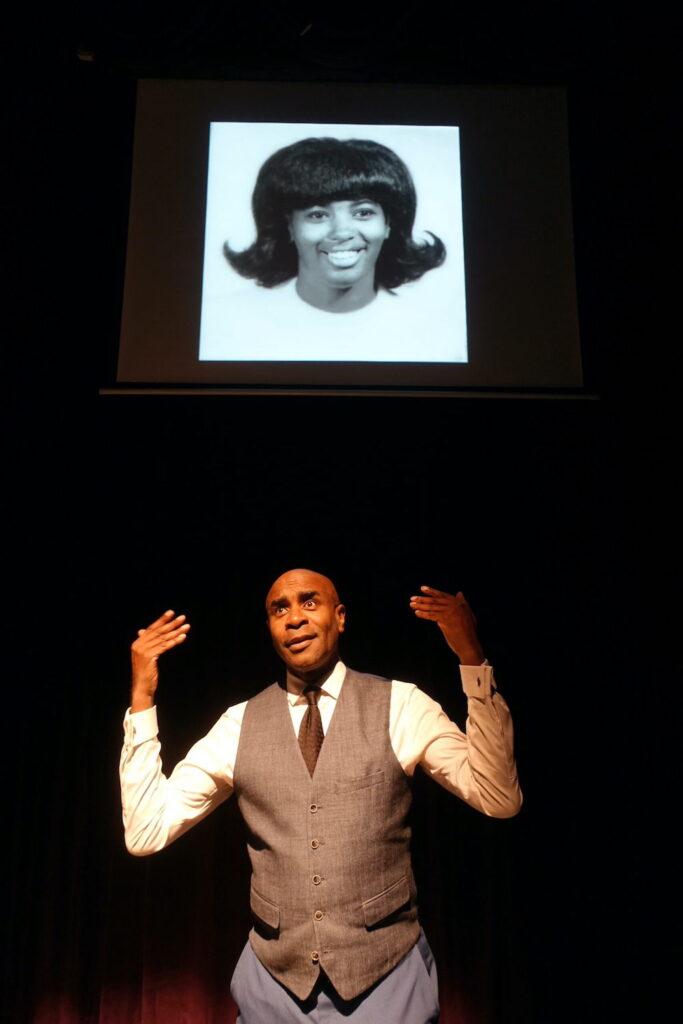 I'm always dubious of performers who act as their own directors, so with Reed serving as writer, director, star, and co-producer, it's clear he could have used more people telling him when to cut back. That would have made the two-hour show into a tight and emotional 90 minutes that include all of his family tales, his career trajectory, and the circumstances that ultimately lead him towards "The Tonight Show." The script isn't bad, but it needs to be edited.
I'm always grateful to The Marsh for sticking to their COVID safety measures, even when patrons tried to force them the other way. Whereas the last show of theirs I saw was preceded by a man faux-outraged by the measures, this one was preceded by a couple who entered the building unmasked and were dumbfounded to see all our covered faces. They had masks on when they went in, but one group of ladies didn't put theirs on until the actual start of the show. Over the course of two hours runtime, my Aranet4 peaked around 1114ppm.
As the play comes to a close, Reed recalls famous entrepreneurs and innovators who didn't get their careers started into well after their 20s and 30s. He uses this info as a segue into promoting his own upcoming talk show based out of Oakland, something he never thought possible before. "We gotta normalize doing crazy things later in life," he tells us. The Never Too Late Show is an inspiring tale about seeing one's dream materialize, even if it wasn't when or how they expected. That, in and of itself, isn't bad, but a few story details could have been left by the wayside.
THE NEVER TOO LATE SHOW STARRING DON REED runs through February 19 at The Marsh, Berkeley. Tickets and further information here.