I'll admit that I was definitely curious as to what the return of SF Sketchfest (which runs through February 5) would bring. Even in the pre-plague era, I attended sporadically, and its scope has only expanded with each successive year. Still, I know some of the festival's venue proprietors and I was always proud to see folks I know—both local and not—get billing alongside comedic heavyweights. (One of my favorite Sketchfest memories involves chatting with Bay Area stand-up Sean Keane in PianoFight before the club had opened for the day. We both tried—and failed—to not come off as dorks when "The Kids in the Hall"'s Kevin McDonald popped in to get a look at the stage before his show that evening.)
So, I was interested to see that the festival had in store for its belated 20th anniversary season, after its actual 20th year had to be cancelled in 2021. Still, the difference between now and then is that we've gone from the "pre-plague" world to the pandemic Möbius strip. I chose which events I would attend nearly solely on their listed COVID protocols.
I'd originally intended for this article to start with a write-up of The Setup on January 20, since the show was advertised, on both the protocol page and the show's ticketing page, as requiring proof of vax for entry. That was most certainly not the case: out of the 50-some-odd folks waiting to get into The Palace Theater, I was maybe one of four who were masked (and that's a generous number.) We were only asked for our IDs to show we were over 21, and when I asked about the proof of vaccine, the (unmasked) woman checking IDs looked at me as if I'd just asked her to solve world hunger within the next five minutes. I was in the basement "theatre" for maybe two seconds before I glanced at the already-full room, said "Oh, fuck this!" (a phrase I haven't spoken aloud in years), and made a quick exit.
So yeah, the fest's 2023 edition started off on a bad foot for me. I honestly hope that night's stand-ups were able to both bring down the house and escape without any lasting damage. But it was troubling that the festival's prior communication said one thing about COVID protections, but did another. I have no interest in sharing an unventilated basement with maskless mouth-breathers, and I'm grateful that my at-home Ag tests continue showed up negative in the days that followed.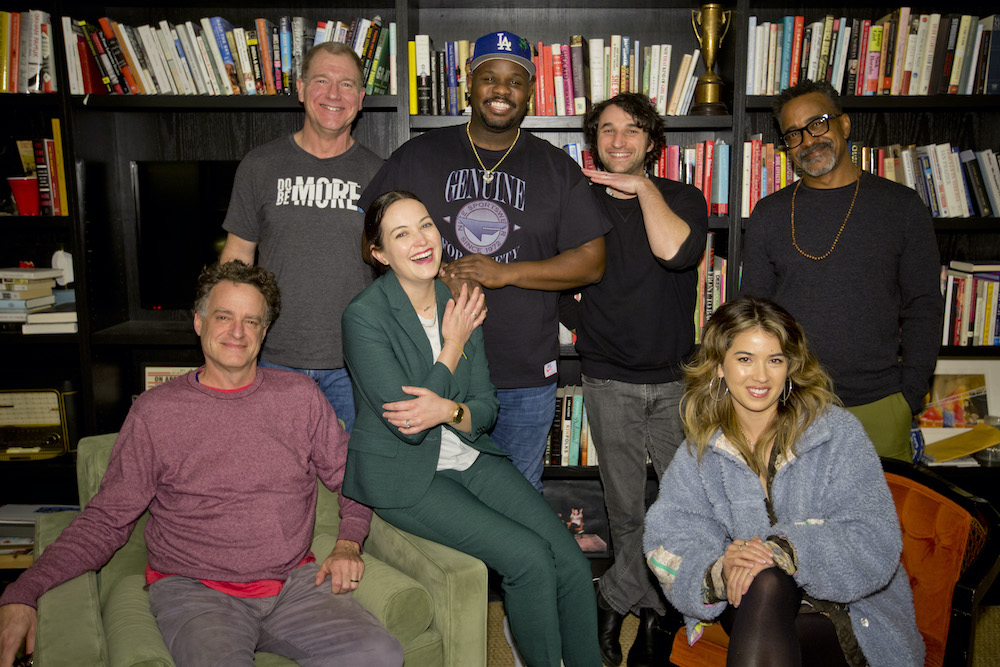 Fortunately, the next evening's festivities would prove to be a much safer experience. That was the night of Sketchfest mainstay ASSSSCAT by the Upright Citizens Brigade.
Set up in the Civic Center's Sydney Goldstein Theatre, the event may not have had a vax requirement, but its masks-only policy was made abundantly clear. In addition to being mentioned on the ticketing page, there were also signs inside and outside the theatre to remind everyone. Plus, the security guards wouldn't even let you past the front door with a bare face. Of course, no sooner had I sat down when some white guy a few rows behind me started whining like a toddler about having to cover his face: "I just wanna live my liiiiife!" (I soon heard someone in that direction coughing through their mask. I didn't turn to see if it was him, but it wouldn't have surprised me.)
Mind you, mask enforcement was mostly limited to those of us on the lower level, as a regular glances to the balcony revealed quite a few uncovered faces mixed in with the masked ones. Over the course of the two-hour show, my Aranet4's readings for the full house peaked at a CO² reading of about 1338ppm – not the biggest relief, but I've seen a lot worse.
But what, you may ask, did I make of the show itself? Well, much the same way Sketchfest seems to be emerging from a long slumber, so too does UCB seem to be making a comeback. The company is still trying to recover from the black eye their brand received in 2020 over business practices. Oddly enough, it seemed to put them on an even keel with the fest's less-renowned performers, because UCB was also there with something to prove.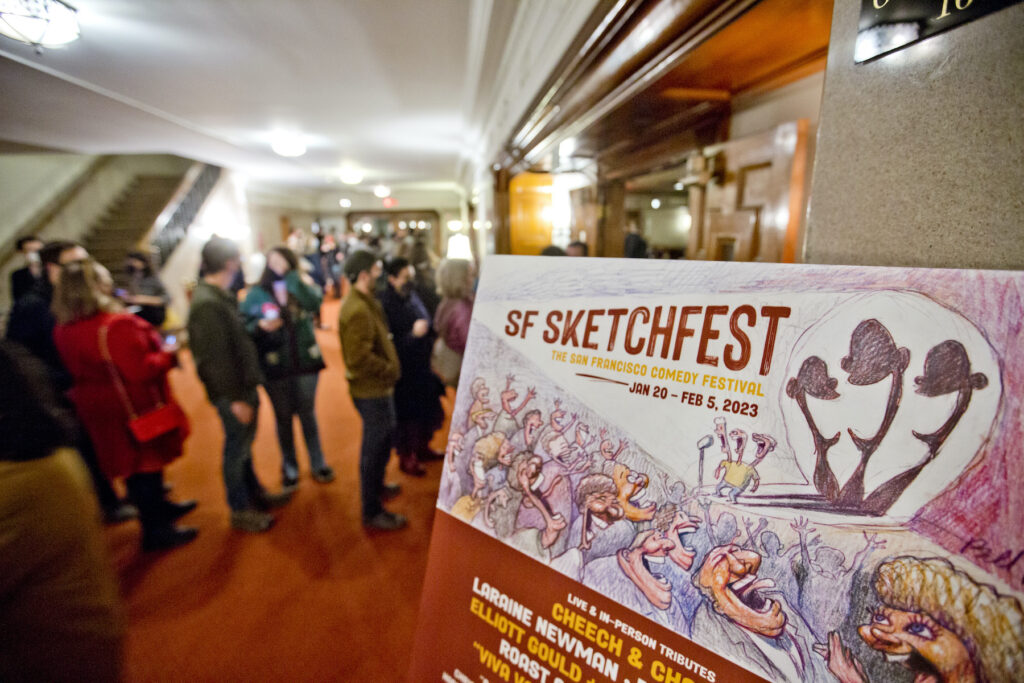 Lead by UCB alumni Matt Besser and Ian Roberts, the night's improv team included SNL legend Tim Meadows, Jessica McKenna and Zach Reino of The Zack and The Jess, and comedian Carl Tart of the hilarious all-Black improv troupe The Big Team (formerly known as "White Women Comedy"). Bay Area-born Nichole Sakura of NBC's "Superstore" served as the evening's monologuist, regaling us with tales of parochial school misadventures, beachside personal injury, and the unappreciated pleasure of living in a home with a rumpus room.
As the group riffed on each of Sakura's anecdotes, not a single one of them phoned it in. Yet, Meadows was the clear star by employing his trademark straight-faced delivery in face outlandish goings-on—like the casting of an animé featuring a promiscuous pig.
That was when it hit me: I missed this. I haven't been to a proper comedy show since the pre-pandemic days (Hubba Hubba Revue at the DNA Lounge is more than comedy and sketch shows like Killing My Lobster are more traditional theatre). In fact, I have two free passes to Cobb's which I'd gotten in early 2020, but haven't used because their COVID policy has always been lacking. The simple act of sitting in a crowded room with a bunch of strangers as someone tries to make you laugh is something I never knew I needed so much.
That's why the situation with The Setup was so disappointing. Sketchfest is belatedly celebrating their 20th as the pandemic that postponed the fest is about to reach its third US anniversary. ASSSSCAT was a fun time, and I wish the performers could have seen our smiling faces, but it's more important that we all live to experience the festival's next anniversary.
SF SKETCHFEST runs through February 5. Various venues. More info and tickets here.