Look, I'm not going to lie—I spend most of my time in bars, clubs, and restaurants, and a good portion of that is in the loo. Meetin' in the ladies room is an important part of queer social culture! (It's also something that happens more as I emerge into my golden years, lol.) Bathrooms are important.
And while I adore a good graffiti-and-sticker covered stall—with a locking door, please!—like my current favorite at A Bar in Brooklyn, nothing beats a clean, fresh, colorful restroom respite from the cacophony of the club. There's a reason Björk rushes into the Milk Bar toilets to share a personal philosophical moment in one of her best songs.
So, oh, what a joy that San Francisco's Best Dive Bar El Rio in the Mission has unveiled its gorgeous new pit stops—and of course there's a fabulous photoshoot featuring local superstar Persia to go with its announcement, as any queer bar worth its margarita salt should have.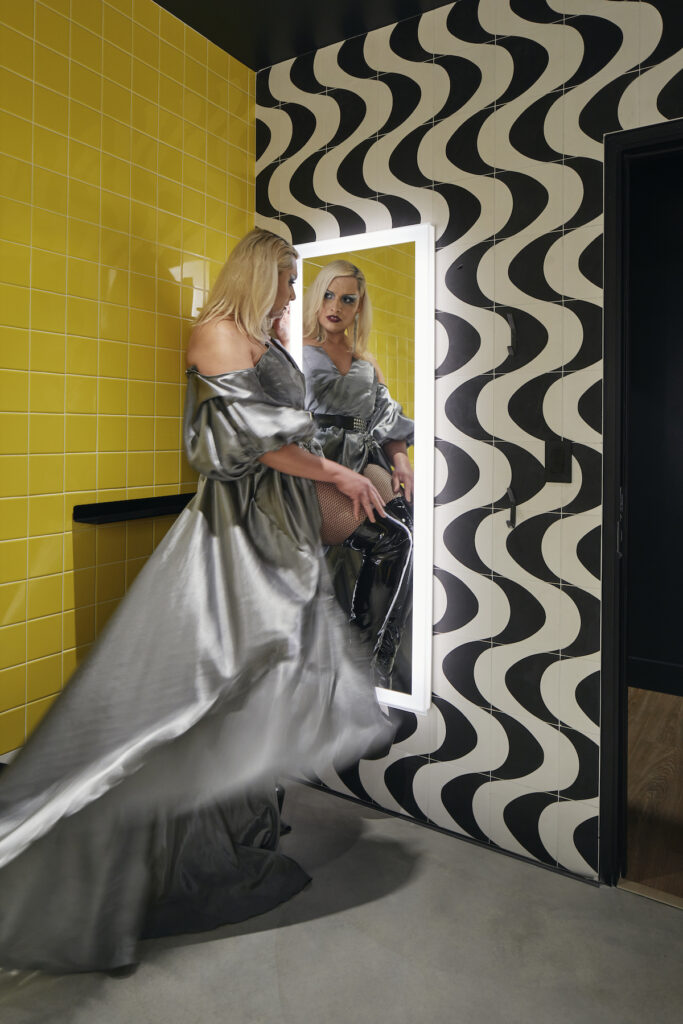 I love that the new johns/janes/jxns have the feeling of being in a futuristic Tokyo-bound subway, and also that they include a sleek new ADA accessible toilet that doesn't feel like it was simply dropped in from Home Depot to satisfy a coding requirement. (Why do so many ADA restrooms look like prisons?)
El Rio is continuing its fiery reign as one of the most inclusive bars in the city, at all stages of the clubbing experience. Now that it feels like springtime, why not pop by for one of its terrific patio parties, and flush in a new era of comfort and style?
Here's El Rio's press release about the new WCs (of course they have one) for more info. It really was a community push!
THE GREAT REVEAL: El Rio's new bathrooms DAZZLE thanks to the genius of Principal Maryam Rostami and designer Kate Thorson, both from TEF Design. The project two years in the making (and ten-plus years in the hopes and dreams machine) was finally completed this week. El Rio is now the proud parent of THREE additional toilets – 1 ADA bathroom and 1 two-stall stunner with the vision executed by the team at Blackline Construction. This in no way would have been possible without the help of our donors from the Go Fund Me campaign, and the community contributions both financial and conceptual from the amazing folks at Mujeres Unidas Y Activas, The Sisters of Perpetual Indulgence, The GLBT Historical Society, La Cocina, SF Pride, Carnaval San Francisco, The Harvey Milk Democratic Club, The Castro Cultural District, The Office of Small Business, The OEWD, Z Space, SF LGBT Center, SF Dykes on Bikes and so many other visionaries who helped point us toward alternative means and methods. The idea has always and will always be how to better the space to better support the community that supports us. We hope you all love these bathrooms as much as we do.