On Wednesday, a big ceremony commemorated the reopening of the Powell Station BART bathroom after 20 years. Politicos like State Senator Scott Wiener, BART boardmember Bevan Dufty, and BART board president Rebecca Saltzman (who pushed for the reopening), were on-hand to awkwardly tear apart a toilet paper ribbon and welcome somewhat abashed BART patrons to enjoy the two state-of-the-art stalls, with automatic flushing toilets and sleek tiled walls.
The reopening was promoted as part of the push to get more BART toilets online, the result of a program announced four years ago. The 19th Street station bathroom in Oakland is set to reopen February 25, with eight more station bathrooms to follow.
The reaction to all this fuss over a couple of shiny loos from the online commentariat was predictable. Isn't this yet another example of the city's severe disfunction? Are our leaders so empty-handed in terms of real policy outcomes that they show up en masse for an inaugural flush? As the CEO of SF Standard, the new online media company funded by billionaire venture capitalist Michael Moritz, tweeted, "Feels very on brand for a single bathroom reopening to receive this much fanfare."
I'm not going to comment on how annoying it is that it takes so long to get a bathroom open. But here's the deal, culture-wise: It's not very on-brand at all, at least in terms of the direction San Francisco has been heading for the past three decades. The reopening of the bathroom, however long-delayed, has a lot of symbolic resonance for many residents who were here when they first closed. And that's for three very specific reasons:
A loosening of ridiculously outdated surveillance state overreach. The BART bathrooms were officially closed due to security concerns after 9/11. But as many have commented online and to the press, the recall of troops from Afghanistan last summer suddenly pointed up the idiocy of keeping restrooms closed for so long. In the shock of those days and months after 9/11, it might have seemed a reasonable response—although many of us recognized even then that it was an overreaction—but 20 years later? Has the inconvenience really prevented any attacks here? People with violent intent on that scale will find a way, toilet or no.
Still, San Francisco is in a new era of surveillance state excitement, with the mayor pushing for more police state surveillance in the Tenderloin, efforts to initiate private security camera networks in neighborhoods funded by tech moguls, and weaponization of video doorbells to target unhoused people. Opening a small private area in a public space in which to do one's business on one's own seems like a small, triumphant strike against the omnipresent Big Brother bullshit going on.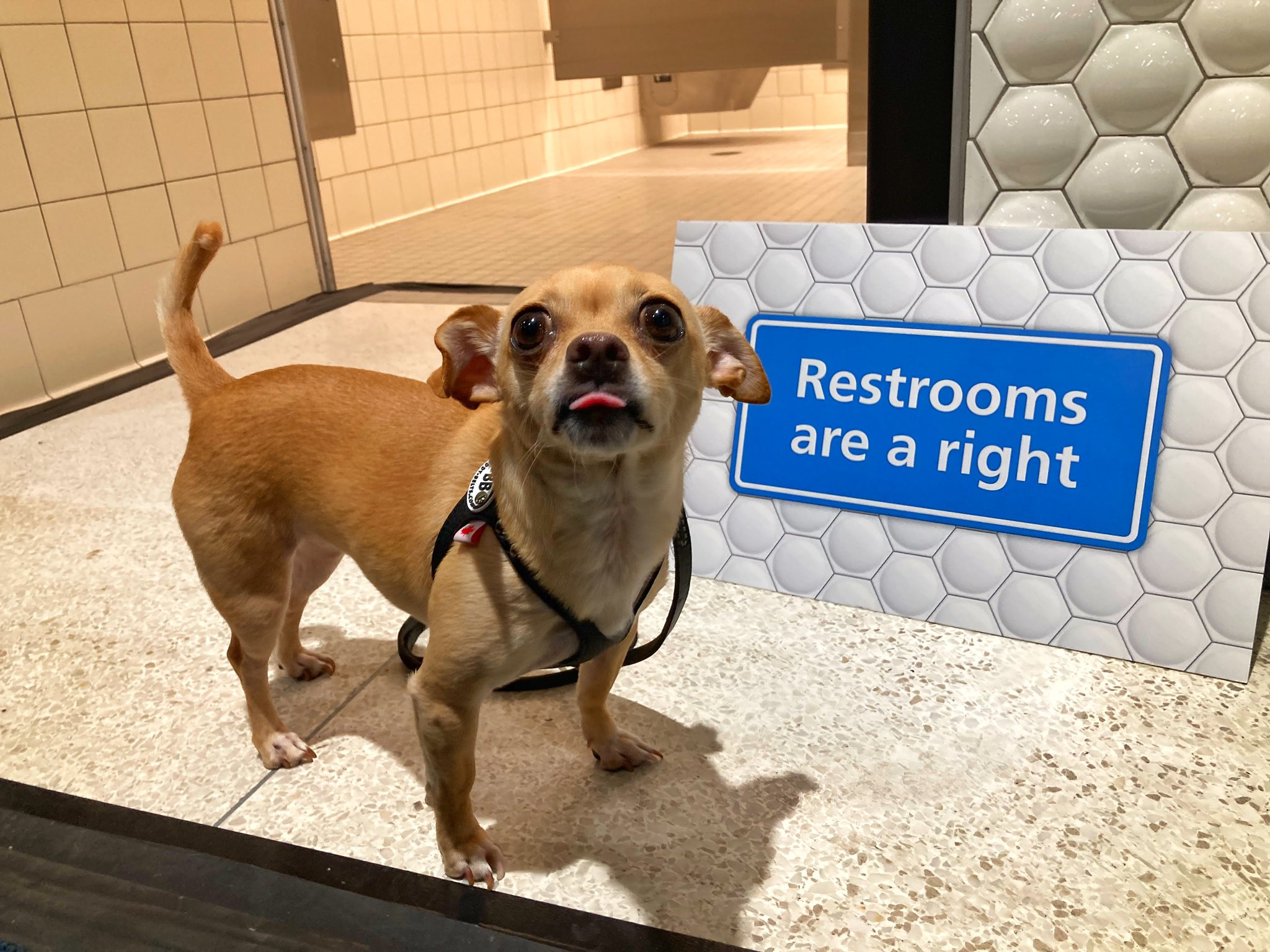 A small measure of empathy to the poor and unhoused. The official reason for closing the bathrooms may have been 9/11, but the demonization of the homeless and poor that was ramping up during the Brown administration (and continues to this day) paved the way for easy assent to closing public facilities—and taking away the right to restrooms. (Brown still gets energized over "getting tough" on the poor, even though that never solved anything during his long political tenure.)
Before the restrooms closed there was a delusional hysteria around them in some quarters that feels familiar now: that they were overrun with dirty and mentally deranged poor people lying in wait to attack users—when in fact the bathrooms were fine, when they were in service.
The successful Pit Stop program and the popularity of redesigned/reopened public park toilets, like those in Dolores Park, have helped re-establish confidence that public toilets aren't horror movie hellholes. The fact that San Francisco is allowing the possibility of poor people and the homeless, members of the public, to *gasp* relieve themselves in a public facility seems totally counter to the vilification and criminalization being heaped on them now.
Besides: How many BART riders have the money (and time) to pay for a $5 coffee to use a nearby private restroom while we're on the way to work, anyway? When it comes to having to go, we're all in this together (one at a time though, please). Cross-class toilet solidarity!
Wiping away an ancient vestige of homophobia and AIDS panic. San Francisco may be known as a gay paradise, but policy-wise it's made room for plenty of wacky homophobia. In the 1980s, gay bathhouses were shut down by the government for no discernible scientific reason other than panic about gay sex and AIDS—and remained closed for the next 36 years. (The ban was finally lifted last year.)
During the gentrification of the Newsom years, bushes and trees were removed from traditional gay cruising grounds like Collingwood Park, Alamo Square Park, and the Golden Gate Park windmills to prevent gay public sex under the guise of "family friendliness." Um, what families were picnicking in Collingwood Park at 2am on a Thursday?
BART bathrooms, too, were often cited as gay cruising grounds, an affront to public decency. (I wish! More often than not it was just commuter business as usual, nothing George Michael would even glance at twice.) So homophobia also played a part in the uncontested assent to the toilets' closure 20 years ago. Opening them back up, especially in this era of prudishness and conformity, seems like a tiny yet cathartic pushback at bigoted views of gay sex and culture for those who experienced them.
Whether all the fanfare and photo-op posturing at the reopening was intended as an acknowledgement of these underlying cultural factors or not, sometimes a toilet isn't just a toilet—it's a small but critical movement.