Our writers and editors are choosing some of their favorite people, places, and things that deserve plaudits for being the best in 2022. See who our readers chose in our Best of the Bay Readers' Poll here.
It's hard for me to remember my first Red Poppy Art House show. It was at least a decade ago. The storefront space was atypical for a fully-staged production, but I was used to that type of thing by then. I sat on a sofa holding a glass of wine observing miscellaneous pieces of art on the wall. It was like a chamber piece in someone's living room, and I'm pretty sure that was the point.
Again, I'm hard-pressed to recall the actual show, but I do remember my initial impression of the space itself: "cozy." I can't remember the last time I used that word to describe a performance venue.
That's part of Red Poppy's charm. Every time I've been there—which should be more often—I'm always struck by how absolutely disarming it is. Music, poetry, dramatic readings, comedy shows… all of those and more have had their time in the tiny venue since its 2003 opening.
Although co-founder Todd Brown remains part of the team, the heavy lifting is done by artistic and managing director Dina Zarif (a talented performer herself), operations assistant Chelis López, and the fellow members of their leadership team.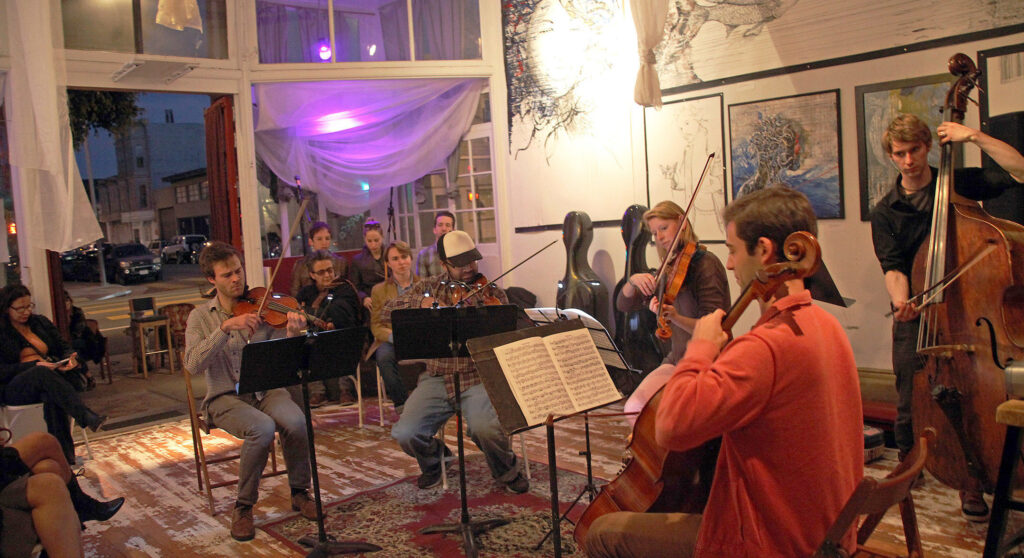 Believe me when I say there's a great deal of comfort that comes with knowing that a longtime indie venue not only still exist in SF, but that its leadership consists primarily of women of color.
It's equally comforting to know that, like the absolute best venues out there, they know the pandemic is not over. Anyone even thinking of entering the space has to show proof of full vaccination and booster; masks are not an option but a requirement; and – as stated in all of their e-mails – they will not make exceptions.
It's not easy for a small venue to stick to the principals like that. Then again, it's not easy for any venue to create as welcoming an environment theirs. Red Poppy should be applauded for maintaining that sort of safety. Check out their website and stop by for a show sometime. I can't say how you'll feel about the performance, but I'm willing to bet you'll find it cozy.
The Red Poppy Art House is located at 2698 Folsom, SF. They can be found online at RedPoppyArtHouse.org.