I'll say this for Central Works' new season opener: it keeps things moving. The world's slowest BART train made me 10 minutes late for the opening night performance of Mondragola (world premiere through April 16 at the Berkeley City Club), but CW playwright Gary Graves' script allows one to "hit the ground running," so to speak, without feeling lost.
I'm not the biggest expert on Italian history, so you'll forgive me if I can't make many dramaturgical comments about the story's setting. Said story revolves around famed author Niccolò Machiavelli (Rudy Guerrero) shortly before the opening of his play La Mandragola (different spelling, aka The Mandrake.) Having long since given up on the biting political commentary that was his trademark, Niccolò's latest is a light-hearted boy-meets-girl rom-com that may or may not involve one drugging the other (mandrake is thought to be an aphrodisiac.) With the cardinal expected to attend, surely nothing about this fluff piece could offend him, right?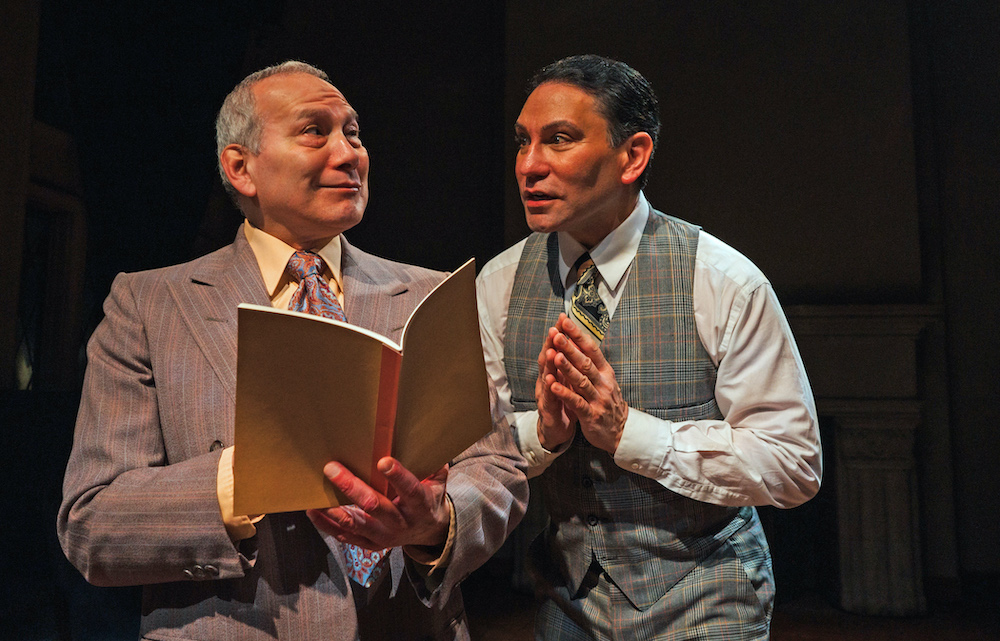 Of course, Niccolò has more pressing problems with his cast having suddenly run off and taken his money with them. As such, he's forced to turn to eager locals for roles: the silver-tongued Battista (Edwin Jacobs); the idealistic Zenobia (Monique Crawford); and the somewhat absent-minded Luigi (Steve Ortiz). What the renowned author doesn't know is that the conveniently-timed arrival of our trio is no accident. They have an ulterior motive that will, amongst other things, challenge Niccolò's supposedly "apolitical" new beliefs.
The best thing Graves' script has going for it is that it's as much a satire of theatre as it is politics. Scenes in which Niccolò tries to explain the artistic process to untrained actors are much of the play's highlight, with Luigi's scenery-chewing obliviousness (or is it?) striking a familiar note for those of us who've done theatre for more than five minutes. So, too, is it entertaining to watch Zenobia pick apart the script for being inherently sexist, as well as her jabbing Niccolò's ego because he gives the actors only their lines rather than the entire script.
Yet, the proverbial "meat" of the play lies in the exchanges wherein Zenobia challenges the new, mercenary Niccolò for being such a capitalist and cheerleader for the Medici government when he made his name lampooning those very characters and the power structure that supports them. Graves' wisest move is to clarify that Zenobia—whose estranged father knew Niccolò—is the very sort of young activist that's easy to radicalize. She has a fire in her belly, the youthful energy to stoke it further, and low tolerance for sell-outs like our dear playwright. Having said that, Niccolò's old outspokenness was met with the strappado, an experience that would transform even the truest believer.
The author's dilemma is given verisimilitude through the Jan Zvaifler-directed performance of Rudy Guerrero, portraying Machiavelli as an all-too-familiar frustrated theatre director who doesn't want to deal with the intricacies of politics—both because he knows the consequences and because the curtain rises that evening. (One of the play's best retorts is a Niccolò one-liner in reaction to Battista and Zenobia's plan.) Off-hand, I'm not familiar with the work of Crawford, but she well personifies the disdain Zenobia feels for having finally met the author of The Prince, only for him to now sell his skills for profit. Battista doesn't get as much character development—Luigi even less—but Jacobs and Ortiz have a clear handle on their respective characters.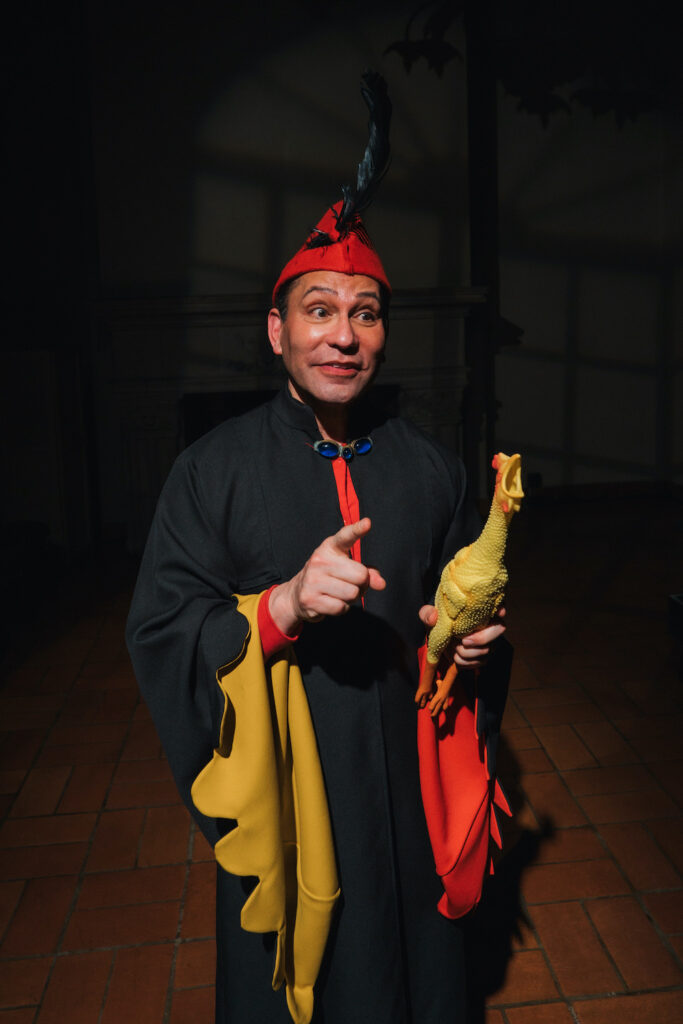 Of special note is the costume work by Tammy Berlin. Rather than adorning the cast in period-appropriate robes and cloaks—save for the play-within-the-play sequences—Berlin's fashion shorthand for "Italy" was to dress the cast in silk suits, more reminiscent of the 1930s. It's a striking choice and one that leaves an impression, despite being anachronistic. Perhaps that's the point; to give the characters a relatively modern style of dress to suggest the timelessness of the art-politics symbiosis?
Another area in which CW does well is in still requiring masks for its patrons. I didn't notice anyone without theirs as I sat near both the door and the standing air purifier (I also turned on my portable Medify MA-10 for added security.) My Aranet4's CO² reading peaked at about 958ppm over the course of the hourlong show.
I recall a pre-pandemic SF Mime Troupe show that hung its story on the line of "There's no such thing as 'not political.'" That's as true of art as anything else, if not more so. Whether or not one puts a specific message in their work, the in/exclusion of messages is the result of years of ideological interpretation. An artist is no more apolitical work anymore than a South African trust fund-baby—the kind who buys one of the world's largest social media platforms, says he'll make it "neutral," then tailors it to be a playground for those who share his bigoted, right-wing myopia. Even if you only know the name "Machiavelli" from its use as an adjective or as 2Pac's late-career alias, one thing for certain is that he and his works were always political, whether he'd admit it or not.
Getting him to do so is one of the most entertaining parts of watching Mondragola.
MONDRAGOLA premiere runs through April 16. Berkeley City Club. Tickets and more info here.