Berkeley filmmaker and community organizer Adamu Chan had never made films before he went to San Quentin. But the prison is unique in having a newspaper, a video and film program, and a media center that produces the popular podcast Ear Hustle. And so it was that while he was incarcerated, Chan became a media worker.
Chan could hardly have imagined that a career begun behind bars would result in a $20,000 fellowship. But he and five other individuals are the latest recipients of just such a fund from Right of Return USA, an organization dedicated to supporting and mentoring formerly incarcerated artists.
Chan was granted the fellowship money on the strength of his documentary film What These Walls Won't Hold, which focuses on the organizing that went in response to COVID-19 outbreak inside San Quentin, as well as across other California prisons. It is now slated for two showings at the San Francisco Film Festival; one on April 15 at CGV Cinemas alongside films How We Get Free and Sol in the Garden, and again with Sol in the Garden on April 16 at BAMPFA.
"At a certain point, I ended up leading the video program, and we were producing a lot of different content," Chan remembers of his time in San Quentin. "We were given an opportunity to produce a television show that went out to all 36 of California's prisons. People across the state were watching this television show that we were producing on the inside."
Chan still runs into people who tell him they saw him on TV. His program "First Watch" had a big impact, largely due to the fact that it gave incarcerated people a way to express themselves.
"They see themselves in a different light," he said. "You're represented by your peers, and people who care about you and will take care with the messaging and how they treat you. And I feel like that was transformational, not only for myself, but for other people."
Eventually, Chan decided that it was time to make a film. Unfortunately, the urge hit right when he lacked access to cameras and the media center due to the COVID lockdown. He and others worked to get the word out about the outbreak at San Quentin, considered the largest in the country, by other means. They wrote letters and made calls on the prison's pay phones to let people know what was happening inside.
Even without technology to film, Chan sees it a transformational moment.
"We were challenging the narratives of the state, [which was] saying that they had everything contained," Chan said. "Also, the outbreak that happened in San Quentin was contributing to what was happening on the outside too, because there is no hospital inside of San Quentin. People who were infected were having to go to outside hospitals. And guards come in and out of the prison every day. They bring viruses with them, but they also take the virus out. So, I think it was a reframing of what incarceration is, that it is actually a public health threat."
Chan was released in October of 2020. The relationships he had in prison were so powerful that once again, he found himself wanting to share their stories in a film.
"I saw so many people really stepping up for each other and putting their safety on the line," he said. "It was something I wanted to share with other people—not just people outside of prisons, but also people who are impacted by the system, who feel like they're alone."
To make the movie, Chan used footage he had shot before COVID, as well as some when he got out. With people's consent, he used excerpts from their letters and phone calls.
Chan's work stood out among the hundreds of applications Right of Return received, said the organization's co-founder, artist and formerly incarcerated individual Jesse Krimes.
"It was very clear that he is thinking about making films that touch on that universal human language," Krimes said. "He's clearly operating at a very high level of creating film, like the way he is choosing angles and the shots and the cinematography, the direction, and the narration."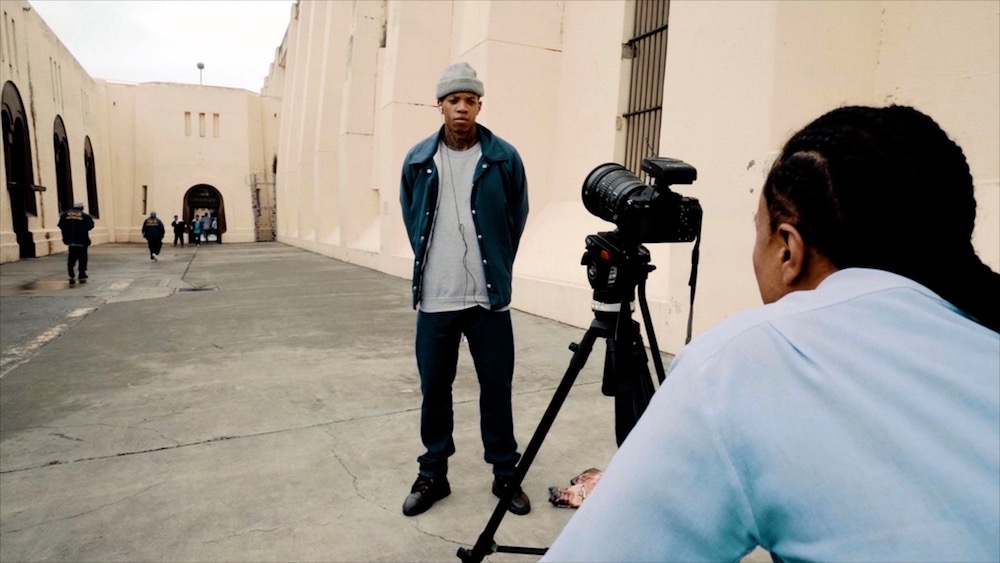 Krimes knows well the urgency that many incarcerated people feel to create. He received his bachelor's degree in art from Millersville University in Lancaster County just a few weeks before he was indicted. Inside, he says he used whatever processes were available to make his art, including drawing on bedsheets and transferring images from newspapers his family sent him. When he was in the general population, he was able to order colored pencils and made a lot of work. He managed to get some of the pieces he produced smuggled out of the facility.
"When you're inside, pretty much all you have is time," he said. "Time is literally the physical manifestation of the punishment. I decided very early on that I was going to use my time as productively as I possibly could."
In prison, Krimes and some of his friends formed an artist collective and set up classes for others. When he came home, Krimes got offers to show his work at exhibitions about mass incarceration. Usually, he was the only formerly incarcerated person in the show.
Now, Krimes' work appears in the collections of the Brooklyn Museum and Kadist Foundation, and who has been exhibited in the Palais de Tokyo, Philadelphia Museum of Art, and MoMA PS1. He was asked to co-curate a show at the Democratic National Convention in Philadelphia, and included some of his friends. A funder of the exhibition was surprised to see the work of multiple artists who had been incarcerated.
"She thought I was some kind of unicorn or something," he says. "I was like, 'There's thousands of artists who are incredibly talented all over the country who have been incarcerated.' She asked, 'How would we build something to support people like that?' So that was the germinating seed, and it just made sense to start Right of Return to build out these support structures for other artists."
The organization's focus is to provide the artists with financial support to create something. But beyond that, Krimes wants to provide a network of support so that their artists can eventually enter the mainstream art industry.
Unsurprisingly, Chan sees power in this mission.
"I really appreciate that this fellowship is led by formerly incarcerated people, and that Jesse Krimes sees the importance of funding formerly incarcerated artists," he said. "I think it means something different when we're actually doing it ourselves."
WHAT THESE WALLS WON'T HOLD screens at the San Francisco Film Festival April 15 and April 16.