Listen up. Under the Stars is a quasi-weekly column that presents new music releases, upcoming shows, opinions, and a number of other adjacent items. We keep moving with the changes, thinking outside the margins. We're going to throw a lot of spaghetti at the wall this week, so it's time to under-think it and just dive in.
OK, let's get it!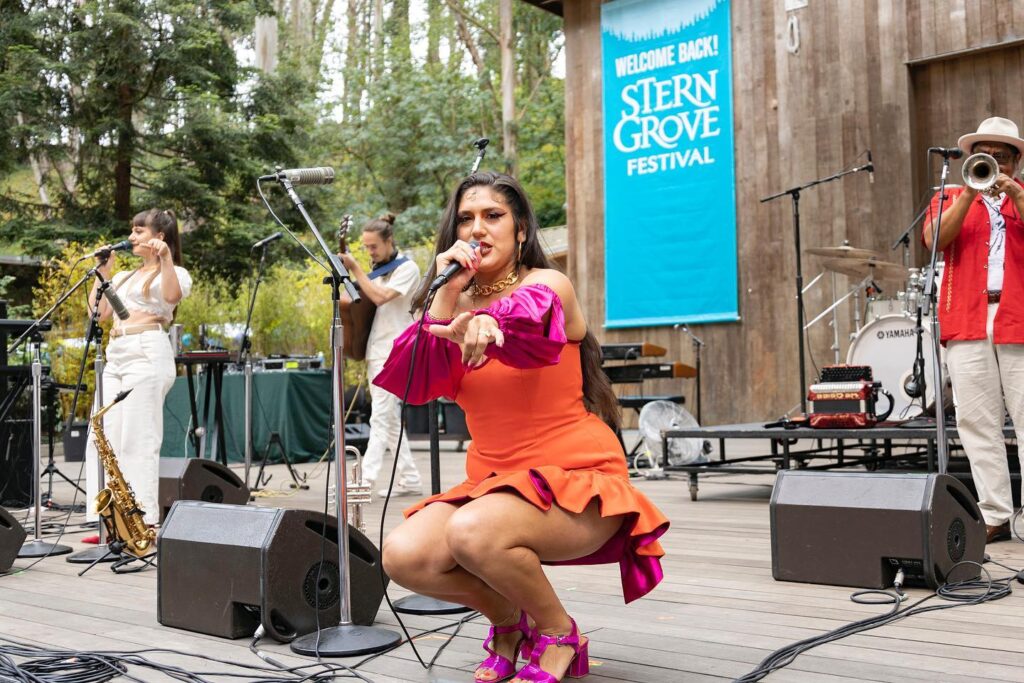 STERN GROVE ANNOUNCES FESTIVAL LINEUP
The announcement of the this year's Stern Grove Festival lineup today did not appear on a Muni bus ad, as it did last year.
But there's no need for a minor masterpiece of unintentional marketing genius when you have Snarky Puppy and Isaiah Sharkey (June 18), Indigo Girls with Full Band and Neko Case (June 25), Santigold and Ogi (July 2), Lyle Lovett and His Large Band with Andrew St. James (July 9), Angelique Kidjo with Jupiter & Okwess (July 16), SF Symphony with Special Guest Lettuce (July 23), Bob Moses with Neil Frances (July 30), Buddy Guy Damn Right Farewell Tour with Eric Gales (August 6), Patti Smith with Bob Mould (August 13), and The Big Picnic Featuring The Flaming Lips and Alan Palomo with a Neon Indian DJ Set (August 20) rounding out the season
That program is going to sell itself.
The beloved annual San Francisco summer tradition has spanned 86 years and counting. In the past, it's featured Phil Lesh, Too Short, Joan Jett & the Blackhearts, Thundercat, Fitz & The Tantrums, The Isley Brothers, Smokey Robinson, Kool & the Gang, Janelle Monáe, Toots & the Maytals, Perfume Genius, Mavis Staples, The Psychedelic Furs, Mitski, Pink Martini, Ziggy Marley, Ozomatli, Digable Planets, Carlos Santana, Sheila E., and many more.
Every year, the annual event series also provides admission-free arts education programs for youth and young adults in San Francisco, working towards its mission of making live musical experiences accessible to all.
Find out more information here.
NONDI_, FLOOD CITY TRAX (PLANET MU)
Right now in the electronic music world, there is a beautiful re-examination taking place of breakcore, drum and bass, techno, and just plain weird shit. As the boundaries of specific genre divisions dissolve, the concoctions become more interesting and unique.
Tatiana Triplin, a US producer based in Johnstown, Pennsylvania, also runs the netlabel HRR, which releases music by friends and herself under various aliases. Nondi_, her other moniker, is responsible for some clever iterations—arrangements that swing from dreamy to flashing drone, and borrow from so many proper classifications that her Flood City Trax release on Planet Mu offhandedly gives the finger to all genre snobs, and rewires this footwork-based music in the key of maverick.
On the album's lead track "FCD (Floaty Cloud Dream)," you are immediately transported to Saturn's rings. Drum and bass ideas dominate the middle of the track, and asteroids invade its beginning and end. Flood City Trax is a collection of temperatures that don't require dance floor permission to exist. It sounds like an alternative nebula has been cracked, and we are just gazing at the future from a window seat.
Powerful stuff. Pick it up here.
OUTSIDE, ALMOST OUT (DORADO RECORDS)
Outside's Matt Cooper—the project's pianist, drummer, writer, producer, and artist—has a special touch. That light. An arranger's unspoken power to transform something beautiful into fantastic. "True Thoughts," a standout track from the recently released album, has that stuff.
Midsong, there is a bass-line redirection where the drums follow suit that transported me back to The Top on Haight Street at its peak in the late '90s or early 2000s. Back then, downtempo, broken beat, drum and bass, house, and techno were all played side by side by the likes of Mike Bee (owner of Vinyl Dreams) and Scott Edmonds.
When that bass hit, we—fellow DJs, some not-so-well-equipped drug dealers, and Saturday night movers in general—would yell, vocalize. It wasn't the controlled substances, the high-octane bevvys, or even chatting up that new girl you met in line 10 minutes ago while getting a slice of 'za from down the street.
It was the bassline. Pure, unadulterated joy.
Matt Cooper has been leading the way in British jazz funk over the last 30 years for a reason. He even has a co-sign from Gilles Peterson. But you don't require it. Just listen.
You can purchase Almost Out here.
NABIHAH IQBAL, DREAMER (NINJA TUNE) + AT CAFE DU NORD, JUNE 3
Watch the video for Nabihah Iqbal's "Dreamer" a few times. Beauty so actualized in this sound and color cannot be processed all at once. Such a rich, expansive slice of indie-jangle, shoegaze high via a Stereocopy Instagram filter. The radiant dyes in these visuals provide us with an informed prism via which to fall for the gaze that the UK's Nabihah Iqbal casts on Pakistani culture.
Since 2013, Nabihah has hosted radio shows on NTS and BBC networks such as Radio 1, 1Xtra, Asian Network, World Service, and 6Music. She has toured extensively as a live act and DJ since her debut album Weighing Of The Heart was released on Ninja Tune in 2017. That revelation featured post-punk influenced by house and electro, along with gleaming guitars and ambient synth tones recalling Chris & Cosey arrangements from the mid-'80s.
On "Dreamer," guitar lines sound a bit more golden. They complement the track's video, which was shot in a 700-year-old palace in Old Lahore, and brings the viewer into a different realm of indie rock.
The new album is out on April 28 and can be purchased here. Go see Nabihah Iqbal at Cafe Du Nord on June 3—buy tickets here.
TOMMASO CAPPELLATO, DANCING AROUND FIRE (PAVIMENTO FERTILE)
I was first introduced to the work and expert musicianship of LA-based drummer and composer Tommaso Cappellato by Afrikan Sciences and then Mark de Clive-Lowe. Great musicians tend to gravitate toward other great musicians, much like car enthusiasts who find that one mechanic who gets it and never let them go.
This project arrived in my overflowing inbox and soon enough I was rocking out to its lead single. I recognized that voice, and saw that none other than Lalin St. Juste was handling those vocal duties. As usual, she sounds like flowing water, Jack.
Dancing Around Fire is a collaboration between Cappellato and Pavimento Fertile, an Italian break dance collective founded by Paolo "Frigo" Montesi. It is inspired by the energy of dance and improvisation, and its dancefloor jazz vibe makes it ideal for listening at outdoor events or as a catalyst on those nights when you need to burn off some energy.
Make its purchase here.
BINKI AT CAFE DU NORD, JULY 21
Yes, this show is a little deep into the summer, but it's well worth the forewarning.
Just under two years ago, we let you in on a little secret right here on this mighty fine independent platform. Binki, the creator of the "Motor Function" EP produced by Justin and Jeremiah Raisen of Yves Tumor and Angel Olsen fame, was born to Kenyan immigrants in Pennsylvania and raised on his older siblings' music tastes. The term "snotty rock" appeared just in time to describe his swag, announce his get-down. That only happens when something is engaging, unique, and just plain good.
2021's "Landline" is still a bop, an up-rock slapper, and an earworm. The "Motor Function" EP smushed '80s krautrock attack with atonal vocal delivery, making it one for the books.
A fun show at Du Nord is on the way. Get your tickets here.
RE:SET CONCERT SERIES AT FROST AMPHITHEATER, JUNE 2-4
That's correct: a concert series in which the headliners create their own lineup for each day. boygenius will be bringing it, along indie standouts Clairo, Dijon, and Bartees Strange. Traveling with LCD Soundsystem are the electronic artist and one-third of The xx, Jamie xx, plus the explosive UK rock band IDLES, bounce music pioneer Big Freedia, experimental multi-instrumentalist L'Rain, and more. Steve Lacy will keep a focus on genre-bending artists with James Blake, Toro y Moi, and Fousheé.
This multi-artist outdoor concert is one-of-a-kind and fan-friendly, with the main idea being that no set is clipped. Yes, full sets are performed. Hallelujah time, for sure! This inventive showcase is set to visit 12 cities across four US regions this summer, and it's likely to be adopted by other festivals in the coming years.
Pick up a ticket for the Stanford line-up here so you can say that you were on board from jump.