My second-ever trip to BottleRock, the music, food, and wine festival held at the Napa Valley Expo, was also its 10th anniversary. Even though the event has a strong focus on wine and spirits, a teetotaler like yours truly still finds it to be a fairly well-organized and enjoyable experience.
A broad slate of artists, libations, and snacks on offer each year means that attendees can design their own vastly different experiences. For example, someone could plan to see, say, Keanu Reeves (in his old group Dogstar), Sheryl Crow, and Red Hot Chili Peppers as their goalposts. And, over the course of my two days there, I was able to put my focus on watching a gorgeously broad spectrum of Black artists: Nile Rodgers' Chic, Leon Bridges, Lizzo, Wu-Tang Clan, and Lil Nas X.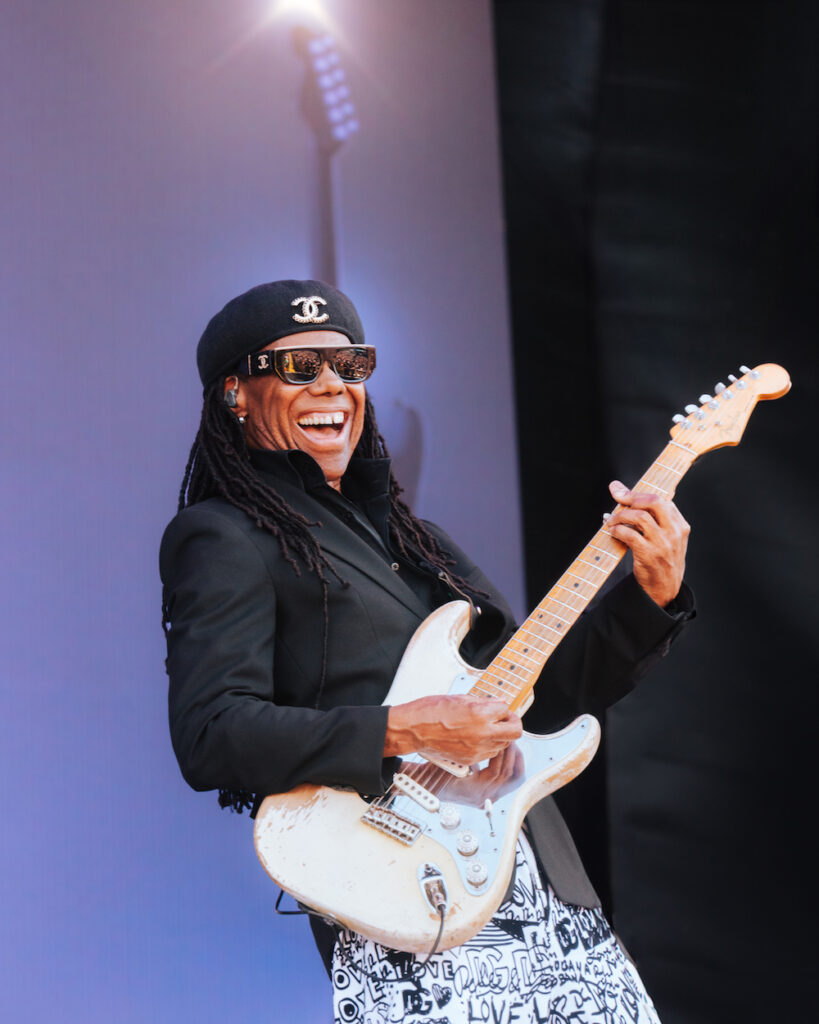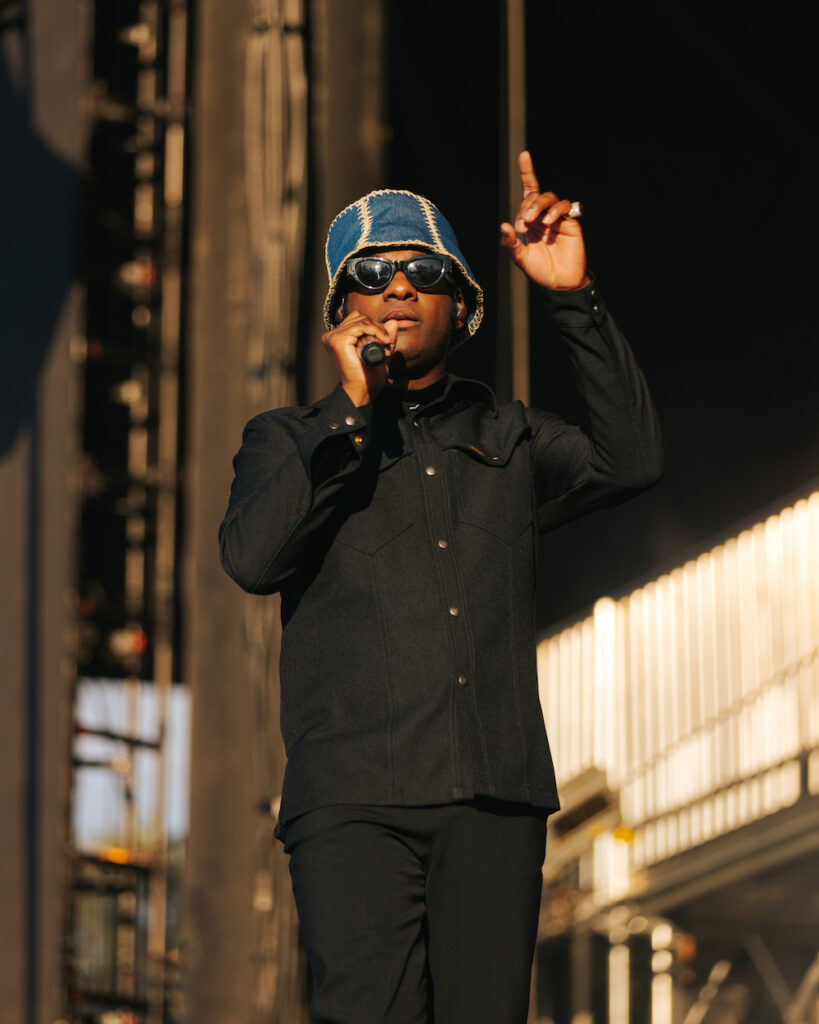 I rushed up to Wine Country to catch Nile Rodgers and Chic, who laid the foundation for so much popular music to this day. They were as top-notch as the last time I saw them in Northern California at the 2013 Outside Lands festival. With a playlist that includes international smash hits touched by Rodgers' bass and production, including David Bowie's "Let's Dance," Madonna's "Material Girl," Daft Punk's "Get Lucky," and Beyoncé's "Cuff It" in addition to Chic essentials like "Good Times" (presented here with the verses from Sugarhill Gang's "Rapper's Delight"), Rodgers' set is always truly educational for people who haven't followed him closely. Up next on the same stage, Leon Bridges filled the field with voices and smiles. He sounds like he could have easily been creating in Rodger's early eras, but he's still a young soul at age 33.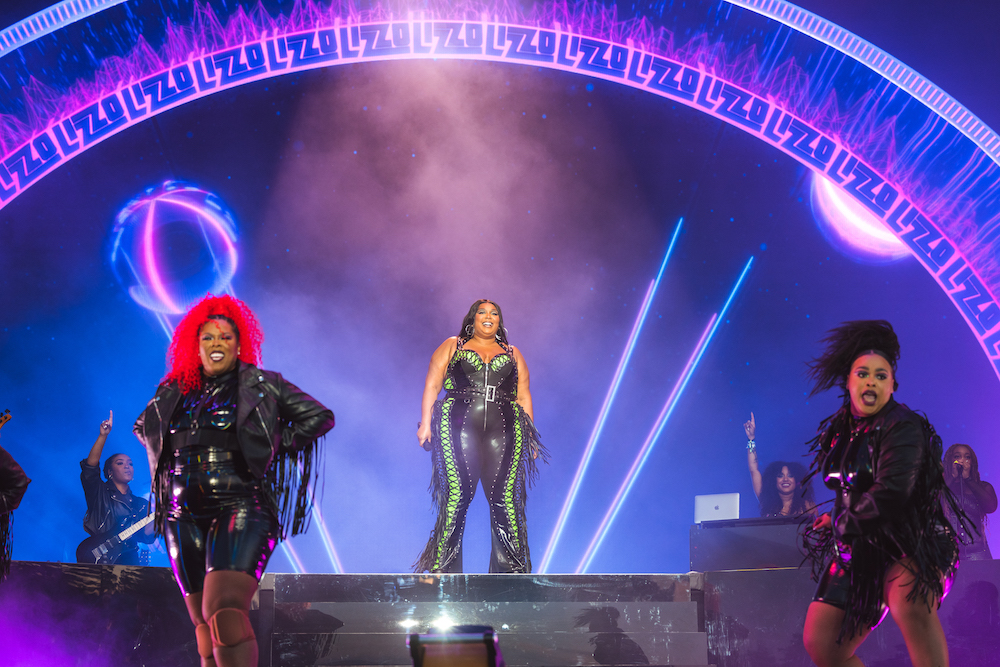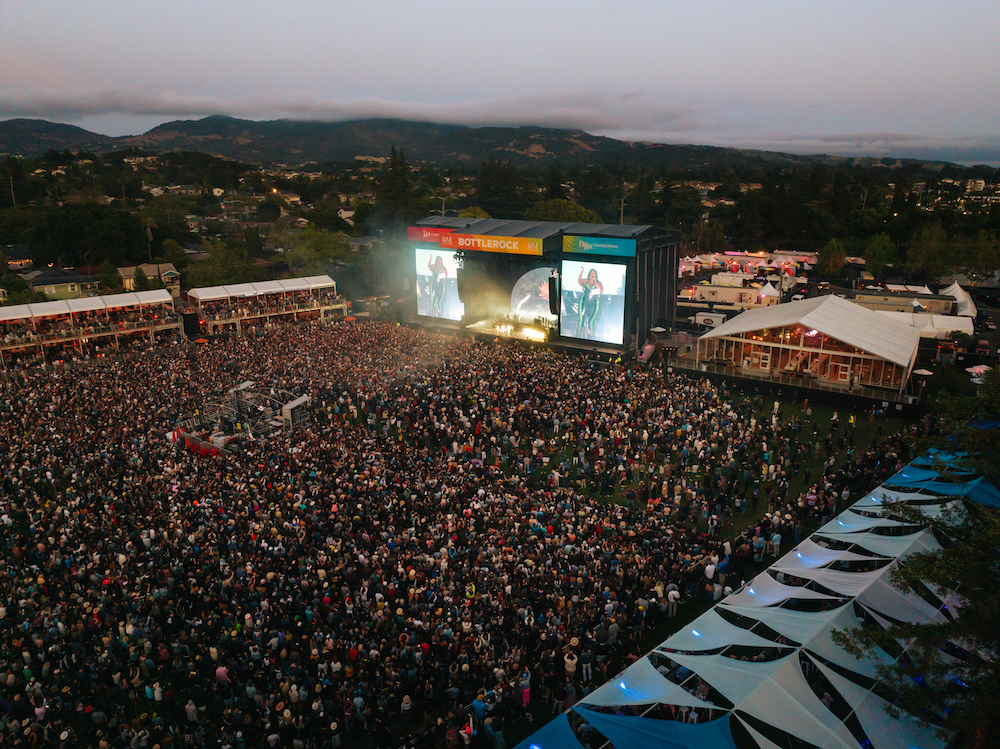 Back in Northern California for her first show since November's stop at the Chase Center in San Francisco—and looking super-snatched—Lizzo lifted the crowd up with her hits, then dropped a bombshell that doesn't fit in Yitty.
"I saw some signs that were very unfriendly towards people like me," Lizzo said, according to The Chronicle report published soon after. "I saw signs talking about how they want to cancel people like me. Silence people like me. Choke people like me. And they right across the street. So we gonna sing this one more time so they can hear it because maybe they haven't heard it in a long time."
"In case nobody told you today, you're special!" she sang loudly from her song "Special."
Lizzo's revelation shot a nasty dose of adrenaline through my body. The Napa Valley Register reports that protestors were hoisting signs that read "Choke the Woke" outside the festival, and I feel deeply horrible that she experienced even a millisecond of hate during her time in Napa. She certainly infused the BottleRock crowd with a defiant joy for the remainder of the set.
Lizzo takes a beat from each of her stage shows to talk to fans in the crowd and respond to positive signs that they emblazon with affirmations like "I love you" and "Lizzo, please date my dad!" This moment meant a whole lot more on Saturday night.
Scheduling Duran Duran against Lizzo was a personal disappointment, and, for many, it was the decision of the day. As the former president of my junior high school's unofficial fan club, it's a wonder that I avoided tears. The '80s English heartthrobs are currently touring with Nile Rodgers and Chic and Bastille, and performed a full show at San Jose's SAP Center on May 28.
Food and drinks at BottleRock seem to have cost more than last year's offerings on average, and not just in the VIP area, which I heard had a caviar-topped corn dog. I spent way more than I thought I would over the course of two days—but I still managed to find some really satisfying snacks. On Saturday, Napa's Monday Bakery offered my two favorite bites of the weekend, a huge kimchi-topped and croissant-wrapped hot dog and a lobster roll served in a kouign amann, a round and twisty pastry that, like a croissant, is made from flaky laminated dough, but has sugar in each layer. Chef and owner Sally Geftakys shared that these items were created especially for the festival, but she's considering putting them in rotation as weekly or monthly specials. She's also open to custom orders.
On Sunday, I pre-gamed for Wu-Tang Clan with a wild pair of D.R.E.A.M. Doughnuts, which sometimes sell in San Francisco on the Saturday Foodwise Farmer's Market at Ferry Plaza, and a burgerdog from The Original Burgerdog, a burger on a hot dog bun. It's currently a snack bar with a food truck and catering arm based in Napa, but the family recipe has roots in San Francisco, where the Burgerdog first began as a mobile stand near Lake Merced (and, later, the Olympic Club) in the '50s. I overheard a local telling his friend that eating there is now a Napa rite of passage.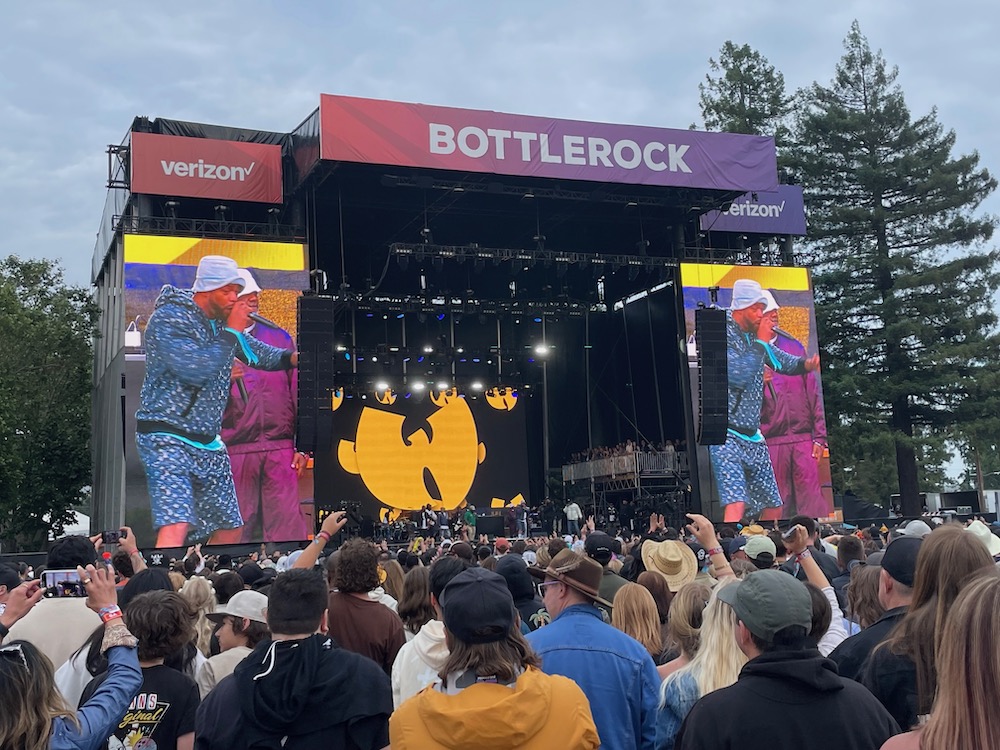 Wu-Tang Clan is used to rocking crowds after dark, so the wine-and-'shroom-buzzed afternoon delighters threw them for a bit of a loop during their set, which began just after 6pm, when it was still light outside. Calls to the audience to put their middle fingers in the air resulted in some limp birds, and some tipsy index fingers, thrust up by mistake.
"We're used to rocking a nighttime crowd," producer/genius RZA said. "This daytime crowd seems like it hasn't smoked enough weed to get deep into the Chambers!"
The energy rose considerably when Method Man joined RZA, GZA, Raekwon, Ghostface Killah, Inspectah Deck, U-God, Masta Killa, Mathematics on the decks, and a guitar-heavy backing band on stage. His appearance isn't always guaranteed on a Wu-Tang live show, and it was a great surprise, as was that truly electric band. The MCs, DJ, and band paired with sick Shaolin visuals made for a high-level Wu-Tang show—even if they wished it would've taken place a bit later.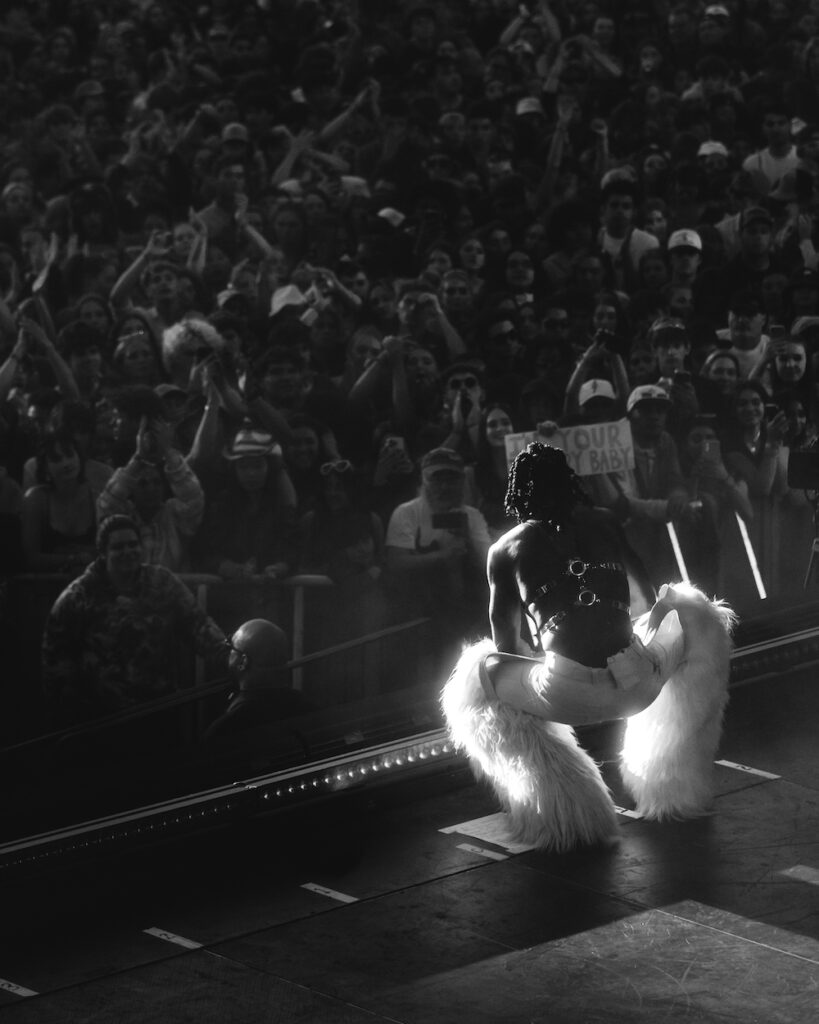 Lil Nas X asked if he could bring his snake out, and the crowd who had camped out for hours for a spot in front of his stage let loose. He didn't reach into his assless chap-covered trousers; instead, a giant snake stick puppet operated by multiple people writhed around. The 24-year-old superstar also brought out jiggling ass puppets, a crane, and giant fake white horse with a luxurious mane, which he rode for his mashup of his breakout hit "Old Town Road" and Ginuwine's "Pony."
Don't quote me on this, but I think that Montero (his given name) was the only artist at BottleRock who gave us a costume change, and it was wonderful. He went from white fur with a gold breastplate to a shiny blue skirt with a horny bull protrusion in front. In between songs, he encouraged everyone to say "fuck you" to the little voices in your head that say you can't do whatever you want to do in life: "You can do it, baby, trust me!"
His Black and Latinx dancers, who each got their own solo dance moment, were brilliant. Dear Montero, please make a reality show with their auditions and practice sessions, or at least go on a yacht together and film it.
BottleRock is currently selling 2024 general admission passes "at 2023 prices," which may be an indication that it's going to cost more to attend for people who wait and purchase them next year. Those dates are set for May 24-26, 2024.