Don't pay all the negativity any mind. At this year's Oakland drag festival extravaganza Oaklash (through Sun/21), organizers Mama Celeste and Beatrix LaHaine are spotlighting the solidarity, supportiveness, and star quality found within the local drag community with exciting shows, informative panel discussions, and skill-building workshops.
I spoke to Mama Celeste about Oaklash's must-attend events, the challenges of growing the festival year after year, and the importance of digging deep into our pockets to support drag artists across the Bay.
48 HILLS How does it feel to turn six this year? When you founded Oaklash, did you think you'd hit this milestone?
MAMA CELESTE When Beatrix Lahaine and I cofounded Oaklash, we wanted to ensure that we were creating something that would live on for decades and decades to come! Now that we're at year six, it feels like we are just getting started and hitting our stride of creating the kinds of large-scale, accessible, and diverse events that we deserve to see for drag here in the Bay Area. C'mon, year six! Let's get sickening!
48 HILLS Talk to me about the Wed/10 event Going Deeper: The Search For New Meaning in the Same Old Lyrics. Is it meant to teach attendees how to make existing songs more meaningful to them, how to write songs but make the existing language feel more representational, or both?
MAMA CELESTE Going Deeper is a lipsync performance workshop—which is honestly something I have never seen offered before. Lipsyncing is something that all of us drag performers do because that's what is expected, and we learn just by watching other people. But this workshop is about breaking lipsyncing down into its fundamentals: How do you take a song and use it to tell a story? The facilitators, Mercury Divine and Tater Tatas, hosted an amazing Commedia Del'Arte workshop at Oaklash last year, and this one will be no different!
48 HILLS Why is a workshop like OakCASH important? Is it harder to get funding as a drag artist?
MAMA CELESTE If you think that throwing a dollar bill at a drag performer is going to pay their light bill in the Bay Area, you are living under a cushy corporate-logo-emblazoned rock. Drag, as an art form, is pushing the culture forward, but in the art world, it is still very much undervalued and under-resourced.
We're lucky to have grant foundations that support and understand why drag is so important (shout out to the California Arts Council, the Zellerbach Family Foundation, and the East Bay Community Foundation for supporting Oaklash with grants this year!), but not every drag artist knows how to find those resources or speak grant language. Vin Seaman and the folx at Diamond Wave Arts were perfect partners for this workshop because they have been advocating for drag in these circles for years, so this one is a must for any drag performer with big dreams!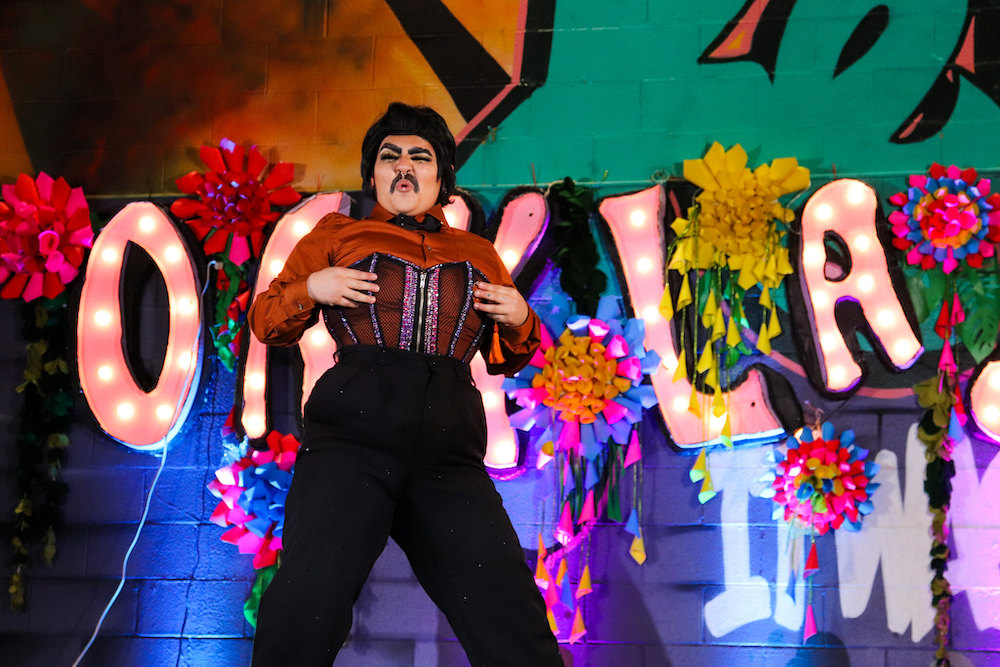 48 HILLS Your Black & Brown King Workshop and Rebel Kings of Oakland events remind me of how under-represented drag kings remain in the mainstream media. Why is that, and how do we change it?
MAMA CELESTE It may be true that drag kings are underrepresented in mainstream media, but here in the Bay Area, drag kings are the ones setting the bar for the rest of us. So many kings are killing the game right now, and we are lucky to have two reigning champions—Jota Mercury and Tyson Check-In—leading this workshop and huge national names like Luc Ami, Ricky Rosé, and King Perka $exxx coming from across the country to share their skills!
48 HILLS What can you tell me about BACKLASH, Oaklash Block Party, Oaklash Afterkii, and Oaklash Grand Finale?
MAMA CELESTE Our weekend of events has a little bit of something for everyone—Friday's Backlash is a queer and trans music night with bands, rappers, and our headliners, COMMANDO, an incredible queer and trans supergroup. Saturday's block party will be fun for the whole family with tons of vendors and over 60 drag performers throughout the day. Saturday night's afterparty will be a little wilder with sickening DJs and a show that you should leave the kids at home for. And then our grand finale will be a total fantasy at Fairyland with site-specific performances happening throughout the park.
48 HILLS How has Oaklash evolved and grown since its inception in 2018? What are the challenges of keeping it going and growing?
MAMA CELESTE Ever since we decided to become a 501c3 nonprofit, we have committed to being a resource to our community, to foregrounding equity in everything we do, and for setting the standard for the nightlife scene that we want to see here in the Bay Area.
Of course, doing anything in the Bay Area is f***ing expensive, so our biggest roadblock is finding the funding to do the things we want to do the way we want to do them. If people want something like Oaklash to continue, we need them to show up and show out at our festival this year!
48 HILLS Where do you hope to take Oaklash in the coming years?
MAMA CELESTE Our annual festival will continue to grow, expand, and change year after year—bigger budgets, bigger headliners, bigger stages for local performers. We also have plans to take our festival on tour and a documentary in the works, which we've been filming since year one. But what the queer community is desperate for right now in the Bay Area is just more space, and I would love for Oaklash to be able to provide that down the line. To have our own community space and venue to help other queer and trans artists produce their work would be a dream come true.
In our move to expand beyond our one-day event and become a year-round resource for the queer and trans community here in the Bay Area, we have a month full of exciting events throughout May, all leading up to our big weekend of shows.
The Oaklash Festival, Sun/7-Sun/21, Free-$20. Tickets and more info here.