The job of an artist, according to Livia Stein, is to translate thoughts and feelings into a visual language that others might appreciate. Her mission is to contribute something to the world that enhances our lives.
"I make art because it is what I do best. Because I have to, in order to feel alive. There is no life without art. Someone said that art is a window to the soul. I believe that. Without art, a culture withers and dies," Stein told 48hills.
Her work is whimsical, and while sometimes irreverent, it's mostly optimistic. Stein is inspired by many things; history, literature, folk art, and music, among them. Travel, often to India over the past 20 years, has been a muse as well.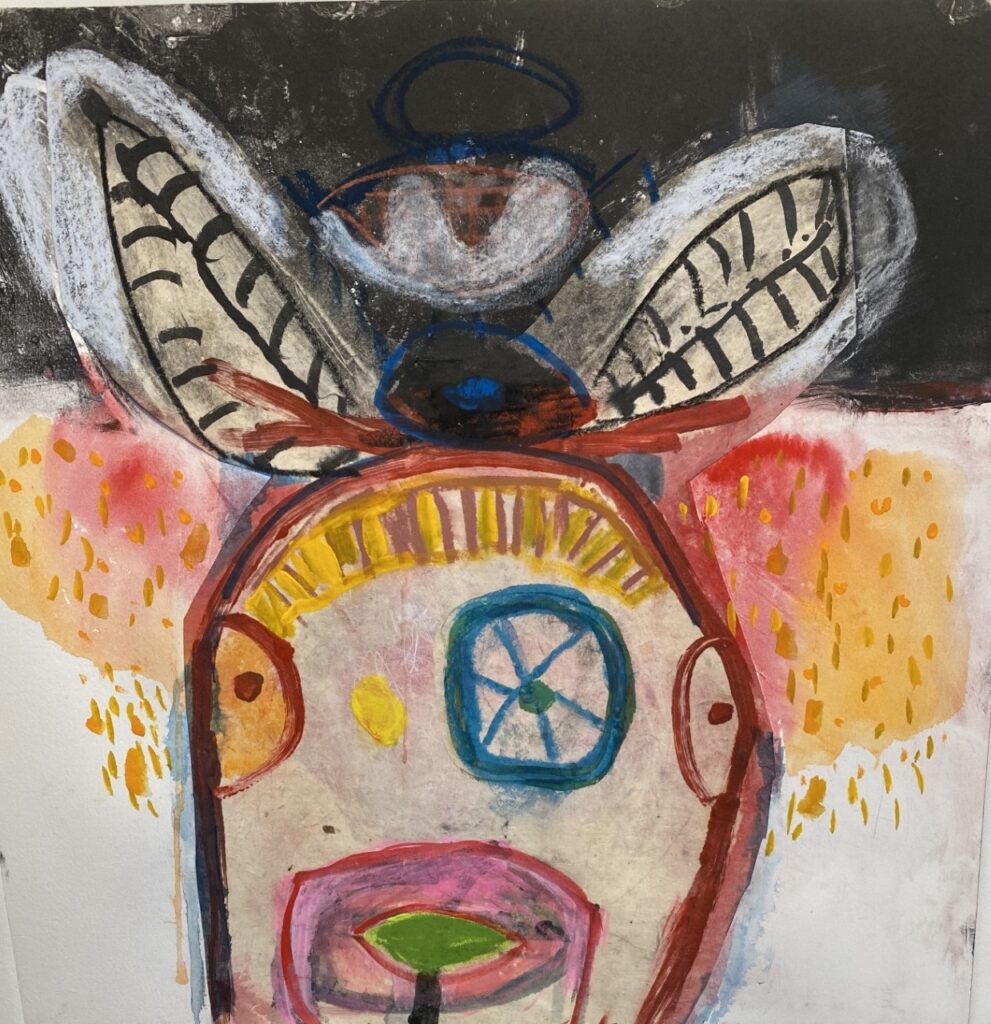 She is driven to make art as a way to sort out the world, but also because it's a way to understand herself and where she comes from by describing that to others. Her place of origin absolutely plays into the identity of her work. A descendant of Russian refugees, her family migrated to California in 1950 escaping the pogroms in Eastern Europe and seeking a better life.
"I grew up in Anaheim, made famous as the home of the first Disneyland, when Orange County was a cultural wasteland comprised of shopping malls and orange groves," she said.
Coming to Northern California for a college education at UC Berkeley (BA, History) was like "a ride into heaven." All was beautiful here, says Stein, and very green. She later returned to Southern California to study photography but ultimately landed back in the Bay Area for graduate studies at San Francisco State University's Center for Interdisciplinary and Experimental Art, founded by Jock Reynolds.
Drawn to the artist Philip Guston (1913-80), Stein says his work speaks what other artists need to hear. To her, he tells the truth about what it takes to sustain oneself as an artist, despite the difficulties faced. She also gravitates toward Hieronymus Bosch (1450-1516), referring to him as wonderful, smart, funny, and out of any time zone.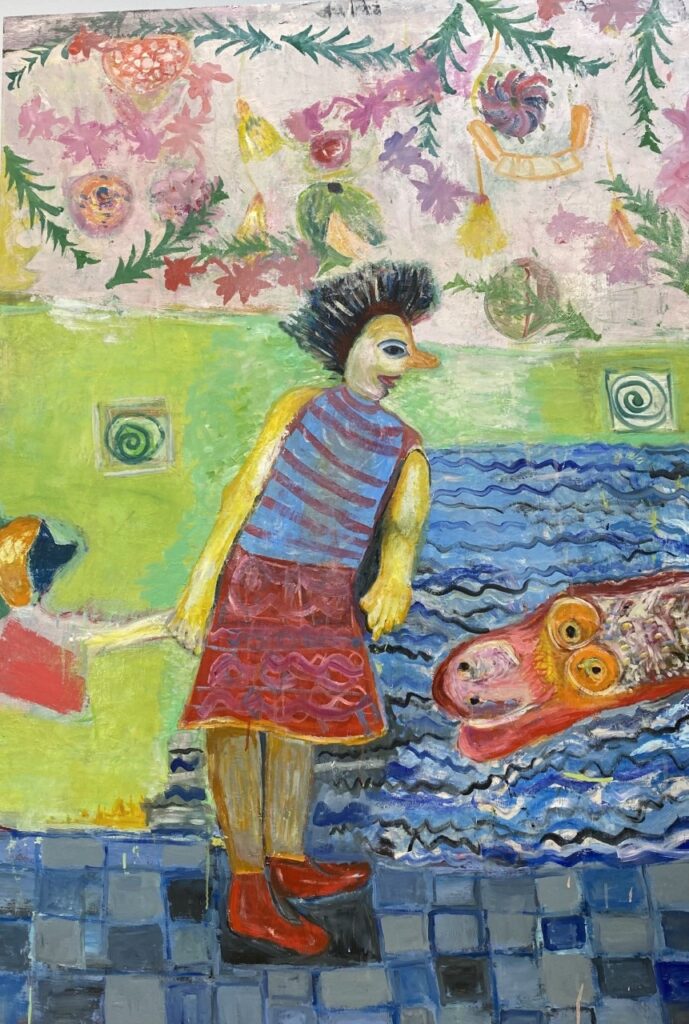 Stein's Oakland studio has ample space comprised of a light-filled upstairs and a printing press downstairs that she uses for printmaking and works of mixed media. Inspired to always try out new materials, Stein works in both oil and water-based media on canvas and paper.
Working exclusively from her head, though sometimes with a visual prompt, Stein is self-reliant in her approach to her visual poetry. Fragments of internal emotions and thoughts transmogrify into intriguing characters, color, pattern, and texture. She knows a piece is done when she returns to the studio the next day and feels relieved with how much she still likes it.
Her work has changed over time, technically speaking. And she feels she is a much braver, more confident artist than she was at the outset. She doesn't see any specific arc to her work—in fact, she doesn't believe in that. She does believe that through engaging consistently with the work, it evolves in its own time, and inevitably brings her closer to real ownership of ideas and outcomes for each piece.
Place and time is of primary influence to Stein in an order of osmosis. Earlier in the year, she spent a month-long residency in Mexico. Her focus was on capturing the people, mystery, and humor around her, while soaking up a different culture and world view.
"I am always interested in the intersection of forms, human and non-human, and the sense of place that exists for that relationship to flourish," she said.
The pandemic was monumental for her work. She watched opera 24/7 in what she describes as a lovely routine for keeping both her and her partner sane. She created a new body of work with large and small pieces around an operatic theme, and exhibited those works in two individual shows at Transmission Gallery in Oakland. "Part One: Glow of Opera," a series of large paintings, represented the difficulty and uncertainty of that time, and "Part Two: During and After the Deluge," with its depictions in mixed-media and monotypes, captures our slow emergence from the isolation of the pandemic.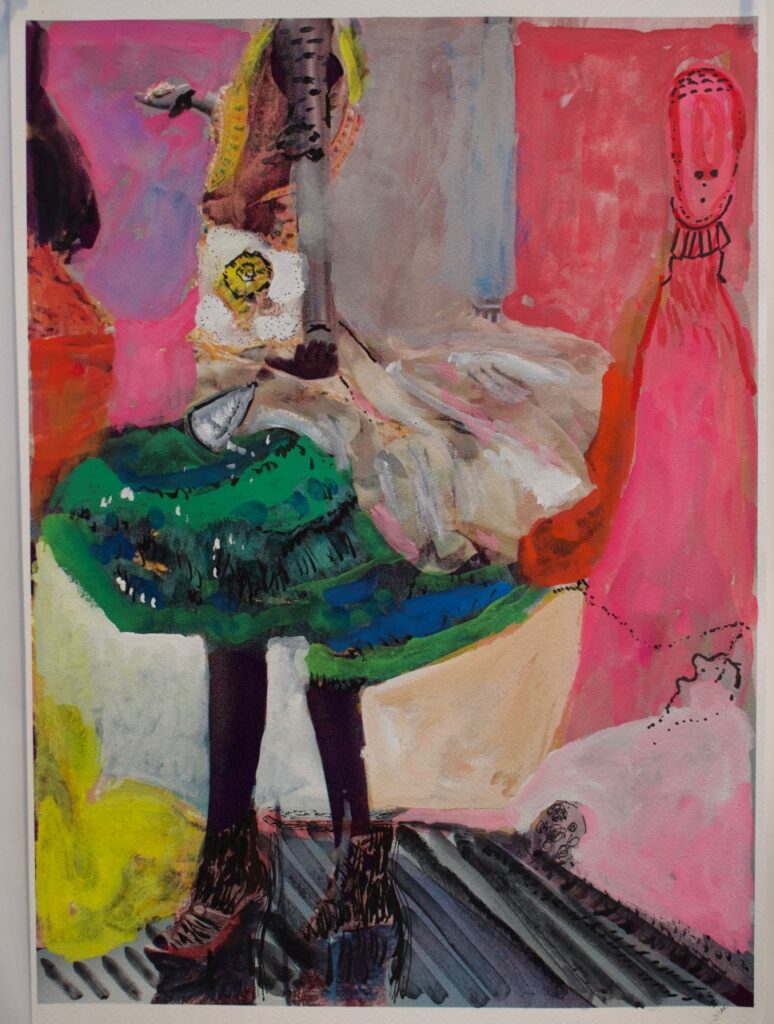 "Making art is an intricate part of my life, it's my better half, as a friend recently pointed out to me. It's about going into the studio daily and letting art be a vehicle for learning about myself," she said.
While Stein's past imagery depicts animals and monsters, her most recent work is sourced from history with invented figures. She is moving forward by relating people's relationship to historical and other elements, including the environment and its destruction.
Stein is an avid reader, primarily of literature and fiction. It's an escape, but also a way to extract other points of view and life experiences. She loves to walk, ride her bike and do yoga, and says it all feeds into her studio practice.
"No matter what I'm doing, I'm always thinking of that next painting," she said.
Stein's work has been exhibited in Europe, South America, India, and throughout the United States. In 2007, she had a residency at the de Young Museum, which concluded with a solo exhibition. Having previously been an artist in residence in Baroda, India, she returned in 2012 for another term outside New Delhi. In November of 2015, Stein was a visiting artist at the American Academy in Rome. Locally, she will exhibit "Small Works" at Transmission Gallery from Thu/11 through June 24.
Livia Stein hopes we will recognize the whimsy, humor and absurdity she presents in her paintings and invites us to engage with that on whatever level our imagination allows.
"My work isn't about pretty. It's that aesthetic, yes, but it's about interesting ideas that can emerge if people are willing to really look," she said.
For more information, visit her website at liviacstein.com and on Instagram.